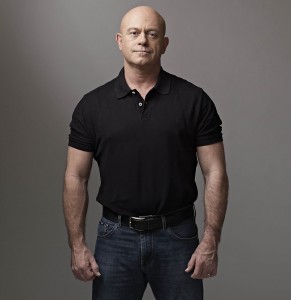 I wanted to go to this event from the minute I heard it was being held as part of the Festival. However, when I thought about it, I didn't really know much about Ross Kemp. Like many people, I just thought of him as 'that guy who's a bit of a thug on East Enders…with the brother.' I was aware that he was part of a programme on TV to do with going to dangerous places in the world. I was aware that he lives in Cookham and seems keen to be part of the community and not just a reclusive celebrity up on the hill.
From the very start of the evening, I was impressed. Mike Clark, the organizer introduced Ross, explaining that he had refused to take any payment for the evening and he just wanted to be able to make a contribution to the community.
Ross introduced the evening with a series of clips from his programme, Extreme World. Extreme World is a BAFTA award winning documentary series which has been broadcast on Sky 1. The series follows Ross around the world as it explores various issues such as homelessness, illicit trade, drug addiction, violence and poverty.
In the clips, Ross was seen in combat gear being shot at, coming face to face with a suicide bomber – literally with his suicide belt on, primed to detonate, witnessing the awful scenes of glue-addicted mothers and toddlers in Africa and, most horrifically of all, being confronted with a sex trafficker in India who admitted responsibility for the deaths of over 400 young girls.
Ross talked eloquently and from the heart about how he came to be involved in the series and how he seeks to present the facts so that the audience can reach its own conclusions. There was a Q & A at the end and one member of the audience asked the question, 'Do you feel pessimistic about the world, when you look back at all the horrors you have witnessed?' Ross explained that despite everything, and some very close calls, he manages to remain optimistic. He genuinely feels people just need to be 'listened to' and if any good can come of his efforts then that is a bonus. Audience reaction included the following comments:
'A fabulous, thought provoking and fascinating talk, yes, a real eye opener. My son is a massive fan of his documentaries, now I understand why.'
'The evening was absolutely brilliant! He's a marvelous raconteur. We were spellbound. Such a gracious man and so honest.'
Jami Castell