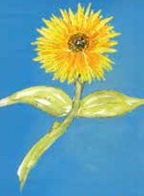 Holy Trinity Church Cookham, Sutton Road, SL6 9SP                                                                                                           Adults £4, U18s free entry
Who has not been moved  by the sight and scent of a beautiful rose in full bloom in the summer sun? Then imagine a church filled with flowers – all with a story to tell!
In celebration of Cookham Festival's golden anniversary, what better way to showcase the wealth of arts exhibited at the Festival over the years than with fifty glorious arrangements – and some surprises! Morning coffee, light lunch and afternoon tea available. Live musical accompaniment – see website and social media for times.
Saturday 13 and Monday 15 May 10.30am-6pm;
Sunday 14 May 2pm- 6pm.