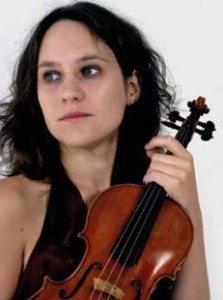 The pews of Holy Trinity Church in Cookham were filled with local people who had come to enjoy this final concert in the 2017 Festival. Some of them might have been in the audience 50 years ago when the Festival series started, and they certainly included the Wood family, who had heard the Mozart piece performed at the first ever such event, in which they took a creative part. I suspect then they were not expecting to listen to their own daughter perform with such grace and skill fifty years on.
Alexandra Wood's violin was already 200 years old when the first Festival took place. On this occasion she played solo on that instrument and directed the Albrecht Ensemble, as they performed with disciplined exuberance, standing as they played to allow their freedom and sense of togetherness to come across. The church was filled with engaging, and largely familiar, music and there seemed to be a tangible bridge created between the players and the rapt and attentive audience. Between them they built a notable contribution to the overall enjoyment of the evening.
The familiar and graceful bridge at Maidenhead was built just five years after Mozart wrote his Divertimento in D, an orchestral work well known and well loved by many who heard it on both Festival occasions. It was followed by Elgar's lovely Serenade Op20 and, by contrast to Elgar's photographed appearance of Victorian aloofness, the central Larghetto movement exuded Elgar at his most poignant and heartfelt, filled with traces of themes and harmonies which his enthusiasts would feel they recognised in other later works.
Into this familiar musical landscape the Estonian composer Arvo Part was introduced through his work entitled Fratres. Alexandra described it as an arc of sound, and it ended with a brilliant filigree of notes, high on the solo violin strings accompanied by the other players, their music dying to the solemnity of a deep bass drum. It was written ten years after the first Festival in Cookham, and it was fully appreciated in this new context.
The final work, after a voluble and sociable interval, was Tchaikovsky's Serenade in C Major. A delightful piece throughout, but with an enchanting and deservedly well known waltz movement which would send the audience dancing to their homes, having shared the feeling of privilege to have been able to listen to music of such depth, delivered with sustained enthusiasm and technical brilliance, here in the midst of their own local community.
Michael Johnson