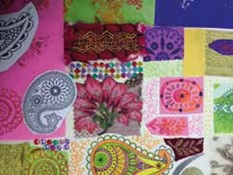 Bel and the Dragon, High Street, SL6 9SQ Monday May 15th at 8pm. £25
Create a collage while enjoying a drink at Bel and the Dragon. Use a variety of materials to create a beautiful, Indian themed artwork.
Be inspired in a fun, informal atmosphere by art teacher Alice Green and local artist Claire Ross- Mason. Glass of wine included.
Suitable for all abilities.