The Festival Arts Hub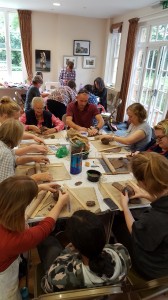 Over the weekend of 13th/14th May, the Parish Centre was transformed into a hothouse of artistic endeavour covering a wide range of different art activities that had been specifically selected with adults and children in mind.
Four local professional artists ran a series of engaging, hands-on workshops and 80 festival goers took the opportunity to learn new skills in a calm and imaginative environment. They were shown ways to unleash hidden creativity and each one produced their own personal work of art in one of the seven different activities that were covered. In 75 minutes, following guidance and using top quality materials, every festival goer produced their own unique work of art to take home.
Extremely positive feedback was received from every single participant, with one person even making the trip from Essex because of her friend's enthusiasm, following her own session. Each of the artists also enjoyed the workshops and stated that they would like to repeat the event.
The activities included:
Abstract Textile Printing (with Jenny Thorn) – Learning some simple printing techniques and printing a length of fabric big enough to take home and sew into a cushion cover; experimenting with mono printing and printing textures.
Cartooning (with Sarah Luton) – Creating funny characters by learning to draw and combine different features.
Ceramics (with Helen D Evans) – making clay objects based on nature and choosing to make something sculptural or functional using slabs of clay.
Fabulous Beasts (with Sarah Luton) – Experimenting with charcoal and drawing weird and wonderful creatures.
Poppy Fields in acrylic (with Maria Meertstadt) – painting the brightly coloured scene of a poppy laden landscape.
Textile Pictures (with Jenny Thorn) – making textile pictures using machine embroidery with the addition of beads and buttons to complete the picture. All the completed works were framed to take home and display.
Zentangle (with Sarah Luton) – being totally immersed in this calming art form of patternmaking; relaxing and enjoying using repeated lines, shapes and patterns to make a highly original artwork.