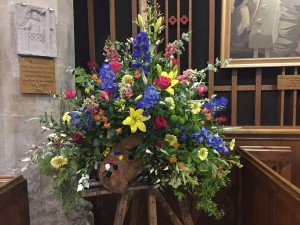 The Flower Festival celebrating fifty years of the Cookham Festival was a truly amazing experience.
Fifty golden display titles were chosen either to reflect the celebration, selecting items from the programmes through the fifty years, recognising the poems and plays, authors and artists, Cookham institutions, cricket, panto, Tarrystone, Cantorum, Elizabeth House, Rock the Moor and People's Shakespeare OR to bring forward the history and heritage of Holy Trinity church through its families Peckes, Venables, Pocock and Young and the glorious windows of loss and remembrance. The High Altar, Nave Altar, Lady Chapel and pulpit from bible text.
The mastery of the flower arrangers then took over to bring these displays to glory, all four schools created flags and bunting, Sunflowers abounded in arches, columns and circles and the spirit of Van Goh.
The Yellow Brick Road led all to the tea tent with its dainty teacups and scrummy cakes.
In fact …….BLOOMIN' BRILLIANT!