Glass, Architecture and Art: Talk by Kirsty Brooks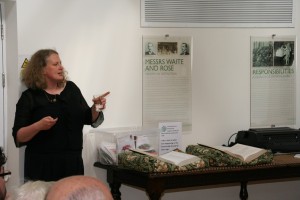 Kirsty Brooks enthralled her full-house audience with her knowledge, enthusiasm and talent as she took them through a whistle-stop tour of the evolution of glass making from the Romans to present time. She explained that this evolution massively accelerated following the revolution that was the manufacture of float glass and its strengthened variants. From starting as a light translucent barrier it suddenly became a material for architectural and artistic creativity and expression.
In her work Kirsty explained that she took inspiration from her travels as well as discovering and enjoying the unexpected and out-of-place. Glass lends itself naturally to the techniques of light blocking, filtering and diffraction and she uses these and other techniques to create originality and intrigue in her work. Pivotal to that creative process is the manipulation of an image, typically screen printed and combined with a variety of glass processing techniques including sandblasting and etching to produce a final piece responding to the history or functioning of its surroundings.
She illustrated this with examples of her work around the country, including her most recent commission at St John's College Oxford.
Malcolm Stork