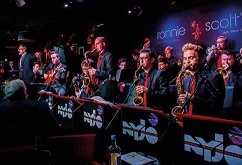 Pinder Hall, Lower Road, SL6 9EH                                   Friday 19th May at 8pm.                                   Licensed bar                                   Tickets £15

The NYJO Nonet showcases some of the most talented young jazz musicians in the  UK.
They perform arrangements by current and ex-members of the NYJO as  well as music by the great legends of jazz: Basie, Coltrane, Davis and Ellington. A Festival highlight for all jazz enthusiasts.