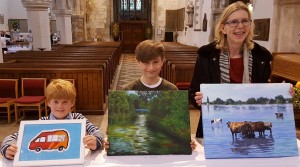 Cookham Library was chosen to host the entries for the Cookham festival's painting competition.
The resulting free exhibition showed what a huge wealth of creative artistic talent exists amongst us – with an extremely high standard of entries encapsulating every conceivable aspect of Cookham and its surroundings. Views from afar, from close up, beautiful scenes, wildlife, a certain angel and a celebrated figure all featured and were enjoyed by the many visitors to the exhibition.
Prizes for the winners of the three categories were awarded based entirely upon the votes cast by visitors to the exhibition, and were presented by Lord Young of Cookham on the 19th May.
We asked entrants to "release your inner Rembrandt" and we have no doubt that he would have been very impressed by the diversity and very high standard of the entries.
The three winners, shown here with their winning entries, were:
Karen Comber – Adult category
Harry Shrimpton – Junior category
Alex Macleod – Children's category