"PEEPS INTO PANTO" – SUPPER AND ENTERTAINMENT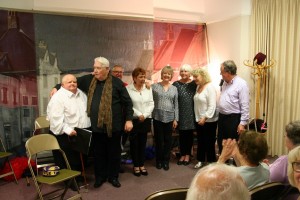 Three events for the price of one! Guests first had the opportunity to sip a drink as they browsed through the comprehensive collection of Cookham Pantomime memorabilia.
"John Brookes hasn't changed a bit in all those years".
"My God, there's James in the Chorus!"
"They made an attractive trio didn't they?" (Your reviewer will keep silent on the identity of the trio!)
"We really used to enjoy the panto. We miss it now"
"Dear Arthur Hamer, what great days!"
An amazing collection of memories, which brought many smiles, some moist eyes, and even, it must be said, some disagreements. "But you told me you played the rear of the horse, not the front!" "Oh no I didn't!" "Oh yes you did!"
We then enjoyed one of Catherine Arnold's 5 star three course meals. That your reviewer was unable to serve himself a third helping of the main course because there was none left, speaks volumes for the gluttony of others and the quality of the food. The panto quiz conducted during the meal was a sort of self-help production with the correct answers being provided by the contestants, rather than the question mistress. An excellent panto construct, as everyone was a winner and several answers were expanded beyond their original boundaries, just as is a good panto script.
After dinner, the guests repaired to the Rogers' Room for what your reviewer will describe as an hilarious panto cabaret. We began with a very disciplined "Reduced Shakespeare Company" production of Aladdin, starring John and Jean Hedger, Alan Cox, John Brookes, Ricky Lonmon and Sue "Glitz" Roberts. A number of other increasingly random scenes followed, greatly enhanced by what the cast assured us was "under-rehearsal". I suppose no rehearsal qualifies as "under-rehearsal"? People entered left and existed left, often at the same time, leaving a delighted audience in bemused hilarity.
A beautifully self-indulgent evening for a packed dinner party of Cookham panto cognoscenti. Loved it!