Cookham Bells ring in the Festival 2017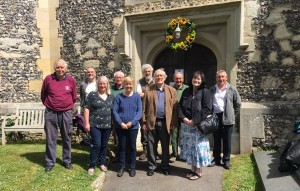 A full peal was rung on Cookham bells to launch the first Cookham Festival in 1967. To mark the 50th anniversary the Cookham bells, now 10 in number, rang again on Saturday 13th May.
The peal, which took 2 hours 58 minutes to ring, consisted of 5003 changes of Grandsire Caters.
The band included three Cookham ringers – Marcia Dieppe (Tower Captain), Mandy Salter and Andrew McKerlie. David Rothera rang in the peal welcoming the first Cookham Festival (12th May 1967).
The remaining ringers came mainly from other towers within the Oxford Diocesan Guild.
When the peal ended, they were greeted with cheers and applause from some of the Cookham ringers who had gathered outside to listen.
This was much appreciated!
Bell-ringers in photo in order of the bells they rang:
Front row from left to right:1. John Wells

2. Mandy Salter

3. June Wells

4. Bernard Groves

5. Marcia Dieppe

Back row from right to left:6. Ken Davenport (Conductor)

7. David Rothera

8. John Harrison

9. Tim Pett

10. Andrew McKerlie