The Cookham Festival Stanley Spencer Poetry Competition.
Poetry Reading. Cookham Dean Village Hall, Friday 12 May.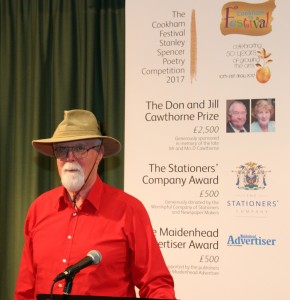 The competition attracted over 200 entries from not just all over the UK, but also from the United States, New Zealand, Australia and countries in Europe. The Judging Panel, chaired by Professor Peter Robinson and supported by poet Jane Draycott and art historian and Stanley Spencer specialist Carolyn Leder, were given the initial task of selecting a "long list" of poems which were of sufficient quality to justify publication in a special anthology. Over 70 poems were deemed to meet this standard, a real tribute to the high overall standard of the entries.
"Stanley Spencer Poems. An Anthology", published by Two Rivers Press of Reading, was launched at a special poetry reading, held at Cookham Dean Village Hall on Friday evening, 12 May. 35 poets with works in the anthology came to read their poems in front of a full hall. It is said that poems are written to be read aloud and this was proved on Friday with the packed audience held in thrall by the poets' presentations of their works. It was particularly good to hear two Cookham poets, Shez Courtenay-Smith and Andy Draper, reading their poems, especially as they bore favourable comparison with any of the other poems written by more experienced poets. If you didn't go, you missed a stimulating evening, which was greatly enjoyed by both the audience and the poets.
After the readings, the judges' shortlist of 11 poems, from which the three prize winners will be chosen, was announced and can be found on the Festival website.
Based on the quality of the poems read on Friday, the eventual prize winners, to be announced at a special ceremony at the Stanley Spencer Gallery on Friday 19 May, will be of an exceptionally high standard and, with the anthology, will prove a magnificent memorial for the Cookham Festival's 50th anniversary.
Copies of the anthology are available at £9.99 per copy from the Stanley Spencer Gallery at the end of Cookham High Street or on application on line to www.cookhamfestival.org.uk.
Review
The Cookham Festival Stanley Spencer Poetry Competition 2017 – Readings
I felt privileged to be there!
Poets came from far and wide to read their individual literary creations, inspired by the paintings and life of Cookham's Stanley Spencer.
It turned out to be the recipe for a highly stimulating and successful Festival Friday evening as more than thirty poets read their work. Each, reading with passion, precision and clarity; often eliciting appreciative sighs and chuckles from a large and very responsive audience.
I would venture that the collective noun for a group of poets should be 'an indulgence' – not least because we were all thoroughly, pleasurably indulged.
Peter Hughes subbed for a number of those unable to attend and read with consummate sensitivity and mellifluousness. Mike Clarke announced the shortlist for the competition prize giving ceremony, which will take place on Friday the 19th. If that wasn't enough, there was a chance to buy a fine anthology of competition entries on the door. I felt privileged to be there!
Charles Luxford 14th May 2017