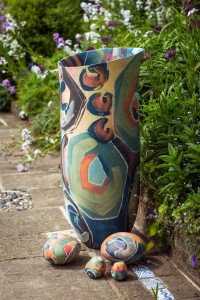 Odney  Club, Odney Lane SL6 9SR                                                                                                                    £2 adults.  Free for children under 16
The Sculpture Garden is one of the Festival highlights, attracting collectors and admirers across Britain to not only view the artwork, but also to explore the fabulous grounds of the Odney  Club.
For a fifth year Lucy Irvine of Barn Galleries has curated a fantastic exhibition of outdoor sculpture. On display for 2017 are the latest works by internationally known and collected artists as well as local  sculptors.
This year's exhibition boasts a feast of extravagant colours, elaborate works and exotic materials in celebration of Cookham Festival's  Golden Anniversary. Look out for kinetic works, giant peacock feathers and over-sized coloured pencils.
Be inspired by the sculptures large and small. With every piece on sale, you are sure to discover a work that adds a new dimension to your garden. Visit www.thesculpturegarden.co.uk to see participating artists.
The Festival organisers are grateful  to the John Lewis Partnership and everyone at the Odney Club for hosting The Sculpture Garden.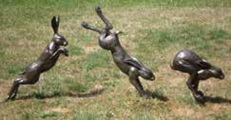 Purchases  can  be  made  on  site or by contacting exhibition organiser Lucy Irvine
Email: Lucy@barngalleries.com
Mob: 07976 612623.
The Sculpture Garden is open 6-21 May 10am to 5pm. Refreshments are available.