---
LITTER CLEAR UP
21 February 2020
---
In spite of the residue of hurricane Dennis a group of hardy Cookham residents joined in the Community Litter Pick. There was a big thank you from Cookham Parish Council, to all those who attended the Community Litter Pick as part of the Keep Cookham Tidy scheme on Monday 17th February. A great turn out and effort resulting in 14 black bags of rubbish from the Station Car Park and surrounding areas in addition to bigger items, a bike, ironing board, flat screen TV, microwave and blender. Pictured are some of the 'pickers'

With thanks to Carol Aisladie and Christine Doyle.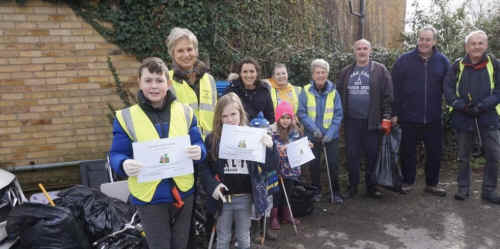 ---
COUNTRYSTORE GOES GREEN
16 February 2020
---
Countrystore are now not just offering a good selection of Vegan products but are now continuing to make Cookham as sustainable as possible! They now stock reusable Bathroom and Multipurpose cleaner as well as Antibacterial Saniti

ser..

All you have to do is buy a bottle in your first purchase and then once you run out, bring it in and refill it at the eco-station in-store.

Countrystore plan to roll out a wider variety of products in a similar format but need our customers to get behind the cause, to make it possible!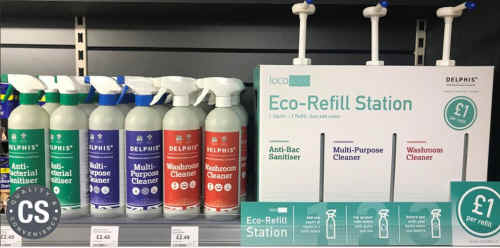 ---
GIRLS FOOTBALL COMES TO COOKHAM
14 February 2020
---
Hello everyone we just wanted to share the great news that Cookham Dean Football Club have been successful in their application to start a new FA (Football Association) funded girls WildCats centre from April 2020 onwards. Qualified football Coaches Nick Philips and Emily Sherwood will be the primary coaches with David Bell also helping to get the ball rolling. Please feel free to spread the news to those who may be interested. Timings and venue are still to be confirmed, but girls of the ages 5-11 can participate to begin with. Any questions about this then please contact the club via nickp@cadence.com,
Cookham Dean currently run seven Junior sides which are almost entirely made up of boys, although one of the Under10s teams is mixed with both boys and girls in the team, The Club hope to be increasing the amount of football training and matches on offer for youngsters in the very near future as the popular Junior section at CDFC continues to go from strength to strength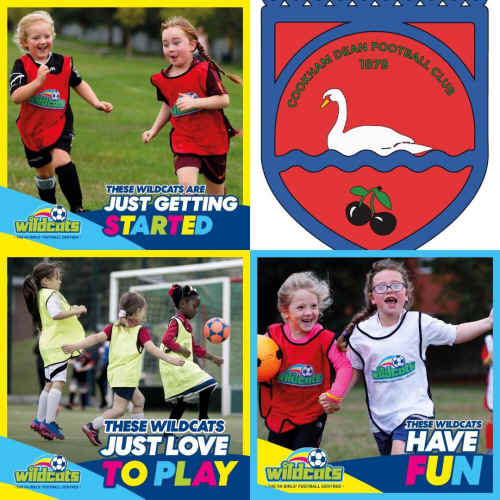 ---
RAMBLINGS COMES TO COOKHAM
14 February 2020
---
You may have heard Ramblings on BBC Radio 4 on Thursday afternoons with Clare Balding, where she takes a walk in a beautiful area of the company with some others and chats. It seems unbelievable that someone must have said 'I have had a wonderful idea, lets have a programme where we have Clare walking around beautiful areas of the country and we will have it on radio!' Claire came to Winter Hill for her latest Ramblingswith Olympians Steve Backshall on Winter Hill. Clare obviously likes this area as she was at Cliveden at the end of last year giving a talk. She brought her dog with her so she could walk through the grounds after the talk.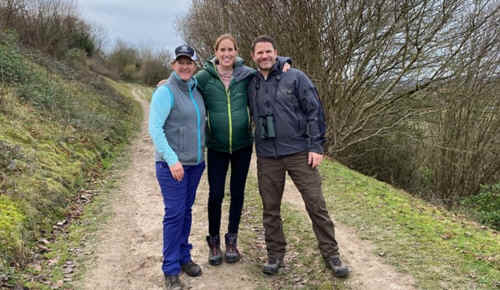 ---
TIMMY MALLETT'S BOOK SIGNING
9 February 2020
---
Timmy Mallett was in the Little Bookshop signiing his new book on his cycling ride on the Camino from Cookham to Santiago de Compostella, which he did in 2018. An excellent read.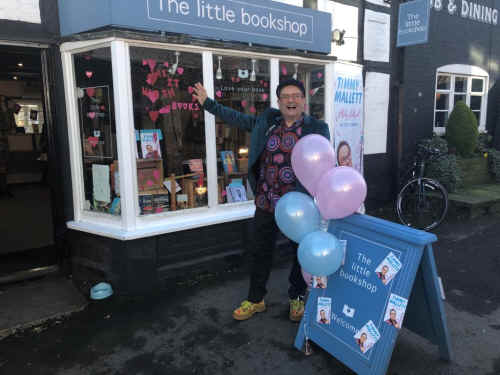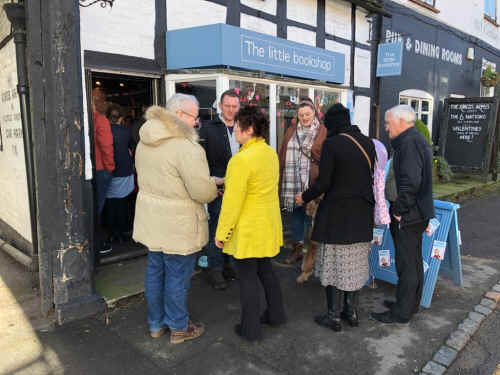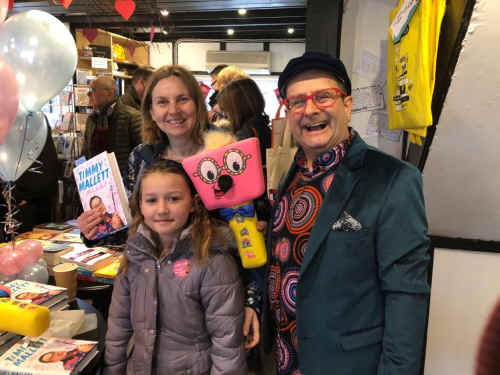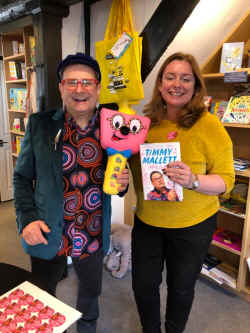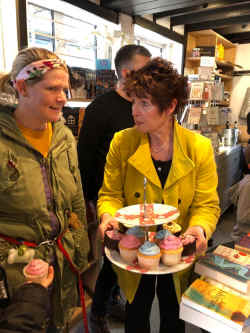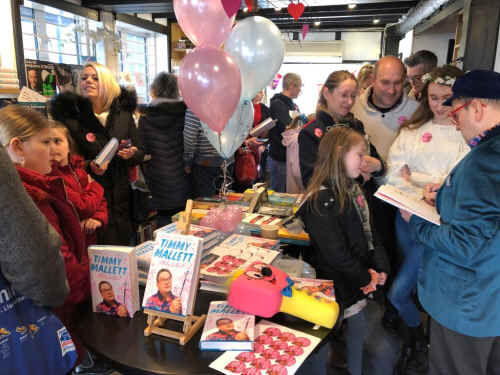 ---
SPLASH FOR CHANGE ETHIOPIA
8 February 2020
---
A great success this week for the swim disco opened by gold medallist Adrian Moorhouse raised over £600 for Gende Tesfa in Ethiopia. The money will pay to train mothers and also a breakfast club for the disadvantaged children at the school in the village.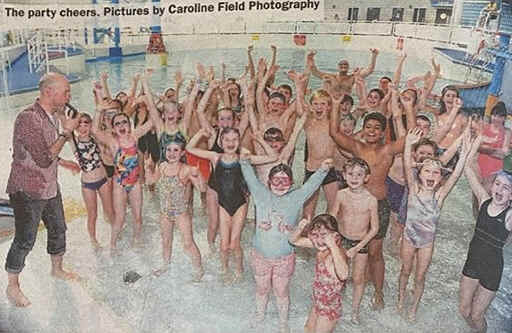 ---
ECO HOME CLEANING BUSINESS
3 February 2020
---
We (David & Lynda Turner of School Lane Cookham) have recently started an Eco Home Cleaning Business. We use the best Eco Products and clean your house just like we would clean our own. For more information please see our Facebook Page Cookham Eco Cleaners.
---
GOODBYE TO THE STATIONERY DEPOT
2 February 2020
---
It will be with sadness that Cookham will be saying goodbye to the Stationery Depot which as been in Cookham Parade for the last eighteen years bailing us all out when we needed a birthday card or a new print cartridge, not to mention selling tickets for various events in Cookham.

As a thank you to Paul some people in Cookham got together and bought a framed photo of the Causeway by Mick Vogel on behalf of all the friends and customers of the Stationery Depot.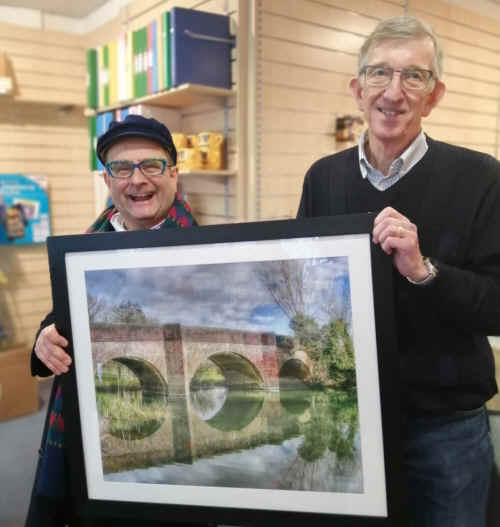 ---
MALIK'S EXPRESS FULLY FUNCTIONAL
1 February 2020
---
Well done to our new Cookham takeaway - Maliks Express!

They are now fully functional and after some hiccups on delivery timings they are now producing fantastic tasty food in good time. Also if you go to Countrystore and buy a carrier bag you will find a Malik's menu inside. It seems Malik's is well up on their PR too. Malik it would be nice to have a name sign on your Takeaway though.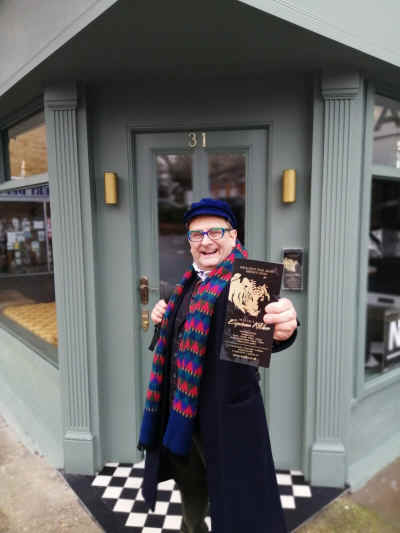 ---
CAROL SERVICE COLLECTION
31 January 2020
---
The three Carol Services by Candlelight for Advent 2019, Christmas 2019 and Epiphany 2020 at Holy Trinity Church raised a combined total of £2178.67 for Alzheimer's Society. Thank you very much to everyone who attended and who gave so generously.
---
WRESTLING AT THE PINDER HALL
30 January 2020
---
Some of us may remember wrestling on TV with Big Daddy and Giant Haystacks. Last Saturday LDN Wrestling came to the Pinder halld so you could see it LIVE. It was a great success and it is hoped they may come back. LDN Wrestling tours the country putting on events the entire family can enjoy from theatres to town halls, and stage well over 150 shows a year.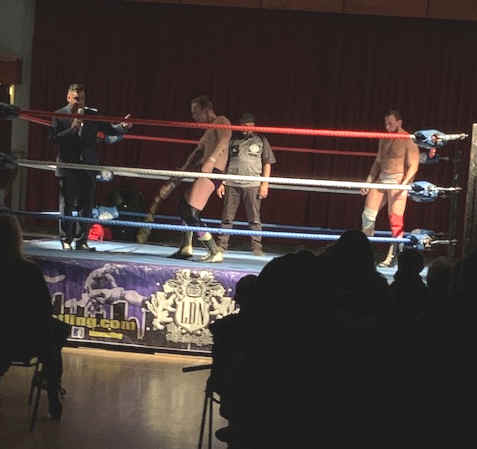 ---
NEW YEAR CLEAR OUT FOR ETHIOPIA
17 January 2020
---
From PFC Ethiopia
Drum roll please... our New Year Clear Out for Ethiopia at raised £228.40 this morning. Our phenomenal Junior PFC Ethiopia Ambassadors collected 571 kgs of clothes, shoes and soft toys, which is 50 kgs more than last time. Whoop whoop! Amazing teamwork. A big thank to everyone from Holy School, Holy Trinity Church and Cookham Scouts & Cubs who supported our campaign - and also to other neighbours and friends. But the biggest thank you goes to Helen McLean for organising it. All of the money will go to Gende Tesfa Breakfast Club.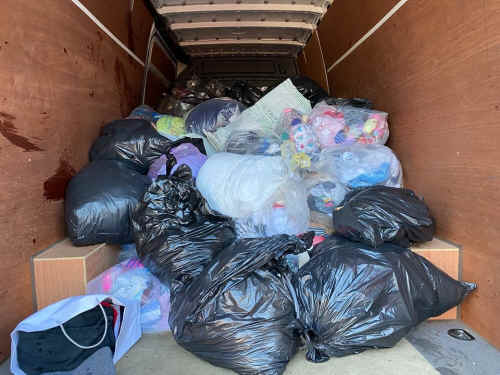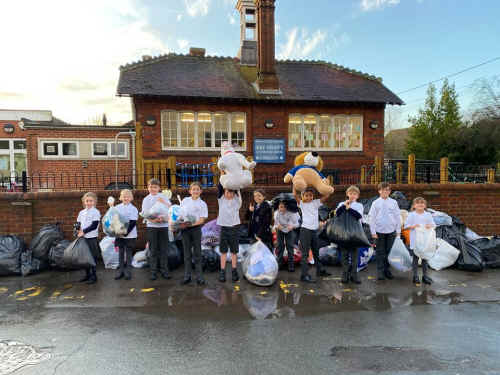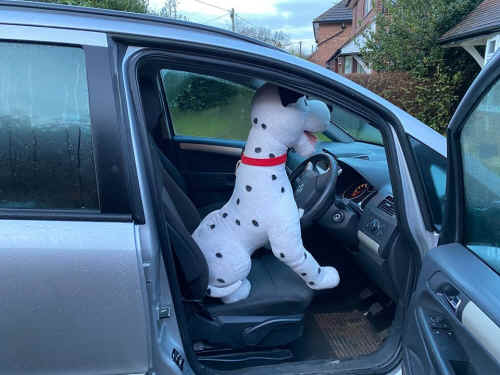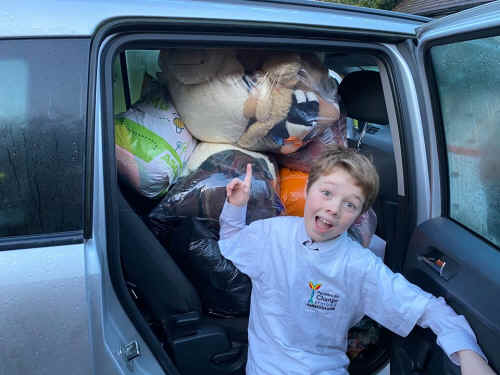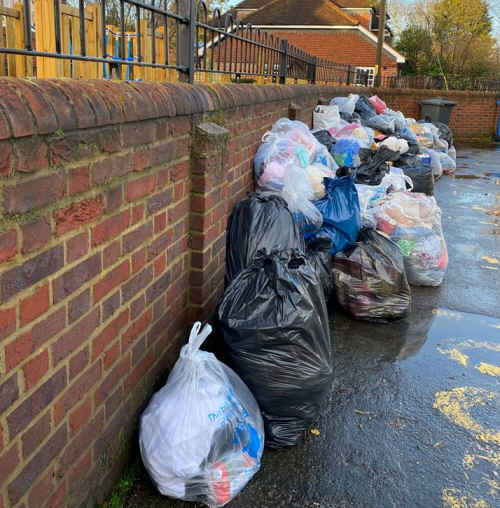 ---
TIMMY MALLETT'S BOOK LAUNCH
15 January 2020
---
In 2018 Cookham resident Timmy Mallett braved the Beast from the East to cycle 2,500 miles from Cookham to Santiago de Compostela in memory of his brother Martin, who was born with Down's syndrome and had died just a few days earlier. This was a journey of exploration, honouring Martin's outlook on life that everyone can reach their potential. And so, with his painting gear strapped to his bike, Timmy set off on his journey. He has know documented this in his book, "Utterly Brilliant" which is being launched in London tomorrow 16 January 2020. Well done Timmy.

Timmy's book is available for sale from Amazon and is in their top ten new books.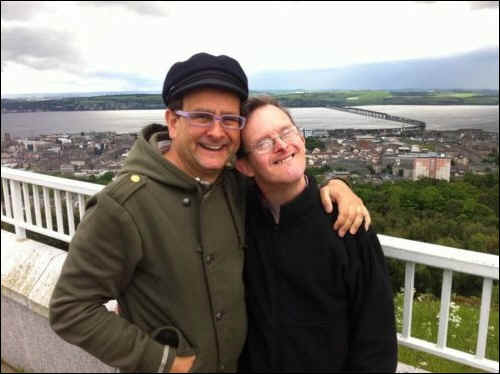 Timmy with his brother Martin
---
MALIK'S EXPRESS TO OPEN 14 JANUARY
11 January 2020
---
The new Malik's Express in Cookham Rise will be opening on Tuesday 14 January 2020. It is based in the Parade, Cookham Rise and takes over from the old Indian take-away. It should be a great asset to us all. Malik will be having an initial 'trial' month and then will start full delivery after that.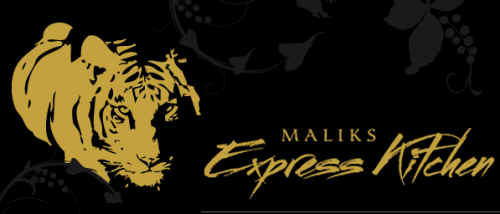 ---
COOKHAM FESTIVAL APPOINTS NEW CHAIR
7 January 2020
---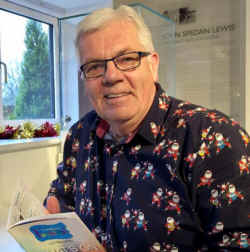 The Trustees of the Cookham Festival are pleased to announce that Derek Bond has taken up the role of Festival Chair-person. Derek is well-known in the village having first managed the John Lewis Sir Bernard Miller Centre at Odney and then the Partnership's Winter Hill golf club and also from the Festival's People's Shakespeare – most memorably as Falstaff in the 2015 production of The Merry Wives of Windsor. An employee of John Lewis for 48 years, 20 of which were in this area, Derek brings considerable managerial expertise to the Festival Team. As a marketing events manager, Derek was responsible for a large number of high-profile marketing and hospitality events, including: The BBC Good Food Shows, Hampton Court Music Festival, Cheltenham Literary Festival, English Heritage Concerts, Blenheim Palace and Gatcombe horse trial and numerous agricultural shows, including The Royal Show at Stoneleigh.
"The Cookham Festival is a cornerstone of our Community life here in Cookham and I am very much looking forward to helping it grow and prosper in the years to come" said Derek. "Our next Festival will be May 2021 and as ever, we are looking for people to help. We have a fantastic leadership team but we need more help, particularly with music, drama and visual arts event management". If you think you can help in any way, please contact me through info@cookhamfestival.org.uk".
The Cookham Festival is a biennial celebration of the Arts. It is a local festival run by and for the people of Cookham and our surrounding communities. It is by far the largest community activity held within the village and, with more than 15,000 visitors over the Festival period, it is a major event on the regional arts calendar.
---
CHERRY PICKERS RAISE £640
4 January 2020
---