---
BEL & THE DRAGON WIN BEST PREMIUM FOOD OFFER AWARD
17 March 2017
---
Bel & the Dragon has won the Best Premium Food Offer Award at this year's Publican Awards. TV Presenter Jonathon Ross handed out the prizes. Bel and the Dragon were commended for its high end twists on pub classics, such as their Duck Shepherd's Pie and Roast Suckling Pig.

---
NEW RUNNING COURSES
11 March 2017
---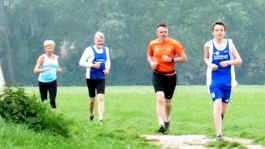 Dates for Cookham Running Club's latest and hugely popular beginner running courses have just been announced. These sell out extremely quickly, so please book promptly to ensure a place. All of Cookham RC's coaches are experienced runners and qualified with England Athletics. Price includes email feedback, schedules and coach accompanying you to a 5km event at the end of the course.
Hundreds of runners have now completed the course - none has yet failed to complete the 5km at the end. Could it be you next?
Evening couch to 5km with PADDY McGRATH: Starts 19th of April at 19.00 pm in the Alfred Major Rec. 6 week course. Cost £48.
Contact: paddymcrun@btinternet.com
School run/Morning couch to 5km with SARAH WALKER: Starts 21st of April at 10:00 am in the Alfred Major Rec. Cost £48.00
Contact: sarahwalker.home@gmail.com
COMING SHORTLY! Advanced running courses with SARAH WALKER. These will be held on Wednesday mornings and will introduce elements of hill running, fartlek sessions etc.
---
SUMMER IS COMING AND SO ARE THE BUTTERFLIES
7 March 2017
---
The next meeting of
Cookham Wildlife Supporters is on Monday 20th March at 7.30pm and it brings the prospect of the coming balmy days of summer to take us out of our winter blues. The topic is 'Our Local Butterflies' and the talk will be led by local
lepidopterist David Fuller. David is a
born and bred Maidenhead man whose interest in butterflies began in the 80s, joining Butterfly Conservation and serving on several committees. Over the years he has seen all 59 of the British butterflies via holidays and trips to other counties and he says that he still gets a thrill when seeing the first sightings each year - a sensation which he is bound to convey to his audience. He will also be helping the group in its survey work in the Cookhams.
As well as talking about the wide range of butterflies we can see locally, David will giving us tips on how to encourage butterflies into our gardens, building on what we have learnt at the Supporters' February talk about the National Gardens Scheme.
You can find further information, including the venues for our meetings, by signing up at https://www.meetup.com/Cookham-Wildlife-Supporters/ This will also ensure you get the regular newsletters.
---
CCOKHAM SOCIETY DESIGN AWARD 2017
2 March 2017
---
At its Annual General Meeting on Thursday 2nd March 2017, the Chairman of the Cookham Society, Mr Evert Groeneweg, announced that the winner of the Society's Annual Design Award for 2017 was The Niche, a new dwelling on Spade Oak Reach.
According to the Society's assessment:
The Niche follows closely the guidelines established in the Cookham Village Design Statement (VDS) for new development in its area and is an excellent example of a new house which makes a positive impact on its environment. Its design was based on minimising energy usage: heat required for hot water and space heating is provided by a heat pump which utilises a simple heat exchange unit submerged in the adjacent river Thames. In addition to high specification insulation further energy saving is made by a ventilation system that captures heat from extracted air and recirculates it throughout the rooms with fresh, filtered air. The Niche benefits from its own potable water source, and has a drainage installation that treats, filters and returns cleaned water to the river. It provides a high level of comfort and space with ample natural light and harmonises well with its river-fronting neighbours.
He requested the Society's President, Mr John Bowley, to present the Award Certificate. Mr Bowley then presented the Certificate to Mr Carl Leighton-Pope, owner of the property, which had been designed by Mr Trevor Bownass, FRICS, of Marlow.
This is the 4th year of the Award scheme, which is designed to demonstrate that the Society welcomes developments which are in keeping with the essential character of the village. It consists of a Certificate, signed by the President and the Chairman of the Society, and a Blue Ceramic Plaque for display on the building. Further enquiries to: Pablo Dubois (pablo@dubois.me.uk) T. 01628 521002.
---
HAVE YOU SEEN A WHITE PHEASANT?
26 February 2017
---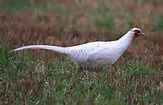 Bird man, Brian Clews, wonders if any one in the area collects unusual game birds? A resident of Lower Road photographed an all-white (possibly even albino) Pheasant in his front garden yesterday, seemingly oblivious of passing pedestrians and traffic. This might suggest the bird was used to people and may have escaped if a local aviary was perhaps damaged in Storm Agnes the day before. Brian says "I can't recall a record of such a specimen in Berkshire before (though Oxford and Warwickshire county records show sightings in recent years.)"..
---
CAPTURING COOKHAM
5 February 2017
---
We hung the latest exhibition at the Gallery yesterday. It's by the pupils at Holy Trinity School in Cookham village and I have to say I was truly impressed by it. The school has been working hard through January to produce this and the teachers selected the five best from each of the seven classes and much of this work would look good in an exhibition of modern or naive art.

There is a mix of collage, painting, drawing, pastels, each class taking a different look at 'Capturing Cookham - Images from the Village'. It's definitely worth a visit.

The show runs from this Monday 6th February to Friday 3rd March and the Gallery, at Station Hill, Cookham SL6 9BS, is open weekdays 9am to 3pm. You can visit during the usual Elizabeth House opening hours (9am to 3pm weekdays with a one-hour break from noon).
---
CAROLS FOR MACMILLAN
26 January 2017
---
The collections following Holy Trinity Church's three Carols by Candlelight services (for Advent, Christmas Day and Epiphany) raised a total of £1891.08 for Macmillan Cancer Support. Thank you to all who attended and gave so generously towards the wonderful work carried out by Macmillan Cancer Support.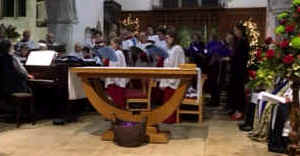 ---
WANTED - COOKHAM PANTOMIME MEMORABILIA
17 January 2017
---
In preparation for the Cookham Festival Exhibition "Peeps into Panto" Fifty years of Pantomime in Cookham, Jean Hedger and the team are looking for memorabilia which you may might have.

You may have appeared in front of the footlights or worked backstage. You may have been part of the scenery and props, costume or music making teams. Perhaps you or one of your family wrote or produced a Cookham pantomime.

Please search your attic to see if you have something you could lend for the exhibition. It could be as small as a ticket or as big as Cinderella's coach!

CONTACT Jean Hedger 01628 603204
Email: Jeanhedger@gmail.com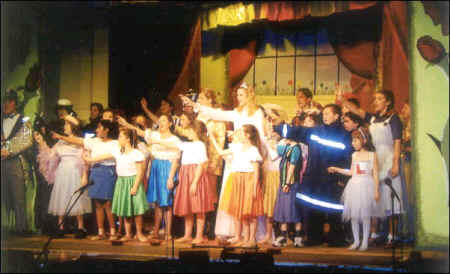 ---
GOODBYE BRENT DE CLIPPERS
13 January 2017
---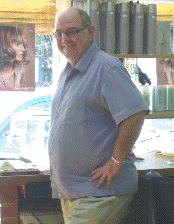 Many people from Cookham will have been saddened by the death of Brent, who has run Brent de Clippers in Cookham Rise for many years. Brent died last Saturday 7th January 2017.

His daughter Louise has said that a lot of people have asked about the funeral, but it seems that Wexham Park Hospital have got a log jam producing death certificates, particularly as Brent died at a weekend. She will let us know the funeral details when she finally obtains a copy.
---
COOKHAM TWINNING SOCIAL EVENING
10 January 2017
---

Anyone with a liking for things French is invited to join Cookham Twinning's social evening and AGM at the Jolly Farmer, Cookham Dean on Monday 20th February, starting at 7.30pm.
Once we've dealt swiftly with the business of the Twinning AGM, we'll order food from the excellent kitchen of the Jolly Farmer, and partake in a light-hearted French quiz.
Following on from the successful visit to Cookham in 2016, we'll be able to provide background to the Twinning visit to St Benoit in France that we'll be making this year on October 21st-24th (Autumn half-term). St Benoit is in a beautiful setting, near the ancient town of Poitiers, and close to the Futuroscope theme park.
There's no need to book for the social evening, just come along, although it would be helpful if you can drop an email to keith_le_page@hotmail.com so that we have an idea of numbers. All are welcome – bring friends!
---
WINTER WANDERER SOCIAL WALK
7 January 2017
---
Annette Garnham is planning to set up a Winter Wanderer Social Walk and is looking for people who may be interested. Annette aims to initially choose routes that will be pram and paw friendly of between 30 and 60 minutes duration. There will be no charge for the walks and should be a great opportunity to meet other Cookhamites. The first walk is on Tuesday, January 17th, 2017 suitable for all fitness levels. Meet at 13:50pm for 14:00pm departure at Cookham Railway Station (outside ticket office). Just turn up. The walk should take about 60 minutes.
Annette had a trial on Tuesday with one other person. She said "we both had a great time getting to know each other and enjoying the glorious weather we were lucky enough to get."
Here are some photos of the walk.