Hear ye Hear ye! The Crier is always looking for things to shout about! Feel free to submit your Thoughts, Poems, Photos, Requests or anything you like to thecrier@cookham.com
---
NITROUS OXIDE CANISTERS
22 January 2019
---
Cookham Parish Council would like to know of any further sightings of the canisters so the police can be informed. So please let them know by emailing office@cookhamp arishcouncil.or g.uk with a rough location and they will pass the info on. Thanks!
The most silver canisters I have ever seen at the Alfred Major. All around the bench at the end of the school playing field. About 55, have reported to TVP via email.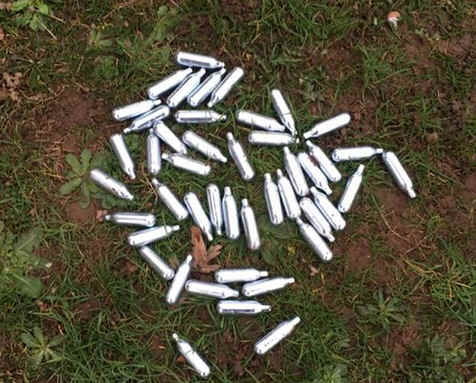 ---
HARRIS WOODBRIDGE NATURE RESERVE
21 January 2019
---
The Parish Council has recently given WildCookham the go ahead to look after the Harris Woodbridge nature reserve in Cookham Dean. It's a beautiful plot of land just off Dean Lane. Here's a short film about it.
On Sunday January 27th a group of volunteers are heading up there to help tame the landscape. If you would like to be involved click here for more details:
---
BIG GARDEN BIRDWATCH
5 January 2019
---
With the Big Garden Birdwatch coming up at the end of January, what better way to prepare than to create your own bird house! Every home needs a bird box and here's an opportunity to make a perfect bird house guided by experts! WildCookham's next event is their now annual, popular nest box making session and it's suitable for adults and children.
Box kits together with tools will be provided (for a small fee) and boxes suitable for robins or blue tits can be made at this workshop. Bob Keene and others from the Bisham bird box group will be on hand to help and also advise on the best place to site them. The workshop is taking place at Lea Barn on Saturday 19th January. For more details and to register your interest please visit the WildCookham Meetup page here.
---
---
Hear ye Hear ye! The Crier is always looking for things to shout about! Feel free to submit your Thoughts, Poems, Requests or anything you like to thecrier@cookham.com