---
CAPTURING COOKHAM
5 February 2017
---
We hung the latest exhibition at the Gallery yesterday. It's by the pupils at Holy Trinity School in Cookham village and I have to say I was truly impressed by it. The school has been working hard through January to produce this and the teachers selected the five best from each of the seven classes and much of this work would look good in an exhibition of modern or naive art.

There is a mix of collage, painting, drawing, pastels, each class taking a different look at 'Capturing Cookham - Images from the Village'. It's definitely worth a visit.

The show runs from this Monday 6th February to Friday 3rd March and the Gallery, at Station Hill, Cookham SL6 9BS, is open weekdays 9am to 3pm. You can visit during the usual Elizabeth House opening hours (9am to 3pm weekdays with a one-hour break from noon).
---
CAROLS FOR MACMILLAN
26 January 2017
---
The collections following Holy Trinity Church's three Carols by Candlelight services (for Advent, Christmas Day and Epiphany) raised a total of £1891.08 for Macmillan Cancer Support. Thank you to all who attended and gave so generously towards the wonderful work carried out by Macmillan Cancer Support.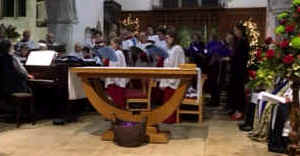 ---
WANTED - COOKHAM PANTOMIME MEMORABILIA
17 January 2017
---
In preparation for the Cookham Festival Exhibition "Peeps into Panto" Fifty years of Pantomime in Cookham, Jean Hedger and the team are looking for memorabilia which you may might have.

You may have appeared in front of the footlights or worked backstage. You may have been part of the scenery and props, costume or music making teams. Perhaps you or one of your family wrote or produced a Cookham pantomime.

Please search your attic to see if you have something you could lend for the exhibition. It could be as small as a ticket or as big as Cinderella's coach!

CONTACT Jean Hedger 01628 603204
Email: Jeanhedger@gmail.com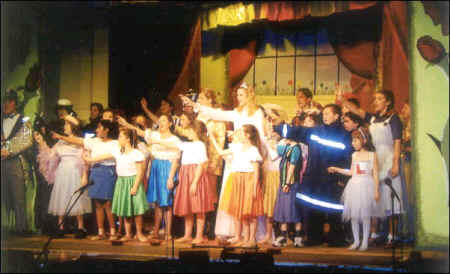 ---
GOODBYE BRENT DE CLIPPERS
13 January 2017
---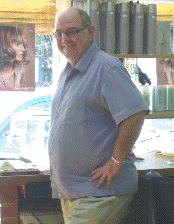 Many people from Cookham will have been saddened by the death of Brent, who has run Brent de Clippers in Cookham Rise for many years. Brent died last Saturday 7th January 2017.

His daughter Louise has said that a lot of people have asked about the funeral, but it seems that Wexham Park Hospital have got a log jam producing death certificates, particularly as Brent died at a weekend. She will let us know the funeral details when she finally obtains a copy.
---
COOKHAM TWINNING SOCIAL EVENING
10 January 2017
---

Anyone with a liking for things French is invited to join Cookham Twinning's social evening and AGM at the Jolly Farmer, Cookham Dean on Monday 20th February, starting at 7.30pm.
Once we've dealt swiftly with the business of the Twinning AGM, we'll order food from the excellent kitchen of the Jolly Farmer, and partake in a light-hearted French quiz.
Following on from the successful visit to Cookham in 2016, we'll be able to provide background to the Twinning visit to St Benoit in France that we'll be making this year on October 21st-24th (Autumn half-term). St Benoit is in a beautiful setting, near the ancient town of Poitiers, and close to the Futuroscope theme park.
There's no need to book for the social evening, just come along, although it would be helpful if you can drop an email to keith_le_page@hotmail.com so that we have an idea of numbers. All are welcome – bring friends!
---
WINTER WANDERER SOCIAL WALK
7 January 2017
---
Annette Garnham is planning to set up a Winter Wanderer Social Walk and is looking for people who may be interested. Annette aims to initially choose routes that will be pram and paw friendly of between 30 and 60 minutes duration. There will be no charge for the walks and should be a great opportunity to meet other Cookhamites. The first walk is on Tuesday, January 17th, 2017 suitable for all fitness levels. Meet at 13:50pm for 14:00pm departure at Cookham Railway Station (outside ticket office). Just turn up. The walk should take about 60 minutes.
Annette had a trial on Tuesday with one other person. She said "we both had a great time getting to know each other and enjoying the glorious weather we were lucky enough to get."
Here are some photos of the walk.