Teapot Tea Shop - Cookham Village reviews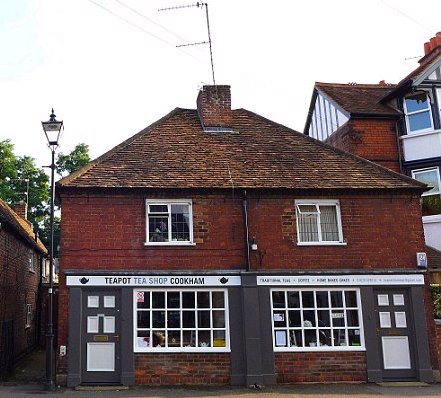 Tea rooms
High Street
Cookham Village
SL6 9SJ

01628 529514
Teapot Tea Shop - Cookham Village website
8 reviews
Average Score:

Add your review of Teapot Tea Shop - Cookham Village
Review added 02/02/2019 02:41 by Lindy Russell kirk
Has the makings of a sweet English tea,
shop cafe.
I was impressed with the variety of temptation s in such a tiny shop.
My suggestion is the pebbles out back are replaced by lawn,gardens,pavers or a mix of all to give a less slippery dence footing,and gentility would rein.
Above average standard...looking lovely.
A big hug from New Zealand.
Having had the buck of the menu,I was rather disappointed thou it was not home made and better quality.
But you were busy and I was only a picky tourist.
Ha ha have a lovely new year.
VkLB

Review added 25/07/2016 20:43 by Lisa
Visited the Teapot for the first time on a very hot day and it exceeded our expectations.
In the cool café, we enjoyed some wonderful, unusual recipe cakes made on the premises, and there was a great choice of teas.
Definitely recommended!

Review added 26/03/2015 08:56 by Mark
I agree the one star review should be removed as the person did not use the facilities. Also it is worth noting that quite a few business are closed on Mondays, Butchers, Hairdressers to name two. I know of pubs locally that are shut on Mondays and some only offer a limited service. There is nothing wrong with this, I also agree with the comment about take a look at an establishments website to see when it is open. By the way I have used the Teapot on a few occasions so feel happy to award it 5 stars.

Review added 25/03/2015 19:34 by Mac
I agree with the previous two posts.
I sent the following email to the Cookham webmaster yesterday.
"I'm not a customer or owner of the tearooms, but noticed that today someone has awarded one star because they weren't open when they visited.In all fairness I'd suggest that the review is removed as the prospective diner hadn't even used the establishment."

Review added 25/03/2015 12:24 by Julie
I agree that you shouldn't be allowed to slate a business just because you haven't checked if it's going to be shut when you want to use it! I paid the tea room a visit for the first time on mothers day with my mum, my sister and some nieces and nephews. The surroundings were delightful, the cakes excellent and I couldn't fault the service. How lucky we are to have a tea shop like this in Cookham.

Review added 25/03/2015 11:56 by Sophie
Without doubt, I can't be the only person who found the last anonymous reviewer's comments and rating incredibly arrogant and wholly unjust.
I'm sure we are all desperately sad to learn that she/he was so disappointed in finding the premises closed. But the biggest shame is that she/he couldn't even be bothered to take a swift glance at the café's website, where it is clearly shown that Monday is their only closing day.
Instead, in order to punish the proprietor for her/his disappointment when they have done absolutely nothing wrong, she/he vindictively brought down the tea shop's average rating by awarding them only a single star. The philosophy here seems to be, if someone innocently and unwittingly disappoints you, just kick them hard anyway. How grown up is that?
From the Teapot Tea Shop website:
Hours:
Sun 10:00 - 17:00
Tue - Sat 9:00 - 17:00

Review added 16/01/2014 15:44 by anon
popped in today! i really liked it. The girls were lovely and positive. Had a pannini and tea. It tasted really good. Loved the atmosphere but there could have been some music on. It would just make this place even more lovely. Good job, keep it up.
Yes, the menu could be a bit more exciting but what they do offer seems to be really good. Will return for sure!

Review added 18/09/2013 21:00 by Jakey1
This is a very sweet tea shop but very dull menu, come one girls, you can do better, you are I a prime position!