Palmieri's - Maidenhead reviews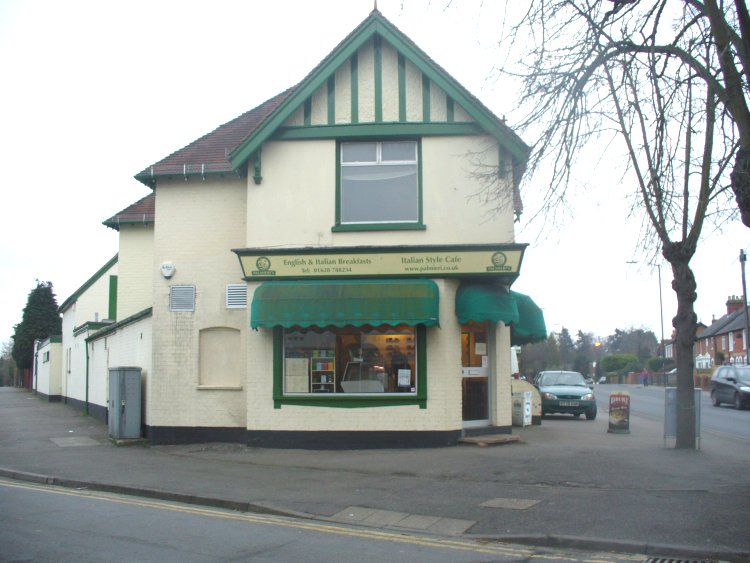 We are an Italian, family run, food and catering business from Naples.
52 Furze Platt Road
Maidenhead
Berkshire SL6 7NN
Telephone: 01628 788234
Palmieri's - Maidenhead website
28 reviews
Average Score:

Add your review of Palmieri's - Maidenhead
Review added 06/03/2020 18:51 by Colin
Great food, great value and super friendly. Always a treat.

Review added 07/08/2015 16:53 by Alastair
Roberto and his team did the catering for our wedding a few months ago - 40 guests, at fairly short notice. Perfect service and food, all done with a sense of style. Our guests were very complimentary.
They even brought a spare chiller cabinet from their restaurant when we ran out of fridge space!
Would wholeheartedly recommend them.

Review added 08/08/2014 14:18 by Lucinda Amodio
Palmieri's provided the catering at our wedding on Aug 1st 2013. Roberto was amazing and extremely helpful in the months running up to the wedding. On the day the food was delicious and there was heaps of it. Our guests commented on how lovely the food was. Roberto and his family definitely made our day special. We recommend them highly. A wonderful family run business.

Review added 19/10/2012 10:13 by Mark
Having gone down the list of all the reviews in the review section I find that the only establishment with multiple reviews, more than 10 - Palmieri's is the only one to A] Not have a bad word said against them and B] The Only one that has a 5 star rating. As a frequent visitor to this establishment I totally agree with the praise this place gets. If you have not tried it then you are missing a golden nugget of a place.

Review added 27/04/2012 17:34 by anon
Perfect Lasagne, say no more.... other than the friendliest people u will ever meet!

Review added 24/10/2011 09:56 by Janak Mistry
Food is great in the evening, shame you have decided to no longer carry on with it. One suggestion I would make is a WiFi connection then people can enjoy a coffee and bite and do a little work at the same time :-)

Review added 18/09/2011 19:37 by Kate and jill
My friend Jill told me about this amazing place,
We met at Palmieri's for coffee, and as soon we walked in
were welcomed with a big smile,
Jill is a regular customer and they already new what coffee she wanted and how many sugar she took,
Salvatore ( one of the owner) was talking to me like we knew each other for years, and he served me the best cappuccino I ever had,
The amazing thing was that every member of the family said hello and they had always a big smile on their faces,
I also bought two pasta ready meals to take away which I had that evening, they were fantastic,
What a great place ! Thank you Jill this was a very nice present

Review added 03/06/2011 16:22 by Sue, Richard and friends
I am very sad to hear that you are no longer open in the evenings. What a great loss.
How can we make things change?

Review added 26/03/2011 21:13 by Simon
Very friendly atmosphere, no nonsense good Italian food, homemade and delicious. Well worth a visit.

Review added 19/02/2011 20:26 by anon
A great place to sit back and relax in it's mellow Italian atmosphere. The service is wonderful and each time i go back i am astounded at their persistent friendliness towards all customers. I highly recommend Palmieri's for everyone; whether it's businessmen, families even teenagers!

Review added 10/10/2010 12:47 by Mary and Tina
Another good evening here. Place was fully booked, service excellent a lovely relaxed evening with great food.

Review added 26/07/2010 18:25 by Spencer and Piers
We would echo all the positive comments about the evening service.
We have just held a friends wedding anniversary party for 70 people catered by Palmieri's. Salvatore, Roberto and their team arrived early, and took care of everything. Smart and efficient bar service, wonderful anti-pasti with produce from their deli followed by the signature lasagne and topped off with filled cakes. Everyone was extremely positive about the service and the food. If you are planning a celebration I would highly recommend them.

Review added 17/07/2010 18:08 by Tricia Brooks and first husband
This has now become our regular eating place. Lovely people whether for breakfast, morning coffee and cake, a panini at lunch time or a three course meal on a Friday or Saturday night (we've done them all!). Fabulous freshly cooked authentic italian food, coffee to die for and a good wine list. Just leaving to go again now. The most unlikely address on the Furze Platt Rd but word has travelled quickly and really great not to have to go into town.

Review added 16/07/2010 07:24 by Silvia
I was told that this italian trattoria was the best for miles and I went to check it for my self, I walked in for the very first time and the guys behind the counter welcomed me like I was a good old friend , I was so delighted because it was just the old good days, I ordered a lasagna and peroni Italian lager, within twenty minutes I was served with most tasty lasagna I ever had , the service was so friendly I felt like I was eating in my own home , I must say this was for me a great find and I wish the palmieri's family all the very best for the great effort they put in to make that business a great success. I will definitely go back and also tell all my friends and family , well done

Review added 08/07/2010 08:03 by anon
Vegetarian lasagne is truly the most delicious I have ever eaten- not smothered in cheese sauce, but filled with wonderful selection of roast vegetables. Never disappointed when we come here, and the staff are lovely too!

Review added 24/05/2010 10:08 by anon
Incredibly friendly staff, very genuine atmosphere. The best coffee I have ever tasted! Food looked great although I didn't sample any while I was there. I am making the 1 & 1/2 hour back there today just so I can take my fiance and let him experience this great place!

Review added 14/05/2010 12:21 by Ned and Tony
What a find. Simple, honest food and friendly staff.
Freshly-made, delicious pasta and a reasonably-priced wine list.
Won't be going into town much now on a Friday night!
Any chance of adding a piece of fish to the menu!?
The Zambuca coffee and Limoncello combination is to die for and extremely dangerous (bet you can't have just one!!).

Review added 02/04/2010 16:13 by Paul, Karen & Oliver
What we we do without Palmieri's??? We feel incredibly fortunate it is our local cafe/restaurant. The coffee is first class and the food all home made and totally delicious. We are completely addicted as a family. The warm friendly environment is a breath of fresh air. Theresa, Salvatore and Roberto have certainly got a winning restaurant. Keep up the good work all your long hours and hard work WILL pay off.

Review added 09/03/2010 17:45 by LIZ HARRIS
Wow, wow, wow what can I say, absolutely fanastico, having been to Palmieri's on a number of different occasions, the staff, food and coffee have been and always will be out of this world!!! Staff are very friendly and welcoming with lovely smiles!! Homemade pasta is fresh and all dishes extremely delicious, even if you pop in just for a simple expresso, you would think you were actually in Italy, for the cakes it sends me to a different planet each time!!! Will be planning my 40th dinner bash that's for sure, well done to Claudio, Roberto, Theresa and all the other staff that I can't remember all their names, keep up the good work and roll on the summer where I can enjoy a cappuccino outside and imagine life in Italy!!!!! Ciao peeps

Review added 09/03/2010 16:43 by Glynn and Linda Taylor
We are regular visitors to Palmieri's for coffee which is the best coffee in town (would go so far to say the best coffee in the county), baquettes or a panni. I recently celebrated by 50th Birthday at Palmieri's. The food was excellent and there was plenty (in fact would say more than plenty. Family and friends had a fabulous evening and that was thanks to the friendly atmosphere where nothing was too much trouble. Thanks to Roberto, Theresa and team (sorry cannot remember all their names. Yes it is a small restaurant but it is better than all those big well known restaurants in town for Italian food, friendliness and is good value for money. Give it a visit you will not be disappointed.

Review added 08/03/2010 09:26 by John cranes
Fresh home made pasta , fresh food , friendly people always smiling, the best coffee in Berkshire , the cakes are delicious ,this is the real italian place, everyone should try this Italian cafe' trattoria , they do also evening meals at the week end , wow! what else to say other than well done and thank you for bringing the real Italian food back to England

Review added 28/02/2010 15:27 by Gina Squires
My friends and I have recently experienced great, simple, well cooked, utterly delicious Italian food in this warm, inviting, rustic restaurant. The pasta was oh so fresh, big, fat succulent mussels to die for and steak cooked to perfection. Oh and, yes watch out for the home baked bread - yum! Really good house wine and staff that were really attentive without being too obvious. Really loved the friendliness and warmth of this place and cannot wait to return! Thank you to Salvatore and 'family'!

Review added 22/01/2010 11:29 by Paula Cox
This little restaurant is excellent. For lunch or coffee with friends it's a lovely place to meet. Cheesecake to die for!
They do dinners on Friday & Saturday evening too. Very simple but delicious good quality food.
Most importantly as incredibly warm welcome every time.
We need more local businesses like this and I would encourage everyone to support this one.

Review added 01/11/2009 11:30 by anon
Went to see what this Trattoria was like, saw that they were doing evening meals on Friday and Saturday. All I can say is that it was excellent, good House wine and the pasta which is fresh, was very good. Will certainly go again.

Review added 14/10/2009 09:21 by anon
I am Italian and here I have eaten the typical dishes of my land. A delicious fresh pasta, gourmet cakes,coffee and cappiccino. Run by a nice and friendly family! Congratulations and best wishes for your work!! Anto

Review added 05/10/2009 12:35 by anon
Excellent deli/cafe - great baguettes, coffee and cakes. Pasta dishes to die for.

Review added 17/04/2009 18:15 by anon
This place does the best pasta I have ever had. A great place for a coffee and some fresh pasta atlunchtime followed by some delicious puddings. Run by some very friendly italians. You can even order dishes for takeaways for dinner parties or even just for a family dinner. Fresh pasta anyway you want it. The lasagne is the best I have ever had! A great find.

Review added 30/10/2008 18:19 by LizzyK
For the International Evening at the Pinder Hall last Sunday for the food we used Palmieri's, the Italian shop in Furze Platt. They were absolutely fantastic. We had a three course meal delivered for 80 people. All we had to do was take off the lids and serve. We had anti pasto followed by a pasta dish with salads. The puddings were little petit four type cakes and were quite beautiful. The only complaint was there was too much food!! Definitely worth using them if you are organising an event for a number of people, at a very competitive price. They also do breakfasts and lunches in their shop in Furze Platt.