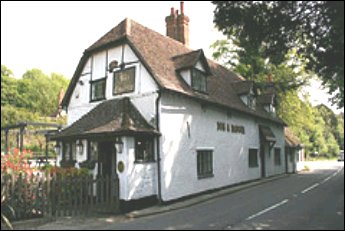 Open all the year round all day from 11.00am Monday to Saturday and from 12.00 noon on Sunday. Lunches and light meals are offered in the bar throughout the day
Contact Paul and Fiona
01491 571362
dogandbadger@googlemail.com

Dog and Badger
Henley Road, Medmenham, Bucks SL7 2HE
Ye Olde Dog and Badger-Medmenham website
1 review
Average Score:

Add your review of Ye Olde Dog and Badger-Medmenham
Review added 24/09/2009 12:20 by John Ranger
My wife stumbled across this place when she was browsing toptable.com for pubs/restaurants in the area. I have to say that it lived up to expectations. I gather from the very friendly couple who run the place that they have recently taken the pub over. They really have done a brilliant job as this place is a cosy, traditional pub but also offers restaurant-quality food (though at pub prices!). One of the highlights of our lunch there last Wednesday were the delicious starters - my wife had absolutely fantastic garlic tiger prawns and I had an excellent crispy duck salad. For mains, I had cod and chips - a very generous portion and cooked to perfection. My wife had seared scallops with a saffron risotto which she said were delicious and very tasty. As I was paying, I might add that they were about £5 cheaper than some scallops we had in a restaurant in Henley the other week!!! I managed to squeeze in a pud too - 'Affogato' - a serving of ice cream covered in espresso coffee (almost as good as the ones I've had in Italy!). One final thought - should mention that for a pub they have a really comprehensive wine list, all hand-picked by the owners, who seem to know a thing or too about wine. I'm not really a beer drinker, but I did notice that they had some real ales on tap, which was nice to see.