Maliks - Marlow reviews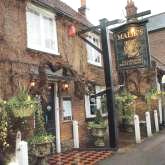 Indian restaurant
101 High Street,
Marlow,
Buckinghamshire SL7 1AB
Tel: 01628 482180
2 reviews
Average Score:

Add your review of Maliks - Marlow
Review added 26/10/2012 09:11 by Frank Bridge
a disappointing meal with mistakes being made by the staff. i could only describe their attitude as casual. I won't be going back especially since such a prestigious restaurant could only manage 2 stars (improvement necessary) on it food hygiene inspection.

Review added 25/06/2010 12:57 by Rolf ,Timmy and Lynda
For a change of location we tried Maliks in Marlow diagonally opposite the park where all those roundabouts merge ridiculously! Much smaller than the Cookham restaurant but the same excellent food. Maliks brother Runel was on hand to talk us through the menu. He suggested fish the way he likes it and the accompaniments he would choose so we went with that and were not disappointed...Glad of the air conditioning that warm night.
We're going back!