Lychee - Cookham Rise reviews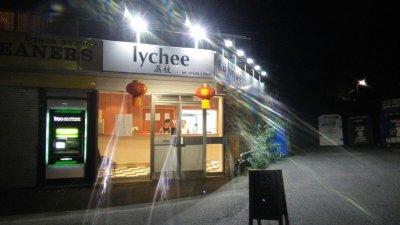 Chinese take-away
57 Station Parade
Station Hill
Cookham
01628 528666
49 reviews
Average Score:

Add your review of Lychee - Cookham Rise
Review added 03/02/2020 22:39 by RPB
I gave this place a glowing review a couple of years ago, but things have gone downhill since. Food is still good. But the organisation is beyond chaotic.
Twice in a matter of weeks Iíve been given an ETA of 20-25 minutes for a collection. On both occasions itís been well over 50 minutes.
The most annoying part is that the staff actually ignore questions about how much longer the food will take, turning their back and scuttling off. I think itís wanting to avoid disagreement rather than deliberate rudeness - but itíd be better to give a realistic timeframe in the first place.
Shame - the food is generally very good, but be prepared to be very hungry and irritable by the time it arrives.

Review added 10/11/2019 13:45 by anon
Lychee produces the most fantastic food at extremely good prices. We decided to try their delivery service yesterday and it was delivered when they said by a very friendly, pleasant girl.

Review added 17/02/2019 20:15 by Ross
Really good food and good value for price! We love the sweet chilli crispy aubergines.

Review added 07/12/2018 11:29 by anon
This is our favourite take away. Delightful staff; we are always greeted with a smile. Delicious food, freshly made, reasonably priced and plenty of it. My favourite is chicken with cashews and the container is always full of cashews and meat, no skimping. Highly recommended.

Review added 26/11/2018 10:33 by RPB
They've upped their game. Previous takeaways were always good enough, but last night was really exceptional - fresh, crispy, light and full of flavour. Not sure if there's a new chef but was genuinely exceptional.

Review added 20/09/2018 22:52 by MAc
This was the first time that we'd tried Lychee since it re-opened and put simply it was very good.
The prawn toast was excellent as were the dumplings, which are a must have.
Will certainly be returning.

Review added 03/08/2018 19:05 by Jane
This is my first time ordering from Lychee since it opened. I have to say the food is superb! Delicious dumplings delivered to me, food arrived piping hot. Big portion sizes, each container filled to the brim! Nice to see a chinese takeaway not cutting corners!

Review added 30/07/2018 15:18 by Mick
Phoned our order for a delivery at 17:20, young girl told us the driver didn't start until 18:00, delivered our food personally herself 17:40. Lovely food with a superb service.

Review added 30/06/2018 19:43 by anon
Shocked by the modest prices and generous portion sizes, nice to have an authentic chinese in Cookham!

Review added 17/05/2018 08:35 by James
Yummy chinese! Lovely family run takeaway, best in the area!

Review added 17/04/2018 18:39 by Sam
Very very good food and decent portions too. They do delivery now which is even better. Keep up the good work guys

Review added 25/03/2018 08:35 by Lydia
Food is good, but got my menu wrong 3 times since it reopened. Won't be going there again.

Review added 27/01/2018 14:39 by Jenny R
Had our first Lychee take away yesterday very very good, tasty and hot and very well cooked, will be going back for seconds.

Review added 24/01/2018 10:53 by Sandy
We mostly eat Indian or occasionally Thai, having been put off by the uninspiring quality of most Chinese takeaways. Lychee has changed all that - the impression given by the friendly staff and spotless kitchen is reinforced by the quality of the food. This is Chinese food as it should be - highly recommended.

Review added 11/01/2018 23:13 by Andrew
Lychees has had a dramatic food makeover of the most excellent sort. I hope it succeeds as I know i will keep going back for more.

Review added 28/12/2017 11:19 by tex
fantastic take away had whole duck with pancakes and two very big spring rolls it was great and very filling
we are lucky to have a take away of this standard
here

Review added 16/12/2017 15:48 by anon
A really outstanding takeaway. Fabulous food and extremely good prices. A definite recommend.

Review added 01/12/2017 20:46 by anon
Coming home after an exhausting day we decided to try Lychee. We used to use it regularly before it shut. It is now a family business. We were not disappointed. We had a warm greeting, our meal was quickly and freshly prepared and it was delicious. We had the pork, home-made dumplings prepared by mother, cashew chicken, fried mixed vegetables and boiled rice. We are so lucky to have this take away in the Cookhams and we will definitely be using it again.

Review added 11/11/2017 23:58 by Jim
Like the open kitchen and watching my food being cooked. I know a lot of takeaways make food in advance and reheat using microwave. Food is nice and fresh, wife recommends the dumplings. Will give 5 stars when you start delivering.

Review added 08/11/2017 16:25 by Ryan
Under new management after three years of being closed
The new menu is really good and all cooked to order, prices are reasonable
Give it a go, you wont be disappointed!

Review added 01/11/2017 15:27 by Janet
So glad it's back, lovely new owners & great food!

Review added 26/10/2017 20:11 by RPB
Very good takeaway - ready promptly and fresh. Really good start - I'll be back!

Review added 21/10/2017 08:36 by Annette
So pleased to see the local Chinese takeaway re-opened & under new management and ownership. The sweet and sour dish and the special fried rice were both very good. The daily-made dumplings were delicious but needed a ginger/ soy sauce to be best appreciated. The reason this review is marked at 3 stars is because of the length of time it took to get the food (50mins) and one of the dishes had been charged for and left out. Hoping the new owners get the teething issues swiftly sorted because the food is good.

Review added 23/07/2014 15:40 by Barrie
Ordered set meal for 4 July 23 2014. Very good quality, very good quantity. Very good value. £35.70 for 4 would have fed 6

Review added 11/01/2014 21:11 by Resident
They should change the name from Lychee to Onions, prawns with onions is more like onions with three or four prawns or onions with a few strip of beef. All dish taste almost the same either beef or prawns they obviously add up the same gravy and I'm sure they used MSG I watched them cooked and lined up are MSG and sugar... will go to Haka way better and lot cheaper just a bit of a trip

Review added 22/11/2013 16:46 by Her upstairs
Another well prepared, tasty and plentiful meal and glad to hear the ceiling tile problem is being resolved.

Review added 14/04/2013 12:10 by anon
First visit for a while and my last. Shop is looking tired and a bit dirty - ceiling tiles missing, others water damaged, fan above door thick with grease and dirt. The pad thai bore no resemblance to the Thai dish I ate in Thailand - noodles in a tomato sauce with no beansprouts or peanuts, and the green curry was dirty brown and awful. The spicy crispy beef was OK but not at all spicy.

Review added 20/01/2013 18:53 by cookham resident
This is the third night in a row they are closed, and over the weekend (friday 18th jan, saturday 19th jan and sunday 20th jan). One can understand about friday 18th (bad weather) but saturday and sunday was fine. They could have at least been open saturday and sunday for customer collections!!

Review added 14/12/2012 23:06 by aj
I'm one of the regulars. Peter very kindly put my vegetarian partner's favourite dish - a custom special (vegetarian singapore noodles with quorn pieces added) on the computer. It's order number 109Q and if you're vegetarian, try it, it's divine..... Anyway, great food, a real treat on one of those nights where you just can't be bothered cooking....

Review added 06/01/2012 17:28 by John
Oh dear. Recently returned to Cookam after 7 years away. Dropped into Lychee on the way home on new years day after the jazz at The Jolly. ordered 1st meal for ages. It used to be the best in the area bar none. Maybe it was a bad day but....
Rice was great the shredded beef cold & chewy, sweet sour prawn too heavy on the batter. Disappointed sesame prawns better.
Please somebody Correct me if I just had an off day.

Review added 09/11/2011 12:08 by sandra S
Great food. watching them cook it in front of you only adds to the experience. Fresh,fast and very tasty.

Review added 17/09/2011 11:22 by Christine Jannetta
Excellent food cooked in front of your eyes (can't get more freshly prepared) and friendly service. Highly recommended!

Review added 30/01/2011 11:04 by Paul
Generally impressed, usually the food is tasty and plenty of it. Couple of bad experiences, had s&s chicken hong kong style and it was way to dry - not enough sauce, and yes I know it's not supposed to have much but it was a lot less than others I've had. And more recently I had a king prawn curry and the same night I had a bad fever - can't say for sure it was the curry of course but that's my experience, could have just disagreed with me, don't let me put you off but it's good to have this information out there. Cheers.

Review added 26/10/2010 19:20 by Lynda and Billy M
What a friendly welcome by Peter who remembered us by name ..they told us they need a brilliant new chef...
Food was very good.
Always returning...

Review added 23/06/2010 10:43 by Her upstairs
In 2 years of meals from Lychee I have never been disappointed. They take pride in their food, service and premises. Glad to have such a superior takeaway in the village.

Review added 03/06/2010 18:32 by anon
Awesome. Never a bad meal. Never a bad word. Always courteous, always good food. Good banter with Peter the Proprietor. Highly recommended.

Review added 24/05/2010 15:30 by anon
Great food, loads of variety and a friendly service!! They always remember you and try new things! Recommend a visit!!!

Review added 18/01/2010 18:55 by Peter Yeung
To all our customers,
We at lychee do have plenty of room for our commercial waste but if and where I can I will try and recycle and do my part for the environment as I am sure does everyone else. All my paper/cardboard is recycled and so are cans and plastics.
At the side of my premises there are 4 dedicated bins purely for cans and plastic bottles and 5 bins for bottles only and they are clearly labelled. I am absolutely certain that either my staff or indeed myself would not have intentionally put it in the wrong bins, it may be that Rob is unaware that there are 4 bins for cans and plastic bottles.
However, I shall stop using the bins from now on.
Sorry for any inconvenience caused.
Peter Yeung
lychee

Review added 25/11/2009 22:17 by Rob
A shame to see an employee of Lychee putting metal and plastic waste in the glass recycling bins next to their shop. It should go in their commercial waste.

Review added 03/04/2009 16:24 by peter
fantastic food fantastic service

Review added 19/12/2008 18:59 by anon
Great chinese takeaway - my son loves the crab claws. Also they are very accomodating and cook our food without monosodium glutamate - the stuff added that makes you thirsty and feel rough the next day!

Review added 18/09/2008 11:38 by anon
I use Lychee's a fair amount and have never so far had a bad meal. They are friendly and welcoming and good value. Thumbs up from me!

Review added 03/09/2008 18:44 by anon
I have to say that I have used Lychee three times the first it was good I mean really good but the second time, not so good and the third time, well I was dissapointed, I found things in my food that should't have been there. I complained and was told sorry. To be honest it has put me off I will not be using them again

Review added 18/08/2008 21:41 by Her upstairs
Polite, scrupulously clean and tasty food. Recommended.

Review added 21/06/2008 22:31 by Andrew
I'm hopelessly addicted to their sweet and sour pork but every now and again I get round to having something different - everything I've had from there has been great. They're always courteous and efficient, even when rushed off their feet, and as my partner is vegetarian, it's great to see them doing dishes with quorn, which she loves. Highly recommended....

Review added 26/05/2008 17:51 by Joanne
Great food. They will even try suggestions for new combinations of their menu. Friendly, really good portions - sometimes too much to finish - and we have never been let down by any of their take-away meals yet.

Review added 10/02/2008 15:25 by Andrew Steatham
I too like Lychee. Apart from decent nosh they are so so handy by the station there on the way home from work.

Review added 08/02/2008 21:47 by Jeff
My experience of Chinese takeways in the past has not been great until I tried Lychee's on Cookham Parade. The staff were very friendly both on the phone and when we went to collect our order.

Review added 06/02/2008 11:10 by Sarah
I was visiting some friends in Cookham who I haven't seen for ages! Since we had a lot of catching up to do we decided to get a takeaway, we called for a Chinese (Lychee) the service was quick and friendly! and the food was fantastic! If all your take aways are like this I'm moving to Cookham!!!