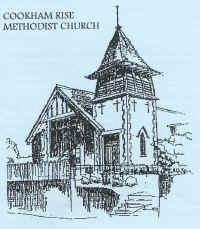 COOKHAM RISE
METHODIST CHURCH
LOWER ROAD
COOKHAM RISE
BERKSHIRE
Our aim is to proclaim the love of God in Christ Jesus through our worship and in our service to others in Cookham Rise and the surrounding areas.
We extend a warm invitation to join in any of the activities at the Church.
---
Sunday Services are at 10.30 a.m. and 6.30 p.m.
---
Sunday Club for children aged 3 upwards meets during the morning service. A crèche is available.
Our Minister is Rev. Barbara McIntivey. Please phone her on 01628 626533 if you want information about Infant Baptisms, Weddings and Funerals or in time of need.
The Ladies Circle meets once a fortnight on a Thursday. Contact Kath Popejoy on 773868 for more details.
The Methodist Church also has the Wesley Hall which is available for use by other organisations. It is used regularly by the Rainbow Pre-school and the Rainbow Toddlers Club.
---
" And Can It Be "
The Story of Cookham Methodism
Peter Hardiment's latest book "And Can It Be" tells the story of Cookham Methodism.

You may know something of the background to our excellent organ, but do you know about the windows in the entrance porch ? All, and much more, will he explained if you read this book which starts its story proper in 1837, although John Wesley had previously preached in Cookham in 1754.

We all know little pieces of Cookham history, and perhaps have some knowledge of our own church, but this little book will fill in a lot of gaps. I must admit that I found it so fascinating that I read it from beginning to end in one sitting; its 80 or so pages make such a good story that 1 did not want to put it down - I needed to find out what happened next.

The style is very easy to read with not too much unnecessary detail, although the historical basis is obviously well researched. There are already some details which have been lost, or where the surviving information is conflicting, but Peter gives us the benefit of his best judgment of the likely course of events.

We learn of the rough community of Cookham Dean and how they set upon George Grigg, a Primitive Methodist preacher in 1838, and the story behind the building of the Wesleyan chapel in Cookham, now the Stanley Spencer gallery. The first services in Cookham Rise were held in 1888, and were instigated by Mr. Robert Walker, who also suggested the name "Cookham Rise"; the area was previously known as "Nightingale Place", and there are still "Nightingale Cottages" in High Road.

The huge contributions made to Cookham Rise by Amy Dixon and Mary Heap are recorded, as are more recent modifications, and the banners we see week by week.

As Peter says, " Much has changed since 1838, but some things remain the same. The empty cross continues to focus our hopes of salvation on the risen Christ, and the warmth of our welcome and fellowship are undiminished ". We are fortunate to have Peter in our midst with the dedication to carry out the work for this book which will be of interest to everyone living and worshipping in Cookham.

Keith Le Page

(copies are available from Peter - 626182 and cost £8.50 )