Hear ye Hear ye! The Crier is always looking for things to shout about! Feel free to submit your Thoughts, Poems, Photos, Requests or anything you like to thecrier@cookham.com
---
IT'S SIR CLIVE
31 December 2003
---
Everyone in Cookham should be delighted to hear the news that Clive Woodward is to receive a knighthood in the new year's honours list. Clive who lives in Cookham is thoroughly deserving of the title. Well done Clive.
---
CONGRATULATIONS - IT'S A GIRL
29 December 2003
---
Congratulations to Jane Saunders, who is part of the Cookham.com team, who gave birth to a baby girl on Boxing Day. At 10.27am Isabel Audrey Saunders was born weighing 6lbs 14oz. As Jane says "the world will never be the same again".
---
Enjoy the Trip of a Lifetime and Help CCETSA
29 December 2003
---
Would you like to hike through the stunning Cederberg wilderness? The CCETSA (Canon Collins Educational Trust for South Africa) is planning an overseas event to take place in September 2004 to raise much-needed funds for theirr projects in South Africa.
The ten day event will take in the spectacular scenery of some of South Africa's' most unspoilt wilderness, just some of the highlights are outlined at http://www.canoncollins.org.uk/events/EventsSAAdventure.shtml
If the thought of taking part in a unique experience that will also help support the work of the Trust, is something you would like to find out more about, then please contact Harry at the CCETSA either by ringing 020 7354 1462 or by e-mail.
---
BBC Series -Calling all Working Mums and Dads
20 December 2003
---
Would you like the chance to spend more time with your kids? Ever wondered what it would be like to be a 'stay at home' parent? Would this be a real challenge or a blissful breeze?

My name is Neil and I work at Ricochet Digital, a TV production company in London. We are currently making a new documentary series for the BBC and are looking for UK based families where both parents are full-time workers. We are offering the chance to participate in a unique television experiment that evaluates the experience of 'staying at home with the kids'.

I know lots of working parents consider putting their careers on hold to become full-time carers, and we hope this series will offer them the chance to find out what sort of adjustments would be involved.

If you'd like to hear more about the project, or know any other Mums or Dads who would relish the experience, please call Michelle for an informal chat on 0207 251 6966 or email parents@ricochet.co.uk

For any more information on Ricochet please visit www.ricochet.co.uk

We look forward to hearing from you.
---
Sad Death of Chairman of Cookham Parish Council
14 December 2003
---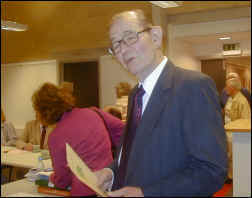 Cookham.com were saddened to hear of the sudden death of Dick Arthur, the Chairman of Cookham Parish Council, today. Dick had been chairman since the elections in May, although he had been a Parish Councillor since 1997. During that time he has worked hard for the good of Cookham, he will be sadly missed by his many friends. Sympathy goes to his wife Stippel and his family.
Dick's funeral will take place at Amersham Crematorium at 2.00pm on Wednesday 7 January 2004 at 2.00pm.
---
Police Warning - Recorded Telephone Messages
9 December 2003
---
POLICE WARNING SCAM - Police are supposedly warning people of a scam to get people to pay for telephone time when they receive a recorded message. This is in fact a hoax!! See: http://news.bbc.co.uk/1/hi/england/wiltshire/3300851.stm
---
Have Your Say
29 November 2003
---
The Government is now asking us to tell them what we think. Could we make Cookham a better place to live if we changed government thinking? What is your opinion on education, the environment, the roads, the NHS...? We can now have our say at
---
New Website for the Benefice of the Cookhams
19 November 2003
---
Holy Trinity Church in Cookham and St. John the Baptist Church in Cookham Dean have launched a new website. The site, which can be found at www.cookhamCofE.org.uk will include all the latest news about the wide range of activities taking place within the two Parishes.
The website will be updated every week with news and pictures as well as thought provoking articles and sermons. The site has an interactive element, which means that visitors can have their say and respond to articles which are posted on the site.
Fr. Michael Smith, Vicar of the Benefice of the Cookhams said, "It's important that the Church embraces all forms of communication available to us these days and I'm delighted that we've been able to develop such an attractive and easy to use site."
Dave Walker, Youthworker for the Benefice of the Cookhams, who will be editing the site, said, "We're hoping that the Website will provide a first point of contact to help people find a variety of news and information – everything from the history of the two churches to details of children's and young people's groups."
---
Need a Venue? Book the Cricket Club
16 November 2003
---
Have you thought about a different type of venue for your next function? The Cookham Dean Cricket Club is available for hire most mornings and evenings. There is excellent parking, room for up to 100 people with good snack and bar facilities if required. Charges vary from £25 during the day to £80 for weekend evening with staffed bar. Speak to John Bibby on 527165 or John Mellor on 526369."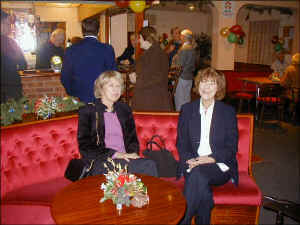 ---
A Daughter for Cookham's Honorary Webmaster
6 November 2003
---
Congratulations to Julian Bell founder of Cookham.com on the birth of his first daughter. Julian says: "On 6 November at 12:28, Cara Eleanor Rachel Bell entered our world! Both Pauline & Cara are doing fine, Harris & Rory are delighted with their new baby sister, Dad, however, is a little overwhelmed by it all! Cara is doing fantastically and weighs 7lbs 8oz. She is very peaceful and quiet - which won't last long when she gets home to Harris & Rory!!
Living with boys for the last 5 years, we have become accustomed to slugs, mud, cars, fighting and the enjoyment of the sounds of various bodily functions - this, I am reliably assured by friends with girls, will probably stay the same but with the added spice of nail varnish, sparkly bits and lots of PINK! I can't wait!"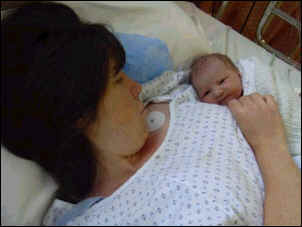 ---
Some Home Remedies
3 November 2003
---
This fascinating list of remedies was sent to Cookham.com by a reader in Nova Scotia. Click to read it.
---
Cookham Twinning in La Rochelle
27 October 2003
---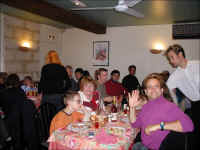 This weekend was Cookham's turn to visit our twin village St Benoit in France. Here is a photo of the group enjoying lunch at a restaurant in La Rochelle. Hopefully we will have some more photos when the group returns.
click on photo for larger image
---
---
Hear ye Hear ye! The Crier is always looking for things to shout about! Feel free to submit your Thoughts, Poems, Requests or anything you like to thecrier@cookham.com