---
LOVE CAKES ARE IT
13 February 2009
---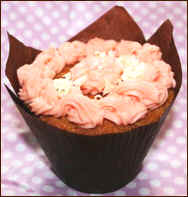 Lindsay Wilcocks from Cookham Village, who creates yummy cakes, was voted the best cake maker by Jane Asher at The Times newspaper Cake Bake off this week. Lindsay's cakes all use natural ingredients, including natural colourings.
Lindsay says "Superfoods are definitely the way forward and love cakes are about to shake and vibrate this planet. How happy I am to be able to promote a new way of feeling and looking great, just by eating love cake....... "
If you want Lindsay to make you a cake see her website and give her a call.
---
A BIT OF SNOW
9 February 2009
---
These photos were sent us by a cookham.com reader who lives in Canada trying to say that they have more snow problems than we do.
click on photo for larger image
---
COOKHAM DEAN POST OFFICE TO CLOSE
4 February 2009
---
The Post Office have been told by the owner of Cookham Dean Post Office Stores that she is looking for a date to close the Post Office in the building in Bigfrith. Several ideas have been put forward for an alternative facility. There are various criteria regarding security that need to be met for any new facility. The Post Office would like to remain in Cookham Dean and so would be delighted if someone can suggest a new position for it.
---
SUBSIDISED SANDBAGS FOR THOSE IN THE FLOOD PLAIN
2 February 2009
---
Any Royal Borough households identified as being in the flood plain are eligible to take up the offer of subsidised grab bags to use in the event of flooding. Thanks to a Royal Borough subsidy, residents can save up to £10 off the retail cost of approximately £30. The offer runs until 31 March and applies to the first 1,000 applications.
To order or find out more visit www.globehuggersemergencysupplies.co.uk/flood_kit.htm or www.evaq8.co.uk/floodkit.htm.
For flooding information visit www.rbwm.gov.uk/web/sdop_community_flooding_information.htm.
---
THE LEAD FLASH-ER / UPDATED
25 January 2009
---
The Football Club was not the only place to receive unwanted attention from the thief of their lead from the Club's roof, as there was an even bigger theft of 120 feet of lead from the Pinder Hall roof recently. There is obviously someone around who is desperate enough to risk life and limb scaling roofs for scrap metal.

One suggestion put forward is the possibility that our thief uses a wheelie bin to transport his booty away to his lair.

If anybody has seen somebody acting in this suspicious manner then please get in contact before this person causes more damage.
This person has caused a lot of distress in the village, and this 'person' deserves to pay the price for his actions, please be vigilant. If you see anybody working on a roof in Cookham please Challenge them, ask them who they are and who they are working for.
---
KEDIDA PROJECT VISITS COOKHAM
20 January 2009
---
The Kedida Project commenced last year and is well underway. Many village organisations and lots of individuals in Cookham contributed to this worthwhile initiative. The Kedida project has been such a success that to show appreciation to the people of Cookham, a local benefactor from the Region has financed the airfare for the development manager, Wondayehu Gedamu, employed by the Ethiopian Orthodox Church, to come to Cookham to express their community's gratitude and show and explain what has been achieved with the funds we raised. He will be at the Coffee morning and cake sale at Cookham Rise Methodist Church from 10.30am on Saturday 24th January.
Mr Gedamu will provide a project update to the Congregation of Holy Trinity Church at its 1100hrs service on Sunday 25th January. This will be followed by a presentation at around noon in the Parish Centre (opposite the church) to other members of the Cookham community who are unable to make the 1100hrs service.
Over the last 2 years the Cookham community, facilitated by Holy Trinity Church and in conjunction with Christian Aid, raised £27,000 to help install a safe, secure water supply to the region of Kedida. (a population of c.60k) in Ethiopia.

The money that Cookham raised was triple matched by the EU development agency so in effect over £100,000 was used to finance the project.
---
YOUNG ARTISTS' WORK WANTED!
13 January 2009
---
Cookham Festival is coming on April 24th until May 4th!
Here's an opportunity to take part in this exhibition for all young
artists at GCSE level and above.
Work will be hung in the Cookham Library throughout the Cookham
Festival during normal library opening times for everyone to admire.
Interested?
All you need to do is call me to book your bit of wall. There is no
judging- first come first served. I will limit it to two pieces per
artist to give everyone a chance.
They can be anything from drawings, paintings or 3D and should be
mounted appropriately for the medium.
Do not consider entering anything which needs to be sent away for
examinations!
Open to all young artists studying at school or college and living in
the Cookham area.
Waiting to hear from you!
Gail Dorrington 01628 541700
---
COOKHAM DEAN POST OFFICE MAY HAVE TO CLOSE
12 January 2009
---
The people who operate the Cookham Dean Post Office have had a nasty shock today, the Electricity Company have not been paid so they are threatening to turn of the supply in four weeks time, if the bills are not paid. It is very urgent that another premises is found which can be used by the Post Office. Two places have been suggested one being the room attached to St John the Baptist Church and the other the empty bungalow next to Carmonta.
---
FIRE AT WESTWOOD GREEN
5 January 2009
---
The Forbes family in Westwood Green have not had a very happy start to 2009, their house, in which they have lived for many years, caught fire last night and is badly damaged. It is hoped that they will be able to get things sorted out and the family are soon back in their home.
---
BERYL'S BOOK IS PUBLISHED
15 December 2008
---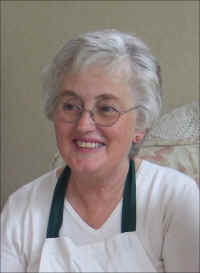 Many Cookhamites will remember Beryl Schirn who was so active in the village and sadly died last year. One of Beryl's aim had always been to improve the health and well-being of people with asthma, for which she raised thousands of pounds. She had been working on a book in a room full of papers, which was in the editing stage. Her husband Brian, who still lives in the same house in Cookham, has completed editing, designed and organised the publishing of the book, so it is now available for Christmas.
This fascinating and scrupulously researched book traces two interlinked stories. First there is the story of asthma, sometimes a silent killer, along with the support for the medical battle to understand it, control it and, ultimately to cure it. Side by side runs the tale of the unflagging energy, imagination and commitment of the individuals who dedicated their time and attention to the charities which funded so much research which has brought our understanding of asthma from being 'caused through nerves' to seeing it as a physiological disease, with control in our hands and a cure much closer.
Beryl had been involved with the then Asthma Research Council in her fight against asthma since 1973 both as a charity member and a mother of a child with asthma. She describes her involvement starting with the formation of a branch of the charity, The Friends of the Asthma Research Council, further involvement as vice-chairman of the Asthma Society & Friends of the Asthma Research Council, later as a Trustee of the National Asthma Campaign for nine years and finally as Vice-President of Asthma UK, the final form of all these charities.
All sales of this book are being donated to Asthma UK and 'Breathing Easier' is available at £18 paperback, £25 hardback (plus postage and packing) through The Wordsmith Press, either phone 0845 0039454 with credit card details or via the web: http://www.wordsmithtm.co.uk/wordsmith_press.php
---
CLUTTERED COOKHAM
9 December 2008
---
From a Cookham.com reader
The banner advertising the Cookham Society Victorian Fair has been hanging in the High Street for about a month now. I don't mind banners being put up for a Charitable cause - I am assuming that the proceeds of the Fair do go to Charity - but I do object to them being left up for more than 2 weeks after the event has finished. If I find it annoying I am sure others do also - if it happens often then it may well be that the Council will decide to require permission to hang one. For example, Cookham Regatta always put their banner up 2 weeks prior to the event and take it down the day after the event - why can't the Cookham Society do the same?
Reply from the Cookham Society - "We have been trying to organise for the banner to be taken down, but are unable to do it ourselves. We hope it should be taken down soon".
Also, while I am in complaining mode what about the various roadside advertising signs that appear with more and more frequency. I'm not bothered about the ones for local events, provided they are removed promptly, it is the ones for purely commercial purposes I dislike. For example the one at the Bridge for Cookham Jewellers has been there for the best part of a year and a twin has now been spawned opposite Heavens Ley. The blackboard advertising the Crown at the Bridge has now happily disappeared.
The yellow signs put up by various builders to point the way to new housing no longer survive more than a few days thanks to somebody - not me - who has apparently taken serious umbrage and removes them in the dead of night. Any ideas as to the identity of the "Phantom Sign Remover of Old Cookham Town"?
---
TIMMY THE ARTIST
2 December 2008
---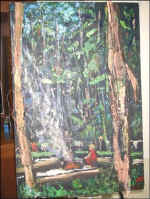 Now Timmy Mallett is out of the jungle he is able to start painting again. He was filmed painting a jungle camp scene on the balcony of the hotel yesterday by a camera crew, he painted the camp from his memory. The photo shows the partly completed painting.
Timmy brought back loads of the bark in which the jungle dinners were wrapped when they were let down on a rope. The bark would have been thrown away, but Timmy kept it, and it is now dried out, so he is able to use it for the bark details on the trees.
---
TIMMY LEAVES THE JUNGLE (Updated)
2 December 2008
---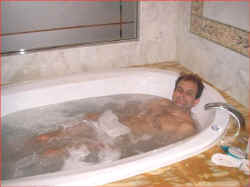 Timmy Mallett left the jungle today after a head to head eating and drinking contest with Brian Paddick in the Last Chance Saloon.
The first drink was a purée of cockroaches, with some live ones as decoration. It was a very close finish but Timmy forgot to slam his glass down when he had finished and say blah. However Timmy won the second one The third one was a penis colada which he lost by a split second. The fourth was eating a live sand worm which must have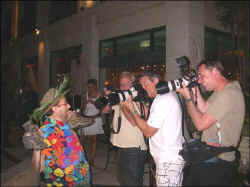 been a couple of feet long and he just could not get it down in time. Considering Timmy is a vegetarian he did not do badly.
Timmy says he loved the jungle and found lots of things to do including making hats out of undergrowth for the other contestants. A brilliant contestant. WELL DONE TIMMY.
I've a Celeb Ditty..Get Us Out of Earshot
The Girls had Isues ... Their Bullying Came from Jealousy
---
TIMMY SECOND FAVOURITE FOR JUNGLE CROWN
24 November 2008
---