---
PIERS PLOWRIGHT IN COOKHAM
19 July 2012
---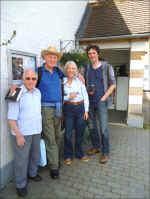 Piers Plowright visited the Stanley Spencer Gallery on 28th June to interview Trustee Carolyn Leder for a programme on BBC Radio 4 next spring. The Piers' Thames Crossings series. So listen out for the programme.
In the photo: John Brooks, Piers Plowright, Carolyn Leder, Alan Hall (the producer)
---
MAYOR VISITS SPENCER GALLERY FOR NEW ACQUISITION
18 July 2012
---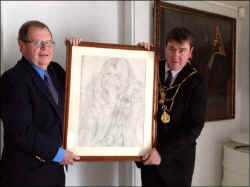 The Stanley Spencer Gallery, Cookham is pleased to announce a new acquisition, Hilda with her Hair Down, a drawing by Stanley Spencer of his first wife Hilda. The drawing is the most important acquisition by the Gallery in recent years. This intimate portrait is one of Spencer's best known and beautiful drawings, representing an important moment of tenderness towards Hilda in the summer of 1931. It has appeared in all significant exhibitions of Spencer's works. The purchase was made possible by grants from the Art Fund and the V & A Purchase Grant Fund, and a donation from The Friends of The Stanley Spencer Gallery. The drawing was bought at Christie's London auction house.

The Mayor of the Royal Borough Windsor & Maidenhead Councillor Colin Rayner and Mrs Samantha Rayner visited the Gallery on Wednesday 18th July to view the new acquisition. The Mayor said " I am delighted to see this acquisition coming back to Cookham, especially in the 50th anniversary year of the Gallery. We are very proud in the Borough of the Stanley Spencer Gallery which is run entirely by volunteers."

The photo is of Stuart Conlin - Chairman of Trustees of the Spencer Gallery and Councillor Colin Rayner - Mayor of the Royal Borough of Windsor and Maidenhead.
---
ROYAL SCARECROW COMPETITION
17 July 2012
---
At THE COOKHAM DEAN DIAMOND JUBILEE FETE on Saturday 15th September 2012 1.00pm – 5.00pm There will be a ROYAL SCARECROW COMPETITION
All entries must be in position by the war memorial at Cookham Dean
by 3.00pm on 15th September.
Judging will take place at 4.40pm.
Here's a little witty ditty
to give you lots of heart
because we're really desperate
praying you'll take part!
Put a crown upon your scarecrow
throne it on a bale of hay.
Put a sceptre in its hay stuffed hand
to scare the crows away.
Pam Forrester
Chairman
Cookham Dean Fete Committee
---
OUTDOOR GYM ON ALFRED MAJOR - FREE
10 July 2012
---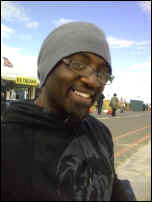 The Alfred Major Recreation Ground in Cookham Rise has a fantastic facility which was set up by the Parish Council. It is an outdoor gym using different types of equipment for different activities. This sort of facility is very popular on the Continent and it also becoming more popular in the UK. A big plus is that it is free, but the downside is that it can be a bit miserable if it is raining. Local resident, Sarah Parfitt feels that it's a wasted local resource and believes that some people are unaware of the outdoor gym's existence and others are nervous to have a go by themselves. She has managed to find someone to train Cookhamites on the equipment for free. Experienced personal trainer, Hubert H Clarke will be leading two sessions at the outdoor gym on Wednesday, 18th July at 9.00am and 7.30pm and can show you how to make the most of the equipment safely.
Sarah said "It will very much be a "train the trainer" session – we hope it will inspire you to show others how to use the equipment.
"

This is a FREE event and places are limited (there are now only 6 places left for each session!). You need to register ASAP by emailing or phoning Sarah Parfitt from Parfitt & Bee Media: sarah_parfitt@mail.com or 07900 4117 15
ALL ages and abilities welcome!
The event has been sponsored by Runners' Retreat in Marlow and Gatorade and participants will be given drinks and gels.
---
STAGEWORKS CELEBRATES
9 July 2012
---
Students at StageWorks Cookham are celebrating as recently Ewan Harris

from it's school in Henley has joined the Ragtime Musical at Regency Open Air Theatre, London. His contract is March - September also Ted Wilson from StageWorks Henley is still playing Eric in Matilda and

Charlie Regent is still touring with Oliver and having a fantastic time.

More recently Daniel Perry filmed for Downton Abbey and everyone is proud

of all of the students for their professional roles. StageWorks continue to thrive in the local areas for students aged 4-84! There really is something to do for everyone at StageWorks.

The students at StageWorks Cookham recently performed at Cookham Rise

fete and thoroughly enjoyed working with the locals!

If you would like more information on StageWorks Cookham please visit

our website www.stageworks.org.uk or call 01491 877205.
---
SOPHIE SET FOR THE EDINBURGH FESTIVAL
4 July 2012
---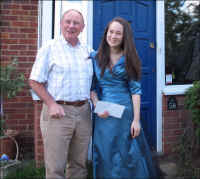 From Richard Monger - Immediate Past President of Bourne End & Cookham Rotary Club,
The Rotary Club of Bourne End & Cookham received a letter from Sophie Foote back in May outlining her request for help.
Sophie is part of the Jam Theatre in Marlow and a member of the award winning Taplow Youth Choir. She had recently won a place with the Youth Musical Theatre (YMT) and their production at the Edinburgh Festival this summer as well as the Montgomery Holloway Summer School which culminates in a performance with Laurie and his band at Norden Farm an 28th July.
To achieve this, Sophie has to raise £1,500. And she asked if we would help. We responded by saying that if she could raise £1,200, we would give her the remaining £300.
Last Saturday, I took a cheque for £300 round to Sophie – she has raised over £1,200 all on her own! A tremendous achievement.
Sophie lives in Westwood Green, Cookham and we believe her to be an inspiration to us all.
(The photo is of Richard and Sophie in Sophie's front garden.(
---
NOW AVAILABLE - THE DEFINITIVE GUIDE
30 June 2012
---
Are you a parent or carer? Have you recently moved to Cookham? Why not download the Definitive Guide to Activities for the Under 5s in Cookham or pick up a copy from Country Stores or the Station Hill Cafe? The Definitive Guide has been generously sponsored by Herries Preparatory School in Cookham Dean and Cookham.com. It has been put together by Sarah Parfitt, co-founder of Cookham-based media consultancy, Parfitt & Bee Media: "My family and I moved to Cookham 2 years ago, when my son, Jack was just 4 months old. We didn't know the area at all, so it was all quite an adventure. Fortunately, we had incredibly helpful neighbours on the High Road and we also found Cookham.com an invaluable resource. But it was the experience of being a new parent here which gave me the inspiration for the Definitive Guide. I am very grateful to Herries Preparatory School, Liz Kwantes from Cookham.com and Brian Harding from the Spectrum Electronics Group for making my idea a reality. My sincere thanks to everyone involved."

If you run an activity in Cookham for the under 5s and would like to be included in future editions of the Guide, please email Sarah Parfitt: sarah_parfitt@mail.com or phone: 07900 4117 15.
You can print off a copy by clicking below.

---
MERVYN COMES TO THE SWAN UPPERS
30 June 2012
---
After several month of a temporary landlord at the Swan Uppers a new permanent landlord has come to take over. It is Welshman Mervyn from Aberystwyth. Mervyn says that the Swan Uppers will be serving food from this Monday 2nd July, so do go along and say hello to Mervyn.
---
ADIOS FROM MARIA
29 June 2012
---
Hola! My name is Maria Eugenia Martínez Ladrón de Guevara and I am from Ubeda in the South of Spain. I have spent the last 11 months working as an au-pair for a local family in Cookham.
I love learning foreign languages and have a Masters degree in English. My dream is to become an English teacher in Spain one day.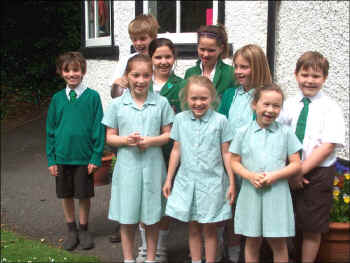 This term, I have had the great pleasure of running the Spanish After School Club at Herries on Mondays. It's been a fantastic experience for me, and all the pupils (from Herries and other local schools) have been very welcoming and polite. I have introduced the students to some basic Spanish words and expressions, and also taught the children about Spanish culture.
Today (which was sadly my last day!) we had a Spanish fiesta or party and it was great fun. I brought some yellow flowers for the girls to put in their hair and fans for the boys and we did some traditional Sevillanas dancing from my region. We also tasted some Spanish food like omlettes and chorizo.
I am leaving Cookham on Thursday and have many fond memories of my time here. Thank you!
Adios for now!
Maria Eugenia
---
CATS HAVE STAFF
18 June 2012
---
From Ingrid Hooper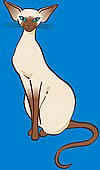 Great news!
My new book Cats Have Staff - The Saffi & Misa Diaries which I brought out just 6 weeks ago has now reached the dizzying heights of Number One Best Seller at Amazon in it's genre!
I have managed to keep the price realistic at just £3.97 by bringing it out as a down load at www.Amazon.co.uk book section suitable for PC / iPad /iPhone / Kindle (all easy to down load).
There are plans to bring out a paper back version however due to print costs this would be at a much higher price.
If you have a spare moment I would very much appreciate it if you could write a short review at Amazon.
Meanwhile if you would like to catch the dynamic duo Saffi & Misa's latest adventures you can find them on www.catshavestaff.co.uk and enjoy!
---
ARCHEOLOGICAL SURVEY ON ALFRED MAJOR
16 June 2012
---
Marlow Archaeology will resume their resistivity survey at Alfred Major Recreation Ground, Cookham Rise on Friday 22nd and Saturday 23rd June, between 9:00am and 4:00pm, weather permitting.
This is a continuation of the investigation to establish the position of a suspected Roman or possibly Romano British road. Evidence for this road was established by Marlow Archaeology in Kidwells Park, Maidenhead and there are reports of the road in various places.

If this is all correct, this road ran from Bray, through Maidenhead and Cookham, crossing the Thames to Bourne End at Cockmarsh.

The investigation is far from easy as it is difficult to distinguish between gravel outcrops and a possible road, but previous resistivity on this site showed strong indications of what might be the road. If this is successful it is intended to do more resistivity further along the line of the road and if strong enough evidence can be found, an application will be made to excavate.
The public are welcome to come along and observe or even lend a hand. If you require more information or weather makes it doubtful, please contact Joy Blake, 01628 523896, or email her in advance on joyblake@btopenworld.com
---
MEN WANTED TO MAKE UP MIXED DOUBLE TENNIS PAIR
12 June 2012
---
The Cookham Dean Charity Tennis and Croquet Day is on Sunday 1st July and we have a few places left for men to partner unaccompanied lady players. If you are a gallant gentleman who would enjoy a day playing on private courts in Cookham Dean, please sign up NOW!
For the first time this year, we are holding a charity auction as part of the day. Thanks to our very generous sponsors we have some unique tickets to sporting events to sell to the highest bidders, including, among others:
· Two tickets to a premier league football game at the club of your choice
· Two NFL tickets to the International Series game at Wembley on October 28th 2012. Tickets include access to club level bars and restaurants, use of the VIP entrance, and padded seats!
· Four tickets to the London Double Header rugby at Twickenham on 1st September.
Other attractions include:
· A fun group coaching session with coach Jamie Wright
· Exhibition match
· Refreshments including a bar and barbeque by Deliciously French
For more information, and an entry form, please visit www.cookhamdean.net or phone Andrew Teuten on 07951 952934.
---
HERRIES JUBILEE FETE AND STREET PARTY
12 June 2012
---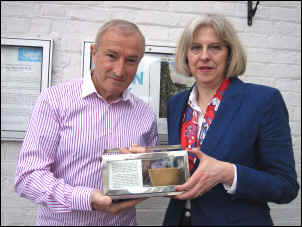 Jim Rosenthal, on behalf of the Stanley Spencer Gallery, presented a cedar bowl to the Rt Hon Theresa May. This bowl is made from the wood of the cedar tree which stood in the garden of Englefield House in Cookham. The bowl was made by Bryan Clarke.

The tree was painted by Sir Stanley Spencer RA in 1948 in his work 'Cookham from Englefield'. The tree was felled in 2011.

The painting was stolen from the Stanley Spencer Gallery in Cookham in April 2012. This was the first theft of artwork since the gallery was founded in 1962 and this presentation is in recognition of the work done by the police force in the hope that they can restore the work to its natural and rightful home.

Theresa thanked the Gallery for the bowl and said she would keep it in her office at the Home Office.
---
HERRIES JUBILEE FETE AND STREET PARTY
7 June 2012
---
Friday 1st June was the beginning of the Jubilee Celebrations and Herries made the most of it with their Jubilee Fete and Street Party. (click on photo for larger image).
---
COOKHAM BELLRINGERS PEAL FOR THE DIAMOND JUBILEE
6 June 2012
---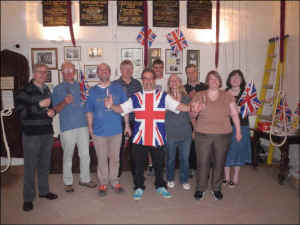 For over 3 hours on Tuesday morning the village of Cookham resounded to the ringing of the 10 bells of Holy Trinity church Cookham pealing continuously for the Queen's Diamond Jubilee.
The band of Cookham bellringers, led by tower captain Marcia Dieppe, rang the first peal on the 10 bells, which was in celebration of her Majesty's reign.
"Peal ringing is an extraordinary achievement and not something we undertake lightly – or regularly. The last peal at Cookham was 12 years ago for the Millennium"
Since the last peal in 2000, 2 new bells have been added to the existing 8 at Holy Trinity Church, Cookham, to make one of the few rings of 10 bell towers in Berkshire, and the only one in the Royal Borough. The heaviest bell is three quarters of a ton and the oldest bell dates back to 1650!
The bellringers rang a peal of Grandsire Caters comprising 5039 changes in 3 hours and 8 minutes.
It was Whyteladies Road resident Claire Fisher's first peal. "I've done it now! It was amazing! It was great to be ringing for the Queen in the Royal Borough"
Another Cookham bellringer Timmy Mallett described the experience "The concentration needed is unbelievable. You pull the rope up to 30 times a minute and there's no stopping for anything, and no chance of a break either in over 3 hours! Did anyone make a mistake? Of course not! We're perfect - almost!"
The bellringers – Charles Botting, Mandy Salter, Timmy Mallett, Marcia Dieppe, Claire Fisher, Andrew McKerlie, Ken Darvill, Graham Firman, Sam Maynard and Freddie Daniel - were cheered at the end by a crowd of wellwishers including the vicar, Michael Smith, and residents of the High Street and people on the river who'd enjoyed the morning's achievement.
"We have a great team of bellringers" said vicar Michael Smith "who ring every Sunday for services and for weddings, funerals and great state events like this weekend! We're very proud of them and what they did for the Jubilee"
Anyone up for joining the bellringers contact Mandy Salter on 01628 530241.
---
RUNNING ALONG NICELY
30 May 2012
---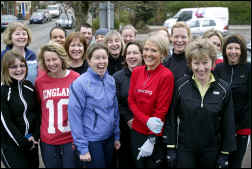 Since the Cookham Running Club was launched two years ago it has grown into a hugely popular group and are now affiliated to the Association of Running Clubs making us Cookham's first ever official running club. They have a full committee, a new website (
www.cookhamrunningclub.com
), a twitter account (@cookhamrunning) and many social events. From this weekend, our new club headquarters will be at Cookham Dean Cricket Club in Whyteladyes Lane.
We welcome male and female members of ALL standards including complete beginners and generally have three groups on a Saturday morning (9am): a walk-to-run beginners group, a medium paced group and a faster group. Many of our members already run races and we are hoping to take part in local road and cross country leagues. However, we welcome members who want to run just for running's sake and because they enjoy the very social nature of the club. We have barbecues, pub runs every 6 weeks (there is one on June 9 in Turville). Although we have some very good runners, nobody is too slow to join. Our emphasis is on running for enjoyment and we cover many different local trails. We also meet on Tuesday evenings at the Cricket Club for a faster, more intense session which, again, is open to anyone.
Newcomers are welcome to try 2-4 runs before deciding whether to join. Membership is £40 per year which includes use of our new HQ and the club affiliation to ARC. We are non-profit making and any funds are ploughed back into the club to cover coaching and race costs.
---
FLYING OVER COPAS FARMS
29 May 2012
---
Peter Kirkwood, who is a sixth form student at Furze Platt, has been busy yet again. Last Autumn Peter created a video which was recorded from a UAV (unmanned aerial vehicle) which had an HD camera and video transmitter on board, which broadcasted live feed to a screen on the ground. He has done another one, this time flying over Copas' Farms area.

You can see the result of Peter's completed video at:
---
FATHER RYAN RETURNS
19 May 2012
---
Fr Ryan will be visiting England during May for the first time since he left three years ago. He was our curate for three and a half years. He will be with us on Pentecost Sunday, 27th May, and will preach at both Parish Eucharists. Not only will it be a great opportunity to see him again, but you will remember, he always has something interesting to say so do put this date in your diary. Maybe he will even have an Australian accent!
---
RING A ROYAL PHONEBOX
19 May 2012
---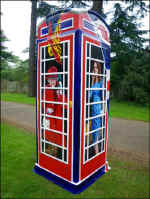 Timmy Mallett has been invited to paint a BTArtbox in aid of Child Line. Timmy's box is Entitled Ring-A-Royal! It features The Queen as you've never seen her before! And young Royals Prince Harry, and Kate Middleton, the Duchess of Cambridge. The phonebox will be displayed in Central London, currently it is not known exactly where though. Click here to see a video of the magnificent phone box.
In addition Timmy has won up and coming artist of the year. Timmy as an artist is really starting to be recognised throughout UK.
---
LAMDA ACHIEVEMENT FOR STUDENTS
18 May 2012
---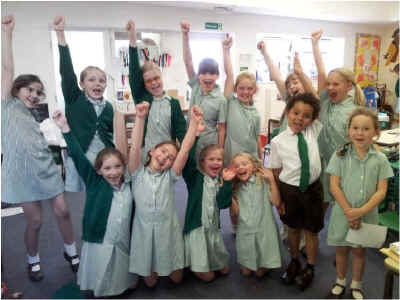 Students from Herries who all received a "merit" or "distinction" in their LAMDA exams
---
ANNA QUALIFIES AS LICENCE HOLDER
16 May 2012
---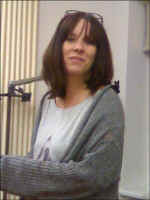 Anna Oliver, the caretaker for the Pinder Hall, is now an official APLH (Award for Personal Licence Holder). This means that anyone who requires an alcohol licence can get this signed off by Anna rather than having to obtain a TENS licence through the Council. To achieve this Anna had to undergo a course and then take an exam. Having passed this, she then had to apply to the RBWM for her licence which included her needing a CRB check. This has taken several months, but it does mean that the Pinder Hall has its own licence holder for alcohol consumption.
Well done Anna.
---
CATS HAVE STAFF
15 May 2012
---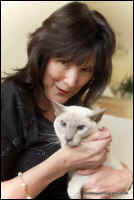 Ingrid Hooper from Cookham has just had a book published called 'Cats Have Staff - The Saffi & Misa Diaries. It is available on Kindle only at the moment but Ingrid is hoping to have a paperback version soon as well.
If you would like to read a copy you can get it from Amazon (Click Here).
---
COOKHAM STUDENT TO REPRESENT ENGLAND AND WALES IN
INTERNATIONAL NEGOTIATION COMPETITION
8 May 2012
---
College of Law student James Clark from Cookham is to represent England and Wales in the International Negotiation Competition in Belfast in July after taking first place in the national competition.
James, aged 22 of Cookham High Street , and his team mate Ben Keatinge overcame opposition from law schools around the country to be crowned National Negotiation Competition champions at the finals held at Manchester Metropolitan University .
The pair are now preparing to take on teams from around the globe, including India , Singapore , Canada and the US , at the international competition.
James is currently studying the Graduate Diploma in Law, which gives non-law graduates an entry route into the legal profession, at The College of Law in York . He grew up in Cookham and attended Reading Blue Coat School before graduating from the University of Edinburgh in 2011 with an honours degree in English Literature and German.
James said: "We're both really pleased to have won the national competition, especially as the standard of the competitors was so high. Negotiation has been a great activity to do as it has allowed us to step outside of the academic world of law and actually practise one of the skills that we'll need in our careers. It requires research and planning, but also the ability to think on your feet and to employ your words very carefully. We're both looking forward to Belfast , but we've got the small matter of exams to think about before then."
The national competition, sponsored by the Centre for Effective Dispute Resolution, is open to every undergraduate and postgraduate law school in England and Wales and was entered by around 64 teams. Law students negotiate in pairs on a variety of disputes on behalf of fictional clients and this year the scenarios were based on make-believe problems surrounding the London 2012 Olympics.
Students are judged by legal practitioners and academics on the outcome of the negotiation, how prepared they are, their flexibility, teamwork, ethics and their relationship with the opposing team.
After sailing through the regional heats James and Ben successfully took on 11 other teams in the finals.
Paul Aber, Centre Director of The College of Law in York , said: "Lawyers need to be able to negotiate effectively across contexts, cultures and national boundaries and the Negotiation Competition is an excellent forum for highlighting this.
"Congratulations to James and Ben on their victory. It came as no surprise to us that they won it and showcases the high standard of legal skills acquired at the College. We are delighted that they are now going forward to the International Competition in Belfast in July and I have no doubt that they will do very well."
---
JUBILEE FUND BOOSTED BY WHITE OAK
3 May 2012
---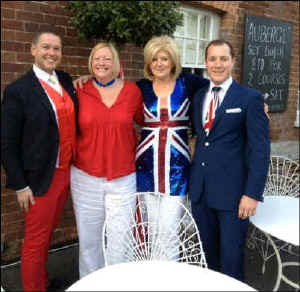 The organisers of the Jubilee celebrations Jayne from Seconds Out (in the union jack top) and Adam from the Rose Boutique (far left) had a real boost with an evening Jubilee Fund Raiser at the White Oak in the Pound. An amazing £5,300 was raised for charity. This will be divided between the Cookham Jubilee Street Party fund, Alexander Devine Trust and Elizabeth House. Well done and thank you White Oak.
Photograph: Adam Devine (Rose Boutique), Mo Harvey Hoffelner (General Manager-the White Oak), Jayne Milburn (Seconds Out), Henry Cripps (Owner)
---
DUCKS ON LOWER ROAD
2 May 2012
---
Look closely. A duck with her ducklings walking along the Lower Road by Shah's restaurant on Monday afternoon. She took them along the pavement past the bus stop, where she stopped and look about!, then at the junction of High Road took off along the road!
---
THE DIARY OF ELIZABETH CAMPBELL 1933-34
30 April 2012
---
From Robert Cox
Just to say that after six years of transcribing, designing and self-publishing this remarkable diary, I'm trying to share extracts with towns and villages that Elizabeth visited during her memorable year in England. She was a celebrated church organist from Melbourne, invited back to her 'beloved England' by the Royal College of Music for their Jubilee celebrations 79 years ago.
I hope you are as enchanted with her description of Cookham, as she was on the day she visited on 24th April 1934 - "One of my heavenliest days - a day that will stand out in my memory." I wonder how many of the people she mentions still have family in the area.
An Australian lady returns to a place she loves – England 1933-34
Left soon after breakfast to spend the day with Anna Gessels at Cookham Dean. It was a typical April day, sun and showers. Anna met me in the car at Maidenhead and from there onwards I was in absolute Fairyland. Even Anna herself, who is English, said 'It is like Fairyland isn't it?' We drove on to the heights through lane and through orchards all covered with white blossom. In some instances the orchards had been sold and charming old cottages were built on the land. The trees that were still left and now in blossom, made most enchanting pictures with the houses nestling amongst them. There were not many houses about, making it all look as if you were miles and miles and miles away from London and we were just 27 miles away. We drove to the top of the hill and overlooked a heavenly view and even Anna said 'The English countryside is really staggeringly lovely. It struck me afresh when I arrived back in the autumn from Australia.' I said to her 'You are really very naughty not to have told me you live in such a lovely part' and she said 'Oh! You know it's so hard to explain the English countryside'.
We looked over 'The Dean', emerald green with banks of orchard trees in blossom and glorious blue and deep purple distances with brilliant dazzling white clouds and blue sky above it all. We visited the little church and the vicar showed me the little organ – quite small and a sweet tone built by Daniel. Sir Walford Davies, who lives in the district, gives recitals on it and takes an active interest in the choir. Then we drove on to Anna's home and I found myself being driven down a narrow lane, which was really a drive in an orchard, and in we drove into one of these enchanting cottages I had so admired with the first trees in blossom. Anna looked very pleased when I said 'What a duck of a place'. The man she is companion to is very nice. Anna had missed his wife who died and now she is keeping house for him. It is an ideal post.
In the afternoon we walked to a cottage near and had tea with Anna's friend Mrs Henderson. It was a glorious walk through lanes and a tiny village. Mr Jack Middleton (godfather to Gladys's John) came in as we were having tea. He walked back with us, on the way going up various lanes to point out extra lovely trees. Cookham Dean is in a horseshoe bend of the Thames, making it and keeping it very secluded and old world. From one high point we overlooked the Thames looking like a silver ribbon winding in and out of the valley below. Mr Middleton took us into his little cottage where he lives alone. He wanted me to see it as I could tell Gladys about it. He is a bachelor of about 50 and very English looking. It's strange a man of his appearance being un-wed these days when there are about a thousand women to one man.
Anna drove me back to the station 3½ miles away about 6.15 p.m. I wanted to go back to London soon so when she drove off I walked for about a mile the other way and found glorious orchards with pink and white blossoms and the trunks growing out of masses and masses of daffodils. The sun was slanting on the yellow mass making a heavenly picture of great beauty. I could have walked on for years in such surroundings. I caught a train back to London about an hour later and felt I had had one of my heavenliest days – a day that will always stand out in my memory. I had seen England in all her seasons and moods, as I thought, but I had never seen her in blossom time. The tender green of the new growth in April is, I really think, even more lovely and graceful than May. I had seen so much of the spring in May of last year and though I had arrived in late March of 1927 I do not remember the spring of that April, though I remember clearly the glory of that spring. I think everything being so new to me then, and having to take in at once so many wonders, I had not noticed the blossom time, or evidently had not been near the orchards.
For full information please visit www.jarominpublishing.com
---
WANTED - HELPERS FOR HIGH STREET JUBILEE PARTY
28 April 2012
---
High Street Jubilee Party Volunteers are needed to put their names forward to help out on the day (Monday 4th June) with various tasks especially the setting up of tables & chairs etc......and dismantling at the end of the day and marshalling of traffic throughout the day.

If you can contact either Jayne at Seconds Out on info@secondsout.biz or Adam at Devine Boutique.
---
SOTA HAS PUPIL CHOSEN TO PLAY MATILDA
24 April 2012
---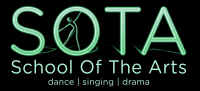 School Of The Arts (SOTA) who run dance, singing and drama classes at Herries Preparatory School in Cookham on Saturdays are jumping for joy because a pupil at their sister school in Windsor has won the title role in Matilda the West End musical. Hayley Canham, (9), has started rehearsals already and will be going into the show in the coming months to take over from the 4 girls who recently won the Olivier Award for their performances as Matilda. Director of SOTA Schools, former West End actress Juliette Caton said "We are delighted for Hayley. She is incredibly talented and hard working and is very deserving of the role which is enormously challenging. " For more information about SOTA and to book your budding actor, singer or dancer into classes visit www.sota.uk.com
Hear ye! hear ye all who hath children that liketh dance, singing & drama!
SOTA Cookham runs dance, sing and drama classes for 3-12 year olds at Herries Preparatory School on Saturday mornings. SOTA is a Berkshire locally owned performing arts school with an excellent reputation for outstanding training. To book a a free sample session and for more info visit www.sota.uk.com.
---
AFTER SCHOOL SPANISH CLUB
21 April 2012
---
Vamos a aprender español !



Herries Preparatory School in Cookham Dean is starting an After School Spanish Club this term. It's from 3.45pm-4.30pm on Monday afternoons and it's for 5-11 year olds.

There are currently five places left on the course and the school is offering them to primary school-age children outside Herries.

If your son or daughter is interested in taking part in the course, please email your child/children's details to Lesley Curley in the school office as soon as possible: office@herries.org.uk

The remaining places will be allocated on a first come, first served basis. There are no fees for the course - the only prerequisite is a passion for languages!
---
IS THAT ELTON JOHN?
20 April 2012
---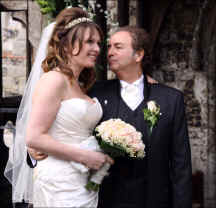 Record producer Stuart Epps, who works from his Cookham Mill studio in Mill Lane got married at Holy Trinity Church last Saturday to Juliet Gough, a singer/songwriter from Denmark.

At the reception at Boulters Lock afterwards Paul Bacon from High Wycombe. who has an Elton John tribute act, Ultimate Elton, changed into 'Elton' and to his surprise and delight Kiki Dee, who had also been at the wedding, gave an impromptu duet performance and sang her 1976 number "Don't go Breaking my Heart" with him.

Stuart used to travel with Elton and Kiki Dee in the 1970s. Stuart is also well known for working with stars such as Robbie Williams and Neil Gallagher.

Congratulations from Cookham.com to Stuart and Juliet.

With thanks to the Maidenhead Advertiser for the photograph
---
MARTIAL ARTS FOR 5-12 YEAR OLDS
19 April 2012
---
Neville Wray is planning Martial Art Classes at the Pinder Hall for both boys and girls from 5 to 12 years old, this will include fitness fun, kickboxing, self defence and self awareness skills.

First free registrations will be held on Thursday 26 April and Thursday
3rd May between 5.15 -6.15pm. So just come along and try it out.

All parents wishing to enrol their children can call in or telephone
Nev Wray on 01628 630840 or 07860 431739.
---
GOODBYE TO PAMELA KENNEDY
16 April 2012
---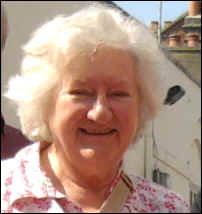 Many of you knew Pamela Kennedy and will be very sorry to hear that she died over Easter after battling with cancer. Pam was one of the longest serving supporters of the local Amnesty group and the Maidenhead Labour Party plus many other good causes. She also had done one of the paintings in the Stations of the Cross this year. Pamela's painting was the one at the Maidenhead Road Pound junction. She was a vivacious, entertaining and generous person, a much-loved member of the community, and we shall miss her greatly. Our thoughts and sympathy are with her husband Mike and Nick and Emma, their two children.
The funeral service will be held on Monday 23rd April at 12 noon at Holy Trinity Church,
Cookham SL6 9SP - with refreshments in the nearby Parish Centre afterwards.
---
EXCITING NEWS FOR HERRIES
13 April 2012
---

Herries Prep School is delighted to announce the provision of wrap around care for Nursery and Reception children from the 17th April 2012. We take children into our Nursery from 2 years and 9 months and we see our pupils all the way through this crucial first stage of their education until they are 11 years old.
We already provide 8am to 6pm care for our older children but very small children need a very particular type of care and we have now engaged a specialist to provide this at the start and end of the school day. Herries is a small prep school with a strong emphasis on pastoral care. We firmly believe that children learn best when they are happy and feel at home and this is exactly what we provide at Herries.
'We have not rushed into this decision,' said Sophie Green, Headmistress. 'These young children are very precious to us and we wanted to be sure that we could offer exactly the right sort of pre and after school care before going ahead with this."
To celebrate this exciting development, there will be a special Stay and Play session with Sima's Action Kids on Monday, 23rd April from 9.30am -10.30am with the opportunity for parents to see the Nursery afterwards.
Alternatively, the next Open Morning for Herries is on Wednesday 25th April and if you think you might like to take advantage of this new provision, or would just like to take a look around our school, please contact us on: 01626 483350 or office@herries.org.uk .
---
---