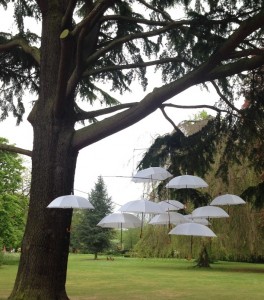 With over three thousand visitors and a healthy sales sheet, this year's Sculpture Garden must be rated a resounding success. Over 120 exhibits from 31 sculptors were artfully arranged around the beautiful Odney Club grounds by the The Sculpture Garden's curator, Lucy Irvine.
The weather played a major part in determining numbers of visitors: from the sunny middle weekend which attracted over 700 to a solidly raining Wednesday which mustered just 20. The umbrella 'mobile' created by Dick Budden, a collection of 12 white umbrellas suspended on elastic from a tall cedar tree, attracted much attention, but also caused much anxiety when the wind was at its fiercest. Several times individual umbrellas 'escaped' and had to be re-attached.
The exhibits ranged from small ceramic rats and larger-than-life-size metal insects to giant metal flowers and two 10' high 'portal sculptures'. Sarah Cox's quirky birdbaths were very popular, and many now grace local gardens. For the first time Richard Cresswell exhibited a number of kinetic sculptures, which also attracted a lot of attention (and some sales).
For many of the visitors the chance to wander round the Odney Club was an added attraction, as the Club is normally only open to John Lewis Partnership members except for one Open Day per year. And the food and drink on offer at the Bar was also much appreciated.