The Family Concert - Peter and The Wolf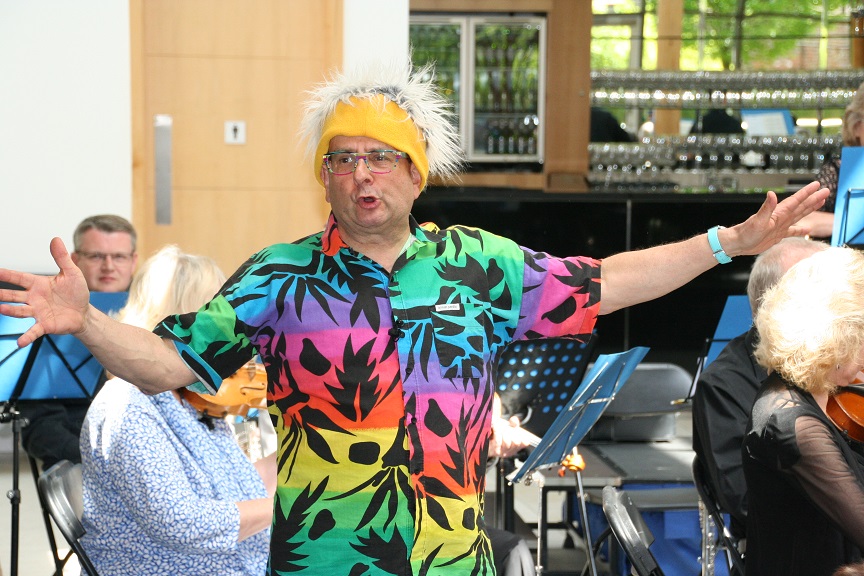 The Cookham Festival family concert took place in the magnificent setting of the Sir Bernard Miller Centre in the Odney Club, Cookham on Sunday 12th May. And to kick the party off the Festival Concert Orchestra launched into the Thunderbirds theme. With full brass and the entire orchestra playing, the effect was electrifying – no Sunday afternoon snooze to be had here – it was as if the concert hall was about to take off.
John Timewell, the conductor clearly and concisely led his audience through the musical imagery of the next two pieces: Smetena's Moldau which describes the flow of the river Moldau from its source in the mountains to finally, majestically passing through the city of Prague and secondly Cinderella by English composer, Eric Coates which followed the well-known children's story.
The concert finished with a riotous Peter and The Wolf, narrated by Timmy Mallett. The music by Sergei Prokofiev is technically challenging but the Festival Orchestra played it beautifully and rose brilliantly to the occasion. The audience, more than half of which were children under 10, was transfixed by the story as told by the music and Timmy's creative and at times unconventional interpretation of the well-known story script. This was magnificent musical mayhem from beginning to end. Fortunately, the wolf didn't get side-tracked and eat Muriel Carpenter, the Orchestra Leader, who led with great assurance, but was finally captured, albeit with duck still in his stomach, and led triumphantly to the zoo.
The Festival is deeply indebted to the entire orchestra, Timmy Mallett for his creative narration and not least John Timewell, conductor, for holding it all together. What fun!!