Trevi Ristorante Italiano - Maidenhead reviews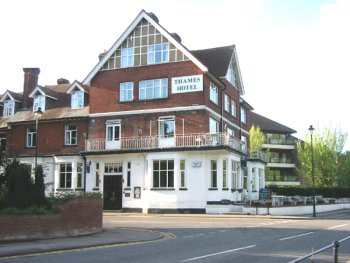 Italian Restaurant part of the Thames Hotel
Mon-Fri 8am-6pm Sat-Sun 8am-10pm
The Thames Hotel,
Ray Mead Road,
Maidenhead.
Phone: 01628 628721
Trevi Ristorante Italiano - Maidenhead website
1 review
Average Score:

Add your review of Trevi Ristorante Italiano - Maidenhead
Review added 16/06/2011 15:23 by EUWAVE
Treviís is in the Thames Hotel just along from Boulters Lock. Although it is in the hotel it is not managed by the same people. Good quality and authentic Italian food and reasonable prices. The interior is very welcoming. You can see the chefs cooking in one corner of the restaurant and a proper wood burning oven for dishes like pizzas is plain to see. Quite a large menu but often based around different ways of doing a dish. Good example is the calves liver, a favourite of mine, done 4 different ways. We went for the sea food dishes, such as the Med Risotto which was excellent, had a very good Italian white wine for £16.50 a bottle, so good value. If you like Italian food at reasonable prices you cannot do better than giving Treviís a go.