Rodericks - Cookham Dental Practice reviews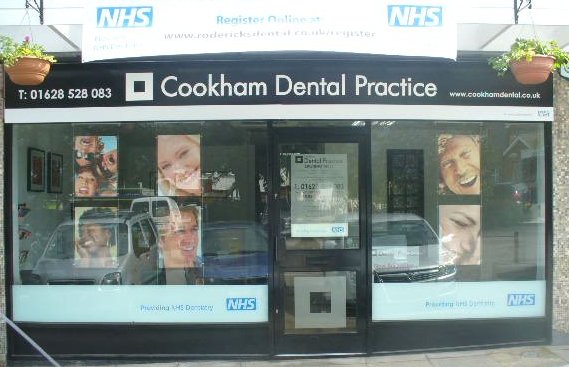 A comprehensive range of NHS and private dental treatments.
Cookham Dental Practice
43 Station Parade
Cookham
Maidenhead
Berkshire
SL6 9BR
Tel: 01628 528083
Rodericks - Cookham Dental Practice website
19 reviews
Average Score:

Add your review of Rodericks - Cookham Dental Practice
Review added 14/10/2021 19:29 by anon
Cookham Dental practice truly need to train their reception staff and get their phones answered.
The dentist and hygienist are fine but on arrival there's no pleasant energy about the place.
Receptionists are bordering on rude. I prefer St. Annes.

Review added 02/03/2021 23:49 by Steve Carroll
So very pleased with the work carried out on my teeth by this practice today.Cannot speak highly enough . Excellent!

Review added 17/04/2014 11:43 by Paris
Just wanted to say that I found my recent experience with Rodericks, whilst not pleasant (I'm one of those people with a phobia about dentists) to be professional, courteous and efficient. The dentist I saw was very careful, tried very hard to put me at ease and considering the work I had done was as gentle as he could be. The nurses and receptionist were also very reassuring and considerate of my fear. If you're at all nervous, I would recommend giving this practice a try.

Review added 07/11/2013 11:57 by Mrs A
Dentist is good, however it is an absolute nightmare changing appointments. I was made to understand the Dentist works only on Mondays and Tuesdays ( I so wish the reception had made me aware of this right from the beginning rather than keeping us in the dark). Now all the appointments, including my 3 kids has to happen on Monday or Tuesdays only. Ridiculous !

Review added 03/09/2013 12:38 by B.Saunders
Hi Everybody
Just to let you know what a great job you are doing, my teeth are great now
thank you.
I acknowledge you all for what you do.
I never said thank you to your assistant when I left so thank her for me.
B. Saunders

Review added 07/02/2013 20:42 by Mark
I went here for the first time today and was very impressed with the staff and relaxed atmosphere i will be recommending them to my friends and family

Review added 07/02/2013 20:37 by Julie
I am a nervous patient usually at the dentist but the staff here were very friendly and professional i felt more relaxed, the overall vibe is good, the prices are very reasonable too.

Review added 31/01/2013 22:12 by anon
I recently had treatment at this practice and the dentist was really good. The practice staff were helpful and I only had to pay £48, I think it's also good that its open after working hours. Thanx

Review added 29/01/2013 17:42 by Clare Jones
i saw dentist and he said filling had to be private it was £100.00 went bak for fil and he did three for £250. rip of my mum has complained

Review added 14/01/2013 15:35 by Christine Jannetta
Just had a scale and polish completed by this practices' new hygienist - Joanne - and she was BRILLIANT!
For many years, I've been visiting hygienists, every 3-months, in various areas throughout the UK and abroad and I have NEVER previously experienced a better or deeper clean. Whilst a little uncomfortable to have done, Joanne wasn't put-off by my discomfort and instead gave me a DEEP clean - under the gum line of every tooth. I was VERY impressed and can highly recommend this young lady who is clearly good at what she does as well as being very pleasant.
Well done Rodericks - you've found a good one here so please don't lose her!!

Review added 31/12/2012 14:01 by liz allsopp
visited recently for NHS treatment and was told that the treatment I needed was not suitable on the NHS as I have partial dentures. Was quoted 600 pounds for new partial denture plus 48 pounds for a filling.
Booked NHS check up elsewhere and all work done for 48 pounds and the only work needed to the denture was an adjustment!

Review added 19/12/2012 11:44 by anon
Hi this is Cookham Dental Practice. We are very sorry to hear that anyone is unhappy with our service. If you would like to get in touch with us on 01628 528083 we will address your concerns quickly and confidentially. Thank you and seasons greetings from the practice team.

Review added 16/12/2012 19:59 by Ripped off
I requested NHS, was quoted £48 for a check up, then asked to pay £45 for a clean.
It should have only been £17 for both....the reply was..." oh, yes.....sorry".
I rest my case........

Review added 23/06/2012 08:57 by Her upstairs
A house guest used them for an emergency and found them helpful, professional and understanding.

Review added 16/06/2012 00:36 by Cookham Dental Team
Dear Cookham Reviewers
Many thanks for taking the time to post your comments. We are always striving to provide the best possible service to our clients and as such take all your comments very seriously.
If there is anything you would like to bring to our attention or discuss, please do not hesitate to contact us. We are open 8am-8pm Mon-Fri and Sat 9-1.
Kind regards
Cookham Dental Team

Review added 13/06/2012 20:27 by anon
I recently had a filling done here and the next day it fell out. Great.

Review added 12/04/2012 11:45 by anon
I have had extensive treatment at this dentist (Jonathan) and can only thank them/him for his effective service. After months of pain/trauma I am now sorted. Worked for me.

Review added 10/02/2012 12:28 by anon
After joining this practice with my three children I was not happy that months later my daughter still has not had a referral done to have braces fitted. No one has any idea on why it had not been done.

Review added 17/06/2011 16:10 by clare
I Have recently been let down by this practice after some initial sound treatment. Mr Hothi has left the practice having quoted me for treatment that he was unable to deliver. Fortunately the practice referred me to a dentist who could do the work and has the qualifications to carry out the necessary treatment. What a relief after much delay!