The Coriander-Bourne End reviews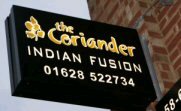 A blend of Northern Indian and Bangladeshi flavours.
58-60 The Parade,
Bourne End,
Bucks,
SL8 5SS
Tel: 01628 522 734 or 01628 523 835
The Coriander-Bourne End website
10 reviews
Average Score:

Add your review of The Coriander-Bourne End
Review added 30/09/2013 12:29 by RDAPhotography
Have been here twice in the last two weeks and both times we were extremley happy. The food is really nice and presented well, the service was spot on and they were not pushy like some other establishments. We used to go to one in Cookham High Street but got fed up with the service ( or lack of)
Highly recommend trying out the food here !!

Review added 12/11/2012 18:23 by Mrs Martin
The four of us, daughter and boyfriend, went there on Saturday night. Booked through curries.com confirmation same day also phone text. Excellent food plenty of it, and all taste so different, very good service by what appears to be very happy staff. Complimentary drinks after which was a pleasant surprise. Well done will certainly be going again

Review added 16/07/2012 10:41 by Wendy James
We also miss Shah's! Have frequented said establishments in Cookham High Street and will not be rushing back so it was a pleasure to have a meal at The Coriander last week. Staff were very friendly/polite and good sense of humour. 13 year old son had a curry a bit too spicy and waiter brought him a Mango Lassi (delicous) on the house. Food all tasted great with a variety of new dishes to try. Excellent atmosphere, have been back already and will return again soon. A Must Try!!

Review added 26/02/2012 22:42 by aj
When Shaah's closed, it looked like the end of our regular curry nights. Unless you're royalty or have a name shared with the M4 services near Heathrow, a certain Cookham establishment isn't really a place to welcome you with open arms, (as reviewers here have noted), and its competitor in the village is also a touch on the expensive side.
So we were delighted to discover Coriander in Bourne End as a new venue. The food is vibrantly spiced and comes in generous portions, and the service is attentive and friendly. A nice touch, at the table, the serving dishes are placed on oven-heated racks which keep the food nice and warm.
We all (seven of us) thought that the menu was wide-ranging and interesting, with both traditional dishes, as well as Bangladeshi specialties and even some Nepalese choices. If you like good authentic Indian food at pretty reasonable prices, Coriander is well worth checking out. We'll definitely be back...

Review added 21/02/2012 16:58 by Rupert Holmes
i have been here twice and it is rubbish, they use food colouring and frozen meat! The site that it is on has had several restaurants, none of which has been successful and this looks set to continue the trend. The Last Viceroy a frew doors away has been going since 1986 and is THE best Indian restaurant in South Bucks.

Review added 09/11/2011 13:04 by Helen C
Went to Coriander with my family last night . Lovely food. Very fresh flavours. The decor is modern and quite plush. I wish them every success. Great service and wonderful menu.

Review added 01/11/2011 10:43 by anon
Great food and service. Best Indian in the area.

Review added 30/10/2011 08:20 by Mary M
Took our daughter and her new flat mate to this new restaurant last night. Lovely deocor good service and very good food. Will definately be going again.

Review added 21/10/2011 12:46 by Louise J
Lovely restaurant, Staff are brilliant so helpful, couldn't do enough for myself and my husband. Have to say its the best Indian I have had, would defiantly recommend this place and will certainly be going back

Review added 17/10/2011 18:35 by Jamie j
New Indian. Lovely decor, v modern. The staff seem really nice. Welcoming . Food good, very flavoursome. Price was average but it felt value for money. Good Luck to them.