The Ferry - Cookham reviews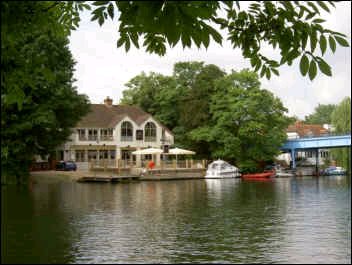 Sutton Road,
Cookham,
Maidenhead SL6 9SN
01628 525123
134 reviews
Average Score:

Add your review of The Ferry - Cookham
Review added 27/12/2022 09:31 by anon
Had booked for 12 people on Christmas Day at 2.45pm. Arrived about 10 minutes
early and were told the table would be about 15 minutes late as they were running late. We were then told to wait outside in the cold, which wasnít great as one of our family is 88 years old.
We finally were seated at our table at about 4pm, which was not laid up at all for a Christmas dinner. Food finally started to arrive at the table at about 4.30pm, which by then was almost two hours late. At no time during the meal did we have any table service and had to go and queue at the bar for all our drinks. The food was ok when it did finally arrive, but would never go back, especially at Christmas.

Review added 26/12/2022 00:31 by Oliver Downs
Arrived for a 3:30 table on Christmas day to a noticeably large queue. Champagne reception didn't happen so I went to the bar to buy drinks for the wait. In fairness we we're seated in 10 minutes. The table hadn't been properly laid but it happens when it's busy. At 4:30 a frantic waiter produces bread and olives (not the scallops with prawns ordered) not impressed by this point as I had to go to the bar again to buy drinks I decided to speak to the manager. He accepted that they had fallen way below par and refunded the money which had been prepaid. The starters were sent to the table in my absence. Everything was lukewarm at best. At this point we left totally unsatisfied in every way. Do not eat here until someone with some actual ability to deliver promised menu's takes over. Seriously atrocious in every way

Review added 06/09/2022 16:52 by anon
Overall - fair/good.
Food well presented, lamb not very tender.
Waitress, Lilly, friendly, helpful.
Value-for-money, fair.

Review added 25/07/2022 11:58 by anon
It's always been poor service, but thought we would try again this past weekend after staying away for a few years. Was disappointed to find that service hasn't improved. There's too many good places in Cookham to waste any more time there.

Review added 27/02/2022 16:01 by Sarah
Went for lunch on Friday & the service was excellent.

Review added 12/09/2021 00:48 by Johnm
As a local coming here almost 17 years . Amazing food and service . Great people working .Will recommend 100%

Review added 03/06/2021 21:32 by anon
Having called to book an outside table for lunch for 4, I was informed that outside tables could not be booked. I was asked if I wanted to book a table inside and I declined as we did not wish to dine inside. I informed my party that outside tables were not bookable so we would have to arrive at The Ferry early in order to get an outside table. Having checked their website for opening times we arranged to meet at 11am in order to have coffee followed by lunch. This was to be our first meeting since lockdown so was very special to us all.
Having arrived at 11am as arranged we found the doors locked and The Ferry closed. I checked the website again which stated opening time as 11am. I called to try to find out what was going on but was unable to speak to anyone, so we walked to nearby Cookham and found a very nice place to have coffee. At 12 moon we walked back to The Ferry and found that it was now open. We waited to be seated and a member of staff welcomed us and asked if we had made a booking. I informed him that we desired a table outside which I had been told on the phone that we could not book. He then explained that the lunch session was fully booked and what we should have been told was to book a table inside and weather permitting we could then chose to sit outside! This is not what I was told on the phone.
We were very disappointed and upset. Although we have visited The Ferry
many, many times over the past 35 years, I donít think we will be rushing back.

Review added 25/05/2021 18:54 by John
Great food and amazing service ! Totally different atmosphere than 2 years back

Review added 15/08/2020 18:04 by Mz
On 13th August 2020 having read the latest COVID 19 measures put in place by the Ferry in Maidenhead, my family and I booked 2 seperate tables for a party of 10. When I arrived to check in, the bald bearded man behind the front of house was unbelievably rude to me barking orders and making threats to cancel the booking as the 2 groups exceeded 8 people. I explained that there was no expectations to sit together as I was aware of their policy. He then made us wait out side for a table despite having booked in advance, whilst the 3 white couples who had been in front of me where immediately let in and asked to wait at the bar.
I have been going to the Ferry for the past 6 years and have always loved it, but after this treatment I will NEVER return there again!!!

Review added 20/01/2020 11:02 by anon
Table reservations not made even when we had phoned to check?? The food arrived with only half the order. Two people had to eat as everyone else finiahed!! The food was terrible, greasy and covered in mayo and inedable. Water all over the floor. Upholstery filthy and stained and broken loos. The service was terrible with rude unhelpful staff. To top it off we got charged for someone elses table on our bill as well. Shocking place will not be returning. Avoid at all costs!!!

Review added 30/09/2019 22:03 by Jessica Hudson
Went to the ferry for the weekday treats menu. Booked a table through a email I got saying I would get a free pip and cider which I never got. Turned up and we were the only ones in there. At this point the waiter only gave us the normal menu,we asked for the deal menu in which she claimed it finished at 6pm this we new wasnt true. So we got it up on the website and showed her it was from 6pm!!! She acted like she thought it was another menu which we new was a lie they were trying to get us to pay the the full price due to being so quite.
So we both ordered a burger which was not made with any technique all thrown together there was half a lettuce in the burger and I mean it wasnt even broken up just one hugh lump of iceberg lettuce just been cut. Apart from that it was nice. Both the burger and the dessert was in the deal but it said + £2-3 so we're were practically paying full price anyway so be careful the deal is actually not what it seems.
The waiter then practically begged us to do a review through a survuy and give her name and she can have a weekend of. I felt sorry for her! If the service was good enough and they didn't try rip us of in the begging I would of.
Then we said about the 2 cocktails for 12 pounds and we were told to go to the bar to find out it had finished already so if you go to eat you wouldn't have a chance to get this deal.
All in all not a great visit don't think we would go back to eat again.

Review added 20/04/2019 19:01 by anon
Very disappointed at the service and the food on Good Friday. We had a table booked for 8.30 and felt rushed at the meal and then we went for drink afterwards downstairs. The staff turned the lights on and were clearing up around us.
Lobster/prawn starters were dry and overcooked,others were greasy so all in all a real disappointment. Wish we had gone elsewhere.

Review added 15/03/2019 21:19 by anon
Called at the Ferry for lunch. Not impressed by the laidback attitude of the staff. By the time I had found my own seat, discovered where the menus were stored,, gone back to the bar to order my drink, I might as well have gone to the kitchen to cook my own lunch as well. Come on guys where is the service?

Review added 12/01/2019 23:17 by Bob
A bit over priced and a problem with "Health & Safety" issues.
The only restaurant I know that prohibits flaming Sambuca.
Apparently they thought we would set fire to the carpets!
Ridiculous - Sambuca is undrinkable without coffee beans and a flame!

Review added 28/05/2018 13:49 by Gavin
Poor service, uncleared tables
27/5/28 We arrived around 18.30...advised upstairs restaurant fully booked but only 25% occupied....checked at 20.00 & majority of restaurant empty...lack of staff & poor management again.
Eat in decking seated area with uncleared tables which I & other customers cleared & wiped our tables clean!
My burger was tasteless but my wife's chicken pie was good.
Great location but track record of poor management & service levels with lack of sufficient motivated staff. Feel sorry for the staff as under constant pressure...been many times before same issues.
What a great location but poor management!

Review added 06/11/2017 19:43 by anon
The Ferry is in a great location and the decor is fab drinks are a bit on the pricey side. Food is good but do not order the pork belly or if you do donít add the scallops which I did for an extra £4 and got 2 of the smallest scallops imaginable they were tiny! It was a rip off ! I complained and was told more or less thatís just the way it is!!

Review added 14/08/2017 21:36 by anon
Went to the Ferry for a birthday celebration dinner, the food was good but the service was very poor, we had to go and find our own menus and there was a long delay on taking our order, both for drinks and food, we ordered a cocktail which turned out to be a children one.
We would like to be recommended a nice British restaurant in Cookham that has good food and good service

Review added 12/07/2016 15:35 by Geoff Howe
THE FERRY, LIKE ALL PUBS OFFERING THIS MENU (AND I HAVE BEEN TO 7 OTHERS ) IS IN A GREAT LOCATION AND THE DECOR IS EXCELLENT . THE FOOD DELIVERED HAS VARIED ACCORDING TO THE CHEF IN CHARGE. HOWEVER ON A VISIT WITH A GROUP OF 7 MEN STOPPING OFF ON A TRIP FROM HENLEY TO WINDSOR BY BOAT , THE FOOD WAS ATROCIOUS. WE DIDN'T ORDER UNTIL NEARLY 4 SO SLOW SERVICE WOULD HAVE BEEN UNDERSTANDABLE IF THE KITCHEN STAFF HAD ALREADY LEFT.THE MAIN COURSE ARRIVED BEFORE THE FIRST. SO WAS SENT BACK TOTHE ANNOYANCE OF THE SERVER. I TRIED THE 2 COURSE LUNCH. THE CALAMARI AND GARLIC MAYO STARTER WAS PRETTY ORDINARY.THE ACTUAL MAIN COURSE, YORKSHIRE HAM AND EGGS, WAS A DISGRACE 2 SLICES OF DRIED HAM,2 OVERCOOKED FRIED EGGS AND A GREASY BOWL OF SHRIVELLED-UP "CHUNKY CHIPS " HALF WHICH I LEFT .THE FOOD LETS THE PUB DOWN BADLY

Review added 05/06/2016 17:49 by Fiona
In answer to Marks comment about reading reviews, we visited this pub on 4/6/16 as part of our annual girls weekend away so had not visited for at least a year. All previous visits had been fantastic, hence why we booked again this year. We shan't do it again. The food was very nice if over priced but the manager is not managing, is very rude and has an attitude problem! Without going into details, we complained several times about the service we had received and his response was down right rude, as if we had to listen to his excuses. It does appear from reading recent reviews, that this pub has deteriorated over the last few months and I wonder when this manager took over. We ended up walking down the road to the Crown pub which is friendly, welcoming and cheaper!

Review added 30/05/2016 09:23 by anon
Went to the Ferry on Saturday for lunch. While the venue is lovely overlooking the river, the service and food were shocking. It was a great disappointment and we had so much been looking forward to going there

Review added 09/03/2016 18:19 by Jenny R
Went to The Ferry Monday evening, wedding anniversary. Such a disappointment food not very hot, I had fish and chips and the chips were awful like they had been soaking in fat for hours.Will not be going again. This review went on as ANON only because I forgot to put my name.

Review added 08/03/2016 09:33 by anon
Went to The Ferry last night very disappointed. Food was not very hot and the chips were awful. I will not be going there again

Review added 13/01/2016 13:17 by Eric Heron
Our party of seven were booked for 7.15.As we arrived a party of 10 preceded us.Despite the restaurant being empty out two parties were seated adjacent to each other which resulted in a noisy situation.There was only one waitress serving the whole restaurant and clearly with 17 diners arriving together this was inadequate as she was dealing with drinks food orders table clearance.Consequently it took more than an hour for us to receive our food.the sole waitress was excellent but simply overwhelmed.this was a school night and a birthday evening for my granddaughter which was most disappointing for us.Over the evening the number of covers rose to around 35 but still only on waitress served.As a friend of the Ferry I wiill think twice about using it in the future.The food when it did arrive was fine.

Review added 08/01/2016 12:02 by Mark
I am consistently amazed at the number of people who do not seem to read this review section before booking a place. Out of 110 reviews The Ferry has an average of 2.5 stars out of 5, that is a really good indicator that the establishment is not up to scratch. Since the 26th Feb 2015 there has been 9 reviews, here is the star ratings:
5 Stars 0
4 Stars 2
3 Stars 0
2 Stars 1
1 Star 4
Half a Star 2
Nine reviews in total, where 7 people rate it 2 star or less. So a massive 77% of customers rate it way below average. Says it all in my opinion.
On the rare occasions I go there it is only for a drink.

Review added 07/01/2016 11:13 by nicola Leonard
I went here on boxing day 2015 for my brother inlaws birthday meal wot Awful service had to wait ages to eat around an hour they said they would make me something nice as i had requestet a vegan meal i got a really horrible meal consisting of plain pasta with cheap old dried herbs with bits of mushrooms and beetroot never even got my starter ! When itold the waitress the food was horrible she didnt give a toss was very rude an moved onto the next customer ! I will never come to this restaurant again !!!!

Review added 30/12/2015 13:24 by anon
We had Christmas lunch there last week, to say it was poor and disappointing is an understatement. We got there at 2.25 we had booked for 2.30 , we waited about 10 minutes to be seated. the staff all looked panicked. We waited half an hour for a drink, we had no water offered to us either. We had to ask for each course and then waited about 50 minutes for our starter then about 40 minutes for our main course and again for pudding, we were pretty fed up after 3hours of asking and waiting we left without having coffee and chocolates which were included in the price. There were obviously not enough staff on that day. The food was all preordered so why the big wait? We have been to the Ferry for Christmas Lunch for the last 8 years and it generally has been very good all round, but after last week we will not be going again on Christmas day or any other day!

Review added 04/03/2015 15:49 by anon
Popped in Wednesday lunchtime and was pleasantly surprised . Had the fixed price menu and it was very nice and tasty , staff were good and no problems at all . Will def go again

Review added 06/01/2015 09:07 by anon
After a chilly walk on Sunday, we popped into The Ferry for a quick coffee in front of the fire to warm up. After over 5 minutes at the bar being ignored by all the staff we left and went to the Bell and Dragon where we received a warm welcome and lovely hot drinks.

Review added 03/01/2015 09:34 by anon
We chose the Ferry for Christmas Day as the B & D was booked up by early September.
We wanted a late dinner so went for a 3pm table, unfortunately upon arrival it was clear that we wouldn't be seated at 3, we eventually sat down just after 3.30, it then took another 20 minutes and 2 reminders for the starters to arrive which were nothing more than adequate, the main course was OK and the deserts slightly less so. The manageress new that there were problems due to staff not showing, however this is not uncommon on Xmas day so she should really have sourced a higher number to cover for the obligatory drop outs.
Fair play to the manageress our drinks were refunded along with many others on the second sitting, however our first experience of eating out on Christmas Day will probably be our last.

Review added 02/07/2014 18:51 by anon
Very poor food. Overpriced, disappointing.

Review added 01/04/2014 11:10 by Happy Eater
There are always mixed reviews for The Ferry but I have yet to experience a bad meal there. Had Mother's Day lunch there and despite being packed out, the food was very good and the service commendable considering the number of guests. Not the cheapest around but with a good view and ambience, it was a good afternoon.

Review added 26/02/2014 15:28 by Mark
The Ferry effectively is a Harvester it is owned by the same group Mitchells & Butlers, as is The Spade Oak and The Kings Arms, take a look at the Ferryís reviews. Over 100 people have commented, I think that is the most reviews on the Cookham website. It gets 2.5 out of 5 stars, that tells you all you need to know!
On the other hand the Toby Carvery at Stafferton Lodge is also owned by the same group and their Carvery meal I think is excellent value during the week, £5.99 with a choice of 4 different roast and loads of vegetables.

Review added 26/02/2014 14:07 by anon
Dire at best,
Ok for a beer by the river in the summer.
Avoid eating there at all costs,
Overpriced food - it's worse than the muck you'd get at a Harvester, zero service.

Review added 16/02/2014 12:19 by melissa
Not a 5 star review as this place is a lot more laid back than an swanky star but the staff are very helpful and welcoming and the food has improved so vastly since my last average meal there 2 years ago. I have added the Ferry to my go to list of places I can rely on to have a lovely lunch or dinner - even with my difficult food intolerances, they are very patient. Recently celebrated my birthday there and converted my sister, brother in law, and mother in law into new Ferry fans after they were insistent they didn't want to go there. We all had great meal. Currently considering it now for my wedding reception as I have been made to feel so welcome there.

Review added 05/11/2013 18:04 by anon
Turned up at about 1:15 on a Monday having thought carefully in the light of less positive reviews on Cookham.com.
Not a busy time of course but the staff were able to be very attentive without being intrusive.
We chose the fixed price menu. Naturally this restricted the offering a little but was excellent.
Obviously we can't comment on what it would be like if it was busy but on a sunny autumn lunch time it was fine.

Review added 11/08/2013 22:46 by anon
Friendly staff, great location and large selection of food and drinks, brilliant place
Booked a table for a family occasion, were seated quickly and had drinks on the table relatively quickly considering the size and variation of drinks we ordered. Waitress was friendly and provided great service throughout the meal. Food was a bit slow but it was a busy Friday evening and we had plenty of drinks and good conversation so it didn't really matter. Would highly recommend!
NOTE FROM COOKHAM WEBMASTER - TWO REVIEWS COMBINED AS FROM SAME POSTER

Review added 09/08/2013 13:24 by Gemma
Awful! Just been to The Ferry for a Friday lunchtime. Got there before the rush for tables outside yet still made to wait for 15 minutes before even being served at the bar for drinks (as well as others being served before us when we were there first!).
No menu to be seen at all. Had to ask for one, because heaven forbid we'd want to order food at lunchtime?! Thought we'd sit it out as not in a rush, so ordered a burger and a margherita pizza. A couple who ordered after us got served their food first and the woman asked for her duck to be cooked more as was too underdone for her. The waitress came out and loudly said that the chef said this is how it is meant to be (so everyone could hear), the woman said she knew that, but she had asked for it well done and that's what she requested, but it was bloody. The waitress kept on going on about how the 'head chef' said this is what it should be...in the end the poor woman said she had cancer and was not meant to be eating things underdone which is why she had requested that. That shut the loud waitress up! However, the ridiculousness of it was that the chef was STILL not prepared to cook her duck the way she (the customer!) had asked so she had to have something else!
Our food finally arrived after 30 minutes and for the price was extremely mediocre. The margherita pizza was overloaded with tomato puree, a very small amount of mozzarella and two basil leaves. The chips from my partners burger dish were stone cold and unseasoned.
We ate a little and left. We will definitely not be returning and will be passing this onto friends and family. Extremely disappointed.

Review added 23/04/2013 22:16 by anon
One word,disappointed! Had to wait over 20 minutes before ordering drinks! Over an hour between starters and mains! Considering the high prices,especially the drinks I felt ripped off. They basically had too many customers crammed in and not enough staff to cope. Will not be re visiting!

Review added 11/04/2013 21:46 by Jay
Great food, great staff, gastro pub atmosphere. I had the Duck Salad which was the best I have ever had for the money, pub fair, wonderfully prepared with a gastro twist. Going back for my Parent 50 wedding anniversary.

Review added 01/04/2013 18:40 by Debbie
I would never go to, nor would i recommend this place, after the disgusting treatment myself and my family recieved at the hands of this snooty establishment. Im local but would prefer to go further away where my custom is wanted and where we're made welcome. Swanuppers is next on my list to go and eat.heard its fab. Ferry.....BOOOOOOOOOOOOOOOOOOO!!!!!!!!!!!!!!!

Review added 31/03/2013 08:59 by Mark
Unfortunately when an establishment has 93 reviews and scores a meagre 2.5 stars out of 5 all that says to me is it average and best, hardly the ďbest in the area I would say. So many other much better places to go to locally than here.

Review added 30/03/2013 21:10 by anon
Really enjoyed our meal on Good Friday. Service and food great . We are local and eat here quite a lot. Always enjoy our time at the Ferry. Best in the area.

Review added 17/02/2013 21:04 by monty
Do Swan Uppers brilliant food good service

Review added 17/02/2013 19:44 by anon
Spend your money elsewhere. Enough said.

Review added 16/02/2013 21:59 by Debbie
No i didn't. I would not have given the sour faced snotty woman the satisfaction. Even the manageress came over to stick her nose in,then just stared at us as if asking why the hell we were still there. Just awfull. We went to The Dumbell instead and had a MUCH better time and the food was fabulous. I can't recommend it enough.

Review added 16/02/2013 20:00 by anon
Debbie did you walk out and complain loudly, I would have dobe

Review added 16/02/2013 19:01 by Debbie
Only gave half a star as otherwise i couldn't review. We at 6.30pm for a table for 3 tonight and was looked up and down then treated like a bad smell and told unleyss we wanted a table for an hour then leave, we coudn't eat there tonight. No help. No advice. No compromise NOTHING!! Treated very badly indeed. Considering todays climate can the ferry REALLY afford to turn customers away? Obviously they can. Im SO disgusted at our treatment here tonight and will NEVER even try to get a table here again. So off we go somewhere else. And am certain we will be treated alot better than here!!!

Review added 16/11/2012 17:49 by monty
Went to The Ferry for lunch today, lovely meal beautifully cooked service excellent.

Review added 01/10/2012 16:03 by anon
Terrible service
Terrible food
Have been there 5 or so times in the last 6 months
not through choice; but because of people wanting to meet there.
3 occassions the food was cold and i sent it back
Just rubbish

Review added 10/08/2012 14:37 by Her upstairs
Took an overseas visitor for lunch there as it has great views and reasonable prices. Excellent friendly waitress and a varied menu. The meal itself was perfectly acceptable, as usual. I have had the odd duff meal here but generally it is fine.

Review added 17/07/2012 10:16 by anon
Went on a Monday night for a family birthday meal. It states on their website that there is a Fixed Price Menu on weekdays till 7pm. We were seated (after a bit too long a wait) at 6.45pm - we were not offered a Fixed Price Menu so I asked for it. The waiter looked confused and asked a waitress, who also looked confused. The waiter went to ask someone else who said the food had to be on the table by 7pm!!!!! This Fixed price Menu does not exist, it is a lie and we should have left then. 2 of our group got their food and were on the 2nd from last mouthfull before the next 2 got their food. My son had a pizza, which he gave a 3 out of 10(my son LOVES pizza ..... any pizza). The fish and chips were of small portions, more suited to a child. I had the duck salad which was swimming in a potent sauce - it made me feel a bit sick. There is a lot of running around by staff, but no table service. We were very disappointed and will never go to this place again and have informed our friends not to either.

Review added 10/07/2012 15:41 by Brigitte Houghton
Time had come for us to celebrate Danielleís Sixteenth Birthday with the family from Basingstoke. So it was decided to choose a venue that was half way between Hertford and Basingstoke. My sister in-law suggested The Ferry in Cookham (Maidenhead) as she had eaten there in the past and thoroughly enjoyed it. The Ferry is right on the banks of the River Thames, and as an added bonus we had the pleasure of seeing the glorious Gloriana from the Diamond Jubilee parade row past.
The Ferryís subtle lighting and spacious layout give it a comfortable and unpretentious ambiance. Expect to find no one single cuisine, but a blend designed to provide something for everybody, no matter what your tastes may be. The service was cheerful, brisk and totally in keeping with the friendly nature of a good English pub. They were also more than happy for us to provide our own Birthday cake, and made a big fuss for Danielle when they brought it to the table. Modern day pubs usually share a number of characteristics and an important feature is space, preferably a restaurant where you are comfortable, not over-awed, and not sharing elbow space with the next table, however sociable they may be. Good, too, to have a garden, in this case a riverside one adjacent to the bridge at Cookham. The term 'gastropub' covers a multitude of blessings and it is possible to see influences of brasserie, bistro, restaurant and even cafť at work within the great gastro umbrella.
They have a extensive menu, with a nice choice of different meals to appeal to most people. David, Danielle and myself had their classic burger with nice thick chips. The burger comes with gherkin, mustard mayo, cheese, relish.. My Mum-in-law had the calves liver, brother-in-law fish and chips, the freshly battered haddock came with minted mushy peas, chips and tartar sauce (looking at the picture, they were a bit mean with the peas and chips) and my sister-in-law the Sunday Roast turkey.
http://thetwoolives.blogspot.co.uk/2012/07/review-ferry-cookham-berkshire.html

Review added 29/05/2012 09:21 by Keith Grant
We arrived at 13.00 found a riverside table easily, no menus to be seen, eventually a male appeared to clear our table, I asked for a menu, was told the waitresses would bring.
We are well into our first drink still no menu, having asked a girl. Eventually the male brings them,reluctantly we felt Waitress appears, My wife ordered the Chicken Goujons, and I discussed the possibility of having my Steak Baguette rare, she said it is such a tiny piece of meat, difficult, OK.
13.40 no sign of food and second round ( on empty stomach)
13.50 a complaint to the male about the wait who retorted it has only been in for 20 mins
Just before 14.00 we are presented with the Gojouns and a very tired looking Chicken breast slice between two enormous pieces of bread. I sent it back and cancelled my order saying I was not going to wait to eat seperately.
An amazing thing then happened, I have never come across this before!! In much more time that the chef would have easily prepared a fresh fried wafer thin piece of steak and presented it
to me I was offered the original, now even more tired piece of chicken as a DEAL! if I would accept it!!!!
At this point we walked out in disgust leaving the Gojouns and their accompanying burnt half lemon.
Visited May 2012
Value Atmosphere Service

Review added 21/03/2012 17:55 by anon
Had lunch at The Ferry on Saturday 17th March. It was very busy but the staff were amazing. There were some unhappy dinners, mainly complaining about the car parking. Perhaps you should leave a little earlier next time! Anyway our food was good and the staff eager to please. Will be back soon.
TT

Review added 21/03/2012 17:01 by Poppy
Wow! Mothers Day at The Ferry! So so busy! The car park was rammed and the restaurant bursting at the seams!! Thankyou to all, a lovely day made all the more special by a lovely meal and special (very very busy) service. Food great!!! Cant wait for the summer so we can enjoy the river!!
Thankyou all!!
Poppy xx

Review added 14/03/2012 13:42 by Andy
Back to the Ferry again this last weekend 10-03 this time my daughters birthday. Having read some of the other reviews i think i must be missing something. Never had a bad experience at the Ferry and once again our time there was great.
Keep up the good work chaps, dont let them get you down!!
Andy G

Review added 12/03/2012 21:24 by Rana
Just want to say The Ferry is our favorite place to eat and drink in Cookham, excelent variety of menu, fantastic daily specials ,very frendly service , sometimes looks a bit under staff but they always try the best to provide good service -we also know there are lots of impaciente customers that are always looking for a reason to complain but that is really wrong .
To all the staff and management at the ferry Keep the Good Work and THANK You to All

Review added 11/02/2012 17:28 by A Collins
We've been to this pub a few times, its in a lovely location. The service is pretty hit and miss, sometimes good, sometimes pretty painful. We went there last weekend (saturday) with friends for lunch, there were 6 of us in total. 3 of us had the burger and within 48 hours, the 3 of us all came down with severe food poisoning - the worst any of us have ever experienced. We were all out of action for at least 2 days. We contacted the pub to let them know, whilst they said they took this seriously, yet at the same time failed to offer any kind of apology. They promised to follow up and call us back but a week later, still no one has bothered to get in contact which we are appalled about given the severity of the situation. Don't eat here!

Review added 10/01/2012 13:32 by anon
Never had a good meal here. "Spit-roasted" chicken was not spit-roasted at all but drenched in a jar of barbecue sauce. Discgusting

Review added 26/12/2011 16:39 by anon
We ate there today on Boxing Day. Very disappointing. Both our drink and food orders were wrong - when we eventually did receive the right order It was very average. We are local residents but will not return!

Review added 23/10/2011 16:31 by Phil B
Venue was nice, interior decor & design very nice and a lovely atmosphere. However, service was not....
We were in the restaurant upstairs & a basic order for some drinks & starters took over 30 minutes to arrive. Waitress smiled a lot but was totally clueless - watched her go downstairs numerous times & always arrived back empty handed. Father in-law had to make a formal complaint before we got any food or drinks. Main course: Burger was not brilliant & served on a thin slab of wood - bits dropped off all over table & on floor - Hey guys - try using a plate next time! Duck salad was turned into a large portion by adding lots more lettuce, but no more duck. It was a case of 'spot the duck'. Desert - Choux pastry was hard (left out in the air for too long), and almost devoid of cream inside. Verdict: I would come here again for the excellent atmosphere & drinks but would avoid the restaurant. I've eaten better for the same price elsewhere. Of course the food wasn't terrible - It was OK, but for the class of the restaurant I'd expect better.

Review added 20/09/2011 21:07 by joseph
i arrived at the Ferry today to have a meal and a quiet drink i was grreted well by the bartender and he was very polite when he took my order he acted very quickly and asked if i was satisfied with my meal and wanted another drink during my meal his name was zaheer very polite and helpful i will definitely be coming back if the service and the rest of the staff are as polite as this young man

Review added 07/08/2011 18:48 by anon
As with the other reviewer, I worked in the Ferry for a week. Contracted in for full time (40 hours give or take) and after a 55 hour week with no rest breaks given I had to jack it in. The staff are extraordinarily overworked and consequentially they have a very high turnover of staff. However to dine there is nice, the food is great quality and the bar staff are all very pleasant :)

Review added 03/08/2011 19:37 by James
The service was terrible today. We went in and waited and waited. Eventually they took a drinks order which hadn't arrived after 20 minutes so we left. We asked if there was something going on and we received a surly reply, of 'well we have 150 people to serve, it will be slow'.

Review added 24/06/2011 11:31 by Jerry
Visited the night of the garden party and it was AMAZING!!! Such a good atmosphere. The band were awesome and played some great stuff. Will definately be going back.

Review added 11/06/2011 14:12 by anon
As a guest, to dine there is quiet pleasant, the water view is amazing if you have a table by the window and the food and drink is of high quality and beautifully prepared although, when I worked there earlier this year it was very under-staffed so it was difficult to provide guests with the level of service they should receive although we do try our utmost best to serve our guests well. The business is poorly managed by people who are way out of their depth, unprofessional and unethical treatment of their staff. We were over-worked and under-paid as we only received £5.93 per hr for an 'adult' wage (over 21 yrs) for everything that we were expected to do on a day-to-day basis. I wouldn't recommend anyone to work there as it is extremely oppressive and not rewarding in the slighest.

Review added 25/04/2011 15:55 by jon
Very busy in this lovely weather! Good food and good service, will definitely return, thanks!

Review added 16/12/2010 10:04 by anon
another great meal here. Whenever we eat here, the food is great, but what is also good about this place are the staff.
They give it 110%. Overall the food is excellent value for money, a great varied menu. Lively atmosphere, knowledgeable, friendly, efficient staff! well done
can people please refrain from leaving negative comments regarding the banning of dogs and the early erection of Christmas trees at the Ferry as rather spiteful. The reviews should be about the restaurant itself ie food, service etc.
come on guys get a life. over to you webmaster
NB Two reviews merged as from same source - Cookham Webmaster

Review added 08/11/2010 21:46 by anon
Great place for a drink, shame about the food

Review added 25/10/2010 17:45 by Jane
After walking into the ferry a few saturday nights ago (without a booking might I add) my boyfriend and I were greated warmly and seated promptly. The restaurant was packed but service didn't suffer. Our waitress was attentive and helpful with explaining the new menu and both our meals were delicious and great value. This restaurant that we stumbled into is now one of our favourite places to eat. Some of these reviews are laughable. Settle down people and if you dont like it dont go back, simple! One things for sure I know I will be back. Well done The Ferry.

Review added 23/10/2010 18:02 by anon
Attention the people of Cookham. I am a regular visitor here for business and I have picked up some good advise from fellow workers. You need to relax. The amount of whining and complaining I have read and heard from dining at restaurants all through Cookham just shows that people in this village are never pleased! When speaking to the management and staff of The Ferry (who were very pleasant may I add) the reason dogs were banned was because of people complaining about them in the first place. It seems this is a case of you are damned if you do you are damned if you don't.
Wasps are apparent all down the Thames not just at the tables and they are more attracted by the drinks not peoples plates of food. In all honestly what do you expect the staff to do about the wasps? Ask them to leave nicely and hope they do not come back?
This restaurant has always been busy when I have been there and yes, while sometimes you will wait for food, I understand that I have come for a social experience with my friends not to time how quick my meal comes out thinking it is a fast food restaurant.
Some of these complaints are just silly and I believe some people I have seen dine here (rude and obnoxious) think they are born with a silver spoon up their bum.
And Christmas tree = marketing, the fact your talking about it proves it is working, when asking a waiter about how the bookings are I was told Christmas bookings have never been more full.
The Ferry is a great restaurant, despite some of these ridiculous claims, give it a try for yourself.
Some other people should go dine with the Queen because I think this is the only thing that will please them.
And on a side note, to the lady I saw sit at a table with plates on it (straight after a customer left) and then complained the table was dirty, what did you expect? perhaps patience was in order for the waitress who was actually serving at the time and was coming to you next.
I give this restaurant 3.5 well done guys, can't wait to come back here.

Review added 26/09/2010 22:16 by wolfgang
i went there on Sunday . asked for a pint of pilsner urquell. the bartender overpoured the lager so much there was no head on the lager at all. i am sure by doing this the pub must lose a lot of profit. the manager needs to train the staff and make sure there is a proper head on the lager... service was very laid back.

Review added 24/09/2010 13:58 by D Pickering
Warm late summer afternoon....and we encountered a Christmas Tree at the entrance. Utterly ridiculous. Service was friendly enough but dreadfully slow. I had the impression that the management were complacent, feeling safe in the knowledge that the rich day trippers would pay regardless of the lack of effort. Very poor.

Review added 23/09/2010 11:33 by anon
I went to The Ferry last week and was so impressed I am going there again tonight! The food was outstanding, and as the waitress told me the menu was changing I am back there again to taste the fabulous food again tonight. Not only is The Ferry situated in a great location, and serve fine food, but the service there I was blown away. The waitresses were bubbily and happy and all worked well as a team, as well as the talkative members of the bar staff. I think the management there is superb. The Ferry has a wonderful atmosphere and makes everyone feel welcome. I would definitely recommend this restaurant to anyone who wants to have a leisurely evening and some fine food with great service! (And as for the Christmas tree, I think that it creates a warm friendly atmosphere).

Review added 16/09/2010 20:11 by anon
For crying out loud. A Christmas tree in the entrance.. and its been there since the end of August..give us all a break...its not even Autumn. Why don't management take a stand and resist the corporate mandate to start Christmas before sumer is over? Frankly I'm tired and turned off by this ridiculous commercial driven practice. Can someone please be mature enough in the Ferry to stand up and stop this. It won't happen as this outlet is a chain, not personally managed and beholden to the corporate dragons... get real Guys and make the Ferry a nice local place to visit... and for crying out loud let the dogs back on the terrace.... its simple commercial sense!!!

Review added 14/09/2010 21:11 by anon
In response to the review above this one, for those that have lived in the village for many years, the Ferry is not at its best. Mediocre food, appalling service. Fine for a drink but better places to go for food.
Visited weekend and why on earth is there a christmas tree already on display in mid September. Strange management.

Review added 14/09/2010 08:01 by anon
As for the Ferry: indeed; nice place. But rather same old same old: nice recent refurbishment but then front of house staffed by incompetent teenagers. Food possibly straight out of jars too.

Review added 13/09/2010 13:01 by James Foster
I have just moved to the area with my family and have just discoverd this site, some of the reviews on here have really helped me and am very gratefull. Although i visited the Ferry recently with my wife and a few friends and found the comments made on here about the pub are un-founded and false. As soon as we walked through the door we were greeted by happy smiling staff who immediatly made us feel welcome. When we sat down our drinks order was taken quickly and arrived not too long after, my wife had a mojito of which she claimed was the best she had had in ages. The food was fantastic and all three courses arrived in perfect time, dessert has to be my favorite and the chocolate fondant was to die for! I most certainly will be back with my family and friends many times and have become a true fan of the pub. Don`t change anything, just ignore the comments made on here by sad members of the public!

Review added 11/09/2010 21:11 by Peter Thomas
I dont normally do this but having stumbled upon the reviews left by others i feel it is only right to leave my own.
The pub itself enjoys a fantastic location on the Thames and sitting on the 'deck' early in the evening with the sun still warm but hidden behind the trees was relaxing and unique. We were greeted by friendly, enthusiastic staff and shown to our table which was both clean and nicely set. Having ordered, our food and drinks were presented to us promptly with consideration given to the time we actually needed to eat our starters rather than all of it arriving at the same time. The food itself was really good and represented good value. We ordered wine and enjoyed the informed discussion we had with our server about its quality and suitability.
I have read some of the reviews left by others and would like to take this opportunity to congratulate and encourage the staff of The Ferry both on the efforts they made to ensure our evening was memorable and comfortable and on their continued endeavours in the face of some seemingly purile and spiteful individuals.
Keep up the good work guys, we will definately be back!

Review added 10/09/2010 15:04 by Sarah
I can assure the recent writers that the previous reports about the banning of dogs even outside at the Ferry are unfortunately only too real. Agree that it does sound hard to believe but, as the earlier complainants had similar experiences to us, their reports are certainly not made up.
We had been customers for a long time but twice, suddenly, my husband was told he couldn't sit outside with our dog (who is well-behaved, sits quietly under the table and DOESN'T eye-up people's food as she is properly trained!).
On one occasion he was rather abruptly refused service and on another (having returned in disbelief) was told that it was necessary for him to tie up the dog on the towpath, which was some distance away from where he could sit with his beer, and out of sight. On the second occasion, he immediately left - and will not be back.
As any civilised, traditional English pub allows dogs INSIDE as well as out (and thank goodness we still have some of these in and around Cookham) we now take our custom elsewhere.
Dog mess on walks near the river are irrelevant to the pub issues as the fields are frequented by professional, multiple dog walkers (often not Cookham residents) and certain irresponsible owners.
We used to visit The Ferry with friends but stopped using the pub for eating before the dog banning problem, as the tables were often left uncleared, even of dirty plates, and attracted wasps as a result. Tablecloths were often filthy and unchanged between customers, which finally put us off ordering the not very good food.
There are far more pleasant and inviting pubs in the area. We really donít have to put up with this one.

Review added 09/09/2010 20:25 by Rita Kingston
I had lunch at the ferry on monday with my husband and elderly mother the staff were very acccomodating, the food was lovely and not too expensive, I did notice some dog mess when we had a little walk afterwards, I think that most food establishments only allow guide dogs so cannot understand all the fuss. overall we were served very decent food by nice people, we will be going back soon thank you

Review added 09/09/2010 19:24 by lea
I am also confused about the bad reviews! Some people are really dificult to please however my family and I had a lovely meal the other evening, even though it was very busy the service was good the food was great and the drinks didn't take long to come out, all in all a great night. It sounds to me that someone has got it in for the Ferry maybe another restuarant. Some people have nothing better to do than whinge and bleet. Well done the ferry for not letting dogs in I would not want to be eating out with a dog sitting next to my table eyeing up my food. We are not all dog lovers. Unlike ANON, I am not afraid to leave my name!

Review added 08/09/2010 22:29 by anon
Im a little bit confused about these dog comments. I took my dog there at the weekend and was made to feel more than welcome. the only request that the waitress had was that we occupied one of the permiter tables and that our dog was kept on a lead. The staff were friendly, the food was great and the service was more than satisfactory. As a result of our experience we have made enquiries and subsequently booked the private function room for our sons upcoming birthday.

Review added 15/07/2010 22:53 by anon
Perhaps if the canine-owning clientele cleared up the endless dog muck that makes the first couple of hundred metres of the walk towards the river from the moor car-park so unpleasant then they wouldn't be so objected to.
Good on the Ferry for not letting them in.

Review added 14/07/2010 12:22 by anon
What a shame that a restaurant with such a great location cannot offer good food! I have been few times now and the food has always been below average. The menu list might be too long for the chef to cope with?? or need new chefs!!

Review added 09/07/2010 22:54 by anon
Great place to eat, great food, my only complaint was 3 courses for four taking 3 hours but then again the place was heaving.

Review added 09/07/2010 10:18 by anon
Worst place to eat, boycot it - the only way places like this will learn.

Review added 09/07/2010 08:05 by anon
The food is **** at the Ferry anyway. Get over it.

Review added 08/07/2010 20:35 by anon
What is the matter with the management at The Ferry. Cookham will be become a no go area for people on boats with dogs. What is their problem. Cookham is a tourist centre so many people come here, and having a pub/restaurant which is so anti-dogs is not good. The dogs do not go into the bar etc but stay on the patio what is the problem !!!
e

Review added 08/07/2010 11:05 by Mutt with pound notes
Once again the Ferry has got it wrong. Walked the dog by the river to meet up with my wife and a table of her friends on the terrace at the Ferry yesterday evening. I was with another friend and we were planning to join the table and have some drinks and a meal. Upon arriving at the table, with the dog on a lead the girls all wanted to say hello to him and a table next to them also wanted a young girl to meet the dog. Instantly a waitress pounced and told me to take the dog away as they were not allowed. Despite protests that dogs had always been allowed and that we had visited with the dog for years including the winter months I was embarringly told to leave. Its outside, the dog was on a lead and usually falls asleep under the table but this ridiculous outlet ensured that my money stayed in my pocket and not their till. My wife will not be using the Ferry for any more social gatherings either. Strange thing... there was a dog water bowl beside the terrace. They should wise up, its a village, its outside, dogs are on leads and locals, visitors, boats with dogs will not be able to spend any money with them......

Review added 04/07/2010 09:35 by anon
Stopped here for a drink yesterday, it was fairly quite with only half of the tables occupied with guests.
The other half were still covered with half empty glasses and plates from earlier customers, there were 2-3 staff serving on the terrace but not of them seem interested in cleaning the tables.
we had to ask for a table to be cleaned prior to sitting down.
on a small postive note they ARE letting dogs on the terrace area.

Review added 01/07/2010 21:13 by Mary
I was talking to a friend of mine today who said she went to the Ferry on Monday lunchtime and had a very good meal. When I told her about the reviews here on Cookham.com and the banning of dogs she was very surprised as she said there were quite a few dogs there, albeit outside. So where are these stories coming from?

Review added 30/06/2010 20:07 by Monty
Perhaps someone should suggest to the management of THE Ferry that they look at cookham.com. Their attitude and service are very detrimental to Cookham and that is not on.!!!

Review added 30/06/2010 12:44 by anon
WORST restaurant in Berkshire not just Cookham! Cant say more than that.
Close it down and start again!

Review added 29/06/2010 20:46 by Monty
What is the matter with the management at the Ferry. dogs are not a problem outside on the patio bit over the river. They will lose a lot of business from boat rentals over the summer period. People who rent boats on a regular basis will send out the message do not stop and go to The Ferry at Cookham if you have a DOG you will not be welcome. Gives a bad vibe on Cookham as a whole.

Review added 29/06/2010 18:26 by Andrew
We usually sit outside, but service has lately been incredibly slow, even when only trying to get drinks. On a recent visit most of the tables around us were disgustingly filthy, even where people were eating and, despite requests, no-one bothered to attempt to clean them in the hour or so that we were sitting there.
Two weeks ago we stopped for morning coffee and were immediately asked to remove our two (well-behaved) small dogs - who are usually with us - with the suggestion that we should tie them up ON THE PUBLIC FOOTWAY outside the pub enclosure, which wasn't even close to where we were sitting.
Needless to say, we left immediately and won't be going back until the management changes. That is, if the business lasts that long.

Review added 29/06/2010 15:00 by anon
Appalling slow service on what was a quiet night. The Manager was very rude and abrupt.Point blank refused to serve my 23 year daughter with a drink as she did not have ID.
Had to ask 3 times before they finally took our food order, food well below average,and repeated requests had to be made for the bill. Only arrived once we had stood up and put our jackets on.

Review added 23/06/2010 11:13 by Her upstairs
Having left a so-so review before, it's only fair to say I have had 2 great lunches there recently. The vodka cured salmon with beetroot was excellent, the huge sharing platter of pizzas was abundant with good toppings. And the service from both kitchen and bar was good.

Review added 16/06/2010 17:49 by True Local
Why are dogs being banned at the Ferry? After far more negative than positive reviews on this website about the food and service, is the management now trying to put this establishment completely out of business?
The Ferry always used to be a friendly local pub (in fact, quite an upmarket hostelry a few years ago) where dogs were automatically welcomed and no-one else gave their presence a second thought, as should be the case with all village pubs. Generations of our family walked dogs and then stopped in the Ferry - and most other Cookham/Cookham Dean pubs in turn - for a drink and a bite to eat in the bar, which is fairly ordinary practice for country dwellers.
Now the Ferry has apparently decided to withdraw and cut itself out of the lives of its extensive canine-owning clientele and their friends and families, which seems foolhardy considering that the food and service isn't up to a standard to draw many people back who donít happen to be just passing.
Isn't it noticeable how much more warm, welcoming and generally successful are the Cookham and Cookham Dean pubs which happily accept that itís completely the norm for dogs to visit pubs with their owners? Why is it that one or two of our hostelries have now fallen out of the popular pub loop with their petty, pretentious suburban rules like this? Is that what we residents want in Cookham - or what visiting tourists or boat owners expect?
I very much doubt it. These are the businesses that won't last, as the Cookham dog owners (of which there are many) and all others who object to such silly rules will simply move on to eat and drink in our NORMAL hostelries which have a truly traditional and relaxed atmosphere.

Review added 15/06/2010 09:51 by Mutt
The Ferry has lost a great deal of business and goodwill from the local area due to the very naiive attitude towards dogs. It always allowed dogs on the outside concrete patio and in fact even placed water bowls for them. I have been there many times with my dog and there are plenty of others there when I do. All owners are respectful and the dogs are on leads and well controlled and very well behaved. It was always pleasant to sit and enjoy what was often an expensive spend. The Ferry is in a village and on the river. Its a chain hostelry and hasn't the personal touch or management most village locations provide. There is now a broad discussion about their ridiculous attitude and rules about customers with dogs and the locals avoid totally. They have lost a great deal of business and with the boating season about to get into full swing they will be turning a great deal of people away as a lot of boats bring the pet dog along as well. Complete nonsense and a real shame.

Review added 14/06/2010 23:35 by Boat owner
Our boating part of six turned away because we had two small dogs. Not even willing to discuss... Poor attitude and a trite reason for turning away what would have been a big spend.

Review added 28/04/2010 16:33 by mutt
Turned away rather rudely yesterday from the outdoor terrace at the Ferry... the reason was that they no longer allow dogs. They pointed to very small signs and told they had had complaints. Dogs have been allowed there for years and years and like mine always on a lead and well behaved. May have been an odd issue but in the greater scheme probably negligible. Astounding really as the Ferry is the last place to turn away customers due to its often damning reviews. The boating season is fast approaching and many have dogs and these too will be turned away. Very naiive for an outlet with an outside terrace by a river......

Review added 25/04/2010 17:45 by anon
Would recommend The Ferry for a drink, the do a very nice Rose, but avoid like the plague for eating. Have eaten there several times as we are relatively local and work locally and always a nightmare. Unfortunately, like many eateries with a view or other attraction the service, quality and attention to detail always takes second place.
Went for lunch today, ordered a quatro fromaggi pizza which was a pizza base with nothing but a sea of 4 cheeses, no tomato base or anything green (like basil) and no tomato topping. I didn't touch my pizza I just couldn't face the sea of fat and grease, no-one bothered to ask if our meal was ok, and a refund on the one meal was refused on the grounds that it doesn't say tomato on the menu - if that was the approach they were going to take then technically it doesn't mention a pizza base either in the detail. The other pizzas ordered by our table had a tomato base with the toppings on the menu on top. It would have been helpful for the menu to mention this if this was the approach they wanted to take - just for clarity. The soup came out without any accompaniement (bread or similar)
The whole saga spoilt the meal not just for me but for our group. The bar areas wasn't busy but the tables were all dirty, the lock was broken on the loo door so a total stranger offered to stand outside. Just incredibly disappointing.
Ate there earlier in the year, it was a freezing day, the log fire was going and had been allowed to go out so we all sat there in our coats. Again it was a tuesday lunchtime so not busy but service was very slow and the food arrived in shifts so chips arrived after we had eaten the main course (it was either this or let the main get cold). And despite giving a specific order the meals came out not as ordered, someone allergic to mushrooms had a burger in a sea of mushrooms and mushroom juice and someone else who didn't want greens....
Definite venue for a drink but like I said avoid the food.

Review added 03/04/2010 20:57 by Claude Medeot
Very good value for money in what regards food, wine & a beautiful view on the Thames.
Waiters & waitresses were friendly and efficient.
Liked the decor throughout - good aesthetics.
However, I am a bit puzzled reading all the negative reviews regarding The Ferry - same place? Can't be, I'm sure there must be some confusion with some other place.
I definitely will return to the Ferry in Cookham for another very enjoyable time.

Review added 14/03/2010 10:34 by Caron
We went for a meal at the Ferry yesterday and we certainly won't be going again! The service was dreadful and the food disappointing. We were taken to our seats and then forgotten about! The drinks took ages to arrive. The restaurant was not buzy and there were plenty of staff around but they seemed more interested in cleaning the same tables over and over again and chatting rather than seeing to their customers needs! My boyfriend had to eventually get up and go and ask if we could order our starters. The main meals were pretty awful. My boyfriend ordered a steak which was riddled with gristle and fat and I could of done with an hacksaw to tackle the pork loin I ordered. We also ordered a side dish which never turned up and when we mentioned it they apologised and told us they would remove it from the bill but they never did do they had to be told AGAIN! Never again! Lovely location but a real shame about the service and the food.

Review added 17/08/2009 09:18 by David
The Ferry isn't a pub. Its primary target customer base is diners and to that end it's really a restaurant. Popped in yesterday afternoon. Quite pleasant and very busy. Servise good. Have eaten several times and there are far better places to eat locally. Standards are erratic. Its part of a chain and lacks individual owners attention to consistency. Marginally better than the Harvester it used to be.

Review added 16/08/2009 03:56 by Mark
The Ferry is by far one of the best pubs in the area. It offers great food, great drink and great service at an affordable price. Add the fact that it has a great view of the Thames and its head and shoulders above the competiton. I always take my family there and they all love it just as much.

Review added 13/08/2009 21:43 by Mac
Popped into the Ferry on spur of the moment last night. Great location, nice staff, but can be found a bit wanting on some of the dishes. My colleague originally ordered the pizzette as a starter to nibble on, but was told not available though would be provided with pitta bread equivalent, a bit of a fudge I feel and not difficult to make a pizza base surely. I ordered chicken piri piri which turned out to be chicken with some tomato puree on it. Hopefully the kitchen will raise its game just a bit, which I'm sure it is able to do.

Review added 26/07/2009 20:19 by monty
How come all reviews to The Ferry seems to be good except yours Anon how come you always get bad service,
THE COOKHAM REVIEWER IS FOR REVIEWS, NOT FOR COMMENTS AGAINST OTHERS. IF THERE ARE REPEAT BAD OR GOOD REVIEWS BY THE SAME PERSON THEY ARE CHECKED AND MAY BE REMOVED IF FELT TO BE EXCESSIVE.
Cookham Webmaster

Review added 25/07/2009 22:58 by anon
Great venue for drinks...food however of a poor standard and served by incompetent staff.

Review added 17/07/2009 19:52 by monty
I am sorry you have had bad experience at the Ferry but I can honestly say that my husband and i have never ever had a bad meal or service there. We eat at a lot of places and the Ferry is OK. It seems to be part of the group that owns the Saracens Head in Beaconsfield at that is good as well. We have never had a problem with drinks coming late or inefficient staff at The Ferry. As my husband has to have a gluten free diet they always put themselves out to make sure that the food he eats is free from flour, and they do it quite happily.

Review added 17/07/2009 15:43 by Nikki Jackson-Faithfull
I have eaten at The Ferry on a few occassions - every SINGLE time the service was completely rubbish! After the second time of going, I contacted the Area Manager and wrote to him (constructively I might add). He spoke with me and offered me a free meal at an alternative venue...I have not taken him up on this, as my complaint was not to get something in return other than perhaps the staff correctly trained in customer service at The Ferry! Sadly, nothing has been done. I cannot understand for the life of me why this establishment continues to fail on this - are they getting their staff from the "no idea how to do my job" school? I have been to plenty of restaurants and had the odd bit of dodgy service, but nothing as terrible as this place and never as badly repetative! Drinks arriving after the food seems to be a speciality of theirs! It's just terrible and I cannot believe they can't get their act together! I go out of my way to ensure I tell people NOT to go there I am afraid!

Review added 16/07/2009 14:20 by Nick
Always stop at the ferry on a bike ride along the river, (love that Erdinger). Food can be a bit hit and miss. The pizzas have gone downhill and the fact that you don't get the 'proper' thin frites anymore (dispite them being on the menu)is annoying. Having said all that, had a greeat meal there last night. Lamb with Chorizo and Rosemary potatoes. The lamb was nicely cooked and the flavour was great.

Review added 15/07/2009 08:56 by anon
We took customers to the Ferry for lunch on a Thursday and were pretty disappointed. Slow service, main course meals over cooked or under cooked. Swordfish took longer than steak! My wife and her friend had a similar experience two weeks ago. We would only go back for drinks and the view.

Review added 26/06/2009 11:52 by anon
I have always enjoyed the food at the Ferry and have always had good service, and will definitely go back there. I also went to Malik's in Marlow recently and had an excellent meal. The service left a lot to be desired, but the food was superb.

Review added 26/06/2009 09:17 by monty
Sorry you have had a bad experience Anon. I had the prawn cocktail and my husband had scallops, he then had steak and I had battered cod. The waitressess are always helpful and we will be going again. WE have eaten in lots of restaurants and have no complaints about this one.

Review added 25/06/2009 18:07 by anon
Monty, how did you get the good service and what did you eat? Whenever I've been there the food has been rubbish and the service awful.

Review added 23/06/2009 08:46 by monty
My husband and I have been to the Ferry lots of times always had good food and service, the waitressess are very good

Review added 20/06/2009 13:36 by Julian Heard
Reading the other reviews it is funny how some things never change. We (family) have lived in the area for well over 20 years and and have been to The Ferry on a number of occasions. Each time we thought things must have improved only to be disapointed again by very iffy service and or food quality.
Relying on location and passing trade is one thing but out of season you need to get the locals in. We don't even give the place a thought now, nor do we ever recommend it.

Review added 19/06/2009 17:00 by anon
will only go back for drinks as the view is magnificent. Everytime we have eaten here we have been disappointed. Burnt food followed by undercooked food and quite simply terrible quality. Service is also incredibly slow. After the last time (which was a very special occassion) where we left after nearly 2 hours with only bread in our bellies (we sent the other food back), i would not recommend this place to anyone wanting a good experience. Such a shame.

Review added 30/05/2009 23:00 by Her upstairs
2 stars for nice view, half a star for the food and service. Keep going back, keep getting disappointed. The staff were apologetic as usual, but something is going wrong in the kitchens. I have given up on the pizzas which invariably need a hacksaw for the base. Veg arrived a full 5mins before the rest of the meal and had to sent back for reheating, didn't get our drinks at all till we asked, fish had been left so long it had dried out completely with some sauce slopped over it. Will go back for drinks and the location of course, but getting tired of apologising to my guests.

Review added 19/05/2009 13:57 by anthony keeler
service not bad had pizza the base ws so hard i could have
dug the garden up with it, hot pud was cold,location is good,
organic red wine was great,shame they have no idea how to
make pizza
from tex

Review added 02/03/2009 08:57 by Jenny Roll
I went to the Ferry on Sunday lunchtime with my husband, and we have been several time before, and had a lovely meal. The staff were very good, food was hot and very tasty.

Review added 01/03/2009 18:02 by Jeremy Fraguar
I went for lunch on Friday 27, it was awful. French onion soup tasted like dishwater with a mothers pride crouton. Un-ripe tomatoes on the pizza, an overcooked steak and a monkfish special which was far from special. Staff looked untidy and un-managed. A truly awful experience and one I will not be repeating until they get a decent chef and manager.

Review added 18/01/2009 21:43 by Mike
Went to the Ferry for lunch today to celebrate my partners birthday. I had reservations (about going) as the previous time we had been it has not been great and the reviews on here back that up.
So we booked for 2:00 and turnedup and were given a great table and ordered drinks. Waited 20 mins, and the food arrived before the drinks, which came 5 mins into the meal.
As usual (same as last time and every time we go there, mainly for a drink) the service was shockingly bad. The food is generally OK and the desserts were fantastic.
They simply never ever have enough staff. How hard is it to get staff and know you need them in on Sunday lunchtime.
Very poor.

Review added 09/01/2009 10:34 by anon
We went to the Ferry recently for lunch. The food was superb, service friendly and atmosphere buzzing. I would definitely go again,

Review added 28/11/2008 13:22 by anon
Never again.

Review added 28/11/2008 13:20 by anon
Thank you great night out!

Review added 18/09/2008 11:31 by anon
I have been to the Ferry a few times over the last couple of months and my experiences have been excellent. The atmosphere was lively and friendly and the chicken piri piri is to die for as is the warm duck salad!

Review added 18/07/2008 12:42 by Tracey
I have never had a bad experience at The Ferry. The pizza is fantastic as is their Sunday Roast. The deserts are great too. It has a lovely setting with plenty of seating outside by the river. The wines are lovely and service is very good.

Review added 18/07/2008 10:42 by Joannie
I was at the Ferry with my family at 2pm on Monday and the choice of the menu was one sheet, mostly pizzas and they were dreadful. I think they should close down and start again. I don't think I shall be visiting again.

Review added 03/06/2008 16:53 by Christina
i live in Cookham and have been with friends 3 times, each time to our frustration the food has been shocking. Microwaved meals, slap dash serving and in your face staff with bad mood swings!!
shame as it has a great location.....

Review added 03/05/2008 11:06 by anon
drinks are too much, much more than most of the other pubs and the staff are so moody.

Review added 13/02/2008 19:19 by Anon
My wife and I moved to the village a couple of years ago and normally I would never be moved to write a review on anywhere. Until now. When we first came to the village we thought the Ferry was a great place for a drink, when it was not too busy in the main bar. The atmosphere was good and the drinks were well selected. The only downside was the food. Since just before Xmas the management has changed and I believe that the service and food has improved dramatically. The food is not gourmet or Michelin standard but is good honest food that is served hot and on time. I think the prices are reasonable for the area and that the South African Chenin Blanc is very good value.