The Walnut Tree-Bourne End reviews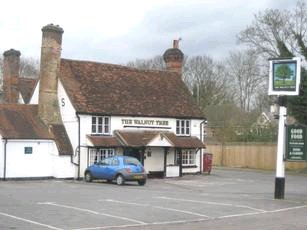 Hedsor Road,
Bourne End,
Buckinghamshire, SL8 5DN
01628 520797
The Walnut Tree-Bourne End website
14 reviews
Average Score:

Add your review of The Walnut Tree-Bourne End
Review added 23/08/2019 09:38 by AJay
Had a lovely couple of lunches here over the last month or so. Great staff, well run

Review added 09/03/2015 20:55 by lizzyk
Had a lovely lunch at the Walnut Tree, sitting next to a real, roaring fire. Nice fresh veg included with the main meals, possibly a tad el dente. Terrific, friendly service. They apparently do tapas on Tuesdays which I may try.

Review added 02/02/2014 23:46 by anon
Tasty, tasty! Expect a warm welcome at the Walnut Tree, followed by good service and delicious food. New owner and chef Chris Grego came out to greet us. Allz in all, a cheerful experience - we look forward to returning!

Review added 09/12/2012 13:18 by Chris & Jenny
Thank you Helen & Ian for making Jenny's birthday party such a success. Nothing was too much trouble. Just the perfect hosts.
The pulled pork was delicious and there was plenty of it!!
The cup cakes were just what Jenny wanted as well.
Charlie B was just fantastic we had so many guests saying how great she was. Thank you Charlie!!!!!!
Lots of dancing and once again I have to appologise for my dancing efforts Helen!!
A big thank you also to all the staff, so polite, frindly and helpful.
If you want a great party and it all taken care of this really is the place to go.
Just a perfect evening.

Review added 06/08/2012 11:04 by Megan
I'll give a big second to what Chris just said. It was an amazing evening with fabulous entertainment. We had such a good time. Helen and Ian have got an amazing thing going on at the Walnut Tree. A great pub to go to.
And I wouldn't worry about your dancing Chris you were in good company!!

Review added 05/08/2012 10:17 by Chris
We just had to say a big thank you to Helen, Ian and all the great staff at the Walnut Tree.
We had the most wonderful evening last night (Sat 4th August) Music was brilliant four great acts Elton John, Michael Bubl'e Elis Presley and of course the lovely Charlie B!
A fantastic mix of people, a lovely summers evening atmosphere out in the garden and so pleased the weather was kind.
Helen ensured we all had a perfect evening and absolutely nothing was too much trouble for her and her staff.
Ian, my fish was just beautiful, perfectly cooked how did you do manage that when you were so busy!
Jenny and I are so please that we have such a great venue on our doorstep.
Well done Helen you put so much into making this a perfect evening you should feel very proud of yourself.
One more thing. Sorry about my dancing Helen and anyone else who was left cringing at my antics!
Roll on the next one!!!!!!!!!!!
Chris & Jenny

Review added 15/06/2012 14:00 by anon
Fantastic service, great food and lovely atmosphere - Highly Recommend!

Review added 23/03/2012 12:56 by Hana from Japan
We dropped in for lunch last week and had a wonderful time.
The food was fantastic and the staff were all very kind.
Thank you very much!

Review added 14/03/2012 16:25 by Chris & Jenny
We have adopted the Walnut Tree as our local. We had a great evening there last Saturday with live music and dinner.We are both 'foodies'and thought the meals we had were excellent. The staff are friendly and welcoming as well.
Helen and her team have worked hard to turn this pub around in such a short time.
Well done!!

Review added 14/03/2012 13:49 by Poppy
Ok so its early days for you guys but still there are some things that cannot be excused. Food cold and unappetising and drinks served in dirty glasses. We didnt have to wait long which is nice and it wasn't particularly expensive but then i guess you only get what you pay for.
Sorry guys but i think we will wait a while before coming back.

Review added 20/12/2011 00:17 by Mgs
We from the Kings Arms wish Helen and Iain the best! Hope it all goes well with their new endevour! If you happen to be in Cookham at anytime pop in and see us at The King's Arms we will still welcome you with open arms!!!

Review added 14/12/2011 12:03 by anon
Lovely cosy atmosphere with open fire and relaxing, tasteful decor. Food was an excellent standard, but they had no mulled wine.

Review added 13/12/2011 18:03 by lizzyk
Had lunch at the Walnut Tree today and it is fantastic. A really nice atmosphere, very comfortable and welcoming with a lovely fire. Excellent, friendly service and really interesting menu with some really tasty type bar meals along with main dishes. I will definitely go back and really recommend it.

Review added 09/12/2011 09:14 by Natasha L
The Walnut Tree has very recently changed hands and the result is a much more inviting and cosy interior. I went last night and welcomed with a roaring fire place and a comfortable sofa. We decided to eat a meal here and settled for slow-roast pork belly - which was delicious - the pork was succulent, the dauphinoise potatoes were creamy, and the cracking was crackled to perfection. What's more Ted dog was allowed into the bar area with us. It was a lovely evening and I've only taken off half a star because the cheese on the cheese board was a little too cold (and therefore hard) - but otherwise an excellent pub and I wish the Walnut Tree well in their new venture.