King's Arms - Cookham Village reviews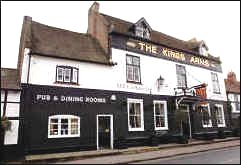 High Street
Cookham
Maidenhead SL6 9SJ
Tel: 01628 530667
King's Arms - Cookham Village website
75 reviews
Average Score:

Add your review of King's Arms - Cookham Village
Review added 22/04/2018 12:16 by anon
Went to Kings Arms today with a friend for lunch. Food lovely service rubbish. We were not offered a sweet menu or extra drinks or coffee, The waiter totality ignored us until we asked for the bill What was wrong with the waiter who was on duty there such rubbish service. I have been to the Kings Arms so many times and this is the worst service ever How to be ignored big time

Review added 13/03/2018 05:54 by anon
Formulaic pub food only slightly upmarket from a harvester. Do people who rate places like this as 5 stars are effectively ranking it at the same level as e.g. The fat duck, waterside inn etc. Like most review sites there seems to be a severe lack of critical faculties.

Review added 04/03/2018 21:33 by Jennyr R
I do not think this small complaint will have any impact but it needs to be said

Review added 04/03/2018 21:29 by Jenny R
Never disappointed with good food and service but what I did not like is this automated booking service that got my meal time order wrong twice. Why oh why cannot not speak to a person to book a table. I am not very computer good so booking on line is not a good option for me. I am not happy

Review added 04/03/2018 15:19 by RPB
Really good dinner (and excellent value too). Service friendly and prompt, despite the snow meaning the staff were having to walk home. I sometimes think the King's Arms suffers in comparison with the Bel & Dragon but I am never disappointed when I go there.

Review added 08/05/2017 18:56 by JennyR
Had a lovely meal and good service x

Review added 11/03/2017 21:04 by JB
Let down by poor management attitude.
A great shame to downgrade this nice establishment but when they screw up an order and the manager refuses to compensate you for their incompetence, they lose a customer for ever.
Great shame as the waiting staff try so hard.

Review added 19/02/2017 17:48 by Jenny R
Went to Kings Arms on Friday night with my daughter, food was very good and so was the service a favourite place

Review added 07/02/2017 16:24 by Gill Field
Arrived for a very late lunch - warmly greeted and had an excellent lunch with my sister-in-law. Would definitely come back again

Review added 27/12/2016 13:10 by anon
Food is always fab and lovely atmosphere staff always really friendly. Just not too sure on the new manager sometimes he is completely over the top and other times he just completely ignores you!!

Review added 21/08/2016 10:09 by JennyR
Excellent meal last night well cooked efficient waiting staff
definitely worth a visit.

Review added 14/07/2016 20:59 by John
Been to Kings many times and they did go through an 'iffy' period (although by no means bad!) but back to normal now.
Excellent beer, superb food, really good service.
Recommended without hesitation.

Review added 06/07/2016 14:30 by Tracy
After a long break, we revisited for an early dinner last week. The food was delicious and service really excellent - a great improvement since our last visit.
Another reason we like the Kings Arms is that they appear to serve food all day, even on weekdays, which can be useful for anyone who is going out for the evening afterwards.

Review added 07/06/2016 16:02 by Jenny R
Went for lunch today brilliant food and great service.

Review added 30/08/2015 17:00 by Jenny R
Went for a meal Thursday evening, very good well cooked food good service from staff. Very enjoyable

Review added 27/06/2015 20:44 by anon
Went there for a meal with family last Saturday night.We all had different dishes - we all enjoyed them & the service was excellent.That's all anyone needs. Better all round than our previous visit, so credit where credit's due.

Review added 25/06/2015 20:27 by Jennyr R
Went there this lunchtime sat in garden had a lovely meal well cooked staff excellent, great

Review added 04/06/2015 22:59 by Jennifer Lamburn
Appalling service. No excuse. What is wrong with you people ?

Review added 30/03/2015 20:20 by anon
What's going on at The Kings Arms just lately. Went here for a business lunch today, a Monday, the service was terrible! We were sat down and then had to wait 15 minutes for menus, eventually ordered food, took 30 minutes for one starter of breads to arrive, once this was finished it took them 15 minutes to come and clear and then we had to wait another 30 minutes for the main course to arrive, we gave up after that, we didn't have the time to wait for deserts to be ordered and served!!! Come on Kings Arms you really need to get your act together! Extremely disappointed!

Review added 24/03/2015 13:38 by anon
Terrible service...
The staff seem rushed off their feet and do try, but there aren't enough of them.
15 minutes to order drinks, 10 more minutes for them to arrive(after I went to the bar myself in the end)
Same story with the food .. 90 minutes from start to finish for 2 main courses and 2 drinks.
and the food isn't that great compared to other places in Cookham

Review added 09/01/2015 08:28 by anon
Went here for Christmas lunch. We were a table of 12 and had prepaid for our food by 1 December as requested at £60 per head. We went last year and it was fantastic, this year was very disappointing!!. We were booked for the second sitting, so had to wait for our table to be relaid, which in itself was not a problem, except that once we were seated we had to ask three times for Christmas Crackers, an essential on Christmas Day you would think! To our disgust when we asked for our drinks bill at the end of the meal we found we had been charged £76 service charge!!!! WE WILL NOT BE RETURNING. Very disappointing Kings Arms!!!

Review added 27/10/2014 10:02 by Di
Had a very pleasant family meal here Saturday evening great food great service set in a cosy atmosphere the staff could not have been more helpful going back in a couple of weeks with friends

Review added 10/02/2014 11:12 by anon
My partner and I went there for a Sunday lunch and sadly, had one of the worst experiences. The service was dreadful, we were simply invisible to them amongst all other guests (perhaps that was because of the awful table squeezed in we were sat on despite earlier booking). We spend 2,5 hrs there (more than any other restaurant I have ever been to!) due to lack of service. I had a good exercise though, waving my arms around, trying to catch attention from the invisible table, only to find our waitress leave dead on 5pm without passing our table to anyone. We waited 20 minutes for anyone to go past so we could order our desert (which, as a side note, was a microwaved crumble)!
I am rarely so critical of any place, but they have simply ruined our Sunday afternoon. I donít mind paying for a decent service and food but in this instance we would have had better experience in the Harvester or Mc Donalds for half the price and to be honestÖ. a more enjoyable afternoon. At least you know what to expect.
The most upsetting part however was the fact that no one form the customer service team, has bothered to respond to my emails, never mind apologise! I have attempted to contact them on two occasions, onece explaining the horrible experience and second one a week later asking for a response. They simply donít care.
Pity..

Review added 21/11/2013 22:57 by ed mcneil
I went here as a change. I have been to the ferry, bel and dragon and crown and I have to say this ranks bottom of all the places to eat I Cookham and also several places in Maidenhead.
Why?
Beefburger overpriced and underseasonedif I had not opened the bun I would have bitten into fish bone.
Waiting staff inattentive brought a glass of white wine not red
Barstaff worse more interested in flirting with their friends who had just walked in than serving paying customers.
Theres plenty of better places to go in Cookham than here. Believe me I am here nearly every week and I would not go to eat here again

Review added 13/11/2013 21:46 by anon
Booked a table for 4 last Saturday and was very disappointed.
The shoulder of lamb was tough and very boney, the steak and ale pie literally had no meat in it and we were charged for large glasses of wine although we were served medium glasses.
We were made to feel as though they were doing us a favour when we asked for a refund for the incorrect charged wine and the pie and there was no apology.
We have been to this pub on many occasions but will not be going back.

Review added 02/11/2013 12:53 by Hilary
We wanted a Saturday pub lunch after a bike ride- ploughmans/ sandwich maybe? No -everything very 'fancied up'. I had a baguette with pulled pork - no way - it was like the filling of treacle tart with fluff representing the meat! Homecooked crisps- a joke- stale and warmed in a small bowl. My partner had a bland beefburger because anything to add flavour was an 'extra'. Nice bar staff who were overworked but we wont go again

Review added 05/01/2013 10:36 by anon
Excellent pub. Lovely cozy fire and deep couches into which you can sink after a long walk in the Winter weather. Meals are very reasonably priced, staff are friendly and don't seem to mind visitors arriving in walking gear. A real asset to the village.

Review added 11/10/2012 21:20 by Monty
Went to Kings Arms for lunch today, lovely meal good service worth a visit.

Review added 21/05/2012 17:34 by tony keeler
very good pub went for Sunday lunch friendly service
excellent meal I think this is our best pub in the village
tried all the others,they don;t seem as friendly although have
not tried the newly opened crown yet
Tony k

Review added 21/01/2012 12:24 by Cat
Since so many of our locals are closed at present for refurbishment we have been visiting the King's Arms,often on a Sunday afternoon, but more recently on a Friday evening. Last night the place was heaving with happy customers. And we were definitely amongst the 'happy'. The food was fantastic as usual. My partner had the pork and as I am a vegetarian, I had the black olive and onion pie (again). This dish is a real creation. When presented on my plate it looks like something from an oil painting. The lovely pie with vegetables spilling out over the edge and beside it on the plate a pretty arrangement of lightly baked cherry tomatoes.The net result is colourful and very tasty and warming on a Winter's night. Well done to the chef.
The bar staff are run off their feet at present and yet manage to stay cheerful and polite.
Cosy fires, loads of candles everywhere, buzzy conversations, very reasonably priced food, and a good selection of ales. No wonder the King's Arms is proving so popular.

Review added 10/01/2012 13:30 by anon
The King's Arms has gone downhill lately - had two dreadful meals. One was a roast that was swimming in gravy and more like a school dinner followed by FROZEN creme brulee

Review added 08/01/2012 19:52 by anon
Feeling like we would like to be a bit pampered today, we duly walked down to the King's Arms.
And weren't disappointed.
My partner had the haddock and chips and a pint of Bishops Tipple. And I had the black olive and onion tart which was a real treat. Colourful, tasty and beautifully presented, it was a credit to the chef.
We were lucky enough to get a table by the fire. So, sinking into the big cushions on the couch, by a cosy fire, with soft lights and candles glowing around us, did we want to return home?
No.

Review added 23/12/2011 15:40 by jenny roll
Went to Kings Arms today for lunch. Lovely meal, great service. No complaints.

Review added 12/12/2011 17:10 by Helen
I would just like to say thank you to everyone who supported myself and my staff at the Kings during my time there. It has been a pleasure working there and getting to know you. I have now moved to The Walnut Tree in Bourne End so if you ever find yourself in the area please pop in and say hi. Many thanks Helen

Review added 08/12/2011 16:27 by Jenny Roll
We eat there at lot and have no complaints regarding service or food.

Review added 08/12/2011 12:57 by New to the area
Good beer but not sure about the food - have eaten on several occasions and there has been quite a variation in quality.
But as I said, good beer.

Review added 21/11/2011 23:03 by anon
I totally disagree, I went for lunch yesterday and for a change found the place to be very relaxed and I did not feel rushed. I would imagine that the beer would run out as a result of a delivery last week as beer does not get delivered on a Sunday. Helen was still there last week wasn't she???

Review added 21/11/2011 21:42 by anon
Helen, you have only been gone a couple of days and the hard work you put into building up a satisfied customer base has already been destroyed. Unwelcoming staff, no fires despite it being a cold evening and virtually a complete lack of any pump beers. If the bar is indicative of the restaurant, I pity anybody who was dining there. A complete disgrace.

Review added 04/08/2011 19:56 by Monty
I went with a friend for lunch today, the main meal was lovely, service as usual great, but I ordered Eton Mess for sweet and it came a pile of whipped cream and a few strawberries. Eton Mess always has meringue crushed in it. Not one piece of meringue did I find. I did complain but I would have liked to email the manager and tell her so that other customers get a decent Eton Mess.

Review added 09/07/2011 21:55 by monty
Went to Kings Arms for lunch last Thursday as usual foo good and staff were great.

Review added 26/04/2011 19:22 by monty
We have been to this Kings Arms many times and we have never been disappointed with the food or service. And as for being unclean I feel you are being very unfair.There is nothing wrong with the cleanliness of the restaurant.Perhaps you should clean your glasses -if you wear them -
It is a good restaurant with very good food and good service and I have eaten at a lot of places and this is good.

Review added 26/04/2011 18:08 by anon
Had not been to this 'so called restaurant pub' in a long
time and will never go again. Food cold and burnt, sent back, offered a substitute, we refused on grounds of Fear,we could tell fish had been burnt in OLD FAT. The people nearby also complained, it was really a bad experience.The whole place need a good clean and Bins outside garden entrance was a definate 'NO NO' Clean up
your act please.

Review added 20/03/2011 11:33 by Jennie
Went to Kings Arms last night with friends as usual food was very good and though they were very busy service was excellent. Always a good food venue.

Review added 25/01/2011 02:26 by anon
Look at any comments about any pub in cookham and you will get a list of about 20 people being petty!
I frequently visit the kings Arms for food and drink
and enjoy my visits always.
The staff are friendly and always remember my face!
Always smile and always try and make my experience the best it could ever be.
Not to say i havnt had an 'ok' meal there. But if people actualy spoke up and said 'well actualy' they would be able to sort the problems out im sure, as they always do for me.
I think people forget that every waiteress, waiter and bar staff are just human.they are not your slave, we all make mistakes and if you keep complaining about the people in these jobs then they might be jobless robbing all the tax payers of all our money! think about it. (not entierly kings arms specific but still a great pub)
And also if you are in the area and want to go to a pub with good food, great staff, etc etc the the kings arms is the place to be and has been for the past few years. its consistantly busy and for good reason

Review added 21/11/2010 15:10 by monty
We went for lunch today-Sunday. very busy but good service great food, I can really understand why they got the award for good manager and service. I am sure it will contunue.

Review added 25/08/2010 02:21 by Tuppence
We had a great pub meal at the King's Arms on Sunday evening 22nd August. I was concerned that the service and food might not be up to standard on a Sunday evening but both were excellent! My husband had a rare steak and said that the quality of the meat was good. I was taking clients out for a meal and read the reviews in cookham.com beforehand as I hoped they would help me to choose a good place to eat. But they did not help me much as most of the more up to date reviews were so negative! In the end I chose The King's Arms as I had had a couple of excellent lunches there with friends earlier in the year. I am pleased to say it turned out to be a good choice. I would recommend The King's Arms for its good quality pub food and friendly service.

Review added 12/02/2010 16:43 by anon
Excelent food and service! great value for money. will be returning soon!

Review added 02/02/2010 21:16 by anon
This time last year it would be 2 stars. Things are so much better. If unhappy last year give it another go.

Review added 28/12/2009 23:35 by cookham resident
Went to Kings for works Christmas meal which was booked and our meals were pre-ordered for 7.30pm. we were seated in the bottom half of the dining area by the door to the garden. We waited and waited and finally after several enquiries got something to eat at 8.50pm ! By this time as you can imagine we were very hungry so we ignored the fact the starter was cold but to be fair the following courses were hot and were nice. What we couldnt ignore though was that we all had to sit in our coats (as did the table next to us)to eat because the room was so cold and it didnt help when the garden door was in constant use. It ruined the evening as all we wanted to do was get through the meal quickly and get home to get warm!! when we did complain we were given free coffees for the time delay on the food which was nice of them but regarding the fact we were freezing we were told "sorry people are always complaining" Perhaps the management should take note then otherwise like us many more will be going elsewhere in future.

Review added 18/11/2009 16:34 by George
Was put off the meal by the soup which was disgusting and tasted like dishwater. Will not return.

Review added 23/09/2009 22:37 by Steve
Revisited King's Arms recently and thought,
staff good,
food ok,
However as per early note please remove manageress....

Review added 02/08/2009 17:19 by viv mitchell
Sunday Lunchtime at the Kings Arms 12md we had wonderful scrambled egg on toast done to perfection with a sprinkle of dill and thick brown hot toast. With freshly squeezed orange juice and hot coffee. Perfect. Staff quietly efficient, sun shining garden clean and inviting, and a bargain at £15 for two. England at it's very best!

Review added 30/07/2009 10:42 by Anna
Having been to the Kings Arms on a number of occasions, I was quite dissapointed with our visit yesterday (29/07/09). The staff were pleasant and accomodating as usual so I have no complaints there. The interior is warm and relaxing with a nice ambience. However I was quite dissapointed with the food. It was suprisingly quick to arrive after ordering, which although I wouldnt want to be waiting a long time for my food - it's arrival was almost instant which made me question its freshness. Now yes the food was hot and yes it was edible, but I just feel that they are letting themselves down somewhat as I certainly wont be going back in a hurry as I know i can get a nicer meal elsewhere. We had the Homemade Pie with mash and vegetables. The vegetables were fine, the mash tasted like SMASH and the pie was nothing special. My husband had the Rigatoni which was quite bland with no real flavour or substance. All in all it was an ok visit, and maybe the chef was having an off day as we have been before and had much nicer meals. However as a pub in Cookham, I hope they step up their game with the food as it would make all the difference.

Review added 19/07/2009 15:19 by Cookham Resident
Celebrated my birthday at the Kings Arms on Saturday (18/07/09). Can't wait to go back ! Excellent service, excellent food and the waitress (Emily) made the evening perfect !!!

Review added 14/07/2009 09:48 by not happy
Food below average depending who is cooking, what day etc - ps. change the manageress.

Review added 06/07/2009 14:05 by maidenhead resident
I am a frequent visitor to the Kings Arms after finding it by chance while visiting the Spencer gallery. We had lunch the first time - good old english sausage and mash- it only cost £6.50 and was excellant and lots of it. The evening meals are very reasonable and the fish specials are fresh and extremely tasty. The staff are always friendly and helpful.The Kings Arms is a friendly warm welcoming pub which serves very good food. I would definately recommend it and am planning to celebrate my 60th birthday there.

Review added 30/06/2009 16:51 by Maidenhead resident
Food overpriced and badly (pretentiously) presented..
Manageress a bit blunt and unfriendly.
Nice young staff though.
Wont go back...

Review added 27/05/2009 17:05 by anon
Stopped off at the Kings Arms for lunch on Saturday. As it was lovely and sunny we sat outside. Very nice garden area with lots of seating availible. We ordered the fish and chips but were bitterly disapointed when it arrived. The mushy peas were stale and dry. They looked very off-putting. The chunky chips were ok, but they were more like potatoe wedges and also quite greasy. The fish however was the worst thing. The batter was of poor quality and tasted of cheese! How is beer batter supposed to taste of cheese?! Needless to say neither of us had empty plates at the end. Perhaps we ordered the wrong things, but its a shame as the outdoor setting is very nice.

Review added 23/03/2009 21:10 by Cookham Resident
Food and drink OK for a pub. Manageress superb, staff untrained and clumsy. MAJOR COMPLAINT IS THAT I WAS GIVEN A CARD TO GO ONTO A PUB BLOG TO ENTER MY COMMENTS AND GO INTO A DRAW FOR A CASE OF CHAMPAGNE. ON EACH OF THREE ATTEMPTS I WAS THROWN OUT DUE TO "A FAULT ON THE SYSTEM". DO I BELIEVE THEM?

Review added 20/02/2009 17:33 by Cookham Resident
Four star rating is based on what it delivers against what it offers. Better food available at other local restaurants, but for "value for money" pub food, hard to beat. Excellent beer menu, who else offers Samuel Taylor "Landlord" in Cookham, plus an top quality range of lagers from around Europe. Wine list is "average" and not sure "on tap" wines from boxes tempt wine drinkers, but, to repeat, you gets what you pays for.

Review added 16/01/2009 00:40 by Leslie
After reading these reviews, chuckling at most of them, I have to say I disagree and there are some very angry people out there! I find myself in the Kings Arms on occasion when it's a spur of the moment "lets go out for dinner" decision. Only being within the area for the past 8 months I may not have the knowledge of what it has been like in the past but I must say it's one of my favourite places to go. On this note I'm going to give a detailed description of my last night in there and the great time that I had, seeing as many people will read this page and probably not bother going... but I beg of you please give this place a try...
Walking in through the doors, we are always welcomed by friendly staff, eased into relaxation even when it's a busy time of night. Though sometimes we have had to wait a little while for drinks at the bar, it's hardly surprising on a full bar. Shortly later we sat down next to a roaring fire, to have our order taken by a more senior member of staff, who was I must say delightful and nothing was too much trouble. I always favour the baked pepper and my partner had the pie on the special board. Our food came promptly even though the restaurant was nearly full, and without a doubt top notch! I have to say I have a weak spot for the brownie and also managed to steal a piece of my partners treacle tart.
We had a few coffees, mine an irish, served to perfection, so many places unable to float them without sugar. All in all just had such an enjoyable night.
As for the staff who keep being slated by many, if you look at them they are just having a good time at work, which is no crime and makes it all part of the atmosphere. Personally, without a doubt, one of my favourite places to go and will be back to see the KA team once again!

Review added 13/01/2009 17:55 by anon
I recently visited the kings arms and i was plesantly suprised with the service, food and atmosphere. I had a delicious lamb shoulder and for desert a treacle tart. Also the manageress was also very knind and helpful. And her young son was very helpful, kind and quite atractive.

Review added 11/01/2009 17:44 by aj
I'm not sure which huge pub chain owns the Kings Arms but after a meal there on Saturday, I am pretty sure it's being used, not as a restaurant and bar, but as a training ground for rookie staff, a bit like a catering version of army boot camp. After a few weeks working in Cookham, once you've mastered pouring a drink without breaking the glass, you're reassigned to another of the chain's outlets, terrorising unsuspecting patrons around the South of England.
At one stage during the evening, a member of staff lost their temper rather vocally with another staff member and had to be shushed like a child by a third member of staff "not in front of the customers!"....
Not that there were very many on Saturday night. And considering the food, perhaps that's not terribly surprising. Soggy, undercooked potato wedges that I strongly suspect came from a packet of McCain's Finest Frozen, and advertised as 'chunky chips' and ... no, I can't go on!.
Instead I'll focus on the positive. Very nice desserts (which I suspect are brought in, not made on the premises). The treacle tart is a truly impressive wedge and not the normal anaemic 1/4 inch thick effort I've had elsewhere, the crumble and fig and plum tart were also much enjoyed and I will say that the more senior staff are delightfully friendly.
The King's Arms has been 'done up'. This appears to have involved putting in some very large glass doors and windows which have unfortunately created a serious draught and heating problem. So bad is it, that little fan heaters are strategically scattered amongst the tables to take some of the edge off the chill winds that render the open fireplaces utterly ineffective.
But, aside from this, unless you actually enjoy the frisson of wondering whether the waitress will actually remember to come back and take your order, having wandered off for a chat after waving you vaguely to a table, or relish having trance music banging away from an ever-present loudspeaker, and instead prefer the boring predictability of good food, well cooked and served in a warm comfortable environment, this is definitely not the place to be.
If I owned the King's Arms, I'd pay for the staff to have a meal over at Bel and the Dragon, to see how it's done properly. I don't want to be cruel and I would genuinely like to see the King's Arms prosper, but right now this is not a dining experience I can in all conscience recommend. On the other hand those puddings are very nice indeed. Perhaps it will make a great Dessert Destination.

Review added 19/12/2008 18:54 by anon
Have not been in for a long time - I boycotted it when the children's playground was ripped out and it became a 'child tolerant' establishment, quoted from the new manager on opening night, after changing from the 'out and out'. Never had a problem before this and used to go lots with the kids.
Today our experience was not good - 5 mums and 5 children ate and drank in there but were made to feel very unwelcome by current manageress. My son got in her way once and this was followed by her shaking her head and tutting at the bar when she subsequently dropped a fork. I did speak to her and she assured me that they were child friendly but her manner and her face said something else. Now have been put off again and will not be going back for a very long time.

Review added 02/12/2008 14:23 by stuart
The current Manageress could take lessons in manners from her efficient and friendly staff.
Her abruptness and coldness is very off-putting!

Review added 13/10/2008 10:36 by anon
After returning to the Kings Arms on Sunday,after vowing never to return,I was extremely surprised. The decor has now changed and has been brought back to a traditional country pub with the atmosphere to match. It was very busy but the standard of food and service was superb. The staff were very friendly and smiling and nothing was too much for them. The roast beef I had was the best I've had (apart from my mothers!)and the vegetables were fresh and crisp and reasonably priced. I will definately be returning again and would recommend the Kings Arms.

Review added 18/09/2008 11:42 by anon
We went for Sunday lunch a few weeks ago and were not impressed. For a start the table was dirty and sticky, we had to wait ages for our order to be taken and when it came, my chicen was dry and stringy and the roast potatoes were chewy! The veg was lovely though. It is a lovely place decor wise, but the service and the food needs to be sorted. I won't be going back in a hurry.

Review added 31/08/2008 18:58 by Joanne
My partner and I had breakfast at the King's Arms today - Sunday.
It was early when we walked in, 10.30am, and the staff couldn't have been more friendly. We were really impressed with the new layout and decor, particularly the outdoor seating area. We just had breakfast there, and very good it was too: the scrambled eggs with mushroom (me) and the full English (my partner). He commented very favourably on the sausages as he found them very tasty and fresh tasting.
Whilst there I looked at the main dinner menu and I will certainly return to sample their vegetarian options. Unusual dishes that I would like to try.
Well done the King's Arms. We will be back.

Review added 30/07/2008 17:23 by RP
This pub does indeed provoke some strange reactions! personally I find it - though not without fault ( more later ) - one of the most enjoyable in Cookham.
It has so much much going for it. A lovely garden offering various types of seeting from terrace to tressle table, the best beer in Cookham ( Timothy Taylor Landlord ), a varied, fairly -priced and interesting menu and great catering for children. I think the decor is outstanding
( unlike the main restaurant in the Bel which feels like you're in a Harvester ).
Helen and the staff are very friendly and helpful.
It would only take one or two improvements to make it excellent. Firstly please get rid of the ghastly "coated" chips and get in some ordinary ( frozen ) chips and / or some of the lovely hand-cooked variety as found in the Bel.
Secondly the ( main course ) portion sizes ( chips too! ) are quite small generally.
As a place for a civilised drink it comes top in Cookham, and although its food is not quite up to the Bel's standards, then the pricing, decor and beer certainly makes up for it.

Review added 29/07/2008 11:07 by anon
I can't understand all the moaning about this pub, I have been there on numerous occasions and have found the food, service, and staff excellent. The new kids menu is fantastic (not just chips & a burger) well done for seeing that there is a requirement for kids in the village about time!

Review added 21/06/2008 22:39 by Andrew
I haven't been back since a memorable summer evening when my partner and I popped in for dinner. The restaurant was quiet, one or two people I think, and the garden was almost deserted. Two serving people were gossiping at the till. Interrupting them (with some difficulty), I asked if we could order from the restaurant menu and eat in the garden. "Oh, we don't do that!" was the answer. Rebuffed,we went over to Bel and the Dragon, where nothing is too much trouble for the excellent staff, and have never returned to the King's Arms. A shame really, but Cookham is not short of good eating establishments, and it doesn't seem unreasonable to expect customers to be treated as something less than a nuisance, to be frank.

Review added 06/06/2008 19:38 by One Customer who won't return
Turned up at the 'grand opening' a few months back at 2.40pm. The Chalkboard outside said Lunch 12 - 3, 50% of food bill. Walked up to the door with my wife and (then) 18 month old daughter and was greeted by then new all smiling manageress. We asked for a table for '2 with child' and still smiling she responded, 'Oh, i'm sorry we are closing at 3' A couple (without) children had turned up a few minutes earlier and were seated without any problem. Haven't been back.

Review added 04/06/2008 23:43 by Claire
I am surprised to see the other poor reviews because I have found the food at the Kings genuinely good.
I've eaten both in the evening and Sunday lunch on a number of occasions. I may just have been lucky each time but I would recommend people to give it a try as I honestly think it's one of the best pubs for food in the village.
On the other hand, if loads of people start going it may be more difficult for me to get a table so maybe I shouldn't recommend it.

Review added 28/03/2008 10:55 by Maggie
The Kings Arms seems to have lost the plot in that it isn't by any means a gourmet restaurant, nor is it a proper pub any more. Foodwise, it left us disappointed as, from the prices, it pretends to be better than it is.
The menu was interesting enough and we had no complaints about the food we had, although it really was nothing special. The ambiance is just not the same as the old KA we knew and loved, which was a good, traditional local where you could get a very acceptable bite to eat.
For an historic pub, dating back to at least the 17th century, of which Cookham used to be proud, it's now far too townified, modern and stylistic for the village it's in. Inside, we felt as if we could be in a town pub.
You can't even take your dog in there nowadays, so what sort of country pub does that make it, compared to the friendly Cookham and Dean pubs where dog walkers with pooches can be seen stopping to have a bite of lunch, especially at weekends. The KA must lose a lot of custom from this alone.
Please bring back our old, traditional KA with the rural ambiance and hospitality that both locals and tourists expect and enjoy.

Review added 18/02/2008 11:50 by anon
I took my niece who is 8 to the Kings Arms this weekend just passed.
I was a little annoyed as I could see that there were children in the restaurant and so presumed that the food would either be child friendly or that there would be a separate menu for children.
My niece eats basically anything but, me ordering a chicken dish with no sauce for an 8 year old and being charged £10 for it I think is a little crazy, especially when the meal was not worth £10 in my view.
We ordered chicken wrapped in cumbrian ham without the sauce, with veg and we chose chips instead of new potatoes. The chicken was hard to cut, dry and with the rock solid, overcooked ham, it left a horrible greasy taste in the mouth. When the plate arrived we were both a little surprised as it was basically a small piece of chicken, in the middle of a large empty plate as the veg came separately....after the meal was delivered to our table, we then received the cutlery which also annoyed me a little, although perhaps they were short staffed or something. Anyhow, the chicken dish I thought was not good.