The Bear - Maidenhead reviews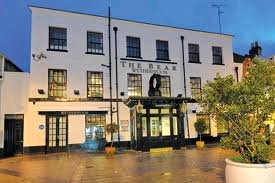 Owned by J D Wetherspoon
* Home
* Pubs
* Food
* Drink
* Real Ale
* Hotels
* Competitions
* News
* Jobs
* About Us

Home / Pubs / Berkshire / The Bear
The Bear
123
gjr22
Left Right
Promotion
The Bear
8–10 High Street
Maidenhead
Berkshire
SL6 1QJ
01628 763030
3 reviews
Average Score:

Add your review of The Bear - Maidenhead
Review added 27/01/2016 16:53 by anon
Love Weatherspoons, great beer, good food but terrible service. The last few times I've been waited a long time while the bar person made numerous cups of coffee while the others staff seemed to be delivering food or wandering around.

Review added 01/04/2014 18:25 by JennyR
Good food well presented not expensive good value for money

Review added 17/03/2012 19:37 by jenny roll
Wetherspoons food is pub food but good value. service is good and comfortable setting.