Ribbons and Pearls - Cookham Village reviews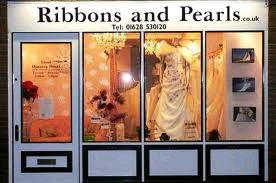 Ribbons and Pearls was formed in 2004 as a business to offer perfect wedding dresses at a price within your budget.
Ribbons and Pearls,
High Street,
Cookham,
Berkshire SL6 9SL
01628-530120
Ribbons and Pearls - Cookham Village website
16 reviews
Average Score:

Add your review of Ribbons and Pearls - Cookham Village
Review added 03/03/2019 18:45 by julie
awful service, spoke to most incompetent woman Named Amanda, i rang ribbons and pearls as i was waiting outside for my appointment and no one was there, having traveled an hour for my appointment. When i phoned i spoke to Amanda who insisted i had the wrong number she worked for Encore, so i said not Ribbons and pearls amanda said i was wrong. I tried to ring again after googling the number was told the same again. then Amanda refused to answer the phone, i left a message and she rang me back, turns out Encore and ribbon are one of the same, one location staines and one cookham, why she couldn't acknowledge this when i was on the phone, she then said her phone must have been on divert to staines (not my fault when the area code is cookham). then suggested i had to wait 45 minutes for her if i wanted to try dresses on. Her mess up, ruined my day, and left me feeling upset, there was no apology just a rubbish excuse. Do not use.
Avoid, she will ruin this for you. I was very upset. I will not go back...EVER

Review added 03/03/2016 18:32 by Alys Mathers
I bought my beautiful wedding dress from Ribbons and Pearls, and could not have been happier with the dress or the service I received. It was so much more personal than the other wedding dress shops I visited, and made the whole experience so special. Ruth gave me wonderful support throughout the whole process, was never pushy and nothing was too much trouble. She was on hand with helpful tips for the whole wedding as well as finding me the dress I fell in love with, seeming to know exactly what would suit me. I felt pampered every time I went to the shop, and knew come the wedding day that my dress would be perfect. I wouldn't hesitate to recommend Ruth and Ribbons and Pearls to any bride-to-be!

Review added 15/01/2016 19:30 by Pam Bacchus
I can defiantly recommend Ribbons & pearls - the best bridal shop
But more so the ladies Ruth & Amanda
We were made so welcomed nothing wasn't any bother or a problem or too much of issue but must of all the excitement of looking at wedding dresses
Few weeks later I dropped the bombshell to Ruth of planning my wedding in 7weeks !! Ruth was amazing , helpful & took the challenge in her stride with that wonderful laugh . My dress was delivered week & half earlier than scheduled .. Our wedding was amazing
So a big Thank you Ruth for all your help , care & advised on my beautiful wedding gown .

Review added 18/10/2015 15:36 by Rachel Fox
Ribbons and Pearls is a fantastic Bridal shop which I would highly recommend. I had such a personal experience which was enhanced by the fabulous Ruth. Ruth could not do enough to make this special experience the best it could be. She is a very warm and kind individual who clearly loves what she does, you could actually feel how excited she was to help me through the process of getting the perfect dress. I really appreciated Ruth's invaluable expertise and experience, and never felt pressurised into making a decision or going over budget like I had in other bridal shops I visited.
The collection of dresses at Ribbons and Pearls was excellent with a wide selection of styles, and prices to suit a variety of budgets. It was nice to try on different styles to find out what suited me, and get suggestions from Ruth on things to try that I might not have considered otherwise. Ruth provided great advice on accessories as well so I found the perfect side tiara and veil to go with the dress.
Ribbons and Pearls, and particularly Ruth made a very special and unique experience even more memorable. I cannot recommend Ribbons and Pearls enough to find your perfect dress for such a special day!

Review added 31/10/2014 20:00 by Sara
Ribbons and Pearls is the shop - but Ruth and Amanda really are the heart of it- and having met both whilst purchasing my wedding dress it couldn't have been more fun.
The range of dresses is brilliant!
From the moment I stepped into this shop I was met by Amanda who afforded me with all the time I wanted (that's in and out of about 9 different dresses- and trying a few back on again! all so beautiful). Having found "the one" I have spent every further visit with Ruth (so kind, so professional, with the most bubbly personality to put this nervous bride at ease).
I would highly recommend- in fact encourage brides to book an appointment at Ribbons and Pearls- x

Review added 25/09/2014 11:15 by R Beveridge
Fantastic - this is the place to find and buy wedding dresses.
When I first arrived I was so nervous as I'd never tried on a wedding dress before. Ruth (who works there) was very welcoming and made be feel confident in every dress that I tried on. As she gets a feel for what I liked she started suggesting dresses which made the appointment very fun.
I tried a few other shops after this appointment just to see what my options were. No where that I tried was as good as ribbon and Pearls so I went back and purchased my dress there.
They have a lovely seamstress Laura who is very helpful with making adjustments to your dress.

Review added 07/06/2014 17:41 by Liz and Abby
I went with my daughter to look at wedding dresses for the first time at Ribbons and Pearls. We were looked after by Ruth who was very professional, helpful and kind. We had a wonderful time and my daughter found a lovely dress, which may turn out to be the one.

Review added 29/10/2013 12:58 by Lesley
I cannot recommend Ribbons and Pearls enough.
Very classy shop with a huge range of dresses to choose from at very reasonable prices.
Ruth and Amanada have been fantastic only one bride in the shop at a time so you really do have there full attention after trying 10 dresses on the saved the best to last and I went and ordered my dress on Sunday.I am one very happy lady and I cant wait for my special day now. I will be back to see Ruth with my wedding shoes soon!
I felt very welcome at the shop and not rushed as other bridal shops seem to rush you out. Anyone looking to buy there wedding dress I would recoomend popping into see these ladies as they are simply the best!
Lesley

Review added 22/10/2013 16:53 by Sarah
I cannot recommend Ribbons and Pearls enough.
Very classy shop with a massive rang of dresses to choose from at very reasonable prices.
Ruth really could not of done anymore for me. Like every Bride you want to look perfect and having one bride in the shop trying on their dress means I had the time and Ruth experience to help me choose my dream dress stress free.
Totally felt relaxed and welcome as I said cannot recommend Ribbon's and Pearls enough.
Thank you again Ruth.
Sarah

Review added 27/09/2013 08:52 by Viv Mitchell
This is a reply to the poor review on here to put the record straight. I have just read it and am appalled. Firstly I was not an hour late because I was there all day and secondly I only ever charged £40 for dry cleaning because I always paid towards it. I know the review was a year ago but I have just read it and even though I am retired now and Amanda is doing a splendid job I feel very strongly that this lie should be seen for what it is. The dresses at that time where already reduced by 50% on ticket price because they were all samples . ThankYou to Mark for his defence. Viv.

Review added 24/08/2013 15:27 by Amanda Willis
I took over Ribbons and Pearls in January 2013 -we made quite a few changes the most important of which was a policy of one to one appointments with only one bride at a time in the boutique. I'm glad this is being appreciated by our customers.In the coming months we will be hosting designer days and other special events so keep your eye on our website for the latest news
I have given ourselves 5 stars as I believe our customer service cannot be rivalled.-I had to give us a rating so I could post these comments.

Review added 24/07/2013 16:08 by anon
My experience at Ribbons and Pearls was wonderful. When we arrived at the shop we did not have appointment but asked if we could take a look at the dresses. Ruth, the lady in the shop was extremely helpful and almost instantly seemed to understand the sort of dress I was after. Despite the fact that I didn't have an appointment both my mum and I were treated with superior service and I was made to feel really special. What is great about Ribbons and Pearls is that they only allow one bride in the shop at a time and after visiting other wedding shops in the area I now know what a unique opportunity this is to have!
What struck me was the array of dresses that differed from the standard strapless wedding dresses. There were lots to choose from and I ended up getting my dress from there which I am thrilled with.
The dresses are also good value and there is a great range of designers on offer.
I would recommend this shop to anyone that is looking for a wedding shop and who wants to be treated like a special bride.

Review added 22/07/2013 15:25 by anon
I cannot say enough about this wonderful bridal shop. Having been to two other bridal shops and been disheartened by the lack of service it was an absolute joy to walk into Ribbons and Pearls. The range of dresses is varied and the prices are reasonable and above all you are treated as a special customer.

Review added 20/09/2012 16:09 by Mark
I do not know the shop so have given it 3 stars, what an outrageous and a pompous outburst from the last poster.
I cannot believe what I have just read "She only discounted the dress by £150"! What planet does this woman live on? That discount alone would have gone a long way to pay for most average family's monthly food bill. I hate to think what she actually paid for the dress. I am fed up of people like this woman making the most trivial complaints about local businesses. I am sure her hands were not tied behind her back to force her to buy the dress. If she was not happy with the price she should have either haggled over the price or walked away, not vent her annoyance on this website.

Review added 20/09/2012 11:23 by anon
Was told that the dress I loved was going to be discontinued so I went to buy the sample dress as assumed would be able to get it a little cheaper and was perfect size. However Viv ended up not only showing up an hour later than promised but also, she only discounted the dress by £150 and the dry cleaner she recommended then charged just under £200. I wish I'd gone somewhere else and ordered the dress new rather than give this woman any business.

Review added 20/06/2012 13:05 by Cate Bell
As a bride on a budget, I had looked everywhere online for dresses with listed prices, so that I could be in budget and this website is full. I was really suprised by the actual choice of dresses in Ribbons and Pearls, I have found some shop websites list dresses they don't even have in stock, but here it is a real treasure trove and the staff are very helpful and really know their stuff. They put me at ease immediatly and after trying on 10 dresses I was able to choose knowing that it was my special dress. As an ex sample it was an amazing price and it has been sent off to be dry cleaned so that I can store it perfectly for my wedding next year. I even got matching jewellery too.