Snooty Fox-Warren Row reviews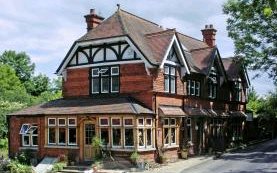 A traditional pub/restaurant
The Snooty Fox
Warren Row Road
Warren Row
Berkshire
RG10 8QS

telephone 01628 825 861 for enquiries
or email: info@thesnootyfoxwarrenrow.com
3 reviews
Average Score:

Add your review of Snooty Fox-Warren Row
Review added 24/09/2012 11:52 by Sylvia
We had a meal last Saturday lunchtime and I was greatly impressed and would thoroughly recommend to everyone! The menu is vast and reasonable (with large portions) and the hospitality second to none - I will definitely be making another visit soon!!

Review added 14/08/2012 20:15 by anon
We also had great meal at Snooty Fox- and a very warm welcome. Would recommend.

Review added 06/07/2012 09:52 by Mark
We ate at the Snooty Fox – Warren Row – last Saturday night. It used to be the Old House at Home. It was excellent, it is under new management. We each had a 10oz Rump Steak perfectly cooked to our requests, Triple cooked chips, peas, mushrooms, tomato and a fried egg, £12.95. The service was good and the interior decor is really welcoming, well worth a trip down the A4.