Pearce Autos- Cookham Rise reviews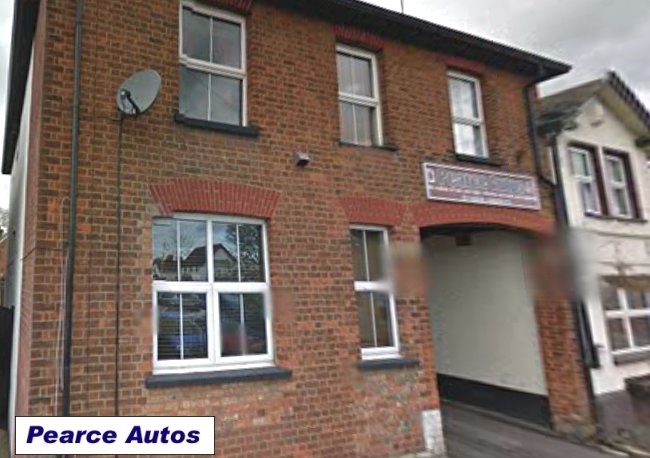 All makes of car and light commercial vehicles serviced and repaired.
Station Garage,
Cookham,
Berkshire. SL6 9BR
Tel : 01628 522511
Mob: 07802 654087
Fax : 01628 522383
Pearce Autos- Cookham Rise website
16 reviews
Average Score:

Add your review of Pearce Autos- Cookham Rise
Review added 04/02/2021 10:00 by Sandy Mackenzie
Have used Andy's excellent service for a number of years - a well-run, friendly, helpful business. This morning I awoke to a flat tyre; Maidenhead Tyres told me they don't do visiting repairs, so I called Pearce and within the hour a cheerful young man came out and changed the wheel for me in what seemed like no time at all. Brilliant!

Review added 23/03/2020 16:07 by Russ Hughes
I've been coming to Pearce Auto's since the day they opened and wouldn't take my car anywhere else. 100% trustworthy, its like stepping back in time to the days when you could trust your local mechanic, when he knew you and, before the 'sharks' moved in!
Super friendly service, at a reasonable price. excellent.

Review added 11/12/2019 08:06 by Imran Ahmed
Keep going back because of excellent service and knowledge on the cars they specialized for.
Want to save money from Donkey garages then Pearce Auto's is the Garage in the area.

Review added 11/03/2019 06:41 by Max Thorne
Fantastic service- thank you all

Review added 16/05/2018 11:18 by Paris
Can't recommend this garage highly enough. They go out of their way to help and charge realistic prices. Their customer service is second to none, except perhaps The Forge in the High Street! We are lucky to have such good resources in our community and should support them all the way - they deserve it.

Review added 13/05/2018 06:24 by anon
Noticed a squeal in the power assisted steering and also a noise in the back end (developed whilst carting very heavy load to the dump)... feared the worst for our 13 year old work-horse of the car.... hubby took it to Pearce Autos to have it checked out. They test drove it, checked underneath, spent time oiling bits and bobs / checking it over thoroughly and only charged us £48.50! Problem sorted. So good to know we have a good mechanic on the doorstep that is so honest and helpful. Thank you to all who helped us out at Pearce Autos. You will have both our cars to service and MOT from now on.NORN

Review added 12/01/2018 09:29 by Birdman
A while back, my gear lever started selecting whatever gears IT decided upon rather than my choices. Hoping (praying!) it was the lever mechanism rather than the gear box, I limped into Andy's place, despite it being obviously very busy he kindly wielded his screwdriver, confirmed my suspicion and fixed it there and then. Many others may have insisted on coming back another day etc, but Andy's reputation for going the extra mile for folk certainly applied that day. Thanks Andy.

Review added 04/01/2018 17:12 by anon
Really superb service. Had a broken clutch pedal on our Fiat 500 and Pearce Autos were able to look at it and repair it very quickly and very economically. Great service and value. Highly recommend.

Review added 20/05/2016 11:31 by Graham Whiddett
Excellent service, good standard of work, great customer service - Andy is not only a very competent mechanic but a lovely bloke. Been taking my cars to him for years, never a rip off, always advises you if there's extra work before undertaking it.

Review added 14/06/2015 14:54 by Mac
On Thursday evening on the way back from work the battery warning light came on on my dashboard.
I rang Andy first thing on Friday morning and he managed to fit me in and install a new alternator. I was back on the road by late morning and in the office by lunchtime.
Fantastic service and thoroughly recommended!

Review added 24/04/2015 11:55 by Sam
As always, great service, fast service, and competitive cost. THank you guys.

Review added 21/04/2015 18:02 by Jonathan
Excellent, does a great job, looked after all my cars Audi, Porsche and fixed my parents Kia when they had a problem when visiting. His charges are very reasonable and both Andy and his team are all so friendly and helpful.. Whatever the car, new or old, Andy's your man.

Review added 25/02/2014 15:27 by anon
Good local mechanic, doesn't rip you off with doing unnecessary work, but i feel the standard of the completed work isn't the best. Basically the fault will be fixed but you'll have to take your vehicle back in a few months with the same fault.

Review added 03/12/2013 08:29 by anon
Still coming here to this garage. Andy is such a nice person,helpful and does not rip you off and does those little extras without telling you. We are very lucky to have such good trades people in our village, we should make the most of them. Keep the small businesses going.

Review added 21/03/2013 20:27 by Happy Customer
Been using this garage a few years now, as have other family members. Absolutely fantastic service, very fair and honest pricing, totally trustworthy in every respect - simply excellent.

Review added 04/09/2012 09:33 by anon
I have been using this garage for a couple of years now and Andy is excellent. He appears to go that extra mile for his customers. He can be so busy but always has time for us. He might utter some words under his breath when he is up to his eyes in work, but always seems cool calm and collected.
The other main thing is he is the charges are very reasonable and nothing appears too much trouble for him and his partner. Well done.