Deliciously French - Cookham reviews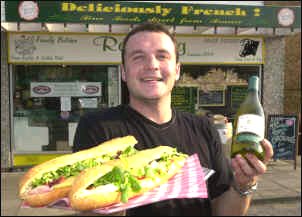 Traditional French food including charcuterie, wines and cheeses.
Westbury House
Lower Road
Cookham,
Maidenhead, Berkshire, SL6 9EH
Tel : 01628 819114;
Fax : 01628 819491
Deliciously French - Cookham website
4 reviews
Average Score:

Add your review of Deliciously French - Cookham
Review added 24/11/2016 16:07 by Dan
Since moving we've popped in a couple of times for a coffee. This time we stayed for lunch. I love costa, but the Cappuccino at D. French is the same price, but much larger (inc 2 shots espresso) & better quality. Noel the owner took the time to talk through some of his wine & cheeses, and made us fresh sandwiches at under £3 each, with home baked bread. We also got a free taster of the homemade onion soup (tasted amazing!). The quality of all his produce is top class, and his passion and knowledge refreshing. The only reason its not 5/5 is that I would have wished a larger eating in area (so more were able to eat in), with some ambiance music to make it more atmospheric, but thats the restriction of the site, and the business is more retail/ catering focused. Great to have such a shop/ cafe in the village.

Review added 22/01/2014 13:31 by anon
I was in Maidenhead town centre the other weekend and bought some pate from one of the temporary stalls that appear in the main pedestrian area. I believe it was this shop. The pate was not cheap, but worth every penny..delicious is the word! They are also supporting Cookham Scouts with the sales they make. I shall definitely be visiting them again

Review added 03/01/2014 15:26 by Lynda Turner
Great selection of French Wines, Cheeses & Hams from this Family Deli. The Rillette is divine. Noel & Suzy's recommendations are always spot on.

Review added 14/12/2012 23:00 by anon
Noel, who is an absolute wine expert, recommended some lovely Pinot Noir to me the other day and was kind enough to include a piece of cheese that he felt would perfectly complement it (he was quite right). So tomorrow I'll be picking up some wines for Christmas - more interesting by far than anything I've had from the supermarkets. Probably pick up some cheeses just before Xmas as well. A very nice little shop indeed....