The Crown at Bray reviews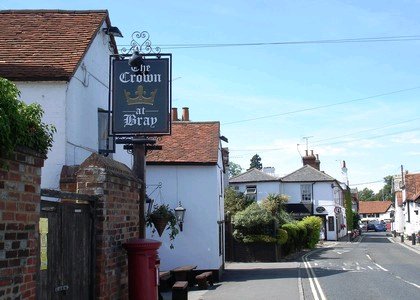 A Heston Blumenthal establishment
THE CROWN
HIGH STREET
BRAY
MAIDENHEAD BERKSHIRE
SL6 2AH
TEL 01628 621936
8 reviews
Average Score:

Add your review of The Crown at Bray
Review added 14/04/2015 19:23 by Rhubarb
For pity's sake take this spat to the discussions page as your stars (as will my 1 star to make the comment) cloud the overall rating.

Review added 13/04/2015 18:04 by Mark
Firstly I am in no way associated with the Crown other than as a fully satisfied patron. You will find quite a few reviews by me regarding many local establishments using my name Mark, on this website, and not as Anon [anonymous] as your husband did. I critiqued his review as I find the practice of complaining after the event is at best rather childish.
I took your husband's advice and read the reviews on Trip Advisor, there are currently 414 reviews with 285 falling into the very good or excellent categories. So 70% of visitors rate it extremely highly. Of the last 6 reviews posted 2 were very good and 4 excellent, so sorry Anon you are in the minority and not the majority as you last post infers.
Your statements of "do yourself no favours" and "the customer is always right, even if it hurts. Live with it" are irrelevant as I am not part of this establishment, which I personally rate very highly, what I am doing is re-dressing the balance and arguing the case in their favour. You of course are completely in the right to have an opinion, as do I, and that is this is a great place to eat and drink.

Review added 12/04/2015 18:51 by anne
I need to add my review of The Crown as it was me who booked it for my husband's birthday. He is a top rated reviewer on Tripadvisor and has never received ANY complaints about his reviews over several years. This is my first review.
We eat out, on average, 3 times a week. This was an overpriced pretentious pub with delusions of grandeur, bettered by EVERY eatery in the area.
Despite your personal preferences, it is normal practice nearly everywhere to ask diners if everything is OK. Nobody came near us, even when I gave up on my main course and put the tools back on the plate. Attentive staff would have spotted that quickly. I am not going to get out of my chair to look for staff!
The bavette steak was ordered on the recommendation of the manager but was simply not good enough. You are welcome to your opinion but superb is not our opinion (I tried a piece, leathery)
Learn something. The customer is always right, even if it hurts. Live with it.

Review added 12/04/2015 18:13 by anon
This is becoming a trend on here. Someone writes a less than ideal review and ...surprise surprise...another person comes on to complain about that honest review! It happened twice after 2 poor reviews that I made a couple of years ago and were clearly "reviewed" by the establishment itself.
Do you work at this establishment?
As to consuming the food, my wife left nearly all hers as inedible and that was the main complaint. I ate most, but not all, of my main course but out of politeness. It was the steak that you rave about. I am sorry but it was merely average at best in my opinion and I was disappointed to say the least.
I did say that I would give this a second chance but this "review" of yours is not a review at all and merely, in my mind, an attempt to discredit an honest review so there is no chance of ever returning now. I am sure that we wouldn't be welcomed anyway.
For anyone wanting to know other diners opinion of this establishment, just look them up on Tripadvisor and see what others think! We can't all be wrong.
I speak as I find and leave glowing reviews were appropriate. This was not appropriate for this establishment and I stand by my review. You do yourself no favours by trying to discredit an honest review.

Review added 30/03/2015 18:25 by Mark
I am sorry but I have to say my pennies worth here. OK the food should not be lukewarm, but why eat it and then complain once you have finished it. One or two mouthfuls should be sufficient to establish it was not right, catch a waiter / waitress attention and get them to sort it out there and then.
I have had quite a few meals in the Crown and they have been great with very good service. I personally do not want someone asking me how my meal is, if I was not happy I would complain immediately and sort it, not eat it and then complain.
"Grovelling apologies – recommend with caution" you not only got the main course compliments of the establishment you got a free desert as well, what more do you want.
I personally can highly recommend it as have many of my friends can, who have been there on my say so; the Bavette of steak is out of this world.

Review added 28/03/2015 19:22 by anon
One of Heston Blumenthal's collection in Bray. First impressions were good, attentive staff, knowledgeable manager.....
The reality was: good beer, fair(ish) prices, luke warm food and no staff asking about the offerings whilst being consumed. AFTER the meal, we told the staff of our disappointment and the manager was very good. Grovelling apologies and free dessert plus no charge for the food so I was impressed with that and will return BUT it was not acceptable for this to happen in the first instance!
Recommended with caution as I am sure that they can do better.....it is a lovely place but need to do better.

Review added 12/07/2013 09:17 by Mark
Ate at the Crown in Bray last night, I had the Bavette, [I think this is how it was spelt] of Steak which was fantastic and my son had the Cod and Chips which he said was great. Not the cheapest place to eat but by god the food is absolutely first class. Well worth treating yourself.

Review added 04/03/2013 11:39 by Mark
The Crown in Bray, I know it is not quite Cookham but well worth the visit. Fish and Chips £14.95 are fantastic, Longhorn Beefburger equally as good £12.50 and Bread and Butter pudding at £5.50 is to die for. This really is great value for money, everyone I know who has given this place a try raves about it. I personally would recommend booking as dining area is quite small.