Maliks - Cookham Village reviews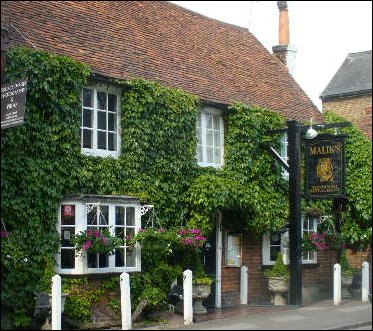 Indian Tandoori
High Street
Cookham
01628 520085
151 reviews
Average Score:

Add your review of Maliks - Cookham Village
Review added 20/06/2017 23:17 by Anna Mason
Just had a fabulous take away from Maliks, we are so pleased that they are back open for business and can't wait for the opportunity to eat in again. We have really missed their food and lovely team. Great to have them back.

Review added 09/02/2015 13:11 by anon
As a regular visitor to Maliks, I recommended the Sunday buffet to my parents to visit with friends. My mum is a Coeliac so often struggles when dining out.
Maliks were very welcoming and informative and instilled a huge amount of confidence that what they were serving was suitable for her. A very enjoyable experience, thank you Maliks

Review added 10/11/2014 17:12 by anon
Went to Malkis last week on the off chance, had a great meal with fantastic service, I will not be leaving so long until the next time, thanks Malik

Review added 27/10/2014 14:07 by anon
Overpriced and arrogant attitude to customers,
best avoided.

Review added 27/09/2014 14:11 by Nick B
Had another fab evening at Maliks in Cookham. Superb food as always and a lovely welcome. Tandoori doesn't get better than this and you can see why this place is always so busy - a testament in itself. Well done Malik and team.

Review added 23/09/2014 17:40 by anon
Used to frequent Maliks when it first opened and it was great. Been back twice this year and I will not be bothering again. I had lamb Dansak, supposed to be a sweet and sour, spicy dish. It wasn't spicy or sour just really sweet with only a couple of bits of meat. My companion had chicken Jalfrazi. Tastelessness was disguised by loads of raw chillies. The soft shell crab was creamy and tasteless. Very expensive for what it was and we both had upset tums the next day.

Review added 15/03/2014 08:28 by James
The food is generally very good at Maliks but the management/timing of the restaurant is very poor at the moment. For the second time in a couple of weeks now I had been given guidance on a takeway being ready in 30 minutes only to turn up and have to wait another 25. Its not that hard to manage these things or if its too busy don't take the orders if you cannot fulfil them. The was even one person who came in and the order was lost altogether.

Review added 10/03/2014 16:14 by Harry
Went here for a friend's birthday (didn't want to after past experience, but went with majority). A shame this place hasn't improved, it's still got awful service and rude staff. Malik himself seems very authoritarian, almost bullying towards customers. The food is ok, but for an 'evening' out with people I would go elsewhere

Review added 09/03/2014 18:48 by Anna M
Another fantastic evening in Maliks on Thursday. The food was really tasty, such lovely flavours in every dish and service was as usual excellent, especially given how busy the restaurant was. Can't wait for our next time eating in!

Review added 10/02/2014 15:10 by Charlotte
We had a wonderful meal there on Saturday evening. The starters are amazing, don't skip them! Yes it's a bit pricey, but you get what you pay for.

Review added 07/02/2014 20:41 by anon
Had lunch here to see if it had improved as have had many poor experiences in the past. It hasn't changed, curry was tasteless and expensive

Review added 01/01/2014 17:03 by Ashraf
Excellent food, excellent atmosphere and excellent price. Read an article in ok magazine some time ago so decided would give it a try when my next visit to Heathrow.
Came all the way from Yorkshire and left thinking can't wait for my next visit down south
A must visit for good food lovers of Indian food - nothing less than 5 stars

Review added 21/12/2013 19:57 by Jon
I was first introduced to Maliks through my parents over 15 years ago and to this day I have never been disappointed. The food is exceptional and I always look forward to eating here. We are always welcomed by friendly staff and treated well throughout our meal. Being a local and living in the area for the past 25 years or so, I honestly do not know anyone who is disappointed after a meal here. Try it for yourself and Im sure you will agree.

Review added 16/12/2013 11:51 by Ben
The food and service at Maliks restaurant is nothing short of outstanding. I have been eating at Maliks for around 15 years and will continue to do so as the food and service just gets better and better. It's no wonder that the whole restaurant is full every time I go and celebrities from near and far return time after time. Quite simply Maliks is one of the best restaurants in this country and you won't ever be disappointed if you choose to eat there
Keep up the good work Malik!

Review added 15/12/2013 15:34 by Sam
Exceptional curry every time we come here (which is at least monthly).
Great service and food for our Xmas party - thank you Malik for a fantastic evening!
Already looking forward to the next visit...

Review added 15/12/2013 11:41 by Dan
The reviews on this website are interesting to say the least and unfortunately seem to have degraded into petty-mindedness with people using the forum to disparage Maliks in order to promote their blatant agenda to popularize the Cookham Tandoori. Being a local its amusing to a degree, however for anyone genuinely using this site to find a restaurant it does not represent a fair or balanced view and hence I'm motivated to do my bit to set the record straight.
Having eaten in both restaurants numerous times, I think Cookham is lucky to have two such excellent restaurants. The Cookham Tandoori is part of the Spice Merchant chain and does a decent curry at the same prices, if not more, than over the road. My only criticism would be that the ambience is a little flat and less welcoming than sitting near the open fire at Malik's on a cold winters eve. On average I would put the Cookham Tandoori between 4-5 stars.
Malik's however is exceptional. Consistently. The food is always top-class and matches the hospitality of Malik and his team. For those complaining of being treated badly, I do wonder what you have had to do to get this sort of reaction and suspect that this is perhaps a common occurrence for you when eating out. Malik has always gone over and above for my friends and I and he genuinely makes us feel welcome and a valued customer. Malik's is consistently 5 stars.
To aid objectivity, consider these facts as you make your mind up:
1) Since its inception in 2005, Malik has won the 'Best Curry Restaurant' award no less than 3 times and is consistently among the top 10 restaurants each year.
2) Heston Blumenthal regularly eats at Malik's, believing that the King Prawn Dansak is second to none. I'd like to think he knows a thing or two about good food given his Michelin status. As further testament to his advocacy, Heston included Malik in his 'searching for perfection' book and TV series.
3) When the Prime Minister of Bangladesh and her entourage visited the UK they chose Maliks.
4) You will often have to book in advance at Maliks to ensure you get a table, particularly on weekends. This doesn't happen if you serve average food for high prices and treat your customers poorly.
We had our annual Christmas Malik's last night and all 23 of us had a fantastic time – the restaurant was busy as always yet we received excellent service and delicious curry. Malik as usual was on hand to give the personal touch that helps makes the difference between a good curry house and a great one. I've been eating at Malik's for almost 20 years and look forward to another 20.

Review added 13/12/2013 19:33 by Mark Mason
Yet another outstanding take away from Maliks which can only be beaten by eating in their restaurant. The food is truly exceptional, I often joke with friends that it is the best in the South of England if not the country. It is a busy place with a lot going on but the guys work their hardest to make sure everyone is looked after. My only issue with Maliks is I am boring when ordering and hardly ever stray from my favourite dishes of the last 10 years.

Review added 05/12/2013 23:13 by Anna
This evening we had another excellent meal at Maliks. I have never left a review but felt it necessary given the recent feedback which seems to be heavily weighted to another local restaurant. We regularly eat at Maliks, at least 1 take away a week and when we can eat out (babysitter permitting) it is usually at Maliks. The food is exceptional and the staff are lovely. I would not hesitate to recommend eating here and have friends who are now curry converts after sampling the delicious food.

Review added 03/12/2013 15:03 by Mark
Vote with your feet; walk across the road, better food, and much better service and less expensive, say no more.

Review added 03/12/2013 12:43 by anon
Too big for their boots.

Review added 03/12/2013 11:00 by anon
Gone badly downhill again. 2 hours wait for main course with not a hint of an apology. I can't see that the extension will improve matters. As a 7 year resident of the village, I have to say that sadly I've reached the end of my tether with Maliks. Such a shame.

Review added 20/11/2013 23:03 by anon
I thought the promotion was excellent value and so it has proved. There was no mention of Maliks during the entire pitch. And your point is?
2 separate restaurants, aren't we lucky?

Review added 20/11/2013 08:27 by anon
Cookham Tandoori promoters were conducting a door to door marketing campaign at the same time as the previous 3 bad reviews were posted.
My regular takeaways from Maliks are always excellent.

Review added 19/11/2013 11:02 by Carl Piercy
We decided to give Maliks a try after being Cookham Tandoori regulars for a number of years.
Our King Prawn Jalfrezi had 3 prawns and was as spicy as an English casserole..
Will never go back.
REPLY
Malik has replied that Prawn Jalfrezi has chopped up prawns in it not whole prawns, so whole prawns would not have been part of the dish.

Review added 15/11/2013 20:06 by Montpellier
Agree

Review added 15/11/2013 13:39 by Potterson
After visiting Spice Merchants and sampling the great customer service and first class food, it has made us realise how low the standards have dropped at Maliks. Their customer service is poor and the food isn't up to what you would expect. I think they are trying to ride an a rather ageing reputation. Try Spice Merchants - we did!
As Cookham residents Spice Merchants will now get my money and vote!

Review added 20/12/2012 08:06 by Christine J
My husband and I have dined at Malik's on numerous occasions, (as a couple and with family or friends) and have never, ever been disappointed. The food, cooked freshly to order, has always been superb and the staff could not have been be more attentive and obliging - during the course of the year, Malik's suffered a significant turnover of staff and new staff members naturally took time to settle into the role of delivering Malik's high standards of service - his new team are now fully 'in the groove' and everything runs like clockwork! Malik himself is, an excellent host, and always takes a little time to recognise returning guests. In addition, he clearly takes a great pride in his business and is very responsive to any comments.
Malik's menu is varied and enticing to accommodate all tastes. In my opinion, lamb curries are particularly tasty!
As a result of Malik's popularity, I would recommend booking prior to making a visit to avoid being disappointed (especially at weekends).

Review added 07/12/2012 18:10 by Jason Allen
I have eaten curries all around the world and by far Maliks is the best.
I have been going there for years and never get bored of the menu.
The chicken madras is the best anywhere and Malik himself is a great host.

Review added 03/12/2012 13:56 by David Cuin-Wood
I probably go to this place at least thirty times each year to pick up a takeaway; normally I stay there far too long having a quick drink whilst, ostensibly, waiting for the food. This very bad habit of mine is well into its 6th year since I moved into the village from Cookham Rise.
In all this time I have never witnessed any rude or aggressive behaviour from either Malik himself or from any of his staff.
Food is always excellent.

Review added 01/12/2012 20:57 by Susan
Unfortunately I did not read the reviews about this place before I went and now I wish I had. Myself and my family were visiting Cookham and thought this looked like a lovely place to have dinner. Unfortunatleythis was not the case. The food was overshadowed by the rude, aggressive and threatening staff. I would not have paid but only did as I was afraid they would hit my husband. This place is giving your delightful village a bad reputation.

Review added 21/10/2012 17:12 by anon
Get a takeaway once a week when late back from work and the guys at maliks are always a friendly bunch, food is great, lamb dansak is amazing

Review added 07/10/2012 17:58 by anon
We went for our Wedding Anniversary. Food good but was very rushed. Service was not good at all. Our bottle of wine was out of reach and we kept having to ask for a top up. Tables where far too close together and we felt we where eating with complete stangers. Also as the couple where so close their perfume (which was not nice at all)was so strong we could not finish our meal. Would I go again. No never.

Review added 03/09/2012 15:37 by anon
A group of 8 of us ate here last Friday night and we had a great time. The food was excellent, as was the service.
Malik himself came over to talk to us and to ensure that we were all happy and after the meal came back to offer us a round of complimentary drinks!
We had such a great night that I'm sure we'll be back soon!

Review added 19/08/2012 21:39 by Ben (Cookham Resident)
Terrific night on Friday night - lamb madras was fantastic and our friends from out of town rated the cuisine highly. The complimentary bottle of red was also well received!

Review added 19/08/2012 21:14 by Cookham resident
I had a fantastic evening at Malik's on Friday, with fantastic food, service and a friendly visit from Malik himself. I can highly recommend the Tandoori mixed grill and the chicken dansak. We eat there about once a week or fortnight and have not been disappointed.

Review added 17/08/2012 21:22 by Visitor
Cannot believe how rude the owner is. Stopped in the car park (which was empty to run across to pick up a take away from the Chinese across the road) came back to the owner shouting abuse and f***ing this and that. I tried to say, why are you shouting and swearing, sorry if this is something that annoys, you need only say and it won't happen again, but couldn't get a word in above his abuse. Also pointed out we are local and would be coming to visit his restaurant in the near future. He just got more angry and more aggressive and asked me what I'm going to do about it - he was definitely pitching for a fight. His staff came out which scared my wife but she couldn't see the embarrassment on their faces and they were surely there to stop their boss going to far. He swore at and about my wife when she came out to try and calm him down. We have now called the police and they are going to have words about his public disorder with him. When the police feed back to us we shall decide whether to make formal allegations which should result in an arrest, given the witnesses we have. We shan't be going to his restaurant in the future and many of my family that have been, will not be going again. We shall also ensure that everyone we meet in our local area knows about the owner's behaviour. I can safely say that such a lack of respect for his regular customer base will be his best punishment.

Review added 30/04/2012 17:06 by mark hilton
i used to work with Mr Malik.
Once uopn a time Cookham Tandoori was very busy, but for some reason its gone down and a new restaurant opened opposite its name Maliks now i can tell Maliks has also gone down. I have been last saturday and that manager was so rude with customers we are paying for service and food.
FROM COOKHAM WEBMASTER
Two reviews have been merged and updated as they are from the same person.

Review added 29/04/2012 11:55 by anon
Poor service, waiters ignored us when asking for a jug of water, but got it after 5 attempts. Long wait between starter and main. Waiters not very organised.

Review added 03/04/2012 14:12 by anon
Went here for dinner with my wife at the weekend, the food wasn't to bad actually (by no means the best Indian food though). But the service was so abrupt and rude it spoit the evening and almost left my wife in tears. They rushed us through, brought out our main courses with the starters and refused to take them back so we were stuck with 7 dishes on a tiny table of two to eat our way through.
We left with out leaving a tip and wont be returning and I advise you to try the lovely Cookham Tandoori just across the road where the service is light years ahead.

Review added 15/03/2012 20:49 by anon
A group of 10 of us booked and visited Maliks in January. As we all work locally we went early and were the first in the restaurant. The waiter was clearly irritated that we wouldn't conform to his recommendation for ordering and when one of our party tried to help was told in no uncertain terms to keep quiet. The food was very good but the surly service spoiled an otherwise enjoyable evening. I had heard mixed reviews before visiting Maliks and unfortunately my experience vindicated the poor ones which are all to do with the service and not the food.

Review added 23/02/2012 08:02 by David Cuin
Went yesterday to collect a takeaway. Food was excellent. All the staff were courteous with the guests (I was able to observe this whilst having gratis beer). Malik himself was charming as always.

Review added 21/02/2012 17:33 by Tarquin
There is on overall theme on the reviews of poor service here. Indeed I once experienced aggressive service from a waiter who tried to give me a main course whilst still eating a starter. He said it had to be put on the table as the kitchen was full!

Review added 17/02/2012 23:27 by jean woods
My husband and I stopped going to Maliks for a very long time as we found that the food was not as good as it used to be. We decided to give it another try and went there about 6-8 weeks ago where we ordered takewaway. The food was out of this world. The old flavour was back it was a dream. Then again my husband and I decided to have another takeaway on the 17/2/12. Every dish tasted the same. We ordered chicken bhuna, aloo gobi, mushroom bhaji and it all tasted the same. What has happened at Maliks. Has the chef left because the food is not of the same standard. We have been going to Maliks for nearly 15years or more. I'm afraid that if he doesn't get his old chef back my husband and I will go elswhere for our curry and so will a lot of his customers. Please sort this out Mr Malik.

Review added 28/01/2012 16:37 by anon
Simply the best curry house! We went on a Tuesday night and it was full - always a good sign. The food is cooked individually to order and is delicious. Great venue and staff really friendly too. Thank you!

Review added 14/12/2011 00:10 by Dr Sanders
Outstanding and delicious! Cookham's culinary treasure.
Family run restaurant. We moved from London one year ago where we were spoilt for restaurant choices. We said we would hunt for the best local curry house when we moved - well we think Malik's is it and we have never strayed. From succulent Tandoori to melt in you mouth curries. The staff are always welcoming, polite and attentive. Malik himself is kind and warm. Maliks speaks for itself as it seems to be the only restaurant in the high street that is always full. We love going as a couple or with friends who are never dissappointed. Our favourite eating in the beautiful tudor restaurant and asking for their excellent recommendations. But if you feel like a night in, you get a friendly smile and a complimentary drink at the bar as you wait for your takeaway - Fabulous!

Review added 08/12/2011 12:53 by New to the area
Only ordered takeaway and always been looked after. Very happy to go back

Review added 11/11/2011 08:06 by Steve
When to Maliks last weekend with my wife, the food was ok, nothing exciting though. The service however was awful, the staff just can't be bothered with anyone who isn't famous or spending hundreds of pounds.

Review added 21/09/2011 00:32 by Tel
People seem to keep comparing Maliks with the Cookham Tandoori so I thought I would put my tuppence worth in as I've been to both.
It's true that the staff at Maliks could do with some lessons in customer service but even so, the service is miles better than the Cookham Tandoori, where I fear that even a degree course in customer service would have little effect.
The food is comparable in price but that at Maliks has more flavour and variety.Also, the portions are bigger.
I would vote for Maliks over the Cookham Tandoori everytime.

Review added 17/09/2011 10:53 by Christine Jannetta
Having read some fantastic reviews related to Malik's in various National newspapers and in a few National magazines, we were nervous that our expectations were too high and our personal experiences may prove disappointing. Thankfully, our initial expectations were not only realised but in time, have been exceeded as we've become regular patrons of this simply fabulous restaurant.
Malik's food is consistently 'head and shoulders' more superior than other Indian restaurants in the area (we've tried them all) and although at busy times service can sometimes be slow, it's because every dish is prepared 'fresh to order'. The standard of service is excellent - warm and courteous while the environment is extremely cosy. During our many visits, we've ocassionally noticed that Malik and his team don't take very kindly to guests behaving badly or creating a disruptive atmosphere for other diners. Instead it is clearly Malik's intention to ensure that all diners have an enjoyable experience and we are very happy about this! All in all, if you want a fabulous curry in a wonderful environment offering a really good experience - go to Malik's and you will not be disappointed!

Review added 08/09/2011 12:32 by Richard
My wife and I went to Maliks last night for our Wedding Anniversary. I rang the restaurant earlier in the day to say I would like to reserve a table and was greeted with "name" "time" "contact number" in a fairly unfriendly manner. I mentioned that it was for a Wedding Anniversary and they responded with "we will make a note on the booking"....and the conversation ended.
When we arrived at the restaurant we were directed to a window table in the corner (I assume that when they said they would make a note on our booking about the Wedding Anniversary, this is what you get)
Our table was fine although it would have been nice if there had been a flower table decoration like most of the other tables had. We asked for one and this was duly provided.
The starter was excellent, but it came with 2 sauce pots. One of them was a dark coloured sauce. My wife is allergic to shellfish so we asked the waiter if there was any fish in this sauce. His reply was "it's Chef's sauce." Very helpful! I then asked if he could find out whether there was any fish in the sauce and he reluctantly went off to ask. After a few minutes nobody had come back to answer our question so my wife ate her starter without this sauce. Another waiter came to clear our plates and when I mentioned that nobody had come back to tell us whether it was ok for my wife to have the sauce, his response was "sorry about that" as he left the table.
Despite this, the starter itself and subsequent main courses + side dishes were truly excellent and we both enjoyed the food.
After the meal we asked if the remainder of the meal could be boxed up for us to take home which they kindly offered to do. We then asked for the bill which arrived but no sign of the doggy bag. The bill was paid and I went outside to order a taxi. Still no sign of the doggy bag. Finally we had to leave the table to wait outside for the taxi. I went to the desk and was asked how they could help me......er, for the THIRD time....how about the doggy bag? Finally this arrived and we left, but the general service and staff attitude was really quite poor and I mentioned this to the waiter as I left although he didn't seem particularly interested - perhaps we weren't important to warrant any form of apology since we were neither celebrities, nor customers spending over £100.
Whilst waiting outside the restaurant for the taxi, Malik himself arrived in the car park so I took the opportunity to firstly thank him for the excellent food in his restaurant, but also to mention that we were quite disappointed with the overall service. We detailed the problems we had encountered and Malik offered a free drink back inside although we declined as we were waiting for our taxi home. He said he would look into our complaint but whilst we were reiterating that the food was lovely, someone else caught his attention (obviously of more interest to him than we were) and he walked off to speak to them. This was the point at which we decided we would not be coming back to Maliks again - if the owner couldn't even be bothered to afford us more than 1 minute of his time to listen to both complaint and compliments
To sum up.....fantastic food, but don't always expect courtesy with your curry!!

Review added 08/08/2011 19:53 by Debbie and Sally
Last Friday night, I went to Maliks for an evening out with my friend Sally. Both of us have been to Maliks before and love the atmosphere of the beautiful old building and have always found the food to be good quality. We had a pleasant evening chatting and eating (only spoilt slightly by unsmiling, not overly friendly waiters) but we were determined to enjoy out evening out regardless. As Sally had to leave to pick her daughter up, we asked for the bill. In total, it came to £58.30 which included the service charge which was automatically added on. Both of us were paying by cash and between us, we left a total of £60. Thinking no more of it and as Sally had to go, we left our table saying our goodbyes to the waiters as we left. Sally drove off more or less immediately but I sat in Malik's car park for about 5 minutes or so answering a text message on my phone. As I was about to drive away, one of the waiters appeared at the side of me gesturing to me. I opened my car window thinking we must have left something behind in the restaurant but to my surprise, the waiter asked if we had paid. Taken aback, I said we had absolutely paid and described how we had paid – ie cash left on the table. He then asked me to wait in my car. As other dinner guest were trying to also leave the car park, I had to move and parked further down the road. I got out of my car and walked back into the restaurant.
What followed was absolutely appalling. I was encircled by all the waiters who told me there was no money on the table and that I hadn't paid. I was, and still am, incredulous. It got even worse as one of the waiters told me I had to explain myself to Mr Malik himself and I had to wait for him to come down. This he duly did and proceeded to treat me with complete distain telling me he had cameras in his restaurant and we had left without paying. This all happened in full view of all the other guests in the restaurant and I don't need to elaborate further on my complete and utter humiliation and embarrassment. When I told Mr Malik I would be very happy to wait while he reviewed the camera footage as this would clear my name, he told me he had already seen it and again accused me of not paying. Knowing this was completely untrue as we had most definitely paid, I then asked to see the footage that Mr Malik had told me he had seen. He refused (and we have since found out that this is because there was no CCTV footage of our table and in fact Mr Malik had made this up). He then told me to leave the building or he would call the Police. I would have been very happy for the Police to come as someone in the restaurant had obviously stolen the money off the table and my friend and I were left carrying the can. When I voiced this, Mr Malik instructed his staff to 'get her out' and I was frog marched out of the building. As I was being 'removed', I told Mr Malik I was disgusted and would definitely not be returning – he retorted by telling me he didn't want me in his restaurant and only wanted people who pay – charming.
I have never been so humiliated and felt so outnumbered in my life. My friend and I went for a pleasant evening out which, through no fault of our own, ended with us being labelled thieves and kicked out in disgrace and told not to come back. In fact, not only had we paid, we had over paid for our meal. This restaurant, and in particular its owner, seem to think they walk on water and can treat people however they like – including slandering people. Rest assured we will not be returning and hope that other people can be spared our ordeal. When I phoned the restaurant to make the table booking, I had left my name and contact details – hardly the mentality of a criminal intending to leave without paying. Having read other comments, it is very apparent that we are not the only ones to suffer Mr Malik's unreasonable and aggressive behaviour – this man does not deserve to be in business.

Review added 02/08/2011 01:10 by kennan
hi i am kennan a resident of cookham vill. my famly really likes indian food and maliks food the best food i ever had. but recently a few days ago i have been there and i was so so embarrassed because of their management.it was 10 pm when me and my wife went there one of the staff came to the passage and told me we are going to close if you can give your order very soon we said ok. i did not know his name but he was tall and fat less hair also.who took our order he was also rude but i got his name as i think a reguler customer called him MAZ .by the way food was excellent as always. mr maliks should change the fat guy and maz for his business.....

Review added 17/05/2011 12:18 by Simon
Maliks is undoubtedly one of the best restaurants i have ever attended. I often take my family to Maliks and have always found the staff especially welcoming. The food is exceptional and Malik is a great host. I whole heartedly recommend this establishment to anyone. Look forward to my next visit!

Review added 16/05/2011 17:04 by Richard
I was enjoying a fantastic dinner (as always) at Malik's restaurant in Cookham last Friday when our meal was disrupted by the behaviour of certain other anonymous members of the public!
The only thing appalling about the night was the demeanour and attitude of the people sitting at the small table in question. Whatever grievance you felt towards staff or restaurant, your behaviour was completely unacceptable for mature adults. Why should everyone else present have to tolerate to your pathetic tantrum, no doubt fuelled by excessive drinking.
Surely you must expect service to be slowed in any restaurant that is at capacity on a busy Friday night. My friends, family and I have been long-standing patrons of this excellent restaurant for well over 10 years and I can personally say I have never been treated rudely, experienced poor service or had anything other than first class food.
I suggest you adjust your high & mighty 'I own 6 businesses in Gerrards Cross' attitude and re-join the rest of the world. Treat people with respect and you may find your experience differs wildly.
To Malik I say thanks as ever for your hospitality and warmth. We really enjoyed our meal despite the pandemonium caused by so few!
Richard

Review added 16/05/2011 15:57 by Ricardo
Love Malik's. Always have done, always will do.

Review added 16/05/2011 14:07 by Luisa
Anon!!!!
I think that you are really irritated!!!
you should try to calm down!!!
I'm really sorry that you have a bad evening!!!
maybe you don't have the patience to wait and to enjoy good Indian food!!!!!
And I'm sorry but Maliks is super great!!!!
maybe you can ask yourself if you where rude, no?
remember that most of the times things happen for a reason!!!!
------
I love Indian food!!
This restaurant has some of the best Indian food that I have ever tried.
All the employees are really nice, and they have excellent service and excellent food.
FROM COOKHAM WEBMASTER
Luisa's reviews have been merged together to allow for an extra previous post to be seen.

Review added 16/05/2011 12:00 by anon
best curry ive ever had! amazing staff and atmosphere!

Review added 16/05/2011 11:27 by Kelly
Always have an amazing meal at Maliks. been there several times and the service is absolutley fine despite what certain people say. Especially as it is a smaller kitchen, if your food does take a little longer - at least you know it is fresh!
Never been let down by Maliks, so please don't be put off by some drunken snobs who think they should be served before evereyone else (Yes I was also there on Friday and these 'men' were so rude and rather comical in thier childlike behaviour!
Go Maliks!

Review added 16/05/2011 09:37 by Tatiana
I support what have been already said: "Malik´s is a first class restaurant and Malik himself is a first class host - the awards, the celebrities and most importantly, the legions of loyal customers are testament to this".
I live in Spain and I fly to UK every 3 months, and I ALWAYS ALWAYS go to Maliks, for me is just the best in class.

Review added 15/05/2011 23:04 by Dan
Wow that´s some cheek, and very brave of you anon.
My friends and I were also dining at Malik´s that night and have a rather different account of the evening than yours.
What really happened, which can be vouched for by the other diners in the restaurant (which I urge them to do), is that you, and your party, became aggressive and complained at the slow service. I´m sure all the alcohol you had consumed whilst there did not help.
After telling the staff that you were leaving without paying, the staff rightly told you that you needed to pay. You then assaulted the staff member and disturbed the whole restaurant as you and your friend wrestled with the staff and some customers as you tried to leave. The staff are well within their rights to detain someone who absconds without paying.
After exiting the restaurant, which Malik did to try and let the rest of the customers eat their meals in peace without hearing you shouting, you ran off down the highstreet. After being caught by an off-duty policeman, the uniformed police arrived - having been called by the restaurant (actually by the waiter you assaulted)and not you as you claim - you were about to be arrested had Malik not graciously agreed to resolve the situation by allowing you to pay your bill and apologise to member of staff (personally I would have pressed charges).
Rather than be embarassed about this incident, you are supposedly an adult after all, you then decide to write an anonymous review slating the restaurant! I am quite literally amazed at how you and your party behaved and at this cowardly attempt to slander Malik.
Malik´s is a first class restaurant and Malik himself is a first class host - the awards, the celebrities and most importantly, the legions of loyal customers are testament to this.
If you have never been there I urge you to try it, you will not be disappointed. If you have then I´m sure you´ll agree with the above.

Review added 14/05/2011 13:14 by anon
Went there with friends Last night. The rudest people I have ever come across!
Service slow and when asked why, was told to leave!!
The owner does not deserve the business!
So aggressive we called the Police!!
Please Please stay away from Maliks

Review added 26/04/2011 11:15 by anon
very good food!

Review added 06/04/2011 22:30 by Natasha L
This is a response to Mr "ex detective" Tim G/ Lynda. 
Firstly, my review of my recent visit to Malik's was bona fide.  Your detective skills evidently do not stretch far enough for you to discern from my review that I was taken there for my birthday celebration (and that this was not my own choice and that, for obvious reasons, if I had the benefit of hindsight and had KNOWN how the evening was going to pan out, guess what? We wouldn't have gone!). Some detective work... I suppose this is why you are an 'ex' detective. 
Secondly, in regard to singing Cookham Tandoori's praises - why not? I had a better experience there and would like to recommend it to others. Again, your, unfortunately lacking, detective skills failed to note that I also have praised Chilli's in the past too - again, because of my, mostly, good experiences there. 
Lastly, as far as I am aware, this website allows contributors to have the freedom to post reviews of their own experiences, subjective as they may be. I am pleased that you had a great experience at Malik's.  The fact is, in my opinion, I didn't and it is my prerogative to be able to say so. If Malik's has an issue with my opinion then they should take this up with me personally. Disagree with me by all means; but that you feel you need to stick up for this establishment through making out that my review is bogus, in turn makes yours look even more so.  

Review added 14/03/2011 13:50 by Robert Harris
After a very poor experience in December 2009 I vowed I'd never go to Malik's again. Nevertheless I joined a group of friends there last Friday the 11th. It was OK but not great, the constant procession of people passing by the bar was annoying, I believe they were collecting take-aways. The service was a bit slow, the food was acceptable but not outstanding. The small bottles of beer were expensive but the bill was not outrageous.
The Last Viceroy in Bourne End remains my favourite local Indian restaurant.

Review added 16/01/2011 20:40 by TIM G/Lynda
NB TWO REVIEWS MERGED AS FROM SAME IP
ate here last night 15th jan,,place was packed everyone i looked at seemed happy saw NO one complaning,our food for 6 of us arrived on time,,very tasty polite staff,,had to wait 5 mins for our coffee,,but got extra after eights,,well done Mr Malik..
MALIKS FOOD CANT BE FAULTED TO THE EXTENT SOME OF THESE PEOPLE ARE SAYING AND BEING AN EX DETECTIVE DONE SOME DIGGING AND IF YOU LOOK AT REVIEWS FOR THE COOKHAM TANDORI UP POPS ADAM AND NATASHA L,,,,SINGING ITS PRAISES,,SO WHY BOTHER GOING TO MALIKS IF YOU FIND IT SO BAD,,MMM STRANGE THAT EH !!!! MALIK YOUR FOOD IS GREAT 2 OF YOUR NEW STAFF NEED SHARPNING UP KEEP UP THE GOOD WORK..

Review added 10/01/2011 14:49 by Adam
I went to Maliks the weekend just gone for dinner with my son and daughter-in-law to celebrate our 30th wedding anniversary. I can only say I wish I had never stepped foot in that place! We were ignored at the door on a cold January night for nearly 10 minutes and then had to wait another 20 minutes for our table, despite the fact we had booked for 8pm we sat down at nearly 8:30. Everything took forever to arrive and out of 4 starters only 1 was correct. The chicken in my main course was uncooked and raw. When we asked to see the manager to complain he told us he had lots of celebrated customers and didn't need the likes of us in there complaining. We refused to pay for any of the food as it was disgusting; we were told very forcefully to pay the drinks bill and leave. My wife felt so intimated she nearly called the police as we were shown the door.
I have taken this matter up with environmental health as serving raw chicken could kill someone. Avoid this place like the plague.

Review added 28/12/2010 16:59 by Natashas L
Went to Maliks for a birthday treat last night. This is a restaurant that is resting on its past laurels. The service was appalling (and it wasn't even too busy). We were there for half an hour before we were given our drinks (one of which was a simple glass of water) and our menus. The waiter serving us walked off mid-sentence when we spoke to him. We were largely ignored and had to leave our table to go and find the waiter several times to order more drinks etc. The food was ok - but I'll still be going to Spice Merchant/ Cookham Tandoori across the road in future (food and service are infinitely much better).

Review added 06/12/2010 11:00 by anon
Had a fantastic take away on Friday, bright individual flavours and kept up the standard I've come to expect from this great place.
The free beer enjoyed by the fire was also most welcome while I waited the short time to pick up the food.

Review added 23/11/2010 17:46 by martin
wish these sad people would stop writing crap about Maliks food and staff,,you wont stop us customers going we actually eat there unlike some of the people leaving reviews,,i eat there some times twice a week even though ive moved out a bit,after i read the bad comments i thought perhaps i should go more often im glad i did,,well done Malik you"ve got a great eating house spotless,and as for being expensive !! perhaps Mcdonalds would be better suited for those who think that way.

Review added 08/11/2010 08:09 by David Cuin
Went to Maliks after the fireworks to collect takeaway. Gratis drink as usual. No sign of aggressive or rude behaviour anywhere.
Food great as usual.

Review added 05/11/2010 10:58 by anon
Avoid. Very poor service, average food and a very unpleasant aggressive manager.

Review added 14/10/2010 17:39 by John Cooper
recenlty been to maliks sadly but had to say both the service and food has been rubbish firstly the price is too high, secondly the service is terrible on top of that they have a service charge also i have been hearing great reviews about shaahs just i been reccomended by friends that i should try shaahs so i think i am going to give that a try this weekend.

Review added 14/09/2010 13:02 by WT
Visited on Sat 11.09.10 – Difficult review to write because the experience varied so much, we had a great evening and although there were problems that I'd normally complain vocally about it didn't seem to matter.
OK so the good points. Great atmosphere and we had a good table – not to be taken for granted and there were quite a few I wouldn't have been happy with. The food was exceptional, comparable to some of the banquets I've been to in India. The Haash Cashew was delicious firm duck breast with a cashew sauce, very delicate flavour with balanced spicing and very good firm meat. The Sikandari Lamb was incredibly tender and had a wonderful deep complex flavour, loved it. The side dishes were equally good and the Mattar Ponir (Peas with pannir) was a standout dish on its own.
Now for the not so good points, we waited for a long long time for food and service, luckily the booze wasn't such a wait (fantastic bottle(s) for £23). This wasn't a problem for us but I understood the three tables around us complaining. The manager did come and pre-empt any complaints and apologised but this was after we'd received the bill, he did get us a couple of complimentary drinks but didn't offer to take the service charge off. And this leads me to the biggest complaint – I very rarely check the bill but after reading some reports below glanced at it, we'd been charged £79 for wine instead of £43. Slow service and a thirty quid overcharge isn't good.
I guess they are overstretched, opening in Marlow currently, and understaffed – for obvious reasons. Living on the High Street I hope things improve, but once again we had a great evening and loved the food. Don't be put off but do voice your complaints and do check the bill.

Review added 07/09/2010 18:29 by Adam
I went to this place with my wife and mother and father in law to celebrate my wifes birthday. It was so disappointing, after hearing so many good things a few years ago it was awful! The main courses took nearly 1 hour to arrive and my chicken was cold in the middle. When we complained we were told it would take another 30 minutes to replace it, by this time it was gone 10pm. After asking for it to be taken off the bill we were told that this is how indian food is served?! At this point we paid and were told to leave the premises quickly and by Malik that they do not need people like us in his establishment.

Review added 30/08/2010 09:46 by anon
Had a meal last night, very dissapointing. Heard they were raided this week and found illegal immigrants working there.I think they must have found the chef to be the illegal one as food was not as I remember.....very average (what a shame).Service was not much better even though Malik was there himself.

Review added 29/08/2010 22:28 by William gray
Why oh why do people keep going to maliks? It has turned into an awful restaurant -it is 6 months since I have last been there, had an unpleasant experience in line with the reviews posted below and have no intention of going back. It is unfortunately obvious from last 6 months reviews that nothing has changed apart from management perhaps becoming more aggessive. Sad decline of a once lovely restaurant.

Review added 16/08/2010 10:11 by Christopher
I went there this weekend with my family to celebrate my 30th birthday and I wish I didn't. It took 40 minutes to get our drinks and over 1 hour between our mains and starters, the food was cold and very greasy. When we complained the waiter who had been vacant all night to put it politely said they were busy and there was nothing we can do. When we put this to the manager at the end of the night we were told very coarsely this is normal in Indian restaurants and if we didn't like it to get out. This place used to be so good, but the last year or so this place seems to have gone down hill.
NB Please only input one review for a restaurant, three is not fair on the restaurant, so two have been removed. COOKHAM WEBMASTER

Review added 15/08/2010 17:03 by Anita
Being a fellow bangladeshi I was so excited to try the food at Malik's-how disappointed I was to find the food very bland with overcooked meat and fish dishes. Not only this but the naan bread was bought out with the dessert after we finished our mains! The drinks came 30 minutes after we ordered them too from a miserable and begrudged waiter. When my fiancee paid the bill and mentionned his disappointment in the food for feedback to the waiter we got threatened to be beaten up and shoved out of the restaurant by the Manager! To all the people who have written good things about this restaurant and staff I think it is absolutely disgusting to be proud of having a restaurant such as this with such rude and aggressive people working there in your village!

Review added 11/08/2010 17:01 by glenn
Why do people bother going there its is terrible. Cookham tandoori is much better.

Review added 20/07/2010 18:21 by anon
Went to maliks last Friday after being told so many great things about the food. Honestly the best Tikka Masala ive ever had, staff friendly, service good, price reasonable!!!

Review added 15/07/2010 14:54 by Local resident
Maliks is a fantastic restaurant. The food is brilliant and has never let us down. I find it incredible that people think the staff are rude in there - this couldn't be further from the truth. The service is brilliant, efficient and friendly. We have also had Malik's as caterers for big occasions over the years and everyone has commented on how great the food was.

Review added 24/06/2010 23:40 by Margaret Johnson
Went to Maliks a couple of weeks ago for my husband's 40th birthday. Really not impressed, took ages to get our food, unfriendly staff really took away from our celebration.

Review added 04/06/2010 20:48 by martin
1st time ive ever read Maliks reviews and ive been going for years but sadly have moved from cookham,i still visit regular,im 60yrs of age been eating curries since a lad, my grandparents lived in india whilst in the army they were there for many years and cooked the food so i think i can judge a good curry from a bad or average one, Maliks is top drawer i have NEVER known the staff to be rude and Malik wont let people be rude to his staff nor should he !!i was there one night when a group of people mainly female who habd probaly been to ladies day came in the worse for wear through drink, they were very rude to staff and others Malik advised them they wouldnt be served and my guess is they have taken the cowards way and written bad reviews, TAKE NO NOTICE the food is excellent, true people try just once and return, PS the staff are shy not rude most are, enjoy and i hope the rude people had really bad hangovers !!

Review added 02/06/2010 01:52 by paula johnson
Went there with my partner had a awful meal, never going back>

Review added 20/05/2010 11:58 by jason doyle
I visited these guys once again, arrival of food was unexpectable, oily and cold.When i complained the waiter siad we can stick it in the microwave,
these guys must be having a laugh.
Never again

Review added 13/05/2010 20:56 by Red Kite
Recently went to Maliks with a friend who has heard about Maliks but never been. We both went for the duck special which was really tender and tasty ! the fact we got our mains before we got our drinks was disappointing and we asked several times from the waiting staff. these requests seem to fall on deaf ears, Yes they have won many awards but how many of those are for customer service? not many i would have thought. All the staff have a arrogance about them which is a shame as the food was really nice. Next time I will be taking my money to the indian next to Cookham railway station as they know how to treat thier customers.
Maliks, if you read these comments I suggest you invest in some customer service training for your staff !!

Review added 29/04/2010 19:33 by Age and experience.
Nice to see your experience and enthusiasm for Maliks and Shahs is brimming over yet in direct contrast to the majority of reviews placed Matt. Whats your secret?
Try Cookham Tandoori (Spice Merchant). They have been in operation for over 25 years and have stood the test of time. Best food, service and courtesy around. (Malik used to be front of house - clearly he didn't learn much). Overall pretty much the opposite of the main feedback from both your fab restaurants. Try them.

Review added 29/04/2010 14:10 by Matt Jones
The food is great!!
The people and service is wonderfull!!
And the atmosphere and restaurant is fabulous!!!
I have been to maliks a couple of times with my family and without fail, EVERYTIME i have visited the service has been of the highest standard and the food the best i have tasted. We get takeaway from maliks every week and it is really nice!!

Review added 27/04/2010 16:08 by anon
We also found the staff at Maliks very rude and unfriendly and the food was not brilliant whats happened

Review added 27/04/2010 14:49 by David G
Dreadful food and service.
I normally don't leave reviews but I was so disappointed by my recent visit to Malik's, somewhere that I was told was supposed to be this amazing Indian restaurant, that I feel compelled to leave a review.
I brought a client there on business, what a mistake, I had to apologise to my client for bringing them there ... we had to wait for ages for the food and when it came it was very, very average. And to top it all, the staff were rude ... and generally couldn't care less that I wasn't happy with the food.
What I find interesting is that I have subsequently done a search for Maliks on the web to see what other people's experiences have been (so as to understand how it could have been so bad for me when it was recommended to me). Well, well ... there are many awful reviews of Maliks on the web, it would seem that there are large numbers of people who have had a dreadful experience at Maliks. I only wish I had done this search on the web before going to Maliks myself. Needless to say, I will never go again.

Review added 12/04/2010 22:56 by Adrian
Appalling and disrespectful service.
Waited for an hour for the food on Monday night, enquired as to when the food would be coming, was told that they had forgotten about the order, no apology, and that they would cook it for us in 2 minutes. Something worrying when a restaurant says that they can cook and deliver your main meal in 2 minutes.
5 minutes later it arrived and was inedible, we complained, no apology, staff couldn't care less. We asked to speak to the manager who told us to leave the restaurant and not come back.
We've been going to restaurants all over the world for 25 years and we've never been treated so disrespectfully.
We've had very good food here in the past, but be warned, this is obviously a good place going downhill in 2010.

Review added 19/03/2010 13:42 by George
I've always enjoyed a visit to Malik's over the years, even just to enjoy the building, open fires and ambience let alone the food being a cut above the rest....
....but not anymore.
Myself and friends had taken the attitude of giving the food 'another chance', making countless excuses that they must have had an off day, or agreeing poor service was due to a quiet night and less staff etc. But I've just had enough now and it's such a shame.
I can only guess that Maliks' is happy to ride on it's reputation. Gladly taking custom from the legion of adoring fans that frequent the place. I'm unsure whether it's gone downhill or just that the other South East restaurants have become so good. Either way, I'd much rather visit Shaah's, the Viceroy, Mr. India or even the Cookham Tandoori.
Very very average.

Review added 18/03/2010 16:52 by Ruth
I went to Maliks having had amazing food on previous occasions. This evening we waited 30 min's to be served, and further 30 mins for our drinks after our food had arrived which made for rather cold food since we couldn't catch anyone's attention.
The service was terrible; none of the staff seemed to be working as a team and surprisingly our food was not particularly nice. When we asked for the bill there was no eye contact and no thank you.
I left feeling let down and embarrassed to have taken someone there having raved about how wonderful the food and service would be.

Review added 31/01/2010 13:55 by David
Went to Maliks on Saturday night. Absolutely nothing to complain about. Food was as good as ever. Service was as good as could be expected. Atmosphere was good, busy, vibrant, where else would you want to go on a Saturday in Cookham?

Review added 08/11/2009 14:59 by Barry
It is astounding that a restaurant as relatively straightforward as Maliks - Anglo-Indian cuisine, and a menu which rarely changes - should have attracted such a divergent set of reviews. My personal experience has always been of delicious food, several grades higher than your average curryhouse, served in an enviably romantic and cosy setting. It has undeniably become more expensive recently, but unfortunately that is the inevitable if irritating result of success.
Genuinely poor service should, of course, not be tolerated. However, there is something depressingly British about the way Malik's success is at best treated as suspicious, and at worst seemingly resented, so that people revel in being about to point out any fault whatsoever, give the restaurant one star, and bring Malik down a peg or two. It's not even as if he's become some celebrity chef with no time for his own restaurants or the wider community. He is regularly to be found working in the restaurant, directing his staff, and in Cookham he, with his staff, plays a part in the cricket club, the regatta and the festival, to name a few.
Just give him, and his widely acclaimed restaurant which we as a village are lucky to have, a break!

Review added 05/11/2009 12:48 by Michelle Collins
The British Curry Awards were also very interested to hear about an awarding winning restaurant serving up insects to the public and were taking the matter very seriously. My guess however is that these awards are judged in an industrial kitchen somewhere fancy and the representative chef for Maliks isn't the guy who is in the kitchen every night breeding wasps!.

Review added 02/11/2009 17:09 by Jack
Okay so Malik's ain't the Waterside or The Fat Duck, but I tend to agree with Douglas, it is an excellent Indian eatery and certainly streets ahead of the alternatives in the area. Whether you respect trophy cabinets stuffed with silverware or not, Rhubarb's off hand remark about "-pretty much every Bangladeshi restaurant displays awards left right and centre-" is a terribly glib and ignorant reflection of the reality .

Review added 16/09/2009 08:34 by Rhubarb
Once again Douglas is using this as a discussion forum and embarrasingly showing his deluded favouritism to Maliks when we all know and other reviewers have stated there are much better establishments in the area. As far as awards go I wouldn't take any notice as pretty much every Bangladeshi restaurant displays awards left right and centre. You should try other restaurants Douglas and broaden your awareness.

Review added 14/09/2009 22:44 by Douglas Bay
A WASP in a desert sauce! Shock horror !!
Crime of the century .... WHICH merits a ONE star rating !
Having convulsed with laughter after reading the above, all I will say is GET OVER IT ! It's a wasp for heavens sake, not a Huntsman spider or a long tailed scorpion or even a green ant! Don't tell me that rogue wasps have never over-run your BBQ or garden lunch/dinner in the Summer, either dropping into a glass of wine or frying itself on the BBQ grill without you noticing !
Like I said - Get. Over. It.
Accidents happen, and rest assured, you could count on it never occuring again.
Malik's restaurant is a gem. My family and two Singaporean friends have just returned after a veritable feast there tonight (Monday, restaurant FULL) - prompting my much travelled friends to remark that the fare and the service ranked amongst the best they'd encountered for Indian cuisine - worldwide.
I have yet to be disappointed or indeed find fault with either the service or the food (wasp or no wasp!) at Malik's over the past 6 + years during which time I and several guests have eaten at the restaurant on a regular basis. Engage the owner or the waiters in conversation (rather than demand servility) and you experience bright, enthusiastic and courteous responses. Sample the offerings without attempting to "compare" or puposefully seek fault with, and you discover an authenticity of flavour on which Malik and his chefs pride themselves.
But don't take my word for it.
Check out the several Awards the restaurant has had bestowed on it over the past years. And now, to cap it all, an entry in the prestigious Good Food Guide - the ONLY Indian restaurant in the South East to have been granted that honour!
But please, when dining at Malik's I would urge you to leave your pet wasp at home watching telly! The deserts are far too tempting to resist dipping into!

Review added 01/09/2009 22:41 by Ken
After a visit last year where service was poor, took another chance today. Starters good, but after waiting 45mins for mains, having 3 requests for a progress update ignored and flat coke being replaced with same, we had enough and left. Still the busiest place in Cookham on the night, so must just be unlucky again.

Review added 14/08/2009 11:00 by Michelle Collins
If you like WASPS in your toffee sauce, then you will love Maliks! No, I'm not kidding!
Went there on Wednesday 12th August 2009 on a work's night out. Service was slow, waiters not overly friendly, but you can deal with all this, but WASPS in your desert!! 2 wasps to be precise, in the sauce. The restaurant couldn't explain how this could have happened, and surprising enough they didn't seem that bothered by it! In fact they brought the same desert to my collegue once they had takent the wasp infested one away! They said they would deduct all our deserts of the bill.... I should hope so, we didn't even eat them once the discovery had been in made! I will never eat there again. The curry I had was mediocre, was meant to "hot" but is was mile to medium. Certainly not worthy of the praise this restaurant gets.

Review added 08/06/2009 21:23 by anon
we enjoyed one of the best evening out,(which are rare,) staff were very helpful and the food was very delicious. A big thanks you

Review added 05/06/2009 15:57 by A Cookham Resident
As a self confessed fan of Malik's over the years, I went there recently to reassess the restaurant, which seems to attract widely diverse ratings. I admit that, as a Cookham resident, I am biased in favour of Malik's, in view of all the support that Malik provides, overtly and covertly, to the local community.
In my opinion the food is top quality. Prices are starting to creep up - any fish dish is now a luxury - and the service can be slow. Otherwise I would give it 5 stars.

Review added 19/05/2009 22:26 by anon
Went to Maliks for a celebration with 9 other friends, had a fabulous evening, food was great and staff very attentive.
Look forward to going again soon.

Review added 16/05/2009 13:43 by anon
Went to Maliks with my netball team this week to celebrate the end of a successful season. The whole team were made to feel really welcome. The food and service were fantastic, as always. We shall defintely be returning next season to celebrate winning again...!!! Thanks alot Malik.

Review added 16/05/2009 09:24 by anon
We must have dined there on an off night, because we found it very average.

Review added 14/05/2009 16:27 by anon
we found Maliks great, the food was delicious and the staff very friendly and the service very good and fast.Will be recommending Maliks to all our friends.

Review added 26/03/2009 15:51 by Porteur
Bashing Maliks seems to have turned into a sport in the Cookhams, so I am here to offer my opinion. I love the place (and before i am bashed by the detractors, I know a good curry from an average one). The food is top drawer, the service has always been solid and courteous and whenever i have popped in to pick up a take away I have always (without fail) been offered a gratis beer while I wait. Is it value for money, I think so, but superlative products are always more expensive ! The measure of the place is that it is always rammed full of punters and a mate of mine drives from Chalfont St Giles for his takeaway.
I am Porteur and live in Cookham Dean...there, a real name to a review !!! Good luck Malik and keep up the good work !

Review added 23/03/2009 08:54 by anon
very average. went for the buffet on a sunday, and was most disappointed in the selection of dishes. nothing was labelled, and the majority of the dishes were vegetable dishes to accompany just 2 mains. The tables are very cramped together making it almost impossible to have a quiet private meal, and needing to climb over each other in order to get to the buffet. All the time we felt like we were being watched over like hawks in order to get us fed and out before the next sitting, however, the staff were less than attentive and we sat for a good half an hour with dirty plates. In a place like Cookham where there are so many places to eat, the quality of food and service were not sufficient to make me return in a hurry.

Review added 10/03/2009 17:42 by Villager
Kindly note review below should have been addressed to "Doug".. and not Villager... Thanks!

Review added 10/03/2009 17:40 by Villager
Villager, relax. Check ALL the other restaurant reviews... you will find "anon" is a very common label and I assume one that is generated by entrants not providing a sign name (which is optional when entering a review). Its not just Maliks so stop being so paranoid. You in fact seem to be overly biased towards Maliks and this is reinforced by the naive statement that there is no other restaurant in the area that excels at delivering what Maliks does... try walking across the road to Spice Merchant (where Malik gained experience as the Cookham Tandoori).. its menu, staff and most of all cooking is by far more consistent and superior.

Review added 10/03/2009 11:29 by Doug
Villager - There's absolutely nothing wrong with my nor my guests analyses! I too often travel around the far east - so my palate is suitably tutored to reflect my personal opinion on the cuisine at Malik's. But thanks for attempting to create the imbalance!
My irritation specifically targets the number of unnecessaryily aggressive 'critical reviews' which seek purely to demean the establishment rather than comment on its contribution. Are these from one and the same person/persons attempting to discredit an honest establishment due to past 'history' with the management? Intriguing how many "Anon's" lurk in the shadows!
The bottom line - in my opinion of course - is that if you desire a "*** standard" curry avoid going Malik's. If your need is for tasty authentic Anglo-Bangladeshi cuisine, then there is no other place in the area that excels at delivering exactly that.

Review added 20/02/2009 17:22 by Cookham Resident
Don't to Malik's if you want a cheap Indian meal! It is not cheap, but if you like and appreciate the Anglo-Indian cuisine, Mailk's is absolute top class. Compare it in price terms with the quality and value you get at, say, "Del and the Dragon" or the "White Oak". I have taken a wide variety of guests to Malik's and their vote is unanimously that it is absolutely top rate. No way can you compare this with Chillies or Charles Cottage.

Review added 13/02/2009 13:58 by Villager
Doug, I suggest you recheck your analysis. There are far to many and different reviews for the overall critique of Maliks to be anything but honest. The web site is just one avenue of feedback, general discussions locally tend to agree that Maliks is overated and there are better in the area. I travel in the East regularily and India and Singapore do not have food anything like that served in "Indian" restaurants in the UK. In fact the majority are Bangladeshi and this inculdes Maliks so your friends appreciation must be for food that is not familiar to that available in their respective countries. Nevertheless Maliks does offer an option although not the best in the high street.

Review added 12/02/2009 19:10 by Doug
It's quite amazing how often "Anon" eats at Malik's, and how predictable with the single star rating "Anon" is !!
I too believe that there is a prevailing anti-Malik attitude fuelled by unsavoury incidents with certain "clients" about a year ago, either with the same person firing in the negative remarks or else several members of said gang.
The food is excellent and reasonably priced (vouched for by close Indian and Singaporean friends of mine), the service courteous and the ambiance very welcoming. Food critics and awards cannot be rigged and only reflect the true status of a restaurant.
I look forward to bumping into Anon on my next visit (of several) in the future - and hope he/she makes his/her presence known for me to guide him/her through the menu!!!

Review added 29/01/2009 18:49 by anon
I have read with interest the other reviews on Maliks, and sense there could be a little bit of ganging up!!!!
I have eaten at Maliks and had take aways from them. I have to say the food has always been supberb, also I find the prices good, I have never experienced rude service yes they have been busy maybe people mistake being busy for rudeness!
Never fear Maliks you will always have my business

Review added 18/01/2009 17:01 by Georgia
We had high expectations as this place is listed in the top 10 curry houses in the Times.
We were really disappointed. The food was nice (but not exceptional) but the service was just awful. The staff were quite unfriendly and clearly rushed off their feet. We had to ask for everything rather than be asked what we would like. I understand restuarants get busy (and I don't mind as it's usually a sign of a good place!), but there was no apology and the staff were generally quite rude!
When we were presented with the bill, it was scribbled and unreadable. I asked what each item was and they'd added service. I'm alwaya happy to tip for good service and I don't mind when restaurants add the service to the bill when the service has been good.
The guy I paid looked somewhat surprised that I'd even questioned it.... we won't be going back. There are plenty of other curry houses in the Maidenhead area so we'll try another one next time!

Review added 08/01/2009 20:14 by Anon
Went twice over the Christmas period and took some guests both times. They were delighted by the food and service, as were we.

Review added 08/01/2009 13:36 by anon
Good food, staff couldn't seem to care less.

Review added 09/12/2008 14:20 by Jill Theobold
Ok! But won't be returning.Very overpriced.

Review added 29/11/2008 10:40 by Anon
Always a pleasure! Lovely grub!

Review added 28/11/2008 13:15 by Theresa R.
Can't understand what all the fuss is about,the awards must be fixed. There are many other local curry houses that are much better by comparison. Went there yesterday evening with a group of friends, food was pretty average and full of oil.Service was ok, nothing special. Overall very disappointing,was expecting much more.

Review added 27/11/2008 18:19 by Annon
Great food, great, friendly staff. No wonder they keep on winning awards!

Review added 27/11/2008 14:05 by anon
decent enough food but dreadful service - the place smacks of bygone successes and taking things for granted

Review added 26/11/2008 12:00 by Richard
It's always a pleasure to eat at Maliks. I went for the buffet lunch on Sunday, too, and was bowled over as usual. I booked up for Christmas there and then!

Review added 25/11/2008 18:22 by Charlotte
We thoroughly enjoyed the Sunday lunch buffet at Malik's this week. The place was buzzing, the fires were roaring and the food was delicious!

Review added 22/11/2008 19:53 by chris
this place is now a joke. it was once the best Indian restaurant in the area by far. it now seems as if all the success has gone to Malik's head. Perhaps a bit less "hob nobbing" with Heston etc and a bit more effort on customer service. Remember Malik, you can only upset customers like this for a period of time. keep doing it and the place WILL be empty. The customers made this place, don't forget it please.

Review added 20/11/2008 13:35 by anon
I was complaining to someone about the lack of staff friendliness at Malik's and he said 'that's because they're always busy' Since when did being busy equate with unfriendly service??!!!!!

Review added 20/11/2008 00:21 by Anon
We don't go to Malik's any more. After several dreadful experiences we have given up and now frequent The Emperor of India in Braywick, Maidenhead. Much nicer.
In common with others we found the food was fine but the service was typically somewhere between dreadful and appalling. They simply don't seem to get the concept of 'customers'.
As for winning the award - all I can imagine was that the food was served somewhere else.

Review added 11/11/2008 23:31 by anon
never again.
the food is lovely, but the service and attitude of the staff is awful.

Review added 08/11/2008 16:03 by anon
Very much like others I thought the service was dire.
Waited 30 minutes for the starters and then some were missed, also didnt get some of the nans we had ordered.
Having said that the food wasnt too bad (when it arrived)
I cant believe this place has won an award

Review added 27/10/2008 12:37 by anon
Yep, from my experience the service was dire and the food average. This is obviously not always the experience - my guess is that (service-wise at least) you get treated differently when the staff smell money. Cookham Tandoori is by far superior.

Review added 24/10/2008 15:38 by anon
Peter,
There's 18 reviews on Mailiks. Go take a look and see what the general appraisal is. Yours tend to be in the minority.

Review added 23/10/2008 16:07 by Peter of Marlow
My family and I enjoyed an immensely satisfactory dinner at Malik's on Saturday - both the ambience and the food were superb, the place was buzzing and the staff extremely friendly. It therefore amuses me to read both Anon's and Bryan's reviews (Bryan is wrong and thus misleading in the extreme - the OPTIONAL service charge is 10 percent (not 12.5) and can be deducted if the customer is dissatisfied, furthermore, this optional charge was pointed out to me at the time of bill presentation). It does not surprise me in the least that this restaurant won the London Curry award - they certainly put up an award winning service and food on Saturday night!

Review added 23/10/2008 15:09 by anon
I must say I was suprised when Malik's won the award, and it certainly wouldn't be for the friendliness of the staff.

Review added 22/10/2008 22:43 by Bryan
One star is for the excellent prawn starter. The staff are rude and inattentive,the food is OK but - other than the starter - not memorable. I cannot believe it has just won this 2008 award, - did any judge go there?
I also really object to the way they hide the 12.5% service charge on the scruffy hand written bill and then advise you how to add a further service charge when paying by card.

Review added 21/10/2008 11:34 by Douglas Bay
MALIKS RESTAURANT WINS PRESTIGIOUS AWARD.
The British Curry Awards 2008.
Grosvenor House Hotel, London – Sunday 19th October.
On an evening which saw over a thousand invited guests gather to attend this prestigious event at the Grosvenor House Hotel on London's Park Lane, with coverage by television and the national press, Cookham's very own Maliks Tandoori Restaurant was awarded first prize for Best Restaurant in the South East from an impressive list of 24 entrants ranging from Oxfordshire across to Kent in the east and Bucks down to Sussex in the south.
Not resting on his laurels, Malik almost grabbed first prize for the Best Newcomer Restaurant for Maliks Gerrards Cross (opened for just over a year now) only to be pipped for that honour by Aagrah's of Sheffield.
The highly prestigious British Curry Awards are competed for by entrants from the 10 regions across Britain, and last night no less than 120 restaurants stood their ground for the honours, reflecting the massive and rapid growth of the spice industry which boasts "Chicken Tikka Masala" as the nations favourite dish!
With Dead Ringers front man Jon Culshaw compering the show (which was filmed for later broadcast on BBC television), the evening took on the pomp and atmosphere of The Oscars with flashing cameras and a bustling press corp seeking to capitalise on the array of VIP's gathered in the Hotel's Great Room. MPs, Ambassadors, celebrities (most of whom were at Malik's table !) and business luminaries from across the country attended the event which began at 6.30 pm and went on till the early hours of Monday morning.
Malik and his wife Farhana played host to 30 invited guests including Sir Clive Woodward, Heston Blumenthal, Christopher Biggins, Zoe Tyler, Camilla Dallerup, Lizzie Cundy and Gerald Ratner, along with Malik's entourage of close family and friends.
Malik Ahmed is an excellent restaurateur, and apart from being dedicated to offering the very best of food and hospitality to his wide range of guests at both his restaurants, he is also a highly valued member of the community who lives in the Cookhams and contributes a significant amount of his time and funds to both the local community and its charities.
Having previously won this award in 2005 and 2006, it is only fitting that his restaurant on the High Street in Cookham has taken the prize yet again this year – whilst he has every hope of success again next year with his newish 'baby',
Maliks Gerrards Cross.
We wish him long and continued success.

Review added 28/09/2008 12:05 by Andrew
Regularly eat in, on occasions at the excellent Sunday Buffet (a great opportunity to experiment with some different dishes) and take-aways. Food is exciting with great flavours and variety.
We always find the welcome and service friendly and attentive; well done Malik!
After years of searching we have found simply the best Indian resturant in the UK

Review added 27/09/2008 22:12 by Rob
Would be zero stars if I could.
I shouldn't really have been surprised given the reviews of the attitude to people by this establishment to see the driver of their van going throught The Pound while on his mobile phone on 24th September. I don't do business with establishments if I see their staff driving and using mobile phones so I won't be going in there.

Review added 08/08/2008 12:13 by Lynda
Actually it was Maliks at Gerrards Cross that impressed us so much earlier this week.
We allowed Malik to choose for us and what a fabulous variety on offer.
Maliks in both Cookham and Gerrards Cross is certainly hard to beat. We all very much admired the decor of the Gerrards Cross restaurant. Excellent service and even met the chef!

Review added 31/07/2008 10:53 by anon
Food was good but the service was pretty bad. We didn't get a single smile from the waiters maybe because one of us dared asking for a glass of tap water :-)

Review added 31/07/2008 01:21 by James Hatch
They are going to have to go a long way to beat Mrs. Mayes meat pies, when she and Jimmy Mayes ran the place. I can savour the flavour and aroma of them right now. My time goes back to when The Cookham\'s had thirteen pubs and one Off Licence. Two well stocked grocers, three butchers shops, and two bakers who delivered.

Review added 29/07/2008 15:04 by anon
Food is good, hardly Gordon Ramsey though. Perhaps someone should realise that they are not a TV chef and wind in the ego? Cant see myself going back !

Review added 29/07/2008 11:03 by anon
We recently had a take-away from Maliks "rubbish" we had 9 different main courses and they all looked and tasted the same no effort made at all.

Review added 22/07/2008 08:45 by anon
As with many people here I have recently been on the wrong end of Mr Malik\'s tongue, when politely asking how much longer our food would be (after waiting 45 minutes).
Having been told he doesn't need customers like us and that he has enough "famous customers", I think I shall leave him to his famous customers and permanently take my business elsewhere! This is extremely annoying as the food is excellent!

Review added 10/07/2008 19:07 by Andy
I have to say most of the time the food is very good, however as others have said their service is shockingly bad at times. We used to go on a weekly basis as the food was so good, but we now refuse to go and put up with that kind of service.

Review added 02/07/2008 13:42 by anon
Having had a less than fortunate experience at Maliks i went back recently and the staff were both attentive and friendly and the food was super!
Faith restored !

Review added 12/05/2008 19:28 by anon
Food at Maliks is on the whole rather good, and i have had a number of great takeaways over the years, but the service and rudeness of the staff beggars belief. On two occasions i have witnessed an almost reverse PR job being carried out by the staff, and recently I was on the recieving end of a senior member of the team. It is the only time i have ever considered thumping a restaurant employee. If I can offer a tip, Malik, your food is great, perhaps your staff could be a tad more humble and accomodating?

Review added 17/03/2008 16:59 by anon
We had my son's Birthday meal at Malik's on Friday of last week. The food was excellent and the staff very attentive. Would highly recommend to others - a real gem.

Review added 17/03/2008 13:42 by anon
I had a horrible experience at this restaurant recently. I had been before and eaten some lovely meals and my husband and I were frequent takeaway customers. The customer service my friends and I received on our most recent visit though was disgusting. The food I cannot criticise, the service was diabolical.

Review added 12/03/2008 20:36 by jason batten
Had a very enjoyable evening on Saturday 01 March. It was our wedding anniversary. The restaurant covered forty people for our special occasion.The food was fabulous and the service was outstanding. We would highly recommend this restaurant to anyone who has a special occasion.