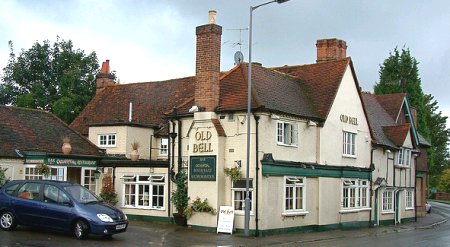 The Old Bell in Wooburn Green is a traditional family-run English country pub
The Old Bell Public House
Town Lane
Wooburn Green
Buckinghamshire
HP10 0PL
01628 523117
oldbellwooburngreen@gmail.com
The Old Bell - Wooburn Green website
1 review
Average Score:

Add your review of The Old Bell - Wooburn Green
Review added 21/09/2013 18:53 by Chris Turner
We went to the Old Bell Wooburn Green last night Friday 20th September to see Helen and Ian previously of the Walnut Tree Bourne End.
It was like walking into the Walnut Tree again. All the regular customers from the Walnut Tree in their new venue the Old Bell.
It just goes to show what a great job Helen and Ian did at the Walnut Tree that everyone has followed them to their new pub.
It's the hosts that make pubs work not the pub. Helen and Ian have earned the loyalty that I saw yesterday and I wish them the very best of luck!
The food, wine and beer was 1st class and absolutely spotless. A real pub atmosphere. It may be a taxi ride home now but well worth it.
Well done Ian, Helen and of course James for making us so welcome in my new sparkly pub.