Norden Farm - Maidenhead reviews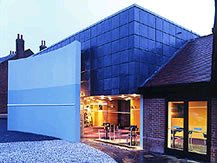 Centre for the arts
Norden Farm Centre for the Arts,
Altwood Road,
Maidenhead SL6 4PF
Telephone 01628 682555
Email: admin@nordenfarm.org
Norden Farm - Maidenhead website
2 reviews
Average Score:

Add your review of Norden Farm - Maidenhead
Review added 13/10/2019 20:45 by Theatre aficionado
Brilliant local venue that offers every kind
of entertainment possible. Seen all the big comics doing material try outs and they have all been genuinely hilarious. Films, bands talks..you name it they have it. Great for Christmas Pantos too and the food is really good and well priced. Spent a fortune there :)

Review added 08/12/2013 22:24 by Mac
We took my 3 year old son to Norden Farm yesterday to see "How to Catch a Star" as we thought he was a bit too young for conventional pantomimes. It's based on the Oliver Jeffers' book if you know his work.
The show was absolutely brilliant and my son loved every minute. As well as the three actors playing a number of parts there was also audience participation, music, puppets and more.
I should say that there were older children there from Beavers and other groups and they had a great time too.
Highly recommended!