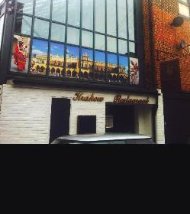 Krakow Restaurant's menu consists of traditional Polish dishes which have been slightly changed in order to give them a modern taste.
3 Nicholsons Lane,
Maidenhead
SL6 1HR
01628 290601
Krakow Restaurant - Maidenhead website
1 review
Average Score:

Add your review of Krakow Restaurant - Maidenhead
Review added 06/08/2014 17:44 by anon
This restaurant is tucked away close to the exit from Nicholsons walk near the new market, down the service road, so easily missed. Very authentic, delicious Polish food. Lunch a mere £8.90 for a soft drink, main course and starter or pudding. Open evenings too. Friendly, smiling staff. I will definitely be going back, loved every mouthful of the polish sausage, home-made pierogi and home-made cheesecake with chocolate sauce. YUMMMMMMMMMMMM!
3 Nicholsons Lane, Maidenhead SL6 1HR. 01628 290601
Opening Times Monday:closed
Tuesday:6:00 pm – 10:00 pm
Wednesday – Saturday:12:00 pm – 3:00 pm 6:00 pm – 10:00 pm
Sunday:1:00 pm – 6:00 pm