The Old Swan Uppers - The Pound, Cookham reviews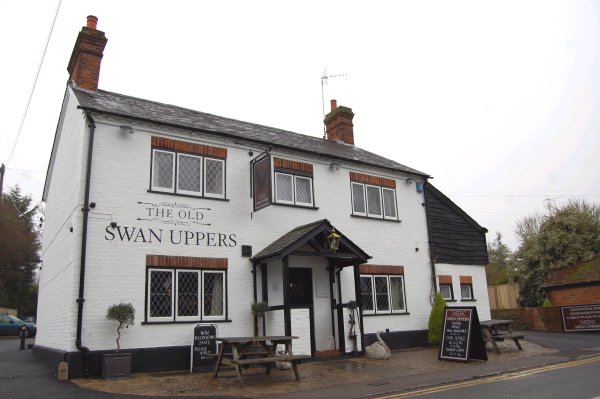 Freehouse and Restaurant.
The Old Swan Uppers,
The Pound,
Cookham,
Berks.
Tel. +44 (0)1628 523573
The Old Swan Uppers - The Pound, Cookham website
73 reviews
Average Score:

Add your review of The Old Swan Uppers - The Pound, Cookham
Review added 02/06/2019 18:17 by Jackie
Food is superb had a lovely lunch here sitting outside. Staff friendly. Would highly recommend

Review added 11/05/2019 13:13 by anon
Delicious food, great service, highly recommend.

Review added 26/05/2017 22:58 by anon
We had an amazing meal of various tapas dishes on a very hot evening. The staff were attentive and generally delightful, the atmosphere is relaxed and the prosecco was delicious!!!
Really recommend this place. It's Cookhams best kept secret and highly recommend eating there. It's not just your average pub grub. I don't know who the chef is but please don't go. Beats other local restaurants hands down.

Review added 03/04/2017 21:14 by Jenny r
Food lovely, but a number of things had been taken off the menu and I found the prices had gone up. We had a lovely meal but disappointed with menu and price change.

Review added 10/11/2016 08:50 by anon
We had a fantastic meal at lunch time on Tuesday. Nothing was too much trouble and they were fantastic with my two children (ages 2 & 3). Food was hot, fresh and very tasty. Lovely meal and people.

Review added 26/03/2016 15:01 by Jenny R
Just had another fabulous lunch at the Swan Uppers. Food is so good and service excellent we are so lucky to have this pub/restaurant in Cookham.

Review added 22/03/2016 11:41 by JWB
Every time we visit, we are reminded that Cookham folk are so fortunate to have this great, traditional little dog-friendly pub, with its welcoming atmosphere and good food. A well-run but unpretentious hostelry is a rarity nowadays.

Review added 04/12/2015 16:41 by Sarah B
I agree with the last review. The Old Swan Uppers is a real pub with excellent pub food and very friendly staff - definitely the best in Cookham. Highly recommended.

Review added 04/12/2015 16:22 by JennyR
Had lunch there today lovely meal beautifully cooked and served, can't beat this place

Review added 10/11/2015 13:26 by Marian
Our family enjoyed another lovely lunch here last week, which included a delicious mixture of tapas, all beautifully cooked and presented. The bar is friendly and cosy just as a village pub should be, and the staff are efficient and delightful. Definitely recommended!

Review added 10/05/2015 20:06 by jennyr
Went for meal Saturday evening brilliant- food great as usual.

Review added 24/03/2015 15:26 by Catherine
Dropped in the other day for lunch, which was perfect. The beef casserole was amazingly delicious!
The Old Swan Uppers is consistent in being well-run, with a great atmosphere and delightful, friendly and efficient staff. It's exactly what we need in Cookham!

Review added 26/02/2015 20:15 by Jenny R
Lunch with a friend perfect as usual, food lovely

Review added 16/12/2014 17:33 by Jenny R
Went the other day for lunch with friends and an 18month old. High chair produced with no problem and even paper and crayons for him. such a nice place to eat, food is great and staff very friendly.

Review added 13/11/2014 20:20 by Jenny R
Lunch here today fabulous as always, cannot fault the food

Review added 05/08/2014 20:19 by anon
Lovely food good service as usual

Review added 05/06/2014 10:04 by Merlin
An excellent and real pub atmosphere, where the clientele are both interesting and chatty. The tapas is delicious and the selection of beers more than adequate. Good job Katie.

Review added 03/06/2014 20:52 by Jenny R
Great food mushrooms to die for try it its great

Review added 18/03/2014 23:57 by Della
In my family's experience the Old Swan Uppers has been consistently good for food and service over the past 18 months or so since it came under new ownership.
It is an exceptional village 'local' in the traditional sense which Cookham is lucky to have: friendly ambience, fireside sofas, excellent food and drink and our dog is always welcome. What more could we want?

Review added 18/03/2014 17:39 by Jenny R
I had lunch there today with 4 friends service was lovely food as usual was perfect. I cannot fault this place and have many meals there and always no problems.

Review added 18/03/2014 17:29 by Nikki
We've eaten here regularly & have always thoroughly enjoyed our meals. However, we arrived at 20.15 last night (admittedly we hadn't booked as it was a quiet Monday night) & while we were waiting to be served heard the staff talking amongst themselves about wanting to get everyone through with their food asap. We asked for a table for two & were told they were fully booked, even though we could see the restaurant area was half (if not more) empty.There was also plenty of space to eat in the bar but we weren't even offered that option so we left & ate elsewhere. This rating is no reflection on the food but on the attitude of the staff, which left a lot to be desired.

Review added 26/02/2014 17:00 by JennyR
If you want good food which is tasty and well cooked especially the tapas this place is A1

Review added 15/01/2014 11:56 by Sandra
We had another enjoyable meal over Christmas here with friends, who were all very complimentary about the good pub food and atmosphere in our favourite village local. Well done,Swan Uppers!

Review added 07/12/2013 10:49 by 1st Maidenhead Cub Leaders
We thoroughly enjoyed our Christmas Meal here last night.
The decor had been updated since some of us were last here, and it looks fresh and clean.
Booking was taken by a welcoming voice and this continued when we arrived on a busy Friday evening.
The menus,(all 3), were all full of delights, which made difficult choices to be made!
The pate was superb with enough toast!
And Simon's Famous Christmas Meal in a Pie' was a great.
We will certainly be back for more!

Review added 22/11/2013 09:21 by Mark
I regularly have a spot of Lunch in hear and it is very good pub food. Their English style twist on the Tapas menu is very good, reasonably price and worth a visit.

Review added 07/11/2013 15:18 by Linda
We recently enjoyed yet another lovely meal at the Old Swan Uppers, although they only just managed to squeeze us in as we hadn't booked. On this occasion, we sampled one their famous home-made pies and a very enjoyable fish dish, but it was hard to choose as the whole menu looked so good.
No wonder this pub/restaurant gets so busy now. Along with the informal, welcoming atmosphere, the excellent food and friendly service now make it our favourite place to eat in the Cookham/Cookham Dean area.

Review added 02/11/2013 20:17 by JennyR
Lovely food good service lovely atmosphere enjoy !!!

Review added 28/09/2013 11:32 by Monty
Brilliant meal again last night. Service and food top class. If you haven't been you should try it.

Review added 18/09/2013 18:15 by Wycombe Lady
Fantastic fresh, delicious food. Service was great. I and friends will be going back for more. Well done

Review added 13/08/2013 21:17 by Tessa
Really delicious, varied menu which is freshly cooked, with generous portions and excellent, friendly service - we find that this pub restaurant just gets better all the time.
What's more, they serve food from 6pm, which is great for an early dinner on the way home.
Highly recommended!

Review added 08/07/2013 20:57 by Monty
Food and service brilliant. Lovely tapas

Review added 11/06/2013 09:01 by Mark
You must try the Oriental Slow Cooked Belly of Pork from the Tapas menu, first rate, you will want to go back for more.

Review added 09/06/2013 22:00 by Jenny R
Food fab, Staff and service great . Try it you will love it

Review added 30/05/2013 16:32 by Anon
We always get a friendly welcome from the landlords and great service. The good variety of food is always spot-on, well presented and generously portioned and they have a good selection of beers and wines too. Cannot fault the place at all, it is always spotless and they do a great job in there.

Review added 18/04/2013 17:16 by Jenny R
I you want a lovely meal in good company, polite and helpful staff go to the Swan Uppers, you won't be disappointed.

Review added 01/04/2013 20:35 by Monty
If you go to The Old Swn Uppers you will not be disappointed. Food and service is great.

Review added 25/03/2013 09:59 by AJay
Lunch at the weekend. We shared tapas, excellent quality and value. What a difference a few months make!

Review added 13/03/2013 16:58 by Monty
Went to Swan Uppers for lunch on Tuesday great food. I had their tapas which is great and my friend had the risotto. Food and service are great, if you haven't been it is well worth a visit.

Review added 03/03/2013 15:20 by Gazzetta
Being turned away because you are full is a bore but thankfully we booked in advance. Lusted over this pub for a while but last night I fell in love. Great food. Great hosts. Great atmosphere. Please keep this a secret otherwise I'd never get table again.

Review added 06/02/2013 17:55 by Sarah
Since it was recently taken over and re-vamped, the Old Swan Uppers gets better with every visit. The food has always been excellent and the menu is now even more interesting and varied (the steak and kidney pie is becoming legendary - will it be their signature dish?).
Lovely atmosphere, too - warm, cosy and traditional.
Definitely the best place to eat in Cookham!

Review added 23/01/2013 15:56 by monty
Went for a light lunch today at the Swan Uppers, I had tapas and my husband had a beautiful omlette. Lovely food, good service, worth a visit,

Review added 22/01/2013 15:09 by anon
What a wonderful meal we had to celebrate my husband's birthday. Imaginative choice on the menu including my sea bass in a prawn sauce. Generous portions with fresh veg. Good house white wine. Final bill was reasonable. We will be back. Only sorry there were not more people

Review added 07/01/2013 15:13 by Nick
Second visit two Swan Uppers, once in the week and once for Sunday Roast. The quality of the food is superb, Simon the owner is the Chef and the meat, fish and vegetables are of the highest quality and the roast beef cooked to perfection as was the steak when we visited mid-week. The wines on offer represent good value, so much so that the house wine is very good. Portions are extremely generous. We all shared two portions of whitebait which were given 5* by all. The back restaurant has been newly decorated and has a very homely ambience. There is no doubt we will be back for further visits. Keep up the good work!

Review added 15/12/2012 15:16 by monty
Went to The Old Swan Uppers on Friday evening. Excellent food, good service, lovely and warm pub/restuarant. Well worth a visit. You are made to feel very welcome. it was really busy with a great atmosphere.

Review added 10/12/2012 18:31 by anon
Not going to turn a review page into some kind of trolling exercise but to be quite clear about this we indicated we would prefer to stay put and were told we would have to move. I want to be clear that I am not trying to knock the new owners who are clearly trying hard but it would not be a fair review if I didnt mention these glitches. Criticism is made constructively. And we love dogs, by the way..

Review added 10/12/2012 18:16 by Annie
This pub is under new management and has been re-opened for less than a fortnight, so please give the hard-working staff a chance!
We were impressed to find a tasteful renovation in a warm, homely and traditional style, completely transformed from the tatty ambience of recent years. The menu is very good indeed and we were spoilt for choice. Nothing fancy, but just very good quality pub food which has taken this hostelry to a whole new level.
It is always difficult to bring a failed pub back to life, but this is at last being achieved at the Swan Uppers. Well done!

Review added 10/12/2012 11:55 by Muttley
A correction to the last review. I was the owner of the "large dog"(labrador!) in the bar area on Sunday. We had just arrived and had ordered a drink and not settled anywhere. The dog was on a lead. I saw the party of four in the corner of the bar and at that moment one of the staff popped over and let them know that there was a table free in the restaurant now if they wished? They decided to move. The dog was nowhere near their area and the closest they got was walking by when we were just opposite the front door. The dog was on the floor, on a lead and eating a chew and not in the way. I always give priority to customers wherever I go with the dog and in fact I actually asked a young chap who served my drink if there were areas they would prefer the dog not to be.
Small point but I think important as the innacuracy of the previous review left a negative impression. The pub is shaping up nicely, real fires, great beer, friendly people. I'm delighted its on its "uppers!"

Review added 09/12/2012 22:32 by anon
Its been given a makeover but thankfully without destroying the pub ambience. Food was pretty good for carnivores but vegetarian options limited to a rather boring pizza. Rather a long wait to be served on a Sunday afternoon since staff numbers are limited.
A couple of Fawlty Towers moments firstly when our dishes were delivered then whisked away because they were intended for another table and later on having quietly settled the bill I was asked in front of our guests about whether I had paid the tab due to the bar staff not having communicated this. Oh, and we had settled ourselves in a table in the bar area since the restaurant was full having verbally understood we would be served there only to be asked to move subsequently because a large dog at the bar would apparently make it difficult for us to be served where we were.
So perhaps a little rough round the edges but in fairness the food was very good apart from the vegetarian option and it is a pleasant and snug little place to spend a Sunday afernoon. Guest ale was very good too.

Review added 07/12/2012 17:52 by anon
Recently refurbished and looking great! Go give it a try!

Review added 17/08/2012 13:11 by anon
2 Stars based on the fact that food is heavily advertised.
As a proper drinkers pub, then 5 stars no doubt about it.
But for food, when you consider the average standard in Cookham and the fact that people here are not the average Harvester customer it's fairly lame really.
Good for a drinking session and a basket meal to save walking to one of the takeways.

Review added 25/07/2012 21:02 by monty
Food is good service good very friendly comfortable pub/restuarant to be in.Please support Merv and team and thjey do a good job xx

Review added 17/07/2012 22:07 by Mlonty
Had a good meal this evening would defintelt recommend. Good atmosphere very friendly.

Review added 14/07/2012 10:47 by Simon
Popped in to the Swan Uppers with a friend for a couple of drinks last night after work. Very clean and the new bar snacks menu is perfect. Had scampi and chips which was very reasonably priced and tasted great. I can highly recommend it.

Review added 28/01/2012 17:59 by nick from Maidenhead
Went for a quick sunday lunch before an afternoon around cookham. It was a 'proper' pub - ie not a place to eat!
Friendly service and even competent.
Roasts were ok for £8. lamb was off though; left in a hurry.

Review added 26/07/2011 21:37 by Arthiur
Excellent value, great meal and home cooked food.

Review added 09/08/2010 21:40 by anon
There's a new chef and, not having eaten there before, I can't obviously compare the food, but my steak pie was excellent. The only odd note was that when we asked about desserts we were told they didn't have any (on a Monday). Still, give it a try and let us all know what you think!.

Review added 17/05/2010 00:38 by anon
Had lunch at the Old Swan Uppers recently. Although the landlady was very friendly and it was nice to see the flowers outside, the inside needed a clean. The food was awful. I had scampi and large chips and the person with me had a beefburger. We did not even stay for coffee.

Review added 24/04/2010 18:16 by Amy
This is a lovely pub with very friendly staff, land lord and land lady. I would definitely go there again and recommend this put to anyone.

Review added 06/11/2009 11:25 by SW
Great atmosphere, very friendly landlords and staff. Really good food!
A perfect pub!

Review added 28/08/2009 20:01 by monty
My Husband and I had a good meal there about two weeks ago service was good food was hot, definitly go again.

Review added 27/08/2009 20:31 by anon
We had a lovely meal there about 2 weeks ago worth trying

Review added 28/12/2008 20:51 by Disappointed of Cookham
Oh dear, oh dear, oh dear. Had family coming to visit (their treat so wanted somewhere mid price). Arrived for our booking - and waited. And waited. An hour and a half for lunch to arrive. No bread basket offered and no communication as to why or pre warning that it may take a long time.
Please, Swan Uppers, please sort yourself out. We were so disappointed and with small children it made for a difficult dining experience.

Review added 10/12/2008 19:53 by anon
Went there a few days ago for lunch. Great meat pie, shortcrust pastry top and bottom. Not the usual stew with a puff pastry lid. Nice selection of al dente veg and lots of crispy chips. Good value meal served with a smile! I shall be going again.

Review added 02/12/2008 22:59 by anon
Went there for Sunday lunch last Sunday with my parents and we were all really impressed - the roasts were excellent. Would highly recommend!

Review added 22/11/2008 14:00 by Ali
Hope this pub/restaurant is going to make it with all the new or upgraded competition close by - nowadays the accent everywhere is definitely on food. The atmosphere is good and the landlords are certainly trying hard with this pleasantly unspoiled, traditional hostelry but, for Cookham, they might need to concentrate on encouraging the more up-market end of their clientele in order to compete.
That could mean discouraging the louder element (unfortunately too present on our last evening visit) and perhaps making the bar menu a tad more interesting and varied to keep drawing back the local regulars. (Some variety, even as daily 'specials', means they could get away with the menu being slightly shorter, which might make it easier with a small staff. For example, a few varied but simple sauces for the fishcakes would make them even tastier – i.e. creamy cheese, red pepper, creamy herb or watercress etc. – and how about some easy but really posh ice cream?).
A few of the less salubrious Cookham hostelries tried new landlords over long periods but continually failed (i.e. the Anchor/Gate, Railway Tavern - and the Crown before its recent successful and more elitist revival) and we don't want the Swan Uppers to follow the same downward path. It seems that, once a pub in Cookham is seen as less appealing than others, it appears to become more attractive to certain types for other reasons and the loyal local customers, particularly couples, gradually disappear. So take heed, Chris and Dan - please keep the overall quality of your business really high so that this doesn't happen with the Swan Uppers!

Review added 04/11/2008 22:41 by anon
Went for Sunday lunch at the Swan last Sunday. Had a lovely roast chicken dinner, with the best roast potatoes I've ever tasted!!! I shall definitely be going back for more of those!

Review added 01/10/2008 19:08 by LizzyK
Dropped in to the Swan Uppers today for a light lunch and had a fantastic Welsh Rarebit beautifully cooked. We were really made to feel welcome and will definitely go back. Such a change from the last time I went when the temporary landlord managed to make everyone feel as if they were totally unwelcome.

Review added 01/10/2008 11:37 by anon
I have had a couple of meals in the Swan Uppers recently and would definitely recommend it. The food was very good quality, big juicy homemade burgers and lovely homemade fish cakes to name but two yummy things on the menu! The new team are working hard to make their business a success and so far they're doing a stonking job!

Review added 22/09/2008 11:40 by anon
JUST TO LET U ALL KNOW THAT THE OLD SWAN UPPERS IS NOW DOING FOOD FROM TODAY! IT WILL BE BASED ON GOOD, HOMEMADE, ENGLISH FAYRE , SERVED WITH A SMILE!
TRY IT AND SEE.
CHRIS AND DAN WILL BE PLEASED TO SEE U.

Review added 17/09/2008 17:19 by anon
The pub has recently been taken over (no morel Paul and Jess thank god!) The atmosphere is lovely and friendly, back to what it used to be. When the kitchen is up and running, I shall certainly be going to try the food, and my next review will hopefully be a 5!

Review added 15/09/2008 15:02 by Claire
Great cozy pub.
New landlord has promised to update the pub and bring back the regulars.
Lovely conservatory/restaurant on the back of the pub.
Will def return!

Review added 18/07/2008 20:38 by anon
We visited the pub a couple of weeks ago one week day evening and the food was awful. It came out different to what was advertised and when we highlighted this we were met with a rude expression and there was no offer of it being changed in a hurry. It is a real shame as the food used to be great, we certainly wont be visiting again in a hurry.

Review added 16/04/2008 07:17 by Captain Lampshade
I was tempted to try the pub on the safe Knowledge that it was under new management.
I found the new Landlord and Lady (Paul and Jess)to be extremely welcoming and very friendly.
The menu was a simple yet different, with a good choice of home cooked foods, served in a great atmosphere with a great big portion of friendliness and fun.
Prices did not require checking the current bank rate with regard to food or the wine.
It is somewhere that has needed to to bring a wonderful pub back into the limelight.