Cowdery's of Cookham reviews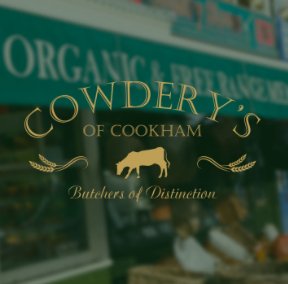 Organic Butchers used to be Maceys
Cowdery's of Cookham,
Rose Cottage,
Lower Road,
Cookham Rise,
Berkshire SL6 9EH

01628-521128
07971-448794
9 reviews
Average Score:

Add your review of Cowdery's of Cookham
Review added 15/06/2022 16:53 by Ann Clark
Been going here for years, and never been disappointed. He is more expensive than some but then you only get what you pay for and that is quality.
Love the choice of bbq meats great size meat on kebabs.
Only thing I find is the queuing drives me mad and I feel when it's my turn I have to rush.need more staff at busy times to get queuing down quicker

Review added 31/07/2020 10:33 by Meghan
Great food but the staff member was very rude and blunt. Makes me apprehensive to return.

Review added 17/03/2017 12:07 by Jed
Been going there regularly for a couple of years now. Great meats - great service and not at a "blow-a-hole-in-your-wallet" price either ! Thoroughly recommended

Review added 21/06/2016 14:04 by Mrs JD
Excellent family butcher, lovely meat and good service!

Review added 23/03/2015 16:51 by anon
Top, Top Butcher with a lot of organic meats too. Have been going there regularly now for a few months and the range & quality of the meats are simply great for the family. Thoroughly recommended & take the kids along as there's several heated tureens outside the shop filled with several varieties of sausages to tempt you !

Review added 16/03/2015 17:52 by Liam
Sorry! I put only one star by accident on my review below. Trust me, this place deserves the full 5!

Review added 15/01/2015 10:23 by Liam
Jed at Maceys..... just an extraordinary butcher. Meat of the highest quality, nothing too much trouble, service with a smile, free sausages on Sat and Sun morning....just over the railway crossing about 45 secs from where Roy Giggs was....truly outstanding products and service.

Review added 14/01/2015 21:59 by Jennyr
The meat and seasonings are so good and if you are gluten problem their marinades are really good xx

Review added 14/01/2015 18:32 by John
Ever since Roy Giggs closed, we have been hunting for a good butchers in the area. Used a couple of others but none ideal.
However, last week we tried this place in Bourne End on The Parade. What a throwback to days of yesteryear! No fancy tills, displays and cash only but...meat to die for. Fabulous Sirloin of beef and superb hand made sausages.
Highly recommended!