E Colliass - Bourne End reviews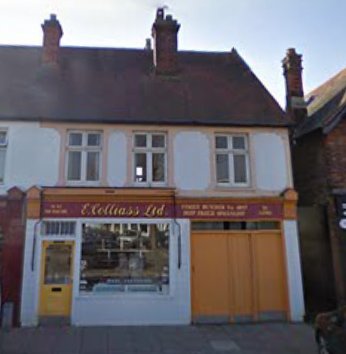 Butchers
E Colliass Ltd.
41 The Parade,
Bourne End SL8 5SB,
United Kingdom.
E Colliass - Bourne End website
4 reviews
Average Score:

Add your review of E Colliass - Bourne End
Review added 12/06/2015 21:06 by Janet
Genuine butcher (my Mum always said you could tell a good butcher by his mince: they pass with flying colours)
Always obliging
Meat excellent
We're lucky to have them
All customers, large orders or small, treated courteously.

Review added 23/03/2015 11:12 by foodie
I have been using this butcher in Bourne End for over 10 years. The meat is excellent, service old fashioned and they only take cash - but it is well worth it. Prices are very reasonable. Great to still have a butcher shop around. So much more choice than a supermarket. You can phone them and reserve a large joint or ask if they can get something special in for you.

Review added 25/01/2015 16:56 by EVC
Always really excellent delicious meat from Mr Kempster at EH Colllias. Been shopping there for over 40 years.
I do wish they would be less low key and tell everyone what they have on offer - such as meat direct from selected farms and Smithfield.

Review added 16/01/2015 12:41 by John
Ever since Roy Giggs closed, we have been hunting for a good butchers in the area. Used a couple of others but none ideal.
However, last week we tried this place in Bourne End on The Parade. What a throwback to days of yesteryear! No fancy tills, displays and cash only but...meat to die for. Fabulous Sirloin of beef and superb hand made sausages.
Highly recommended!