Bel and the Dragon - Cookham Village reviews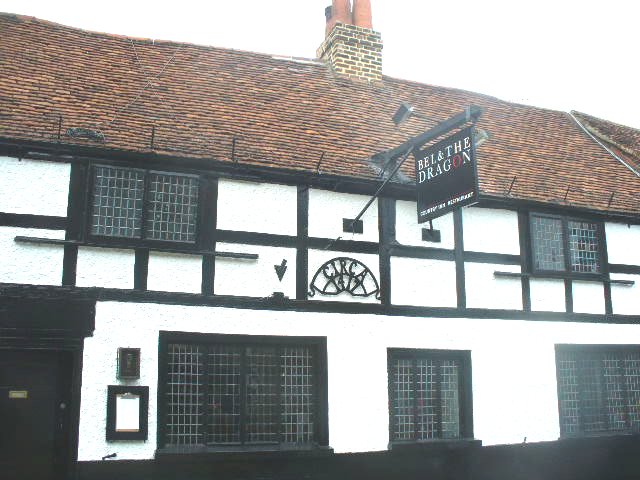 High Street
Cookham, Berkshire
SL6 9SQ

Telephone: 01628 521263
Fax: 01628 851008
Bel and the Dragon - Cookham Village website
67 reviews
Average Score:

Add your review of Bel and the Dragon - Cookham Village
Review added 16/01/2016 08:33 by anon
I agree with the previous reviewer. We like Bel and the Dragon and the food is always good, but I do think they've lost the plot a bit on their pricing. Their steak and chips is just about the most expensive I've had anywhere, including central London.

Review added 15/01/2016 18:11 by anon
I had lunch with a friend from London here today. I hadn't been for some time and had heard it was currently to good hands. We chose the fish of the day - cod on beer batter with the old thrice cooked ( because once is never enough!), hand -cut chips and the tiniest pot is crushed peas; tap water drink and two coffees to finish. The bill came to £41.63 which I thought was a bit steep - though I suspect most people in Cookham wouldn't blink an eye). The service was great, shame about the food. It was nice but nothing to write home about. We came away disappointed. Won't be going back anytime soon.

Review added 12/11/2015 14:47 by anon
Excellent food and service

Review added 12/10/2015 08:22 by AJay
Excellent meal on Saturday eve. Just wish the menu would change more frequently, I reckon I've done the card at least once! Why not put on some weekly/monthly specials?

Review added 16/03/2015 10:46 by Kate
We ate here as a family on Mother's Day. We ordered Whitebait and asked for mayonnaise - three times! We kept being given horseradish. This really ruined the starter. However overall the lunch was good and despite the mix up the service seems a little better than before, yes really!

Review added 19/03/2014 22:34 by Stu
Always excellent food, great staff who are always accommodating, friendly and fun. This is a great place for lunch, dinner or a quick drink. Cookham resident and really can't fault the Bel

Review added 11/06/2013 14:11 by Miss Brixton
I have always had amazing memorable meals at the Bel so when I heard they had added rooms I jumped at the chance to try them out. My friend and I were lucky enough to get a table and room for Saturday night. The staff created a lovely warm atmosphere and despite obviously being really busy still found time to make us feel welcome and looked after.
The food was, as ever, beyond expectation. A 40minute train ride from London gives you quite a bit of time to dream of dinner! Full and happy we were glad bed was only a few steps away...
We went up the stairs to our room. It had lots of cute details like the books above the bed and pretty pillows. The bed was unbelievably comfortable. Whoever designed it all is genius. We especially appreciated the bottle of sloe gin that every room gets! After a soothing shower laying back in our nest of pillows with a glass of that was undoubtedly the perfect way to end dinner.

Review added 25/03/2013 18:45 by Kate
Attended a friend's milestone birthday celebration last Saturday, with exclusive use of the small dining room. The food was fantastic, the service was just exemplary. Chef - chapeau - you run a really great team and you all deserve the highest compliment. As one of the final 'die-hards', at no point did we feel under pressure to leave, the staff were happy to accommodate us while we waited for the taxi (having quite rightly reminded us politely of the UK licensing laws!). Just a truly wonderful evening; I recommend highly.

Review added 03/11/2012 17:02 by Suzie
Best roast dinner in Cookham, you can't fault this place. The food is fantastic, service is friendly and everyone is welcome (unlike the Crown).
Great place to pop into after a walk with dog and have a drink beside the roaring fire :-)

Review added 22/07/2012 13:47 by Rio
The Bel and Dragon is great, staff are very welcoming and friendly and the food is great, the fillet steak is brilliant. Atmosphere is nice and relaxed. Well done guys.

Review added 15/06/2012 13:57 by anon
Since the reopening I'm a big fan, Great atmosphere and decor. Wonderful food - Highly Recommend!

Review added 29/05/2012 17:07 by anon
Food excellent at lunch time, service very good. BUT portions too small and even if they had not been, would still have been overpriced.

Review added 30/01/2012 21:13 by anon
When I booked our table for Sunday lunch the person on the phone made a point of saying that the staff party was at 4 so service would be over by then which I didn't see as a problem as our table was booked for 1.30. With this in mind we arrived promptly ordered our food. The food arrived at 3pm we had a 11/2 hr wait and the food was pretty average. The waitress was very polite and was obviously under pressure as people all around us were having the same problem, luckily we did not have young children with us as some did. They took the drinks off the bill as a good will gesture but won't be going back. Hope they had a good staff party.

Review added 13/01/2012 15:06 by anon
I have been visiting the Bel & Dragon in Cookham for many years and have seen it through many changes of management and ownership. Last year was a turning point - it's back on track. The food is always good and the service friendly and reliable. Whether its for a quick drink or for a meal with friends, we are always made to feel very welcome. The garden in the summer is a lovely and relaxing spot and in the winter the real fires around the bar and restaurant are calming and comforting.

Review added 15/12/2011 13:23 by anon
Having dined here regularly for the last 10 years I was somewhat let down last summer by the apathetic approach to customer service and quality of the food. That has now all changed!
The new menu is superb, I have been here twice in the last 7 weeks.
The service was first class, and the food just amazing. Saddle of Lamb was sublime, could not recommend the House Red but the Merlot was lovely.
Thank you Rupert and team

Review added 12/12/2011 09:30 by David Edmondson
We used to be very regular patrons but stopped going about 3 years ago when the prices rocketed and quality went through the floor. We went for Sunday lunch, our first time back. The prices are pretty steep. The roast beef main is £16. We were a family of 5 and the total price including service was £140, we had no starters, two desserts, a bottle of chenin blanc (£24), a pint and 4 cokes. On the other hand the quality of the food was exceptional, we unanimously agreed it was the best Sunday lunch we have ever had and it really was. Service was good and friendly and the bar and restaurant is really pretty. We will definitely go back but not as often as we would like simply because of the price. My advice to management would be to get at least a few decent wines in the £16 to £20 range and get the standard roast prices around the £13.75 mark.

Review added 08/12/2011 12:59 by New to the area
Wine is so overpriced it makes your eyes water.

Review added 27/09/2011 16:51 by Julia
The Bel & the Dragon is excellent. It echoes its quality back in the good old days of silver service (when owned by the Stubers) but hits just the right note for today.
My family very much enjoyed lunch there yesterday. Our waitress was impressive - efficient, helpful and friendly, without fault.
The menu is excellent and varied. Prices are about right and what one would anticipate paying for the quality of food. (I would point out to an earlier reviewer that side dishes are only £3 each, which is fair, and the chips in particular are excellent!).
Fortunately, the old part of the pub retains its charm, the garden is excellent and we are always proud to take guests to our favourite, typically English 'local'.

Review added 26/09/2011 22:04 by grumpyoldgit
We have been eating out in Cookham and the Thames Valley for 40 years - including in the 70's when it was owned by a Swiss family whose name escapes me. Back then, it was considered the best restaurant in Cookham by a considerable margin; although today it has some serious competition, our experience would suggest that in its latest incarnation, it's still up there with the very best.
The food, wine and service were all excellent; and the price, for a meal of this quality, very reasonable. Yes, you can eat more cheaply elsewhere in the village, but for the market sector the Bel is aiming at, I'd say they've got it about right. I will admit that by going for an early supper we didn't really test the service as others have done - but we will definitely be back for more.

Review added 25/09/2011 21:13 by anon
Having read the advert in 'families' magazine boasting the family/child freindly environment, we were encouraged to book a sunday lunch (children are certainly not made v.welcome!). 9 of us attended to not be welcomed atall enthusiasticaly and faced with a sunday lunch menu of £17 a head excl veg!!! yes the beef was good but this is not the ritz and for half the price a few hundred yards away we could have had better - we all agreed that the size of the maincourse was equivalent to a large starter! compained to the waitress and asked for the manager but he was 'unavailable'! love good food and will pay for it but this was a shear dissapointment. as a local i would love this to succeed but more than london prices for an average service will not. lower prices, better the service and less arrogance!.... on the positive, fantastic refurb!...

Review added 20/09/2011 18:36 by lizzyk
I had lunch at the Bel and the Dragon today and was really disappointed. I had been there when they first opened and really enjoyed it. Three of us had mussels which were overcooked and so were somewhat 'shredded'. No finger bowls were given until we asked for them. The waiters were very friendly, but did not seem to be well trained. One person asked for water and a glass of wine and had to ask a second time. I noticed they did not write down our order which must be quite confusing in the kitchen. The menu is also very confusing and even after having it explained I still don't understand the reasoning behind it. I noticed we were given a table in the middle of the room while all the other diners went to the side. After a while I realised why, the chairs are very hard and not designed to sit on for any period of time, the side ones are much comfier. In fact we were the only ones in the middle on the uncomfortable chairs for the whole of lunch time. To sum up they could improve just little things and be much better. I am afraid I won't be rushing back there though.

Review added 18/08/2011 11:29 by anon
Had I not being highly recommended to go to the Bel and Dragon I doubt I would have ever boarded the train to Cookham. What a pity that would have been!
My friend and I were welcomed into the Bel and Dragon by the friendly staff and well stocked bar. Any place that uses Fevertree tonic as standard instantly wins me over.
We shared starters of pink peppercorn squid and crispy whitebait. Both dishes were delicious; light batter enclosing perfecty cooked fish.
This was all just warm up for our main course. A spectacular roast rib of Herefordshire beef was brought to us. A complete show stopper that didn't disappoint in taste in any
sense. The house red was an excellent recommendation to completement our meal.
The front of house team had the perfect balance of attentiveness without being overbaring.
Somehow we still had room for dessert. The lemon tart came with a caramelised top that cracked satisfyingly when tapped with a spoon. Under was fresh citrus filling and excellent pastry. The hot chocolate fondant oozed beautifully mixing it's melting chocolate heart into the cool creamy ice cream.
I have not enjoyed a meal more in a long time.
Thank you very much to everyone who made our meal so special.

Review added 17/07/2011 21:08 by EAG
Ate at the Bel and the Dragon on Friday night; delicious food, attentive but unobtrusive service and great atmosphere. Thoroughly recommend.

Review added 08/06/2011 10:06 by anon
Wanted to check the place out after the refurbishment.
The food was nice, decent wine list too, however I just don't understand why they made the interior so modern when the building is so old?

Review added 07/06/2011 07:31 by mm
Tried new Bel and the Dragon and found the menu easy to navigate, both wine and food choices! Food was not cheap but was good quality and well presented.
Staff were friendly and knowledgeable. We will be going back, if you want cheap food and huge quantities, go to a Cafe. If you want Good food of a good standard, I'd recommend it.

Review added 06/06/2011 19:48 by anon
To much money for too little quality of food
Confusing Menu and wine options
Poor quantities of food. 4 slices of french bread between 4 people as a starter !
Not enough choice.
Positive: Friendly Service, Nice Decor

Review added 28/05/2011 07:58 by Kathy
It's great to see the old place busy again on a Friday. We enjoyed some after work drinks and will be returning for dinner at a later stage. The menu looked lovely, but a bit pricey, definitely a special occasion place.

Review added 22/05/2011 22:03 by Andy
Visited twice following the refurbishment. The dining room has had a majot overhaul and is great. The bar has had a spruce up, but still feels like a pub, so suits popping in just for a drink if you are not eating...
Food was very well prepared and well presented.
Service is a little inconsistent, but improved on the second visit, so I have no doubt that this will come up to scratch.
2 things I didn't like. The main courses don't come with veg, so unless you are on the Atkins diet, you have no choice but to pay an extra £3 per head. This does push the price up a little and the prices are really priced at a level where you should not need to have to order sides.
Secondly, 10% optional service charge is put onto your bill. Yes it's optional, but it is awkward to ask for it to be removed if the service is not upto scratch... So better to have the choice. Also White Oak and Chequers Brasserie don't do it...
Overall enjoyed both visits. It will get better and provided they get the pricing right to offer a little better value this will be very successful restaurant in Cookha, and welcome addition.

Review added 20/05/2011 17:01 by anon
Love the new decor . Food looks good too. Good luck to them

Review added 20/05/2011 02:50 by anon
Well, new, yes but better? Better than what?
Expensive, silly glasses for wine, nice room,
Hard chairs, service needs a lot of work.
Food, good but nothing out of this world, would just love this place
To get it right but, no not yet .

Review added 17/05/2011 14:26 by Mary-Lou and Richard
The Bel and Dragon has just re-opened after a major refurbishment. The decor is modern - a conversation piece is the milk bottle holding lovely white Alliums! Food is very fresh and nicely presented with good coffee at the end. Prices are value for money. The staff are attentive and friendly. There is a large garden for outdoor dining. It is well worth a visit.

Review added 01/05/2011 16:00 by John
When is the Bel re-opening? My dog and I are awaiting our usual bowl of water and pint of beer, followed by the rest of the family arriving for lunch in the bar or garden.
Weekends just haven't been the same lately.
From Cookham Webmaster:
John, if you wish to have a discussion can you use the discussion board, this is just for reviews. Thanks.

Review added 25/04/2011 15:33 by anon
Is the Bel having a refurbishment finally? It is very much needed. Ate there a while ago and found nice food, however it was expensive and the service was quite slow.

Review added 04/02/2011 22:48 by aj
Tonight my partner and I decided to revisit Bel. We realised, as we sat down, that it must have been nearly two years since we last dined there - and, since that time, the owners of the establishment have had some challenging times, by the sound of things.
At any event, we needn't have worried. The staff were friendly, yet also professional, and the food ( I had sausages and mash followed by apple and cinnamon crumble, and my partner had mushroom risotto and a cheeseboard) was attractively presented, and tasted as good as it looked.
I am puzzled by the comments that there have been changes to the decor. As far as I can see, everything is just as it was when we last visited, except - regrettably - that it isn't quite as busy as it used to be on a Friday night.
Even the warm bread with roasted garlic and potato dish of the day have been retained from the old days - it felt truly nostalgic returning to a place where we had enjoyed so many lovely evenings.
At any event, we both felt that the food and service were entirely up to the standard that we'd enjoyed previously, and we will most certainly be returning in the very near future.

Review added 03/12/2010 20:19 by William17
I have known this pub for over thirty years. In the beginning were leather studded chairs, log fires, carpets, a zinc topped bar and home made crisps. And that was before the wonderful food and amazing wine list!
I have no issues with the food side, but to destroy such a comfortable interior was sheer vandalism and is explanation enough for the pub to loose its three star rating in the good pub guide of the time.

Review added 28/11/2010 22:04 by anon
We would agree re the roasties - we hadn't been in for 15 months but had a great Sunday lunch for 7 there today - friendly staff and good quality food - not least crispy roasties but also very good lamb shanks - we will definitely be going back

Review added 28/11/2010 21:50 by anon
mmm, yummy roasties on a sunday!

Review added 06/10/2010 00:41 by anon
food was very poor but the waiter who saw to us was very polite and funny but still was not a perfect night. overpriced is what comes to mind.
hope this improves.

Review added 09/09/2010 17:17 by Pip
Now that the B & D has been sold, let's hope it will be returned to the real, traditional local village pub and restaurant that it always was until fairly recently. With no car park of its own and street parking difficult, the landlords have to rely considerably on local trade, of which there has always been a great deal until the pub became so run down.
As a regular for more years than I can remember, my favourite time has always been each weekend lunchtime when many customers, like our family, arrive for lunch with their dog after a morning walk - the atmosphere in the bar at such times has always been terrific when the fire is roaring in the grate and the menu inviting. And eating outside on summer days is delighful. We used to have many large, family gatherings in the main restaurant, too, until the quality of food and service became just to bad to tolerate.
Let's hope that Mr Cadbury and co. aren't going to ruin the pub by any modernisation in decor or ideas, or introduce too many towny-style changes, such as those made in other pubs not so far away. The country style bar with its ancient rugs and old pine tables and chairs is just the way everyone - young and old - has always seemed to like it, and suits the ancient building, which has been a village hostelry since the year dot.
All that has ever been required by customers is that the B & D is run properly and welcomingly and serves good food and drinks in a warm ambience. It so often used to be packed and buzzing, but was only the increasing lack of these simple requirements which eventually turned so many regular customers away.
Let's hope that Mr Cadbury will listen to the locals and return us to the old, high standards of the B & D that Cookhamites know and love.

Review added 28/07/2010 13:50 by anon
Recently, my partner and I ate at the B&D, for the first time in years. We thought we would give it a go despite other reviews of the place.
We had a lovely waitress who seemed slightly nervous, but was friendly and polite all the same and she sat us at a nice table where it was fairly private. After looking at the menu, I thought some of the meals were slightly pricey, however there was a great selection to choose from. We had both opted for roast dinners and we were told the meat was free range when we asked (excellent) and we found that our meals were delicious and very filling!
We recommend the Bel for a lovely Sunday roast and we will definitely return soon!

Review added 04/07/2010 01:58 by Jon
I last visited Bel and The Dragon Cookham about 2 years ago and am quite frankly, horrified as to what this once thriving business has become.
On my most recent visit I was greeted by sullen staff who quite clearly didnt want to be there and couldnt care less about the level of service that their customers recieved.
It took far too long for staff to anticipate our needs and at every stage of the evening I was having to call over and prompt staff to serve us. A customer should not have to prompt staff and I found this to be an incredible lack of professionalism.
The food has dropped well below par and I was left embarrasssed that I had recommended this restaurant to my guests. This was once a fresh food restaurant but from what we recieved it is now most definately not.
There was a complete lack of management supervision and I have now been left with a severe case of regret at having made a booking.
From what I have read here Im clearly not the only one to have been incredebly let down by this once fantastic restaurant.
Massive shame.

Review added 26/06/2010 18:30 by anon
June 2010: We visited the B&D for the first time since Jan 2010. We shall not be returning. We requested to be seated outside, but unfortunately all the set tables came with inches of leaves and pigeon feathers below them (in June!), together with stained table cloths. The varnish on the unset tables was peeling terribly, and at that point we suspected things had changed!
Upon ordering pre-dinner drinks, the waitress suggested we have Proseco rather than Champagne - first ever experience of being encouraged to trade-down! (in retrospect I suspect they were not able to fund opening a bottle of Poo for two glasses, given lower footfall). Mine arrived in a chipped glass which was replaced upon asking.
We then spotted each of our menus had different prices - thankfully they informed us that the cheaper menu was the latest. The starters were okay, but not perhaps as fresh tasting as before. The filet steak had a very strong taste and therefore not the most enjoyable I've had. The dessert menu screamed 'bought in', and the banoffe pie we ordered was disguting to look at, never mind taste. The bananas were black (looked like fried mushrooms) and the toffee non-existent; the waitress was happy to return it to the kitchen and deduct from the bill. We got the impression the staff were used to refunds...
The final nail was when we requested coffee and were told only instant was available!
The young staff were pleasant, but did not have the verve or smartness of those we encountered historically.
The really sad aspect of this experience, is that Cookham is a wealthy area, and residents will pay for quality. The experience was such a contrast to January, I was driven to do some quick on-line research, and it transpires the original holding company went into administration in 2009. The current management appear to know the price of everything and the value of nothing. It's a crying shame, and I give it 4 months before it's a low-grade boozer or boarded-up.

Review added 06/06/2010 22:09 by Maria
We have just been to B&D on a Sunday evening for dinner. Having been to the one in Windsor and the one in Cookham before we were expecting a certain standard. It was disgusting! They advertised crusty bread and served stale white bog standard loaf and when I asked for what I ordered they brought me a brown loaf which had been cut off at the ends into chunks!! Fishcakes were reheated, cold and stale. Main course didn't fair much better and when the burger was dry, not cooked fresh and the bun was hard enough to break your teeth on we decided to complain. Both main courses were sent back and they said that they were going to start from scratch with them. We decided that we didn't want to risk it and asked to pay for the drinks and food we had already eaten. The young lad on duty was very nice but he said that the food had been cooked fresh which was an obvious lie. He said that the food was prepared fresh that morning but that they'd had a busy day. They gave us a refund on all food but we left extremely disappointed. Won't ever be going back!! Appalling. No stars if possible.

Review added 25/05/2010 23:27 by Ms W
We were extremely disappointed with the lack of service and poor food on our recent trip. After a long walk in the Village we took our hungry, young son out for a lunchtime treat but our overwhelming anticlimax left more than a bad taste.....
The 'children's menu' was overpriced, lacking imagination, colour and flavour. Under normal circumstances we would have gone elsewhere, but having waited so long for service we were just grateful to see a menu.
Our food arrived after a long wait and whilst the adult portions looked reasonable, his £6.95 course consisted of a burnt piece of fish, and 6 chips!!! Yes, 6! I asked the waiter if the food came with any vegetable or salad and was told that I should have ordered a 'side dish' when ordering! I also questioned the price in relation to the quality and was told 'that's just the price, nothing I can do!'
My husband and I had bog-standard pub-grub, served luke warm at an extortionate price. The service had been appalling and when receiving our bill the waiter 'asked', I repeat 'asked' if we'd like to leave a tip!!!
We will not be returning.

Review added 25/05/2010 09:56 by claire
we decided not to eat here after the appalling attitude of the man who was behind the bar. thats all i have to say.

Review added 17/05/2010 14:23 by susan
Our recent visit was less than inspiring. Quite apart from the poor service, the crispy duck spring roll had obviously been previously cooked and just reheated, not a good start. Two of our party had the red snapper fish with crab risotto, the fish was dry and baked around the edges and the crab risotto was absolutely tasteless. Dessert fared no better as apart from a smear of banana it lacked any resemblance to banoffee pie at all. However the steak pie was good so maybe we just made bad choices? Not a place we shall return visit to, overpriced and very poor quality.

Review added 04/04/2010 19:22 by anon
Went today for Sunday lunch after a great stroll to get our appetite going, were greeted by a girl with a friendly face who remembered us from when we booked 2wks before which was lovely. The roast beef was cooked perfectly as was the rest of our food. We have not been here in some time the place had gone downhill over the last few years but went in because we heard about a change of management and wanted to have a nosey if were honest! Best its been for a long long long time, hope they keep it up because we will be back soon

Review added 17/03/2010 15:01 by anon
This was such a nice and friendly place before the new management got their hands on it!! THANKS!!
Customer Service = ZERO!
Won't be returning! What a shame!

Review added 15/03/2010 15:08 by Roger
I disagree reason being that first of all Jim elona never pretend to run the place. She did so mainly as the management was never there or left. Secondly yes she is very chatty and happy and also talks blow with people now if that is in your opinion wrong well jim go to monastry and sip in peace your drink. Good luck

Review added 08/03/2010 20:53 by jim
I couldn't agree less with the last comment from old local, the girl elona I think never ran the place she just pretended she did apparently! And I feel I can go in for a quiet pint without being bombarded with questions from her at last too!
Having spoken to the new people (a family, all very friendly and welcoming too) I am finally starting to think the old ways of the bel will be back after it closes. They seem to want to restore it to a good welcoming place and they have promised the beer will get better too, so Im definitely looking forward to the next few months and its revival...

Review added 07/03/2010 17:54 by old local
I would not even give it a rating if not compulsory.The pub is run down since the new management arrived. What happened to the nice polish girl who used to run the place? they got rid of her! It's unheard of!!! She was the real spirit there, running the place, talking with (rather than to) the customers, she was interesting... PS I do not recommend the Bel

Review added 28/02/2010 16:58 by Steve
How sad to see what's become of a once lovely restaurant. Ate there last night for the first time in about 18 months but was very disappointed and certainly won't be returning. Service very poor indeed from what appeared to be an inexperienced European student trying to do the very least possible to fill her time. Menu choices are now very limited and unimaginative, think Berni Inn meets Harvester and you'll get the picture. Fillet steak was nicely cooked but the "Jus" was appalling, tasting of raw OXO cubes. The overall presentation again straight out of a seventies Berni, one shrivelled (and very small) mushroom, half a shrivelled tomato, a bunch of sad looking salad leaves and some admittedly very good chips. Atmosphere in the restaurant non existent at 8pm on a Saturday evening!. This used to be a warm friendly characterful place, sadly its now cold, unwelcoming, shabby and overpriced. The staff and management clearly don't care and it shows. At these prices Bel and Dragon you really should be aiming (and delivering) higher.
As a post script, we popped over the road for a drink in the King's Arms when we left. What a contrast. A warm friendly welcome from lovely staff. The place was buzzing with weekend diners and drinkers, a complete contrast to the unsatisfactory couple of hours we'd just spent in the B&D

Review added 17/02/2010 19:03 by Cookham residents
Few weeks ago my husband and Ihad a lovely meal at the Bel. We were greeted and served by a very nice girl (Illona) and she made our evening. Our food was superb. The steak and fish and chips we had was one of the best. Our host had good knowledge of the history of the place and the menu itself. We'll recomend to pop in and experience what we did. Service is excellent!

Review added 13/02/2010 01:02 by Peter
Agree with previous. Always bubbly and chatty young woman behind the bar is a wonderful change to the place and the rest of the staff. And someone knows how to keep the fires going too. More like her and we all come for more drinks!

Review added 08/02/2010 00:14 by Rob
A lovely happy welcome from the girl behind the bar when we popped in for a quick drink.

Review added 22/01/2010 15:49 by anon
Agree with other reviews that this is a sad decline.
Expensive, poor service, no atmosphere and last time ate there it was so cold I had to keep my coat on.

Review added 01/06/2009 16:15 by Rick
A group of us had lunch at the Bel a couple of days ago. Excellent, good quality food and efficient and friendly service indeed at a well-shaded table in the charming, sunny garden.
This area has been very thoughtfully designed and must be the best pub garden restaurant area for many miles.
Definitely no complaints whatsover. We will be back again very soon.

Review added 17/05/2009 18:17 by anon
Went there for lunch today having booked a table it took some time before anyone came to meet us. The beef was overdone and very salty veg overcooked not very good at all.
But give them there due I did not really complain just mentioned what the food was like and they deducted a small amount from the bill

Review added 12/05/2009 13:10 by Suzy
It was good to see how busy the B & the D was over the bank holiday weekend - full of life and buzzing with people (and dogs) as it always used to be. Let's hope that this support for Cookham's favourite pub continues.
We had a lovely family meal and will be back again very soon. To us, it beats all the others for food, cheerful decor and atmosphere and it has a real sense of Cookham's history, too.

Review added 20/02/2009 17:14 by Cookham Resident
As a local resident who has been a patron of Bel for some 20 years, I am horrified by the drop in standards.
Food is OK, but increasingly over priced (2 years ago was good and well priced)
Wine list is "random" and vastly overpriced (compare with the White Oak or the King's Arms).
Beer selection at the bar has been robbed of one of the best real ales and limited to "Eurofizz" lagers.
If they employ staff to greet you in the bar or restaurant reception, it would be good to meet them on entering.
Sad decline of "best in class".

Review added 16/01/2009 15:39 by Sally
The Bel & the Dragon always seems the very essence of both old and modern Cookham. We go there for special family meals and take any of our visitors to Cookham there, who always love it.
As well as being a very good restaurant with delicious food and excellent service, it is warm, bright and cheerful. In fact, it really is the epitome of a country village pub with log fires where walkers like us, often wearing (clean) wellies, are always made welcome for a weekend bar lunch while our dog (who has usually been offered a bowl of water)snoozes under the table.

Review added 16/01/2009 00:43 by anon
walked into the bel, waited at the bar for 15 minutes no lie for someone to come and take our order... walked out again, also it smelt like wet dog.

Review added 02/01/2009 10:09 by cat
We booked to go to Bel and the Dragon on Christmas Eve. The day is very special to me for a number of reasons so it is very important that the restaurant chosen for that date is also special.
Bel's did not let us down. Smiling, friendly staff immediately attentive and welcoming. Although just the two of us, we were given a lovely table large enough for four people. The food as usual was excellent, we almost always have the bread selection and roasted garlic for starters. Wonderful to talk and linger over the first glass of wine whilst eating this very tasty dish.
We left, replete and happy with the staff's best wishes for a lovely Christmas warming us on our way home.
What better way to begin the Christmas in beautiful Cookham.

Review added 18/09/2008 11:35 by anon
I went to Bel and the Dragon recently for my birthday. I love the dining room there and the staff are really friendly. I had mussels for starter which were excellent. Unfortunately we then had to wait over 50 minutes for our main course which was far too long. I had fillet steak which was lovely, but the flat mushroom it came on tasted like bleach! |t was horrible. That's why I've only given them 4 stars.

Review added 27/07/2008 09:44 by Jo
The previous reviewer suggested having lunch in the Bel's garden once 'the weather has improved'. Well, yesterday was probably one of the most glorious days that we've had in Cookham for quite some time and as it was my birthday my partner and I decided to have lunch in the garden at Bel's. We are firm fans of the Bel and Dragon anyway as we eat there on lots of occasions but this was the first time this year that we have tried their garden. The setting there now is really to award winning standard. An overall impression of comfort and relaxation is provided through the clever use of wood and stone plus the recent addition of a relaxing seating area that resembles an outdoor classy coffee lounge. Big, comfortable sofas and chairs and a pretty water feature all combine to provide an atmosphere of continental elegance and relaxation.
And, of course, the staff and the food were to their usual superlative standard. The food is always wonderful anyway, each time that we visit, fresh, with lots of choice and always cooked to an excellent standard. But for us it is the staff who 'round off the experience'. Smiling, welcoming, efficient and hard working. They are all little stars in our opinion. Well done the Bel for making my birthday a lovely experience and thank you.

Review added 26/05/2008 17:59 by Andrew
My partner and I often end up in Bel's on a Friday night. Even without having booked a table the staff always manage to find us a table. Often they seat us at a table large enough for 4, and on one occasion they seated us at a table large enough to seat 6 people. This is quite unusual as often restaurants will attempt to seat a couple at their smallest table so that the meal is spent feeling cramped and not very well valued as a customer. We are always made to feel welcome when we arrive, we are greeted with a big smile of recognition, my partner's drinks are almost immediately available as they know her preferences well by now. The food is top notch, plenty of variety, beautifully cooked, efficient but friendly service and the pub itself is a delight. When the weather improves, try having lunch in their garden - you won't regret it.

Review added 09/05/2008 15:14 by Nick
My wife and I were both lucky enough to have finished work early last week so popped into B & the D.
I had one of the freshest, best cooked pieces of Cod i've ever had. My wife's Monkfish was great, and the sticky toffee pudding was better than Heston manages at the Hind's Head in Bray.
Excellent value too.