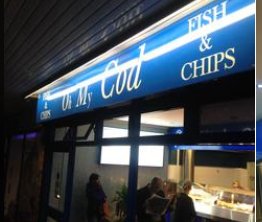 Seafood Restaurant
Oh My Cod
39-41 Wootton Way,
Maidenhead,
SL6 4QZ, United Kingdom
01628 637772
Oh My Cod - Maidenhead website
2 reviews
Average Score:

Add your review of Oh My Cod - Maidenhead
Review added 20/02/2017 16:11 by Colin
Called in for fish and chips on way to Norden farm. Nearly missed start of film! Service slow but everything cooked to order and delicious.

Review added 22/11/2015 20:05 by John
The original Oh My Cod in Maidenhead used to be the best chippy in the area. I guess times change. Two visits within the last month and very slow service, verging on the ridiculous. Friendly staff but just so slow.Nearly 15 minutes last week for a simple order. All the staff playing with their phones at one point whilst I waited...
Final downer was the rubbery batter on the sausage that had clearly been hanging around way too long.
It will be some time before I go back.