The Jolly Farmer - Cookham Dean reviews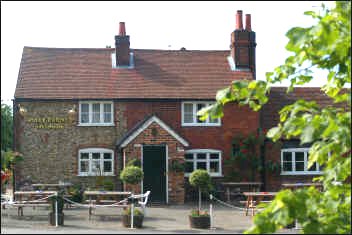 Church Road,
Cookham Dean,
Maidenhead,
Berkshire SL6 9PD
01628 482905
The Jolly Farmer - Cookham Dean website
108 reviews
Average Score:

Add your review of The Jolly Farmer - Cookham Dean
Review added 25/01/2020 17:13 by Mary
Popped in for lunch today. Not a particularly enjoyable experience. Barman not familiar with the beers on tap (to be fair he might have been new). Spaghetti pesto ok but no Parmesan offered. Chicken pie (strange textured pastry)served with beans, red cabbage and fries all stacked on top of each other. We requested a cruet and only salt was brought. Very dog friendly.

Review added 27/11/2019 09:30 by anon
Visited The Jolly Farmer in Cookham Dean...what a great pub! Lovely village location with a great atmosphere and super staff! Food was excellent, all homemade using locally sourced ingredients. Considering the pub is currently undergoing a full kitchen renovation the quality of food and choice was extremely good! Apparently they are back to their full menu this weekend...I can't wait to return and sample the full menu! It's amazing that they have been able to continue to offer such good food under the current circumstances...well done!

Review added 11/06/2017 18:04 by Hugh Lansley
Visited with young son and his mother 11 June '17
My reaction to being charged £2.70 for a 330ml glass of coke was disbelief.
£5.50 for 175 cl of white wine OK
£1.95 for Half pint of cider.OK
£2.70 for 330ml of coke Ludicrously expensive

Review added 24/01/2017 18:40 by oliver
great food great management owner's are really nice would go back anytime, pizza is just amazing and the steaks are superb i question if you people who gave it a 1 star have even been there?

Review added 03/04/2016 20:16 by Crusty of Wokingham
Our party of six with two dogs lunched here on Thursday 31st March. We had not booked in advance and were delighted to have sole use of a small section of the pub, especially with the fan heater disguised as an enclosed fire was put on. Baguettes and jacket potatoes were off, so we pushed the boat out. Hare's leg was good and so was the soup, but the pizzas were thin, tough and lacked taste. The chilli con carne was very poor, with plentiful rice with a small dob of unidentifiable, dark and absolutely tasteless something in the centre.
The beer was fine, but ignore the pretentious menu.

Review added 04/09/2015 19:10 by miksal
Enjoyed a superbly cooked lunch today which was piping hot, good quantities and beautifully served in friendly and efficient manner. Lovely, cosy pub with no irritating music.
Will definitely return.

Review added 05/08/2015 14:32 by alan woolnough
A 250 year old Pub providing excellent food and beverages in a unique location. The first time we went to the Jolly Farmer was in December 2014 to celebrate my birthday with my wife and family so we were not familiar with its history, charm and attraction rarely seen theses days.
We have enjoyed all that the Jolly Farmer offers on two more occasions since Richard and Liya Brooks became Londlords in October 2014. It really is a Gem and we will continue to visit this unique, cosy pub to enjoy the excellent food, drinks and friendship of the management, staff and other customers. We recommend potential and existing customers to visit the
J.F website to understand all that it offers including a variety of regular special events.

Review added 28/07/2015 19:45 by anon
Just read your review anon, but my husband I went there on a Thursday lunchtime and had a beautiful meal, and we eat out a lot so if our meal was **** we would know.
FROM COOKHAM WEBMASTER
If you wish to post on the Cookham Reviewer, please can you desist from using bad language, it is not appreciated.

Review added 28/07/2015 18:12 by anon
Eight of us went for an impromptu meal booking at the last minute on a Saturday night; the fact that they could fit us in should have raised alarm bells. We arrived to a fairly empty place, did the locals know something that we didn't? We noticed that they were offering thrice fried chips (vis a vie Heston B) with their freshly caught fish so ordered that and two others in our party who wanted steak asked to be upgraded in that department too. Well what we received was a tasteless portion of fish and a side dish of regular underdone chips; likewise the steak eaters. So I questioned the waiter about this who didn't seem to know what I was talking about and saw no reason to get the management involved. When you are paying for stuff that is not as advertised without any recourse that in my book is not on and especially as the prices charged for the steak are at a premium would have expected some intervention. Later on in the meal I ordered an Irish coffee only to have this dropped on the floor by the waiter showering two guests and again no intervention from the management. It was only after one of our guests had paid for the meal and on my way out that one of the new owners collared me and apologised for the issue with the chips, never once mentioning the spilt coffee, by which time it was too late. Then it dawned upon me that as other reviewers have posted that whilst the pub revamp might look great it's all superficial to me if they can't address criticism head on or be proactive. So if you want to visit a village pub, owned by the locals, for a social drink then that's fine but go elsewhere for a decent meal because at these prices you should and would get a better level of service elsewhere.

Review added 16/07/2015 17:57 by Jenny R
Went for lunch there today had a beautiful meal well cooked =, service excellent, pub looked great. Will definitely go again

Review added 13/07/2015 12:53 by anon
Was in the week before last on a Friday - the JF has been completely transformed and now looks like a proper village pub. The garden has been given a new lease of life with new furniture and the food wasn't too shabby either (had a lovely portion of Hake). No complaints about the service - particularly impressed by the very knowledgeable barman who gave me a complete rundown of the wines available. Highly recommended.

Review added 15/06/2015 21:00 by Graham Collis
I am so bored reading the mealy mouthed reviews of the Jolly Farmer.
The Jolly Farmer used to be the best pub in Cookham. Then through a series of extremely bad managers it became the worst. Now that Richard and Liya have taken it over it has surpassed the best from the past.
They have lavished love and money on it.
Suddenly from being a pub with tangleweed blowing through it, it is busy happy and brilliant.
Cookham is extremely lucky to have a drinking and eating establishment of this quality.
It's difficult enough to find in London.

Review added 05/06/2015 00:57 by anon
Excellent pint of Timothy Taylor, good fish and chips.
Sat in the garden. A very pleasant lunch.

Review added 03/06/2015 12:42 by anon
Not that welcoming by the management, slightly arrogant and weird management style, food average, nice garden.

Review added 02/06/2015 22:57 by Charles Bronson
Good food cr ap management staff good

Review added 17/05/2015 19:06 by anon
Had the roast beef today. My wife had spaghetti with clams. Great food served promptly. Really nice pub with a lovely garden.

Review added 17/05/2015 15:33 by anon
Probably the worse meal I've ever had. Service awful. Would not recommend or visit again. Sunday Lunch peak time - nobody else was ordering food.

Review added 05/05/2015 12:45 by anon
Had lunch this bank hol weekend, garden great for the kids, service was slow but then it was a busy weekend for them. Great ploughmans.

Review added 24/03/2015 16:58 by anon
It has been a couple of years since I have eaten here, but locals advised I go again as there is a new tenant who is a chef. I am so pleased I did. The service was excellent, the food delicious and piping hot and the wine great; a New Zealand Sauvignon Blanc. One of my guests has an allergy to dairy, which can be a difficulty, but this was not the case today. Her 'cheese burger' was served without mayo or cheese and was beautifully presented with no fuss and little explanation needed. Our fish and chips were delicious, perhaps the best fish I have had in years. It was real fish, not a frozen pre-formed excuse for fish. I would highly recommend the Jolly Farmer if you have not been there to eat recently, a real village pub with good, reasonably-priced food, excellent service and attention to detail.

Review added 27/02/2015 21:17 by anon
THE JOLLY FARMER IS THE BEST PUB EVER!!!!!!!!!
I go there every half term from school to see all my old friends from primary as next to it is a school. I can cherish great memories there and also it is next door to one of my best friends!
I really recoommend this pub as its food is amazing, the drinks are high quality and the people are so friendly. I know nearly everyone in Cookham so I count everyone as family. I love the jolly farmer without a doubt

Review added 27/02/2015 09:24 by Ben
Came for Sunday lunch after hearing it was under new management. Had a fantastic steak and ale pie, pie was made with the Rebellion ale so felt it was only right to sample a couple of pints of that as well! Such a cosy feeling pub, was great to sit by the fire and doze through the afternoon.
Will definitely be back when the weather improves to spend a lazy Sunday in the garden.

Review added 03/02/2015 12:39 by anon
Ate here recently - food average, service interesting and manageress weird. Not welcoming place exactly. Trying others round the corner. Beer good tho.

Review added 01/02/2015 20:08 by anon
Food is very good; service leaves a lot to be desired. I have been in a few times and I get the distinct impression that the new people have not got a clue how to interact with their customers. This place is essentially a village pub where regulars expect a warm and welcoming atmosphere which you do not get. I don't care how good the food is if you cannot get good service with a welcoming ambiance then this place will fail, there are too many other places to choose from locally.

Review added 26/01/2015 13:42 by anon
Sunday Lunch with 4 kids is normally a bit of a trial, but food was tasty and enjoyed by all, it was served hot with a smile, orders were correct , prices were reasonable and there is a play park outside for kids.
we ll come back again.
To manage expectations it is a pub with food not a restaurant, and space is a bit tight.

Review added 06/12/2014 23:46 by Lovely food but a bit formal for lunch
Myself and a friend came for lunch this week after hearing that the Jolly has new owners and has undergone some changes. Yes, we were extremely impressed with the new decor and the food was lovely, however, we had just about got in the door when we were pounced upon by the landlady and ushered through to a table. We found this all a bit formal and actually moved from the table we had been seated at as we like to choose where we would like to sit. Our only other criticism was that for most of the time we were there the landlady was behind the bar having quite a loud conversation on her phone, and when she wasn't talking on her phone she was texting which to us didn't really look very professional at all. We really hope that they are not trying to change this wonderful pub into a restaurant, we love our informal lunches at the Jolly.

Review added 04/12/2014 10:36 by Dave
We went to the Jolly Farmer for Sunday lunch for our first time since the new owners and I have to say that we were slightly disappointed.
We booked a table in advance and asked for a table for 5 people with room for a buggy (as we have a young baby). When we arrived we were squeezed into the tightest spot and our chairs were literally touching the ones of the table behind us. We had to park the buggy elsewhere which was annoying. The odd thing was that the dining area of the pub was empty but everyone seemed to be seated in one side.
Myself and my father had the roast pork which was excellent, however my wife and mother had the roast rib of beef which was very fatty and mainly inedible.
Also one of our drinks orders was incorrect which they replaced with no fuss, however later when we checked the bill we found that we had been charged twice for the drink!
Having said all that, the staff were very friendly and the table service was appreciated (especially as it was so difficult to get out from our seats!). Hopefully these are just teething issues and they will be sorted soon.

Review added 14/11/2014 17:58 by anon
Went in with a friend and two children, was made to feel like outcasts

Review added 04/11/2014 09:02 by Mark
Had Sunday lunch here last weekend and the roast beef was perfect, when we asked for extra roast potatoes and gravy they appeared immediately. We shared the desert of pancakes, vanilla ice cream, compote of fruits with maple syrup and my other half said it was one of the best deserts she has tasted in a long time. The main course was £13 and £5 for the desert, a bargain in my opinion.

Review added 29/10/2014 18:57 by Ian Kinghorn
Came in after a walk and the lunch of Guinea Fowl was the best pub meal
I can ever remember. Congratulation to the chef .

Review added 27/10/2014 13:50 by Styx
Popped in here yesterday to try a Sunday lunch somewhere different, and I'd say it's one of the best roasts we've eaten in Cookham. £12 for Lamb and £14 for Beef keeps it in line with local competition, and it's worth trying for the size of the Yorkie Pud alone. (Substantial to say the least)
Give the new owners a chance to find their feet (the restaurant needs to be set out like a restaurant, rather than the bit between the bar and the toilets) and then try some of the food as I reckon it's a little gem!

Review added 18/10/2014 00:00 by anon
I ate in the Jolly Farmer on Friday night. The place has a real feel of warmth there now & the new management team were very welcoming. They've only been in there a couple of weeks but they are making their mark already & for the right reasons. Food was very nice too! Most enjoyable!

Review added 15/10/2014 09:33 by Mark
I am not quite sure if we went into the same establishment as the last visitor. I pooped in there yesterday lunchtime, 14/10/14, with a mate and everything was fine. Service was good and friendly, beer was OK and the starter of the spice sausages we both agreed were excellent value for £3.
We heard the new owner discussing new bar furniture, so they are gradually doing the place up. Remember the old phrase; Rome was not built in a day. Well considering they have been in the place for less than two weeks I think they are doing a pretty good job.

Review added 14/10/2014 12:34 by anon
Had lunch at Jolly - give it a go etc; not impressed yet - service appalling, youngsters who need more training. The Manageress not that welcoming - all a bit disjointed.

Review added 04/06/2014 15:59 by John
Fabulous village pub. Possibly changing hands soon, which is a great shame as the landlady is the kingpin of this wondrous establishment. Great place to drink and eat, especially in the summer.

Review added 30/05/2014 08:09 by anon
You won't have long to wait the pub is about to change hands in the next few weeks or so. Give it a month to get its act together and then give another try.

Review added 29/05/2014 21:15 by Belle Turner
This place should be shut on. A dog poo bin in the beer garden, disgusting! And there was dog poo in garden anyway! Unbelievable, can't believe anybody could eat there.

Review added 29/01/2014 13:36 by Chris M
We went on Friday night after work. Great atmosphere cracking litte pub, decided to get the family down for dinner. It was delicious. The staff were lovely, even catering for my fussy children. I had the partridge with parsnip puree and my wife had the pheasant, both were well cooked and tasty. Definitely coing back when its a bit drier as the children spotted the playground out the back.

Review added 07/11/2013 13:52 by anon
Great Beer Festival in October. 10 of the most popular beers, if you could get near them as it was heaving on Fri night! Fantastic atmosphere and they still managed to serve great food too. Top marks all round. No wonder this is rate at the best pub and food in the Cookham/ Cookham Dean area.

Review added 18/10/2013 06:59 by JB
This has always been a friendly pub with great beer, chat and food but it's now gone up a rung after getting a new chef a few weeks back. Speed of service top notch, provided by a very friendly waitress to complete the picture.
This pub deserves your custom! It certainly has ours.

Review added 09/10/2013 15:32 by Helen C
We decided to return to the Jolly Farmer after a few months. What a difference a chef makes! The food is really delicious, the presentation was some of the best I've seen in the area. I had the pork belly, It was really tasty.
I was really pleased to be back and that they are back on track at last. Already booked our Works Christmas party there!

Review added 04/10/2013 22:04 by anon
Well, it seems that they have yet another new chef and if tonight's meals were anything to go by, he is the best yet! OUTSTANDING food, great presentation and top notch service.
I cannot recommend this more highly!! Cracking pub, overseen by Tzar, the friendliest pub dog in Berkshire, who keeps Laura and James in control!

Review added 25/09/2013 20:38 by Charl1981
Drove down to visit family.
Had booked a table here, we were running late and the pub was busy, no problem, all meals, three courses, were impeccably presented and tasted sublime, when I asked, as referred to below, the landlady informed us they had a new chef!! Wouldn't have guessed as the last time we had eaten there it was super.
My kids, 14, 6, 2 played in the garden without so much of a hint of dog crap, and thoroughly enjoyed the playground in this unseasonably warm September weather, and my 5 month old got passed around the bar from pillar to post, good job he's a smiler!!
To summarise, we thoroughly enjoyed our meal, thoroughly enjoyed the company landlady and her husband are a joy!! And will definitely return to the jolly farmer on our next visit (soon I hope)

Review added 25/09/2013 20:17 by Ted23
New chef = better food.
Change of staff means below reviews are rendered obsolete.
Lovely meal, friendly staff, clean pub.
Reccomend.

Review added 19/09/2013 23:30 by Sally Robertson
After reading some good and some bad reviews of this pub, my friend and I decided we would give it a bash. We came up for lunch Wednesday, on a rather chilly day, so we were pleased to see the log fire on, a nice and cosy welcome. The barmaid was really friendly and welcoming, she explained it was a small menu as they have a new chef who was in the process of creating a new menu. There was plenty to choose from and we both had lovely meals and decided to share a sticky toffee pudding, which I must say was the best sticky toffee I have ever had. We most definitely will be back to try the new menu. A lovely friendly pub in a beautiful setting.

Review added 28/02/2013 15:40 by busy mum
On a recommendation from a friend,we arranged a half term treat for the family. My boys (6 and 4) loved the wooden playground. It was a great idea. The boys ate first and then played for ages allowing us to have a chat and finish our food, I had the duck breast and my husband, the burger.(Delicious) The sun was shining so we sat outside. It was busy but the service was friendly and i think it was a good idea to order the kids meals first as they came quite quickly, the adult food took a little longer, but worth the wait. A definite play date venue for summer.

Review added 05/02/2013 16:19 by anon
Easily the best pub in Cookham Dean. Great drinks, good food, cheerful staff and great beer. This is THE pub in the area and streets ahead of UTC. It was HEAVING after the boxing day games and also when The Fabulous Shirtlifters ( a local jazz band) played there on New Year's Day. Laura the landlady does great work manning the Kaffirs bars at local events all year round too. Lovely garden to use on those rare hot summer days.

Review added 29/10/2012 14:50 by Mark
Sorry to bore anyone but I am replying to Margret Becket's review, somewhat personal - but no other way of communicating. Margret I know Bob Benwell from the Jolly and the Rugby Club. I mentioned your review and he asked me to reply. He remembers you very well indeed and your friend Annette Dutfield. He said if you are ever in the area let him know and he will meet you at Hocket stables where you used to keep your horse!

Review added 17/07/2012 21:53 by Margaret Beckett (formerly Piercey)
Back in the 1950's my parents ran this pub (Bob & Mary Piercey) sadly they are no longer around - but I remember many happy days when it was a village pub. Weekends were usually very busy with celebrities enjoying the company (the Crazy Gang, Roger Moore, Ted Heath, Trevor Howard) to name a few, mingling happily with the locals.
In those days it was a drinking pub with the odd hot sausage or sandwich available.
Possibly there are some locals who still remember my parents - Bobby Benwell springs to mind!
Shame to read about the dog poo - should not be there!

Review added 22/05/2012 19:25 by JB101
+ points
Nice beer. In the summer
Laura is really friendly
Beer is well kept
- points
Very very very (is that enough verys) cliquey... Lot of middle aged blokes sat at the bar making it hard to place an order.
Food is fantastically overpriced for what it is these days, used to be a lot better...but alas now is woeful.
Conclusion
Good for a summer pint,
If you want food head to uncle toms cabin, in fact beer or food uncle toms wins hands down

Review added 21/05/2012 17:14 by anon
Totally amazed at the negative comments on here regarding the Jolly Farmer. I regularly eat at the Jolly Farmer and have attended a number of other functions and have only ever found the management and staff to be polite, hospitable and professional. The recently created children's play area is a great asset to the village, especially given that there are not that many child and dog friendly pubs in the vicinity, and the food delivers a high standard for a reasonable price. The place is always full of happy faces - something that is priceless. You can't buy it and so when you can get it for free why go anywhere else.

Review added 21/05/2012 16:01 by Pauline Willmott
Rude staff, dirty pub, dog fouling in garden. Try Uncle Toms cabin down the road instead.

Review added 04/05/2012 19:32 by Asil Lee
Started staying in Cookham Dean on business and found the Jolly Farmer welcoming with good food and drink. It seems to have friendly staff and locals. After 20 years in hospitality I'm usually a hard critic but really liked the service and the atmosphere. I'll be back again next week.

Review added 28/04/2012 14:13 by High Road Resident
We used to enjoy going to the Jolly Farmer for the atmosphere and good, well priced food. We went back this week after a long gap and were disappointed with the standard of the food. Maybe the chef has changed? The menu was run of the mill pub grub, not the inspiring menu it used to be. The pork belly was a bit dry and lacking in flavour and I narrowly avoided food poisoning by sending back my plaice which smelt very high and tasted radioactive. I swapped for sausage & mash but the 'cumberlands' were virtually tastless. In all fairness, we did enjoy the bubble & squeek starter which was tasty, with high quality ingredients and a perfectly cooked poached egg on top. Service was slow but our drinks were deducted from the bill because of the fish being off. It's a shame the little room that used to be an extension of the restaurant has been decommisioned and the pretty mural all around has been painted over. I don't think we'll be eating there again soon.

Review added 24/04/2012 18:32 by anon
My grandparents used to own this pub back in the day they were called John & Dorothy Russell.
I spent many summer holidays here & have some great memories of this wonderful pub.

Review added 12/03/2012 12:45 by Kim Tattersbury
We went here a couple weeks ago for the 1st time. We didn't even get to taste the food or even have a drink as within 5 minutes of arriving our 8 month old son was covered in dog poo. This is wholly unacceptable in a beer garden and nothing short of a health hazard. We obviously left immediately but were told as we left that a family had left an hour earlier as their toddler had trodden in dog poo. On hearing that and now having read the other reviews of this place it is apparent that this the norm there and that the management accept this. Avoid at all costs.

Review added 27/11/2011 18:42 by Rob
First ever visit, as not a local. Lovely building with proper traditional public bar and fire. Very busy but had no trouble getting served. Beer that I had was very good; Sunday roast excellent.

Review added 13/11/2011 14:05 by anon
We went here today to enjoy the sunshine and will not be going back, wish I had read the reviews before we went.
Ask someone to pick it up?? It shouldn't be there in the first place, especially in such large quantities. Paul, you obviously don't have children.

Review added 09/11/2011 19:02 by Paul Dinton
I have been to the jolly farmer lots of times always found the staff really friendly and polite. Really don't understand these comments on here about dog poo. Really people are you that low. In my opinion these narrow minded people must have a petty grudge or small brains. If the dog is bothering u ask someone to pick it up. Not leave petty comments on a review site.. I Love comming to the jolly expecailly on sunday's for there simple wonderful Roast dinners

Review added 09/11/2011 17:08 by anon
Village shareholders take notice please - too many reviews saying the same things to be the odd sniping comment or coincidence. This would NEVER have happened when a certain someone now operating not so far away was at the helm of the JF many years back - but nor should it happen now. Its a shame but if action isn't taken to rectify these issues then its an even bigger shame!

Review added 09/11/2011 14:21 by anon
Interesting to read these reviews, we used to be regulars at the Jolly Farmer and stopped going there this summer because of the dog poo. The garden is full of it, not nice to eat around and certainly not safe for children.
Such a shame as we always used to enjoy eating there.

Review added 08/11/2011 16:47 by G Miller
Agree will the last review, we left before we ordered any food, the outside tables were filthy and we moved table 3 times to find one without dog dirt next to it, then gave up - hideous amounts of dog dirt in a beer garden, surely this is a health and safety risk???.
In addition the staff were also very rude. Shame as this is a lovely pub in a great location, what a waste. I heard this pub was owned by the villagers so I am surprised whoever is managing it is getting away with this.

Review added 15/10/2011 19:57 by Sarah Lindle
DISGUSTING, the beer garden is full of dog poo, absolutely unbelievable that a pub could allow this. Will definitely not be returning.

Review added 08/09/2011 15:41 by Ron
The Pub, Laura, Staff, food, locals, location, garden, the Soap Box Derby (September), all a really good experiance, cheers, Ron B.

Review added 06/08/2011 20:39 by burger muncher
Always a good meal at the Farmer and good value too. Fresh and cooked to order so no microwave sludge....just wish I could afford to eat out more often!

Review added 05/08/2011 01:39 by lizzyk
Had a fantastic lunch at the Jolly Farmer. Two of us had haddock and chips, the haddock was beautifully cooked with a very crispy batter and the chips were tasty and perfect. A shared creme brulee and coffee finished off the meal. Definitelybworth a visit.

Review added 02/06/2011 23:47 by Sue and John Williamson
My husband and I have only just recently discovered The Jolly Farmer and we were quite shocked at some of the awful comments that have been made. On the occasions we have come in we have found the barstaff cheerful and always willing to help and eager to chat and answer our questions on the history of the pub. The food is fabulous and worth every penny. If I had to make a complaint about rudeness it would be about one of the gentlemen standing at the bar (a regular I presume), who seemed to have the need to interrupt the barmaid when we asked questions, I'm sure sir she is quite capable of answering for herself, and considering we weren't actually talking to him it was really none of his business. Apart from that the locals are a friendly bunch and we will definately be coming again.

Review added 01/06/2011 20:54 by anon
I enjoyed sitting in the garden with a pint, but my experience was let down by the landlady: bad-mannered and ungracious. From looking at this page its clear that other people agree with me. Shame really.

Review added 30/05/2011 09:51 by Ross
First visited last year, we also visited every pub between cookham Dean and 'the ferry' in cookham village and and still came back to the Jolly Farmer.
Although some of the previous reviewers are correct in the fact that the food is a little on the pricey side, it's not a "241" pub nor is it a Mcdonalds, you get what you pay for. Good honest food, tasty with good ingredients a great atmosphere and good service. Is it worth the extra £4 per person?? Oh My God YES!!!
Laura and her staff, the regulars and visitors alike are all very amenable, eager to please and like nothing better than having a good chat, if you've got a Sunday lunch time free, pay a visit to the Jolly Farmer, you won't regret it. Xxx

Review added 29/05/2011 21:17 by Anne Burton
Like pubs used to be full. People make pubs! For the first time in a long time we found a public house with everything good staff a fantastic landlady good food and a fantastic setting. Not 100% sure if some of the reviewers on here have visited the same place. We found The Jolly around two years ago and although not regulars we wish we were due to distance Greenwich is a little too far for a nightly visit but we try to get there at least once a month. We are always made to feel very welcome, a good pub should have a mixture of people its a bit similar to making a good fruit cake a few nuts a bit of spice one or two city gents and a lot of familys. We think the Jolly has the right mixture and will keep going back for more.

Review added 29/05/2011 14:40 by Charl
Had the pleasure of visiting this pub last april and although it's over a year ago I felt I should write a review after reading the last few!!
Laura and her team were extremely pleasant, the food was exceptional and throughout our three day stay in cookham this was the pub we chose to eat and drink at, we were made to feel welcome and the "locals" were very hositable not only to me but also the children and older members if our group of 12.
I found the pub very clean, the toilets newly done and as I've already said Laura and her team were brilliant.
I would definitely recommend the food and atmosphere to visitors of cookham, and I will 100% be returning to the pub in the very near future.

Review added 27/05/2011 19:14 by Genevieve
I'd heard a lot of the merits of the Jolly Farmer from friends. As I am a long-term resident of Cookham Dean and had never been there, I though I would investigate.
It was not pleasant visit. Firstly, I got a very unwelcome reception from the manager, who carried on talking to a customer and initially ignored me. When I finally ordered a drink, I was overwhelmed by the expense. The manager did not say thank you to me either.
I was shocked by the rude language and binge drinking of a group of workman sitting nearby. One of them flicked a used cigarette under my table. I know this isn't the pub's fault, but clearly it's image as a 'family pub' is far from the truth. There were also dog faeces on the lawn.
I expected a warm and welcoming family pub. Unfortunately, the amtosphere is very unfriendly and the customers consist mainly of vulgar balding pot-bellied ex-City types and builders. Very poor. I won't be returning.

Review added 26/05/2011 18:06 by Phil
I have to agree with Brian. The landlady Laura is a very rude woman. I also got the impression that she couldn't care less about her staff. The way she was talking to the waitresses was disgusting.
The pub has the potential to be friendly but I found her attitude towards me and my family to be unacceptable. The food was very poorly presented and expensive. It wasn't worth the long wait either.
Such a shame. Sort yourselves out Jolly Farmer!

Review added 26/05/2011 09:52 by Les and Sue
As keen walkers and CAMRA members we visit different country pubs every week. We read the reviews listed here before visiting the JF for the first time on a weekday evening. We didn't know what to expect as there is a huge variation in the opinions of the customer reports listed here. We found the pub and garden spotless. The three members of staff we encountered were attentive and helpful. The real ale was excellent. We did not eat but peeking at other customers fare and reading the chalk-board we would be tempted if we visit again which is likely. Not cheap.

Review added 22/05/2011 23:12 by Jonathan
I am not really sure which pub the last three reviewers were visiting. I don't recognise the descriptions at all!
Wherever it is, it can't be the Jolly Farmer in Cookham Dean. The service is friendly and prompt, the food is lovely, the beers are diverse and refreshing - Laura certainly knows how to keep a cellar
All in all, it is a most welcoming pub. My wife and I even kept this establishment as our local when we moved away to High Wycombe! I am pleased to say that we have now moved back to Cookham so that the Jolly is once more in walking distance.
All I can say is that I wish people would be objective and realise that these reviewing websites are for intelligent comment, not a forum for venting your spleen! I would always highly recommend this fine example of traditional English hostelry.

Review added 20/05/2011 15:49 by Brian
Nice location, nice pub, but the manager Laura is very rude and lazy and she treats her staff like dirt. I will not be going there again, unless the manager is replaced.

Review added 18/05/2011 15:18 by Alex
Poor service, obnoxious manager, too expensive.
I wouldn't recommend this place to anyone.

Review added 18/05/2011 15:16 by anon
I was very disappointed by the Jolly Farmer. I went to the pub on a nice sunny day for lunch and a drink. When I went to the bar to order a pint, the manager was rude and abrupt. She gave me a pint in a warm glass.
The food took at least an hour to arrive. My beef was rare despite the fact that I asked for well done. My wife's salad was soggy.
My general impression was that the staff were overworked, poorly trained and that the manager is a very rude woman. I've heard from friends that the people who own the pub are looking to replace her.
I won't be going back to the pub. It's such a shame that a nice village pub has such an awful level of service and treats its customers in such a disgraceful way.

Review added 10/11/2010 06:34 by anon
Good food, the rabbit was superb. Five different ales. What a pub is supposed to be. Book for weekends though as we had to wait a while for a table. Worth it in the end!

Review added 14/07/2010 16:37 by anon
A very friendly pub locals tend to make you feel welcome. It is down to earth and what you see is what you get. It is how pubs all should be. The food is great the portions are good, I believe there are new chefs so the menu has changed.The service is a bit slow at times but it is not a fast food restaurant. I will definatly go again...

Review added 09/07/2010 22:58 by anon
Nice looking pub, nice location but when we arrived we felt a bit spare with everyone turning to look at us. Reading the other reviews I can see what people mean about the locals. Not too friendly although I must admit our waiter wasnt bad and the food was decent.

Review added 26/04/2010 22:00 by anon
We are local and hadn't ventured to the pub before, so we decided to drop by on Saturday 24th April. The pub was very busy, bar staff handled it OK, though we weren't made to feel as welcome as the obvious long time locals. The waitress we encountered was rude and customer service training is definitely needed!

Review added 24/04/2010 18:03 by anon
I went with my family once and will never go again due to a rude encounter with a waitress. Such a shame she let it down.

Review added 16/12/2009 11:04 by Her upstairs
Enjoyed another of their great value Sunday roasts; tender meat with delicious gravy, large yorkshire and a good selection of crisp vegetables. Service friendly and polite, rustic charm in abundance (plain wood tables and the pub dog comes to say hello) and an extensive menu catering to all tastes. Decent size car park and open fire. Manageress served us at the bar and was friendly and efficient. I hope this place stays just as it is and is never tempted to contemporise into a bland gastro-pub.

Review added 10/09/2009 11:20 by EUWAVE
It is always possible to find fault in anything if one looks hard enough. The bottom line is that The Jolly is a great village pub. Good quality food [almost all the time] good beer and generally attentive staff. There is no piped music or games machine; it is a pub you go to to enjoy a drink a bite to eat and to chat to people. As for dog mess – it unfortunately goes with a country pub. At any one time on a sunny day you can have half a dozen dogs in the garden. It would be impossible to police every dog to ensure this sort of thing did not happen. Nothing and nobody is perfect. The Jolly and the Jolly's staff do a very good job. As Laura, the owner, pointed out why wait to make a negative comment after the event, if you have an issue address it whilst you are there.

Review added 23/08/2009 16:19 by anon
Sunday 23rd August Lunch time meet up with lots of fiends, such a wonderfull location, had a nice time, lots of young children there, running about on the grass, but spoilt by a very large pile of dog pooo, not nice, puts me off going there.

Review added 10/08/2009 16:08 by Jo
A real village pub in every sense, the food is great and the CAMRA award a wonderful achievement. This is the Jolly Farmer at its best and long may its success, and the crowds, continue.

Review added 09/08/2009 18:49 by Alan Jay
Crowds coming in on Friday night. Pleased to see, presumably following CAMRA award. Good food, take your pick whether you want to eat formally or informally. Just like a village pub should be, with lots of chatting going on.
Keep it up Laura

Review added 18/06/2009 15:12 by anon
Given the negative reviews recently of THE JOLLY FARMER, we felt it only fair to redress the balance. The good news is that the smell from the toilet areas has now gone - hopefully, it isn't being masked by the new paint! The sandwich menu is much more varied and enticing than before, for which our thanks. Also, we were most impressed by the assistance we received the other day by a member of staff.
The cajun chicken sandwich was delicious, whilst the beef sandwich was totally inedible. The meat was totally raw, rather than rare (and the menu doesn't state that the beef is "rare", which is not to everyone's taste) but the bar assistant immediately gave us a refund and asked if we would like a replacement. We declined the latter.
Keep up the good standards!

Review added 28/05/2009 14:09 by J
Used to work and socialise at the JF for many years [back in the early/mid-90's with Simon and Tracy] and whilst I know the pub has changed management and staff numerous times over the years, it is still a rarity, a village owned country pub, that deserves to be cherished and supported. It's not an easy [or sometimes appreciated] role running a village pub that means so much to so many people, all of whom want and expect different things from their visits, be they regular or not. However talk to each other! Whether it's a smell, unsmiling service, bad pint or indeed if its a great visit, a fab meal, a cracking pint etc - it isn't hard to make an effort to talk - its when you don't that idle chatter turns a great place into a place with an unfair, unjustified and unnecessary reputation. You would all miss the Jolly and be the first to complain if it went...or it turned into somethig a far cry from what it is now - a top pub in a fabulous village!....See that wasn't difficult (o;

Review added 07/05/2009 16:36 by PAT.S
HAVE COME ACROSS PUB TOILETS THAT ARE TEN TIMES WORSE, OBVIOUSLY THESE PEOPLE DONT GET OUT MUCH! HAVE TO ADD TOO THAT ALTHOUGH UNCLE TOM'S IS CLOSED AT THIS MOMENT IN TIME HAS ANYONE SEEN AND SMELT THE SEWAGE SEAPING OUT OF THE DRAINS IN THE CARPARK? SURELY A MUCH BIGGER ENVIROMENTAL ISSUE, PLEASE FEEL FREE TO CORRECT ME IF YOU DISAGREE.

Review added 26/04/2009 20:21 by anon
I have just checked into the website after a few days(busy running the beer fest) I am shocked and saddened to read the recent reviews. As a village pub i would expect villagers to approach me about any such problems( I don't bite!!) If they did I could tell them that the toilets are cleaned every, I am trying lots of products but the floor in the gents is very porous and has absorbed uric acid and that a major overhaul of the loos is planned in the next month. In future please talk to me. Laura X
P.S Thank you to everyone who came up to the beer festival, it's been a cracking weekend!

Review added 23/04/2009 22:07 by Jo
As another regular of the JF until fairly recently, I wholeheartedly but somewhat sadly agree with the sentiments in the review by Anon. We really like the JF (especially the lovely resident dog) but no longer eat there as we used to.
It has never occurred to us to actually complain, as the overwhelming stench at the rear now strikes everyone down, and this must surely include the staff! Also, customers have been muttering about it to one another in the bar for several months, which can't have gone unnoticed. It is up to the managers to keep the pub spotlessly clean and hygienic, so why do they just ignore their problem when it must be turning away many other customers, too? (And, as Anon hints, the absence of such basic cleanliness and hygiene do give cause for concern about the kitchen…..).
The encroaching stench, which now even wafts as far as the bar, is not a stink like a drain problem odour, but a very strong smell of urine, suggesting that the whole rear area, loos and corridor simply need a really good scrub from ceiling to floor with hot soapy water and very strong disinfectant, particularly the floor, loos inside and out, and all doors and handles. To keep the place hygienic and odour free, this basic cleaning routine needs to be done thoroughly and regularly, with a daily loo clean and a wash for the floors, bearing in mind the high volume of usage of pub loos. We were told by another publican that this is all part of the general daily/weekly routine of running a pub for which a reasonable amount of time has to be allocated, so what's the problem here?
It is sad to see the JF go downhill in this way, especially in the recession when it probably needs a boost, so let's hope these two reviews (this one being somewhat reluctantly written) will be a wake-up call.

Review added 23/04/2009 09:06 by anon
We have been visiting THE JOLLY FARMER for many years. Good value 'pub grub', helpful staff and attractive garden. All in all, a very attractive venue. However, we were taken aback when we visited the other day: there is the most appalling smell when opening the door to the toilet area.
Is there some problem with the waste/drainage system - and how is it possible for the licensees to allow this stench (for that is what it is) to persist in the way it does?Surely there are health and environmental issues, particularly given that the gents' toilet, from where the smell appears to come, must be in close proximity to the wall adjacent to the kitchen.
This problem is detrimental to THE JOLLY FARMER's reputation, and to the villagers who own the inn. To an extent whereby we now question whether we can return - the 'odour' continues to linger with us, several days after our visit.

Review added 18/12/2008 16:02 by M.A
HAD DINNER WITH MY PARENTS THE OTHER DAY, FOOD WAS BRILLIANT AND FAIRLY PRICED THE SERVICE WAS GOOD TOO, SHAME ABOUT THE ATTITUDE OF THE BARSTAFF!

Review added 26/11/2008 10:02 by anon
went there for sunday lunch, food was lovely, and although we were told that the kitchen had run out of Roasts, we all chose delicious alternatives. the service was brilliant, great waitressing staff, friendly and attentive (not to the extreme!)

Review added 01/11/2008 20:22 by A.S.
A friendly happy bunch,great food,good service, well what else can i say,((jobs a good un)),keep up the good work...

Review added 19/09/2008 16:20 by Markus Leslie
I have been to the Jolly Farmer several times with my parents, who visited me from Germany recently. The staff have been always very friendly, especially the pub landlady.
I must say sometimes the pub was very busy, but despite that the staff always made you feel at home.

Review added 19/09/2008 12:38 by anon
Have been to the jolly a few times and have never once felt welcolme.Also difficult to get to the bar because of locals propping it up.

Review added 17/09/2008 07:24 by Laura
I'm shocked and sorry you had a bad experience in the Jolly. I'm the landlady and very proud of both the pub and my staff. Roger and Rob, if you would like to come up and discuss it with me i would be very pleased to talk to you face to face. Or call me on 01628 482905 Thankyou to everyone who made Sunday such a great day, your patience and sense of fun was amazing!!! L X

Review added 16/09/2008 14:00 by rob hatton
Nice pub but manager was rude when told lager was a bit flat.

Review added 16/09/2008 12:46 by roger yates
Found staff arrogant and abrupt and felt the locals were the only ones welcolme.
Will not be going back.

Review added 27/08/2008 15:48 by Maggie
I went to The Jolly Farmer for sunday lunch and the beef was cooked perfectly the roast potatoes were nice and crispy and the gravy just finished it of superbly,would recommend to anyone, five stars are appropriate!

Review added 11/07/2008 15:42 by susie
The second chef is'nt bad either!

Review added 01/07/2008 17:26 by Hannah
The chef is gorgeous!

Review added 12/05/2008 19:30 by anon
The best pub in the world !!!!!

Review added 02/05/2008 15:47 by freddy
excellent food and good beer,what a pub!

Review added 21/01/2008 11:20 by Ricardo
Went to the Jolly for a fantastic dinner last week - perfect garlic prawns to start with and a delicious steak and chips for main course. The pepper sauce was just hot enough and the steak as tender as can be. Great service, lovely ambience, the best place to eat at on a Saturday night!

Review added 19/01/2008 15:51 by anon
Went to the Jolly Farmer a couple of days ago for lunch. What a pleasant pub. Really vibrant with friendly staff, happy customers and great food.