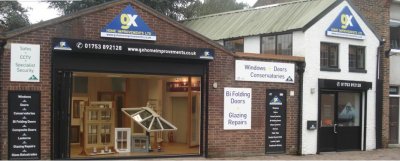 Glass & Glazing
Roof Line Products
Security Solutions
Church lane
GX Home Improvements
Chalfont St Peter
Buckinghamshire
SL9 9RE

t: 01753 892128
e: info@gxhomeimprovements.co.uk
GX Home Improvements-Chalfont St Peter website
1 review
Average Score:

Add your review of GX Home Improvements-Chalfont St Peter
Review added 13/04/2017 15:58 by lizzyk
I was recommended GX Home Improvements when the glass door to my sitting room got broken by some careless delivery men. It was so nice to find such friendly, helpful people. I had searched around and suppliers obviously felt it was too small a job and did not want to know. GX measured the door up, I chose some glass which I was able to do on the internet and they then came to install it. The installation was fantastic. They laid down sheets to catch any glass and then hoovered up afterwards. The whole thing was done very quickly and efficiently. So nice to have a decent service in this day and age.