The Chequers - Wooburn reviews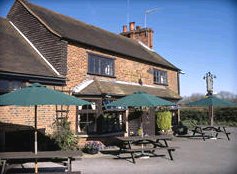 The Chequers Inn
Wooburn Common
Buckinghamshire
HP10 0JQ
Tel: 01628 529575
The Chequers - Wooburn website
11 reviews
Average Score:

Add your review of The Chequers - Wooburn
Review added 03/06/2014 15:32 by Disappointed
Not having been here for a few years, thought I'd pop in for lunch, wish I hadn't.
The standard of service, quality of food have really gone downhill.
Not sure if it's a victim of its own success or if the owners have become complacent, but it can only be described as a lovely building with a budget hotel restaurant standard of food now.

Review added 04/02/2012 17:55 by Lizzyk
Visited the Chequers last Saturday evening for my gardening group's anniversary dinner. We had a room to ourselves which was lovely. The food was excellent. A three course meal plus an amuse bouche and a sorbet, finished off by coffee and chocolates. Very reasonable price. great service and lovely food.

Review added 12/01/2011 17:15 by francis
When my friends told me that they had been lately and the restaurant had improved out of sight I thought id give it a go. I was delighted when I went and it surpassed all my expectations. The food was first rate, the wine list was great, the staff were superb. see you soon

Review added 03/01/2011 15:36 by elaine
we went with a large group on new years eve. 7 courses of impeccable food brilliant service and a great group of staff. the manager, (an aussie guy i think) was simply brilliant not to mention cute! service amazing and the knowledge of food and wine was second to none. a hidden gem worth visiting.

Review added 03/01/2011 15:27 by Steve
well they've got it right in the dining room finally. ive been going there for 20 years and finally in the last 3 months the service has improved exponentially. The m'aitre d' was incredible, service impeccable, all on a night when it was packed. the winelist has improved immeasurably recently. please make sure this man stays. we're already booked in again for mums 90th
see you soon

Review added 25/12/2010 17:59 by Cat
So....does it get any better? A 5 course dinner for £32.50 on Christmas Eve!!
This restaurant really does perform at the top of the league.
Staff who are faultless; observant without being intrusive, glasses are topped up as necessary,drinks orders are delivered promptly,no waiting in between courses, gorgeous food, friendly and witty staff who really worked hard to provide an atmosphere of Christmas jollity, and were successful, as the ambience was relaxed and happy throughout the whole evening. The restaurant itself is beautiful, pretty and tasteful with a French feel to it.
This pub and restaurant is a little hidden gem. They don't seem to shout their existence but the row of Christmas cards hanging in the main entrance all thanking the staff for service given over the year is testimony in itself to the first class service provided by this pub to the local community.
Their rates for overnight stays are very reasonable. So much so that I will use them next time I have a family 'spill over'. Marvellous to know that I can, with confidence book family members into this establishment.

Review added 25/12/2010 12:22 by aj
We went for Christmas Eve and enjoyed a lovely three course meal - the roast beef was particularly fine - and, once again, what we both really noticed was how the staff, no matter how busy they were, never forget drinks orders or failed to come past and top up water glasses - all in all, this charming hotel and restaurant has never failed to deliver a truly excellent dining experience.
On the spur of the moment - and after considering the allure of another glass of wine and the (not so alluring) icy roads - we decided to stay the night, and so I was able to snuggle up by the fire in the bar with a whiskey, and chat on the phone to my mother in New Zealand.
Room rates include a cooked breakfast - and it's prepared to the same high standard as dinner (I can recommend the excellent kippers). The rooms are quiet and comfortable with modern bathrooms, and perhaps the only criticism I could make is that the television is quite small and we had difficulty getting a clear picture on it. Also the beds are, I think, only double or possibly queen sized and it would add a touch of luxury if they were upgraded to king size. (I understand one room does have a four poster bed, by the way).
But these are minor points and if you haven't yet ventured up Kiln Lane, The Chequers comes highly recommended both for food and accommodation. It's rare to find somewhere where the service and food are invariably excellent, but that's definitely the case here. A real local gem!.

Review added 14/03/2010 00:03 by anon
A spur-of-the-moment decision tonight to visit them again. I'm delighted to say that the standard of food and service is still superb. This really is a lovely, cosy, romantic place where the staff really make you feel welcome. Note that there is both a bar and restaurant here, and we haven't eaten in the bar, so I can't comment on the food there. Its sister restaurant and bar in Cookham Dean is of equally high quality and together I think they set a standard that few other local eating establishments can match, certainly not consistently, at any rate. Highly recommended.

Review added 11/04/2009 21:07 by Simon
I had to order my food twice and wait 1 hour for a simple hot toasted panini. Dreadful service. Food was not that great either. Needs a lot of work done.

Review added 27/07/2008 09:13 by Joanne
This restaurant has to be the most classy and elegant restaurant in the area. Impeccable decor, sparkling glasses, gleaming white table cloths and a French ambience all combine to make this place one of the best kept secrets of the area.
Never the less it is always wise to ring up first before visiting and checking if they do have a table.
If you do decide to visit you will be looked after by the very efficient staff who make this establishment a pleasure to visit. They always remember you, make you feel welcome, are highly informed where their menus and wine lists are concerned - and what a wine list - they appear to have a fantastic cellar.
And the food!!!! Definitely excels over any other restaurant in the area. This is not at all to say that there aren't some excellent restaurants around in the Cookham environs. There are, and we eat at them also. But
The Chequers in Wooburn still comes out on top which is quite an accolade given that the competition locally is of such high quality.
If you want to eat in an intimate, beautiful setting from a five star menu at 3 star prices then this little gem of a place is the place to visit.

Review added 21/06/2008 22:48 by Andrew
While not strictly within the boundaries of Cookham, (but only a five minute drive), this truly superlative hotel/restaurant is highly recommended. Flawless service and splendid food, the only downside is negotiating that narrow road which almost becomes a cart track in places. This is the place to go for that wedding anniversary or special occasion, although, surprisingly, I think their prices are very reasonable.
PS: Not to be confused with their evil twin, the Chequers at Cookham Dean. We booked a particular table by the fire there for four people on Mother's Day a few years ago, and then got gazumped into a cramped table in the corner at the last minute. I'm still flabbergasted over that one. But the staff at Wooburn are simply fantastic. One of the best kept secrets in the area. Please don't tell the Guardian restaurant reviewer....