The Chequers Brasserie - Cookham Dean reviews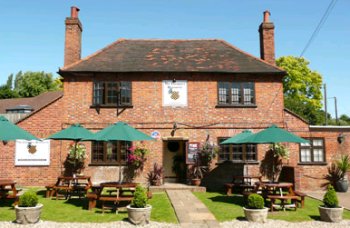 The Chequers Brasserie
Dean Lane
Cookham Dean
Berkshire SL6 9BQ

Telephone 01628 481232
The Chequers Brasserie - Cookham Dean website
44 reviews
Average Score:

Add your review of The Chequers Brasserie - Cookham Dean
Review added 07/12/2016 00:24 by Rob
http://ratings.food.gov.uk/business/en-GB/543599/Chequers-Brasserie-Cookham
FROM COOKHAM WEBMASTER
The Chequers is now closed and is changing hands. It is to become an Indian restaurant.

Review added 31/08/2015 20:21 by Helen
Really great food, nice ambience. Worried it would be quiet on a bank holiday monday eve however great buzz. Food excellent
, good service, and good value. Would recommend.

Review added 24/03/2015 13:46 by anon
The best restaurant/pub in the area by a country mile,
fantastic food,service and ambiance.
The lunch menu @ £15 is a steal

Review added 27/02/2015 16:20 by anon
Excellent lunch menu £12 for 2course or £15 for 3course, all in a lovely setting, can not get better than this! Thanks for a great lunch

Review added 02/11/2014 19:29 by anon
Once again we were at Chequers Brasserie for a family celebration. Service and food were perfect, (as usual). It's great to have somewhere like this within walking distance of home, and in a village with good restaurants and pubs, Chequers still stands out as the best by far.

Review added 07/04/2014 23:13 by anon
Another great meal at Chequers, this place rocks, every time we go we are pleasantly surprised!! Service, food, ambiance, a real gem!! Thank you very much and see you soon!

Review added 28/03/2014 13:41 by anon
Great lunch yesterday, risotto to die for!
Squid perfect. 2 course lunch deal at £12.50 brilliant.

Review added 30/01/2014 16:51 by anon
...Excellent service and great food, charming little place! Will defenatly be back.

Review added 06/12/2013 21:32 by Paul
Nice atmosphere, good food, great service and the best lemon cheese cake I've ever tried :)

Review added 04/12/2013 09:57 by Ajay
Went in for dinner last night. Excellent meal and lovely service. As good as it ever was :-)

Review added 19/10/2013 14:25 by Jennie R
Went with friends Friday lunchtime, lovely food great service

Review added 03/03/2013 14:46 by Anon
As an ex staff member and regular customer the chequers brasserie has been one of my favourite places to dine for many years. With the recent change of management I did not know what to expect and I am delighted to say that not only have they maintained the high quality food and service, they exceeded my high expectations. The food was delicious, particularly the tempura king prawns! The staff were extremely attentive and the new manager Carlos created a friendly, welcoming atmosphere the second we arrived. I would recommend the Chequers unreservedly.
Many thanks for a delicious meal and an enjoyable experience, I look forward to visiting again in the near future.

Review added 02/01/2013 13:54 by anon
I have eaten the Brasserie a few times and NYE was one of these times the food was excellent, served within a nice amount of time not feeling rushed whilst not having to wait to long either the Tarts we had for starter had lots of flavor and the Salmon Roulade was amazing!! Would definately reccomend

Review added 23/04/2012 15:43 by Monty
Went to The Chequers at Cookham Dean at weekend. Great food, very good service, definitely worth a visit.

Review added 18/10/2011 11:25 by anon
We took our son and his fiance there last Sunday to celebrate their engagement. All our friends rave about the Chequers so we decided to give it another go, having been unimpressed on our previous visit. Sadly it still did not come up to expectations. Having decided not to have starters, we had to wait almost an hour before our food arrived and felt very abandoned in the back room, as well as very hungry as it was almost 3.30pm before we were served.
The food, when it arrived, was delicious and luckily we had lots to talk about, but we won't be going back again. There are equally good places to eat with much more attentive service.

Review added 02/08/2011 12:04 by l
Visited the Chequers this weekend and had a lovely meal in the sunshine, great food, great service.
Always a favourite restaurant

Review added 25/04/2011 15:36 by anon
Went into the Chequers just very recently, and had the two course lunch for 10 pounds, its such good value for the high quality of food! The service is also excellent, very attentive and lovely staff. Definitely recommend and will be back soon!

Review added 07/03/2010 16:54 by anon
Enjoyed delicious food for Sunday lunch today from a menu with plenty of variety. Plate hot, food hot for main dish and fantastic flavours and presentation for both starter and main (I had potted shrimps as starter and roast pork for main). Service first class. A busy venue - booking would be essential for a group visit. Highly recommended. Great value. I hope to visit again soon!

Review added 17/02/2010 20:41 by anon
I found the Chequers not long after moving to Cookham and have taken many friends there as I felt it was leaps and bounds above the rest of the eateries in Cookham. It was therefore disappointing when 4 of us visited 2 weeks ago and all left feeling let down. I requested my main meal without mushrooms and asked for them to be replaced with peas. My friend asked for no spinach, again to be replaced with peas. Both our meals turned up with the original contents on and no sign of the peas. The others then had to wait around whilst mine was replated as I cannot eat mushrooms. No one could understand why I had raved about the food as it wasn't anything special that night. May seem like a small thing but it was supposed to be a special evening and having to send things back when you have tried to communicate clearly doesn't make for happy punters.

Review added 29/11/2009 14:06 by anon
Went to a party there last night - had a fabulous time. Food was superb, service good too and a great DJ to dance the night away to!! Will be going back again.

Review added 01/11/2009 00:40 by fattyeater
The review below did make me chuckle! Yes perhaps the drinks are a bit pricey but that is compensated by the absolutely delicious food at the Chequers. I popped in for a meal last week with my wife, and had a thoroughly excellent dinner, and the wine list was good too, and although expensive, definately worth having. I think when you've got good food, you don't mind paying a little bit extra for wine, beers etc. Having eaten at the White Oak only a week earlier, I think I prefer the Chequers hands down. Well done to all there - keep up the good work.

Review added 30/10/2009 23:13 by anon
I did try to explain to you. We are a quality driven restaurant, therefore we stock quality products which are slightly higher in price.
The Tonics are Fever-Tree the best you can buy period! This is reflected in the great tasting Gin and Tonics we serve.
I don't want substitute quality for price.
This is the link to Fever-Tree, they are truly great drinks
http://www.fever-tree.com/drinks.php

Review added 30/10/2009 20:40 by anon
food great service great. but I do object being charged £2.10 for a bottle of tonic water!

Review added 29/08/2009 17:05 by Mrs L Gary
After researching many reviews regarding the Chequers we decided to give it a go and am very pleased to have found this hidden gem!
It was not too hard to find being the only restaurant along dean lane (i think)? There was ample parking to the side of this lovely looking old building.
We were greeted by a warm inviting atmosphere of wooden beams and rustic charm.
Being a Thursday at 8pm we had not prebooked but found we did indeed have to wait 20 mins for a table but were made to feel very comfortable with drinks and menu on the bar sofa's.
After a short while our order was taken by the friendly manager Mark who made a wonderful Bloody Mary from a home made infusion of chilli vodka.
Shortly after we were seated at a crisp white linen table elegantly set with glassware, fresh flowers complete with candle - always a good start!
Starters arrived and i had the crispy duck caesar - to die for and hubby had the Scallops with black pudding which looked great, i don't eat black pudding but hubby loved it!!
This was followed by a Lambs Liver dish and Pork fillet for me both looked wonderful and again cooked to perfection with really great combination of flavours and an absoultely scrumptious Jus gravy - simply devine!!
Being rather full we ended up sharing a dessert of Sticky toffee pudding and ice cream which i have to say was the best i have tasted!!
So to sum up a really lovely place with great food and a warm inviting atmosphere a really wonderful find and we will definitely be back! With friends!!!
Excellent thankyou!! 5 stars

Review added 01/08/2009 18:10 by anon
Hadn't been there for a very long time, but a recent visit was most enjoyable.
Tasting several wines by the glass, it was clear that considerable care had been taken in compiling the list, and each wine had character and individuality rather than the blandness you often find with 'by the glass' offerings.
My partner is vegetarian and it was 'no trouble' to prepare a special risotto for her, although there was also a vegetarian gnocchi option already on the menu. I had the king scallops with pea puree and black pudding - just a hint of asian spice to complement their flavour. For dessert we tried the (generously proportioned) cheeseboard and the Peach Melba, and I was pleased to find that an excellent Australian late harvest semillon is available by the glass to complement dessert.
I think from memory there are also over a dozen single malts to choose from, so this is definitely a place to linger over your meal. Highly recommended.

Review added 23/07/2009 21:04 by anon
I was there for Sunday lunch recently and I enjoyed it immensely. Service was good, and the food excellent. Can't recommend it enough!

Review added 14/07/2009 09:46 by impressed
Visited many times, excellent standard of food - great service, great range on the menu. Best restaurant in the area, you know you will receive the best food. Better than W Oak, Bel and others.

Review added 09/07/2009 18:10 by Rita
Yes I have to agree we are soooo lucky to have such a fab place right on our doorstep,
the food is fantastic as are the staff and the host himself.
I am a regular customer along with several friends and family who come to visit, always requesting we visit the Chequers, never fails to impress.
Not only that, they are extremely child friendly with Loui going out of his way for my 11 year old son who has a favourite dish and only has to ask and it appears !!!
What more can I say..

Review added 07/07/2009 20:10 by Noreen
How lucky are we to live within walking distance of one of the areas best eateries in Berkshire and Buckinghamshire.
The food is out of this world, the staff are amazing as is the service. Lets not forget the chefs too because the food is truly top notch. We frequent The Chequers and have done so for the last 15 years because there are few places on this planet where you are treated like family and made to feel at home, where the food is ace and the staff are fab, the locals fantastic and most of all the host is the best and sees to everyones needs.

Review added 07/07/2009 16:35 by duddy571
A lovely place with great food and great service! (Amended by Cookham Webmaster)

Review added 07/07/2009 10:35 by anon
I have usually found the Chequers to be a good place to eat, and it is a beautiful pub. (Amended by Cookham Webmaster)

Review added 07/07/2009 00:43 by Anon
The Chequers Brasserie maintains a very high standard and yes, occasionally I get a less than amazing pint served, and yes, on a rare occasion i get a less than amazing meal. However, this doesn't happen very often and I'm delighted to report that I had a very good Sunday roast three weeks ago despite having to wait 35 mins for a table. The staff were great, and apologised for the delay which was due to the place being so popular that I was forced to wait!! I have also been informed that the 2 for £10 on weekdays is also worth looking at. So please disregard the pathetic pedantic write-up below. (Post amended by Webmaster)

Review added 06/07/2009 17:05 by anon
Lived in Marlow for over 10 years and this has been one of the best places to eat for most of that time. Until the last time I visited a couple of months ago. It has clearly changed hands, and for the worse. I was served a pint that was clearly off which was replaced on request to be fair. But the next guy at the bar asked for the same and he was given a pint, only for him to ask for it to be replaced too. It shouldn't have been served. Then the meal. Absolutely totally average. It has always cost me c.£80 to £100 for two incl. a bottle of wine here, and this time was no different. Normally, I come out thinking it was fab and I have recommended this place so many times. But this time it was very unexceptional, and no feeling of "wow, that was great" at the end of it. There is a lot of competition round here in that market space i.e. gastropubs. They need to step up a gear if they're going to do well.

Review added 19/06/2009 15:39 by Surinder Lall
Had a brilliant time, the hospitality is fab, the setting is gorgeous, the people who frequent the pub are gorgeous(!), the pimms is the most amazing drink ever, made up by the landlord himself......... the pimms cocktail is a speciality guaranteed to give you a good welcome, and all those that cross your path. The perfect idyllic setting for nice quiet drink ...... or two... .

Review added 25/05/2009 11:56 by Geoff C
It"s the combination that gets you. The service, the atmosphere, the people and the location. And then there"s the food. Just doesn"t get better. 10 years as a customer and never, ever disappointed.
Geoff C

Review added 16/05/2009 09:28 by anon
Going there this afternoon on your recommendation looking forward to it.
From Webmaster:
The Cookham Reviewer is for people to actually review places around Cookham and give them a rating. If you have not yet been to the place in question please don't review until you have actually been there.

Review added 13/05/2009 08:30 by Katie Cox
This place is just wonderful. I have dined here on several occasions and each time has been the same. Great atmosphere, great food and all staff have been friendly and welcoming...A definite must do experience for anyone who has not yet been..Try it i guarentee you will come away wanting to go again!

Review added 23/04/2009 14:46 by Happy Diner
I was really impressed with this place, warm comfortable surrounds and a two course luncheon at £9.95 was really great value for really super food!!
I will be back for sure!!

Review added 17/04/2009 18:10 by anon
This has to be my favorite pub in the area, run by a very efficient team fronted by Mark who makes the best Bloody Mary's around. If you want to go for lunch or dinner where you can enjoy good food and good wine in a very relaxed atmosphere this is the place to go - sunday lunches are a must and this is a great place to go with a group of friends to enjoy a great evening.

Review added 16/04/2009 21:17 by Chrissie Courtney
The only place worth going for a brilliant Sunday roast!!! The Chequers is always a pleasurable experience....and thats all down to the Mark!

Review added 16/04/2009 11:18 by Will Newton
Been here several times now and I am compelled to let others know what a great place this is. Superb for a sunday roast or an evening meal. It is one of the few places that has made the whole pub/restaurant transition and kept the balance right to creat a great atmosphere.
Mark and his team create a really friendly atmosphere and the cocktails are something you MUST experience. Mark is a real connoissuer on this topic!
Try it out - you'll have a great time.

Review added 25/09/2008 16:48 by cookhameater
The Chequers Brasserie is one of the better restaurants in the Thames Valley, not just Cookham. I only get to eat here every few months or so, but on every occasion I've found the food to be exceptional, with a decent wine-list too. The only criticism I would have at the moment is that prices have gone up recently, but that certainly won't stop me visiting there as things stand at the moment. It's always a pleasure dining at the CB and I would most certainly recommend it to anyone visiting the area.

Review added 03/07/2008 23:12 by anon
The best Sunday Roast in Berkshire. Full stop!

Review added 22/06/2008 08:49 by Siobhan
The Chequers is probably my favourite restaurant with beautiful food and great experience every time I've been there. The intimate setting and character make it perfect on a winter evening, whilst the bright garden and outside tables are great for alfresco dining during summer. I went there for my birthday and the waiting and kitchen staff went out of their way to make it a great experience. I would especially recommend the scallop and crayfish starter, which is second to none.